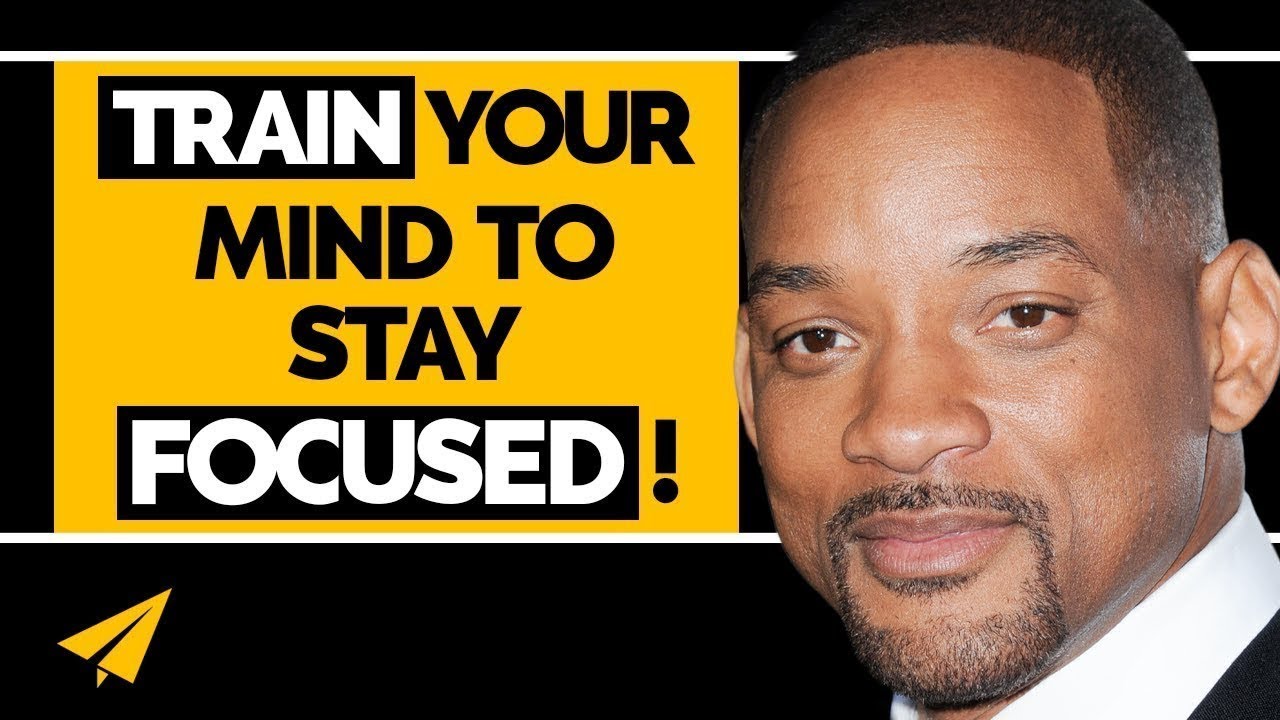 Hello believe nation, my name is Evan Charmichael, my one word is Believe, and I believe that entrepreneurs are going to solve all of the world's major problems.
So to help you on your journey today we're going to talk about how you can be focused. And as always, as you're watching if you hear something that really resonates with you, please leave it down in the comments below and put quotes around it so other people can be inspired, and when you write it down it's much more likely to stick with yourself, as well. Enjoy.
Be FOCUSED! – #OneRule
Tony Robbins
Everyone in this room knows how to create. You're not a manager of your life, you're a creator of your life or you wouldn't be in this room. How do you create your life? You get hungry for something, don't you? Who has done something in your life that once seemed difficult or impossible and now it's part of your life? Who's got something in your life in this area, say aye.
Audience: Aye.
How did you do it? You created it three ways. Number one, you decided there's something you wanted so bad that you unleashed all your desire. You became obsessed with it. If it was a business, or a car, or a relationship, or a transformation in your body, if there's something you once envisioned and now it's real it's cause you didn't just envision it, you brought so much emotion to it that now it's in your life, it was once a dream, it was once a goal, and now it's in your life. How many have something like that in your lives now, say aye.
Audience: Aye.
You may take it for granted now, hopefully not, but it was once just a vision. It may have seemed impossible at one time, so how did you do it? You started with a concrete vision of what you wanted and you focused on it continuously, didn't you? Wherever focus goes, energy.
Audience: Flows.
Flows. You envisioned something, you got clear about it, and then you started thinking about all the reasons why you wanted it. You got excited about it. Said this is what's next for me now. I want this. You may have dreamed about it, thought about it, talked about it, but when you focus on something continuously something magical happens. You get insights, don't you? You overhear a conversation and you hear something you wouldn't have heard if you didn't have that outcome or goal that you wanted so badly. Who's ever come up with something, obsessed about it, didn't even know how to do it, and it just happened, and it came together, who's had that experience, say aye.
Audience: Aye.
So why don't we tap into that power now for your business and life.
Will Smith
I realized that to have the level of success that I want to have, it's difficult to spread it out and do multiple things, in order to be world class, and I made a decision, I want to be world class. And it takes such a desperate obsessive focus to excel on a level that I want to make movies.
You know, Star Wars, when I was young, I sat in a movie theater and watched Star Wars and I just couldn't believe that that movie made me feel like that, just floored and just stunned by the creativity. And just I'm realizing that in order to move people in that way, in order to touch people in that way, you really got to focus with all of your fiber, and all of your heart, and all of your creativity.
Les Brown
You want to make your dream come true, you got to stay focused. Some people rather get even than get ahead, stay focused on where you want to go. I just kept on doing what I was supposed to do. And so I was driving to the radio station, my opponent had over $20,000, I had less than $800.
As I was in the radio station, the guy said, you're going to make a commercial, I said yes. He said, it better be a good one because that money can't go pretty far here.  And I sat there in the middle control room and I was thinking. And here's what happens when you get still.
Stuff will start coming. Something said, call your mom, you use to talk about your mother on the air all the time, ask her to say a few words for you, that'll be a different kind of political spot.  So I called my mom and I had a gospel record playing in the background.
And then I had my mother say, hello, this is Mrs. Brown, when I raised my sons I raised them to be good children, when they got out of hand I beat their behind and made them go right, please vote for my son, he's a good boy.  Usually in a state representative race maybe three or four thousand people will come out to vote in a primary.
And that primary race over 27,000 people came out and voted and said, I'm voting for Les Brown cause his mother say he's a good boy.   I won, ladies and gentlemen. I won.  So you've got to be willing to stay focused, to be creative, to be relentless, because things are going to happen to you when you're working on your dream.
Jack Ma
Interviewer: What kinds of business ideas have you said no to?
I'm saying no to a lot of ideas because as a CEO I have to say no to opportunities, because if I say yes, I probably get 5,000 opportunities every day, but whether yes or no, everything based on the mission that we're helping doing business easier, it's on that we will consider. If somebody come and say, can you, we will, you know, have business deal, we'll make a lot of money, I'm not interested.
Tim Ferris
It's easy to discard, say, 10 terrible ideas and go after the one good idea, but when you start to get a little bit of momentum you can drown yourself in good opportunities that aren't great opportunities. And if you scatter your focus, you try to do 17 different product lines, you can kill your business really easily, particularly when you have a small team.
So I think asking yourself repeatedly, what is the one project, the one initiative, the one campaign that if successful will render the rest of these things either unnecessary or much, much easier, what is that one step? And I've called it this dead domino before, but what is the one thing on this list of seven different campaigns that will make all the other ones irrelevant or much easier?
Interviewer: How do you, I mean, that's a tough answer, isn't it? Because they all sound good.
Yeah, I think they can, and I think that what it comes down to often times is, it returns back to measurements, so how are we defining success, like if we want to grow the company, let's just say, what does that mean, in three months, six months, what are we measuring, why are we measuring those things, and what is a, sort of a comfort goal, meaning like, okay, we think we can easily hit this number, what is a stretch, and what is like, hallelujah, we threaded our needle, and then come up with a really concrete number to tackle, and once you have that number then you can look at those five and say, alright, which of those are going to serve us right now.
And I'm dealing with that increasingly so because out of all these different branches of content, and activities, and angel investing, and so on, it's very easy for me to get scattered, it's never been easier, so I have to continually ask that type of question.
Interviewer: What's your main focus now, if you had to boil it down to one?
My main focus right now is building my podcast, Tim Ferriss Show, up to a point where it's consistently in the top 10 to 15 on iTunes so that I can establish a presence and name recognition in Hollywood and entertainment, which I can leverage then for the TV show and film projects that I'll be expanding into in the next three to nine months. And specifically what that means is targeted advertising, for the podcast, specifically towards people who are producers, agents, actors, directors, in Hollywood and New York City, all of that can be quantified.
Barrack Obama
The one thing that I feel deeply about, and this is something I'll feel deeply about when I leave government is stuff gets better if we work at it and we stay focused on where we're going. It doesn't immediately get all solved, and I warned against this when I was running for office because everybody had the Hope posters, and the this, and the that, and everybody was feeling like, man.
Interviewer: Hey, we didn't make those, you made those.  Quit blaming us.
No, no, no, no, no.
Interviewer: That wasn't us, was it?
Hold on a second, no, no, no, I like the poster.
Interviewer: I'm pretty sure that came from you.
It was a nice poster. No, but what I'm saying is is that if you look at what I said at the time, I said, this is going to be an ongoing project, and it's a project of citizens. It's not just, fix it. It's how do we work together to get things done, and it will be imperfect, but over time is it better?
And here's the thing I can say, John, I can say this unequivocally, the VA is better now than when I came into office, it is better now than when I came into office. Government works better than when I came into office. The economy, by every metric, is better than when I came into office.
And so the reason I can sleep at night is I say to myself,  you know what, it's better. Now, am I satisfied with it, no. And should voters be satisfied with it? Absolutely not because otherwise if we get complacent and lazy then stuff doesn't happen.
Sam Altman
Losing focus is another way that founders get off track. I actually think this is a symptom of burnout. When you get really burned out on running the business you want to do easier things, or sort of more gratifying things. You want to go to conferences and have people tell you how great you are.
You want to do all these things that are not actually building the business, and the most common post YC failure case for the companies we fund is that they're incredibly focused during a YC on their company, and then after they start doing a lot of other things. They advise companies, they go to conferences, whatever. Focus is what made you successful in the first place. There are a lot of reasons people lose focus, but fight against that really, really hard.
Charlamagne Tha God
But the reason I made it is because I knew exactly what I wanted to do, see that's the thing I see with a lot of people nowadays, they be confused, like they don't really have a clear cut, concise goal in mind, or they don't have that one thing that they feel that they're good at, so they don't try to master it. Like I'm reading a book right now called The Mastery by Robert Greene, and it's basically taking that whole 10,000 hour theory, like you're not a master in something until you've put in 10,000 hours in it.
Interviewer: Practice worth 10,000 hours.
Yeah, so it's like you got to find that one thing to put in that time with, and everything else will sprout from it, like radio was my thing, then I'm.
Interviewer: So what you're saying is that you always knew then radio, like once it clicked.
Always, man.
Bruce Springteen
I don't know, you know, I've tried to keep my focus on the music that I was making. I tried not to get distracted. I had a lot of models who came before me where I could see where people made mistakes, and nobody's perfect, you make mistakes, you know, and, you know, it's just a part of human life, but I think that, that the kind of mistakes where you lose your center and you lose track of the work that you're doing and the music you're making, and you lose, you lose the ability to be relevant to your fans, and to the community that you're working for.
I've just done my best with them, you know, I'd be the last person to claim any, make any claim on getting it completely right or perfect, but I've tried to do it well enough to where I continue to have a voice for my fans and I'm able to look into the world and experience and translate what I see in a productive fashion.
Kevin Spacey
Well, when you're doing a TV show, you know, every day is a different day in the sense that it's never the same, and you might be shooting two scenes, you might have one scene, you might have five scenes. So your level of preparation is different every time.
Generally, I'm up early, I exercise, I run, I do whatever it is that I'm doing in terms of my physical life, other than playing tennis which I, I stack up during the course of a week quite a lot of, if I can, and, you know, get to set, depending on your call time, and very often it's very early.
And then you try to be there and be alert, and awake, and alive, and ready to go every hour of the day. And if you work 12 hours then you have to be alert every one of those hours. It's an important thing to stay focused.
Thank You!
Thank you guys so much for watching, I hope you enjoyed, I'd love to know what did you take from this video that you are going to immediately now apply to your life or your business somehow, please leave it down in the comments below, I'm really curious to find out.
I also want to give a quick shout out to Derrick Cui, hope I pronounced that okay, Derrick thank you so much for picking up a copy of my book, Your One Word, I really, really, really appreciate the support, man, and I hope you're enjoying the read.
So thank you guys again for watching, I believe in you, I hope you continue to believe in yourself and whatever your one word is, much love, I'll see you soon.
---
You might also like
---