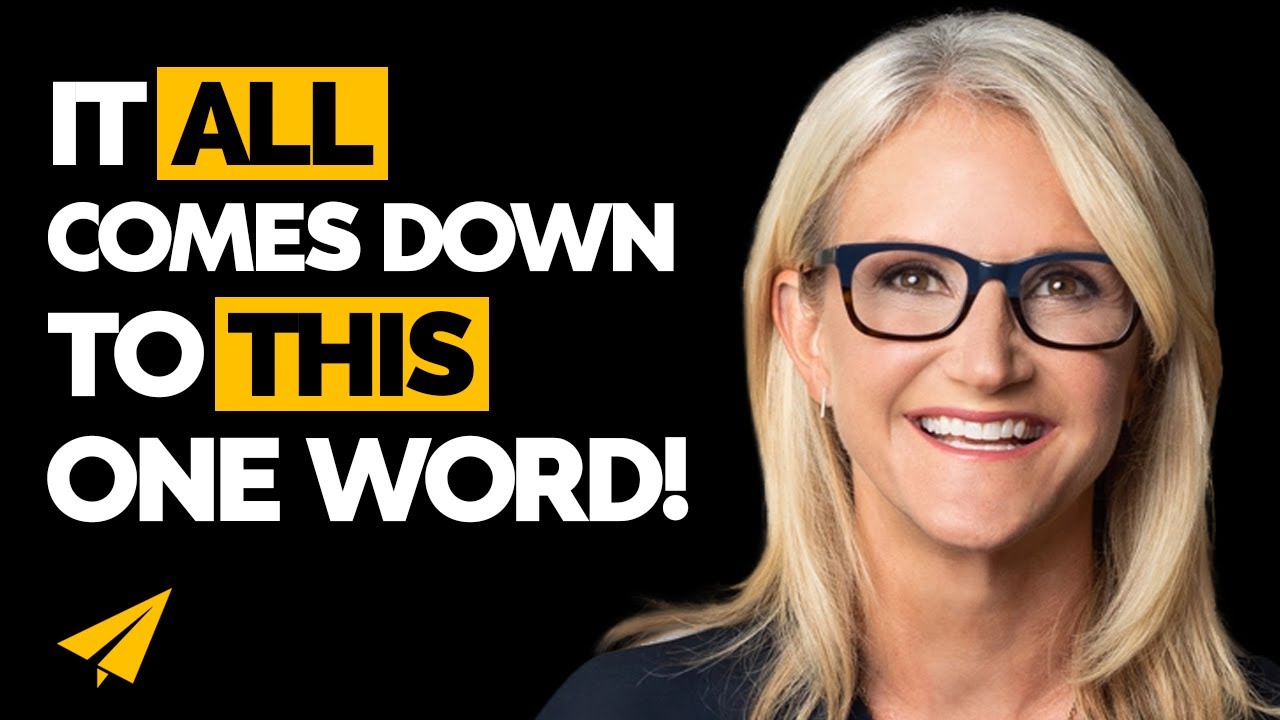 Good morning Believe Nation!
Today's message is be honest with yourself. Over to you Mel Robins.
We live in the most amazing moment in time. So that thing that you have up here. Whatever it may be, you want to use healthy eating to cure your diabetes. You want to figure out how to take care of the elders and start a new hospice center. You want to move to Africa and build a school. Guess what? You can walk into a bookstore right now.
And buy at least ten books written by credentialed experts on how the hell you do it. You could google it. And you could probably find at least, I don't know, a thousand blogs documenting the step by step by step transformation that somebody else is already doing.
You can find anybody online and cyber stalk them. You can just walk in their footsteps and just use signs of drafting. Follow what everyone else has done because somebody else is already doing it. So why don't you have what you want when you have all the information that you need. You have the context that you need.
There are probably free tools online that allow you to start a business or join a group or do whatever the heck you want. It all comes down to one word. Shut the front door, you know what I'm talking about? The F bomb. It's everywhere. You hear it all the time. And I honestly don't understand what the appeal is of the word.
Fine
I mean you don't sound smart when you say it. And it's really not expressing how you really feel. It's sort of a cheap, you know, shot to take. And of course, you know, I'm talking about the word Fine. How you doing? Oh I'm fine. Oh really, you are? Dragging around those extra 40 pounds, you're fine? Feeling like roommates with your spouse, you're fine? You haven't had sex in four months, you're fine? Really? I don't think so.
But see here's the deal with saying that you're fine. It's actually genius. Because if you're fine, you don't have to do anything about it. But when you think about this word fine, it just makes me so angry. I mean here we are at a conference about being alive and you're going to describe the experience of being alive as fine? What a flimsy and feeble word. You're crappy, say you're crappy. If you're amazing, say you're amazing. Tell the truth. And this not only goes for the social construct.
Oh I don't want to burden you with the fact that I hate my life or hey I'm amazing, but that would make you feel terrible. The bigger issue the bigger issue with fine is that you say it to yourself. That thing that you want, I guarantee you you've convinced yourself that you're fine not having it. That's why you're not pushing yourself. It's the areas in your life where you've given up. Or you've said oh I'm fine.
My mom's never going to change so I just can't have that conversation. I'm fine, you know, we got to wait until the kids graduate before we get divorced so, we'll just sleep in separate bedrooms. I'm fine, I lost job, I can barely pay my bills but whatever, it's hard to get a job. And you know, one of the reasons why this word also just annoys me so much is scientists have calculated, oh yeah, I'm coming down, scientists have calculated the odds of you being born. That's right, they crunched the numbers. I see you up there.
They have crunched the numbers on you, I know you guys standing up, you want to sit down for this. They've crunched the numbers on you being born and they took into account all of the wars and the natural disasters and the dinosaurs and everything else. And do you realize that the odds the odds of you, yeah right here, put your computer away, stand up for me. Doug. So the odds of Doug here, turn around say hi to every body. The odds of Doug, Doug being born at the moment in time he was born to the parents you were born to with the DNA structure that you have one in four hundred trillion. Isn't that amazing?
Doug: I'm so lucky.
Mel: Yes. You're not fine, you're fantastic. You have life changing ideas for a reason. And it's not to torture yourself. Thank you, thank you Doug. You know Christine was right when she said all of you could be on stage. Because all of you, we're all in this category. One and four hundred trillion. All day long, you have ideas that could change your life, that could change the world, that could change the way that you feel. And what do you do with them? Nothing. Oh, hopefully I won't moon you. You didn't pay for that.
Evan Carmichael
To be a successful entrepreneur you need to be allergic to mediocrity. You need to have an allergy to mediocrity. You got to take something that has been good and has been good and has been good and make it great. Be upset at good. That's the way great progress happens.
And the only way you do it is because you have that deep love for what you're doing. You have the deep love for your business because otherwise, you're going to say, that okay, you know what, that video I made, that was okay, I'm good with it.
"To be a successful entrepreneur you need to be allergic to mediocrity." – Evan Carmichael
And you just keep staying on the same treadmill instead of moving forward. I recently got a comment on one of my Youtube videos. I was talking about my book. And I'm not super happy with my book cover, I was talking about lessons I had learned in my book launch and one of the things that I wish that I had more time on was my book cover because I wasn't a huge fan of it.
Comment
And I got a comment. The comment was, it's easily an above-average book cover. And I get it. I get the love. I don't want to rip into this comment.
Love
I get the love, right. It's what we do. We try to encourage others to do better. When we have found that we are unhappy with something, right, and we're down, what do people tell us? Oh, you're doing a great job, you're doing really well, it's an above average performance. I don't want to be above average. It drives me nuts. I do not want to be above average.
Standards
I want you guys to hold me to a higher standard too. I want suggestions on how to make things better. But when I look at the things that I make, I'm equally happy with them, like I'm proud of what we made with the resources that we had, the skills, ability. But at the same time, I want it to be better. I want it to be, I want it to be more. This is what we do. Progress equals happiness, you want to grow, you want to continue to get better. Otherwise you get bored. And your customers get bored, your audience gets bored.
"This is what we do. Progress equals happiness" – Evan Carmichael
And so I don't think you should ever settle for above average in anything. If you know you can do better, if you're performing at the top of you abilities right now, then that's okay, that's great. That's what you want to be doing. But if you know you can do better, you got to go push harder. You know, there's a lot of people who may look up to somebody and say well look at what they're doing. And you know you can get there but you're not there yet.
You want to play this beautiful piece of piano. You know you can get there and you're just starting off learning a couple keys. Maybe right now, that's all you can do is a couple keys. But you can work harder to get better and improve, improve, improve, improve, improve. Progress equals happiness. Stop settling for average. And you know what? One thing I would challenge you to do, it's always easy to lean in on empathy when you see a friend who's down.
"Stop settling for average." – Evan Carmichael
It's easy to lean in on empathy. But maybe you should push them to do better. Even when somebody's down on their luck. Or maybe somebody made a video and they sucked at it. Maybe telling them, I feel you, I know you can do a lot better. Instead of just saying, that was really good. When you know that it wasn't even really good, right, we tell ourselves and we tell others that things that something is really good when we know it's not. And you don't have to beat them down, but telling them that you know they can do better, you believe in them, can make all the difference in the world in bringing them back up and shooting beyond their comfort zone. Stop settling for average.
…
Question Of The Day
So the question of the day today is I'm curious, what are you guys right now settling for average in that you want to start pushing harder on?
Leave it down in the comments below. I'm curious to see what you guys have to say.
I also want to give a quick shout out to Milica I hope I pronounced that okay, thank you so much for bringing up a copy of my book. Your one word really really really means a lot to me and I hope you're enjoying the read.
Thank you guys again for watching. I believe in you. I hope you continue to believe in yourself and whatever your one word is. Much love and I'll see you again tomorrow morning for another Shot of Espresso.
---
BONUS
Listen To Your Gut
I mean when I was 22, right after I graduated from Dartmouth, I was so focused on making everyone happy that I almost chose the worst possible career for my personality. It's not a bad career, it just would have been horrendous for me. I was interested in the environment so I decided, oh you know, I'll go get a law degree and then I'll go work in Washington. And I think maybe I'll work on environmental policy and I'd probably end up in some cube farm. And everyone was thrilled with the plan.
Everyone, it turns out, but me. So here I am, I'm driving a Uhaul across country to go to law school and to get a degree in environmental law. And something started to gnaw at me.
Doubt
And with every single mile that I drove, my thoughts were getting louder. And doubts were starting to pour in. My gut was telling me, Mel, turn the damn Uhaul around. But the problem was that everything was already in place, right?
I mean I'm already in the Uhaul, the thing is already packed. I'm already 10 miles into my drive. The tuition had been paid for the first semester. I had signed a lease. I mean I could not undo these things. Isn't that why it's so difficult for you to make changes in your life?
Because you think that things can't be undone. The fact is, any excuse that you come up with, you can undo. Tuition can be reimbursed. Apartments can be leased. Plan B can be invented. So I got up, I repacked the Uhaul and I drove out of town. I let myself make a u-turn in life. If you ever find your gut battling your head, save yourself the drama. I guarantee you, your gut is right. I guarantee you, your excuses can be undone. And I guarantee you, you can make a u-turn in your life right now if you want to.
Push Forward
So if it were easy to get what you wanted in life, Google would have already figured out an app. You would just type in, okay I'm a student and I want to go from being a student to being successful. And Google would tell you, go to college, then you get your Masters, then you land this killer job. And then you put in a bunch of face time while you're checking Facebook. Then you get promoted to manager and then you realize managing people kind of stinks. And then you keep climbing the corporate ladder. And then you start to wonder, well how did I end up here?
Success
And then you go, is this what success looks like, you're like, no, I'm go to J. Hilburn. That's what success looks like. So keep this in mind, if there's something that you want, like seven people, or a trip to Africa, or you're going to make it to Mexico, in the pink shirt, I'm looking at you again, sorry. I'm watching you. And rooting for you. Keep in mind this. Here you are, this is what you want. I spend a lot of time on lacrosse fields. Although they don't really look like this.
You tend to think that what you want, you just march right towards it. But if in sports, you march right towards the goal, what happens? The defenders come in. And what the defenders are is your brain saying ain't going to happen. So the second you start moving toward that thing you want, be ready. You're going to tell yourself you don't feel like it. You're going to have to force yourself, it's happening.
There's no way to get around it. So what you're going to have to do is you're going to basically get bounced around a lot. All over the place. And there are going to be a lot of times that you feel like, this was a really dumb idea to start this business, because it's going to get hard. And I want to remind you about something. Unlike a sports field where there is an in and out of bounds, the great thing about life is there actually aren't any.
And it's usually in those moments where you feel like you can't do it, that you're closer than ever to having everything that you wanted. And I wanted to show you this so that you keep it in mind because I think a lot of times when you look back, it's the darkest moments where you realize holy cow, that's what projected me forward.
---
You might also like
---
More from Entspresso
---
Today's message is be confident. Good morning believe nation, it's Evan. My one word is believe and I believe that …