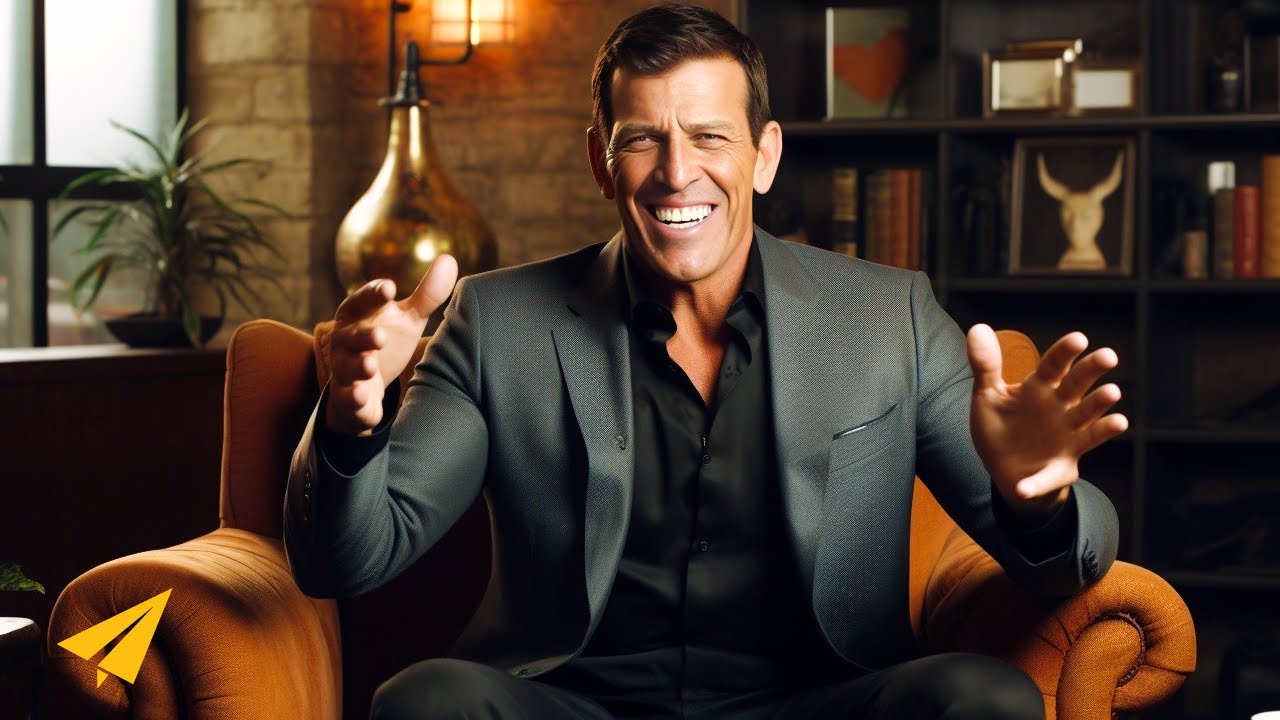 Good morning, Believe Nation. My name is Evan Carmichael. My one word is believe, and I believe that entrepreneurs will solve all of the major problems of the world. So to help you on your journey, today's message is Be Truly Fulfilled. Over to you, Tony Robbins.
Be Truly FULFILLED – Tony Robbins
Michael Gerber, the guy that wrote the E-Myths, you know it talks about why so many businesses, young businesses, fail and one of the things he says is most people are not really entrepreneurs but they think that's what they should be. They think that's the sexy thing. That's the most attractive thing, that's the best answer. And what I say to you is you've got to separate the vehicle from the outcome.
What is it that's going to truly fulfill you?
What is it that's going to give you that extraordinary life?
What's going to make things magnificent on your terms?
Not somebody else's terms. Not your father, your mother, your background. What is that really? Separate the vehicle, because there's many ways to get to that vehicle. But I'm saying, sometimes you got to reevaluate what's going to really make you fulfilled.
What is your gift?
Are you an artist? Are you the talent that can produce something no one else produces?
A skill, or product, or a service, or some impact?
Are you incredibly good at management?
You really know how to manage or lead people?
Are you an extraordinary entrepreneur that can take that gigantic gut load of risk?
And can create the vision and attract the talent that you need and the managers and leaders?
You may have all three abilities, but which one really fulfills you the most is going to be the critical question. Cause we tend to want to do them all, especially in a room like this. Cause you're all overachievers, right? Me, too. And you say I can do all these. Yes you can, but what will it do to your quality of life? See again, the secret's going to be this. What is an extraordinary life on your terms today? Getting clear about that, at this stage of life, where you are, where you want to go.
Evan Carmichael
I think it's really important to build a life that you are running towards instead of running away from something that you don't like. Let me explain. I think people are hard wired to avoid pain more than to go out and seek pleasure. There's been tons of studies that have talked about it. People don't like pain. We love pleasure, but we hate pain more than we love pleasure. And so how that often translates into entrepreneurship is people are acting not out of a desire to go off and do something big and impactful, but out of fear of pain and trying to reduce the pain as much as possible.
"The successful entrepreneurs are the ones who are going to embrace the pain that comes along with building the business, and they want the pleasure so much of going off and building this really important thing." – Evan Carmichael
I've talked to so many entrepreneurs and I asked them, "Why did you start this business? "Why is it so important to you? "What's the reason behind it?" And whenever I get an answer like, "I really hated my last job. "My boss was really terrible. "I just wanted freedom and I need to set my own hours." If that's why you're starting the business, you're going to fail. Cause you're just running away from a painful life and you think entrepreneurship is the answer.
And those are not the successful entrepreneurs. The successful entrepreneurs are the ones who are going to embrace the pain that comes along with building the business, and they want the pleasure so much of going off and building this really important thing. Every time I make a video on YouTube, there's a lot of pain associated with it. There's comments that come in that may not be great. There's work to come out research it and make this happen for you guys.
But we push through it, because I want to have an impact. Cause I want the work that I do to matter. And so I would examine your reasons for wanting to make that change in your life or in your business. Ask yourself why am I doing it. If it's just to avoid something and run away from a life that you don't like, that's not the answer. You've got to run toward something that you're in love with and you want to build and you want to see come to life. Stop running away from your problems, and go build something that means it.
Question Of The Day
So the question today is, I'm curious. Which one are you? Did you start your business to run away from problems you had in your life? Or are you trying to build something for the future? Really curious to find out. Leave it down in the comments below.
I also want to give a quick shout out to Tim Miller. Tim, thank you so much for picking up a copy of my book, Your One Word. I really really appreciate it, man, and I hope you're enjoying the read. So thank you guys again for watching.
I believe in you. I hope you continue to believe in yourself and whatever your one word is. And I'll see you again tomorrow morning for another shot of Entspresso.
---
BONUS
Be Truly FULFILLED
Kevin Spacey
Man: Can we, help us appreciate this early experience, these lean years, these very difficult years leading up to the ultimate prize.
There is no prize out there. The only prize is this one and what you feel, and what you want to accomplish. And if you can, as you start out, these what could be lean years or could be fat years. I feel that I very often watch a lot of young people sort of meander around without any idea about why they're doing what they're doing. I mean to want, and to be ambitious, and to want to be successful is not enough. That's just desire. To know what you want, to understand why you're doing it, to dedicate every breath in your body to achieve. If you feel you have something to give, if you feel that your particular talent is worth developing, is worth caring for, then there's nothing you can't achieve.
Casey Neistat
Audience Member: How would you describe fulfillment as a YouTube producer?
Well, I think fulfillment, fulfillment and YouTube producer are kind of two different things. I think fulfillment in general as a film maker for me comes from creating. And that's why in 2010 … They put the soundtrack on for this story, so I'll try to make it sound nostalgic. I left the mainstream sort of universe because I wanted to create more. So for me fulfillment comes in creation and I always say that I'm a little bit of a junkie and my drug is uploading. Because if I haven't posted a movie in like a month or a month and a half, I get like seriously depressed. And the only thing that makes me happy is to get a new movie out there. That answers your question, right?
Audience Member: Yeah.
Chris Guillebeau
I've never really been interested in living a balanced life. I think balanced people don't change the world, first of all. I think balanced people don't really follow a dream. This doesn't mean that you don't have responsibilities. Like to go the other part of his question, "How can you have a family?" Well sure, you can have a family. But balance is kind of like, I feel like balance is like a made up word. It's like invented by corporations to make their employees think that they're happy. It's like you've got this balance, you could work at Microsoft or something here in Seattle.
Chase: There's like 10 Microsoft people in the audience.
That's right, no disrespect to Microsoft. Let's pick another company. Microsoft's a great company.
Chase: One out of every five people in Seattle works for Microsoft.
That's right, and it's like you got this thing, and maybe you love your job. And if you love your job, that's great. But I hear from a lot of dissatisfied people at some of these big companies. And they write in, "I'm reading your blog "from my cubicle. "I have this good job and I've got my health insurance. "I've got free yoga every Thursday, "but I'm not really …"
Chase: Fulfilled.
Right, I'm not really fulfilled. So for me I guess I'm much more interested in that word: fulfilled. So how can you live a fulfilled life? You can live a fulfilled life and still pay your bills. Lots of creative people do it. Lots of unconventional people do it, and I would say if anything it's actually much more common now than it used to be. When I first started working online 15 years ago, I didn't know a lot of other people who were doing that. My friends thought I was selling drugs or something.
Chase: Well you were.
Well I was, or like online gambling, whatever. Parents have no idea how the internet works and stuff. But now it's much more common. So I don't really like the word balanced myself.
Chase: So what we'd like to do is we want to replace the word, like living a balanced life is not the goal. The goal is living a fulfilled life.
---
You might also like
---
More from Casey Neistat
---
Today we're going to learn how to communicate effectively.  Good morning, Believe Nation. It's Evan. My one word is believe, …
He's an American film director, producer, designer and popular YouTube creator. He's the co-founder of a social media company called …