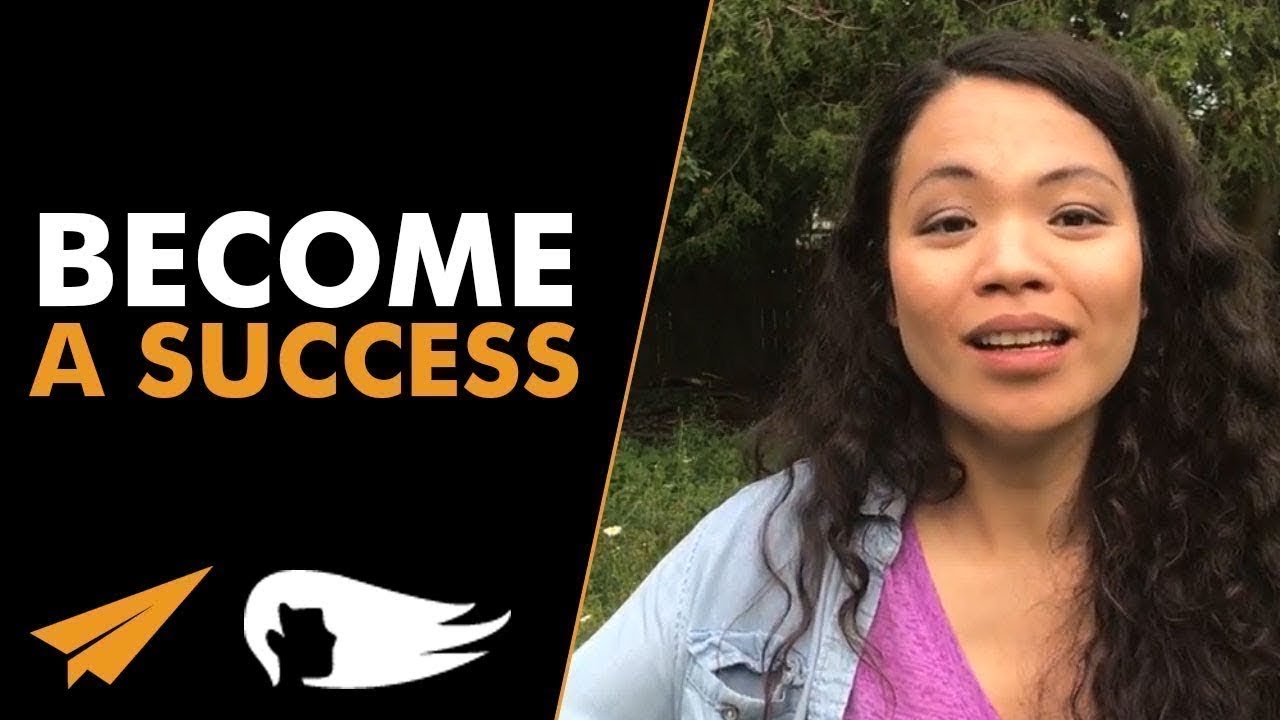 Hello, everyone! So, welcome to another episode of Unlocking Lily. It's always been my dream to be a speaker, and I quit my day job in order to work and mentor under Evan full time, and all of you are coming along for the ride with me.
So in every episode, I take on a different challenge that really stretch my comfort zone, all in order to help me grow as a speaker. So, my challenge this time is to take a deep dive into the three speakers that I resonated with the most.
So, they are Tony Robbins, Brene Brown and Simon Sinek. I'm going to try to understand, what are the things that they did to get to where they are today, as well as the important lessons that I learned from each one of them.
Become A Success
#1: Tony Robbins
Number one is Tony Robbins. He's an author, speaker, and a peak performance coach.  So, when Tony Robbins was only 17 years old, he met a man by the name of Jim Rohn, who was a motivational speaker. So when Tony Robbins first got started, he didn't try to figure out everything on his own. Instead, he went and mentored under Jim Rohn to see what made Jim so successful, so that way he could apply the same actions and same behavior to himself as well.
Jim Rohn: Some of the things Mr. Shoaff taught me, starting at age 25-
Tony Robbins: I had a dear, dear friend and mentor named Jim Rohn, who was my teacher when I was 17 years old. He's somebody, I sent out some videos, I'll probably attach some things to this video, another one about him, just to honor him and his teachings, but he gave me a way of looking at life that allowed me to not ask life to be easier, but to ask that I be better. He got me to realize that the secret to life was to work harder on myself than my job or anything else, because then I'd have something to give people. And he really shaped me, and he just passed away, and I was thinking, wow, I'm going to be 49 years old, I met him when I was 17. Think of the fact that my journey is just beginning and think of all the impact that a just couple ideas had on my life, and I want to really continue to do that for you and anybody you care about, so-
So, after working and mentoring under Jim Rohn, Tony Robbins went on to doing his own seminars as well. But he didn't get his actual breakthrough until he cured a woman from her lifelong snake phobia live on stage.
Interviewer: There's a famous story about something, I've forgotten now, but somebody had some kind of phobia, what was it?
Tony: Snake phobia.
Snake phobia.
Interviewer: –seven years, and you did it in 15 minutes.
Tony Robbins: Yeah, but what made my career was that I was attacked by the psychiatrists on the radio saying you're a liar, you're charlatan, people like you should not be allowed on the radio, you can't do this, and so, I was a real rebel, frankly, and I was, like, getting in his face, saying great, are you a scientist? If you are, then test your hypothesis. Give you me your patient, I'll be at the Holiday Inn tomorrow night, so it was like, this shootout, and it was like a movie. He brought her, I wiped it out, I wrapped the snake around her, and a phobia is an uncontrollable physical response to some stimulus. Y'know, it's not just fear, it's shaking, spitting. At the end, she was totally fine, he worked on her for seven years, so that became my signature, was to challenge, and then gradually, I grew, because I was really just trying to prove to everybody, and myself as well, that I was worthy, rather than, y'know, maturing a little bit and just knowing that there are skill sets that are valuable for everybody.
So, what Tony Robbins taught me is that success clues. Similar to what Tony Robbins did with Jim Rohn is what I am doing with Evan, which is why I quit my very safe, very comfortable well-paying day job to spend full-time hours with Evan. Even though a lot of our days are spent not talking to each-other because we're working on separate projects, what I do is I actually study everything that Evan does. How does he set up his day? How does he interact with people? How does he problem-solve? And everything else in-between. Because I'm trying to look for clues, myself, and patterns and behaviors, so that way, I can apply all of that to myself and achieve the similar kind of success that Even has, too.
#2: Brene Brown
So, number two is Brene Brown. She is an author, speaker, and a research professor. So when Brene Brown started out on her journey as a researcher, she quickly realized the importance of having the courage to show up and be seen.
Brene Brown: Vulnerability is not about winning, it's not about losing, it's about having the courage to show up and be seen. It's about willingness to say, look, I don't have all the answers. This is daring greatly for me. I'm wearing false eyelashes. And my biggest fear, when they put 'em on, was like, am I going to get halfway through this thing and be like, like I can't do it?
Oprah: If you do, just rip the whole thing off. That's happened to me before. Just rip 'em both off and there you are. Naked before the world.
Brene: You may see it here today. Yeah, so, I mean, I think, people tell me all the time, I don't want to be vulnerable, I don't want to do this, 'cause I can't bear this. And I think being vulnerable feels dangerous, and I think it feels scary, and I think it is terrifying, but I don't think it's as dangerous, scary or terrifying as getting to the end of our lives and wondering, what if I would have shown up? What if I would've said, I love you back?
Oprah: Yeah.
Brene: So that, to me, is what daring greatly is.
So Brene Brown continued to teach, as well as do research at the University of Houston. But it wasn't until her popular TEDx talk, The Power of Vulnerability, that received over 30 million views, that catapulted her into the star that she is today.
Brene Brown: What underpinned this shame, this I'm not good enough, which, we all know that feeling, I'm not blank enough. I'm not think enough, rich enough, beautiful enough, smart enough, promoted enough. The thing that underpinned this was excruciating vulnerability, this idea of, in order for connection to happen, we have to allow ourselves to be seen, really seen. And you know how I feel about vulnerability, I hate vulnerability, and so, I thought, this is my chance to beat it back with my measuring stick. I'm going in, I'm going to figure this stuff out, I'm going to spend a year, I'm going to totally deconstruct shame, I'm going to understand how vulnerability works, and I'm going to outsmart it. So I was ready, and I was really excited. As you know, it's not going to turn out well.  You know this.
So what Brene Brown taught me is that I need to have the courage to show up. There's so many things that I'm afraid to do, because I'm concerned that people are going to judge me and criticize me, but the reality is, I want to be a speaker. I want to be able to inspire people through my work, which means I need to get outside of my comfort zone and do the brave things and be courageous. So what I'm going to do is I'm going to go into the biggest intersection in Toronto, Yonge-Dundas Square, and film in front of everyone. Even though I am so scared even thinking about it to do it. But I need to do it because I need to be brave and have the courage to show up.
#3: Simon Sinek
Number three is Simon Sinek. He's an author, leadership guru and a speaker. So, Simon Sinek first started out by owning his own business, but he completely lost passion for what he did, which caused him to look inward and to find his why.
Simon Sinek: And I realized, I knew what I did. I was good at it. And I knew how I did it, I could tell you what was different or special about the way I did things. But I couldn't tell you why I was doing it. That was the missing piece, you have to have all three. I became obsessed with this thing called the why. I figured out how to find my why, and it restored my passion to levels I had never experienced before. And more importantly, I figured out how to help others find theirs, and I did what anyone would do. When you discover something beautiful, you share it with your friends, and my friends started making crazy life changes themselves. And they started finding happiness and passion that they'd never experienced before. It was me solving my own problem that happened to help others solve it for them, too.
When Simon Sinek found his why, he started helping friends and friends of friends find their whys as well. But it wasn't until his extremely popular TEDx talk, Start With Why, which has over 32 million views to date, that launched his career into becoming a bestselling author, as well as a consultant to major companies around the world.
Simon Sinek: But if you don't know why you do what you do, and people respond to you do what you do, then how will anybody, how will you ever get people to vote for you or buy something for you, or more importantly, be loyal, and want to be a part of what it is that you do? Again, the goal is not just to sell to people who need what you have, the goal is to sell to people who believe what you believe.
What Simon Sinek taught me is that I need to start with my why. And my why is to inspire people to be extraordinary. So, going forward, all the meetings I have, all the interactions I have, all the phone calls I have, I'm going to start with my why.
So, over the next few weeks, I'm going to be taking on different challenges based on the lessons that I learned from Tony, Brene and Simon. But, Evan just gave me a surprise challenge. I'm going to participate is my first corporate gig, which means that all of you are going to come behind the scenes in my first corporate event.
Question Of The Day
So the question of the day is, what is that one lesson you learned from someone you look up to? It could be an entrepreneur that you saw on Evan's channel, it could be a teacher, it could be a family member.
I would love to know what that lesson is. Please leave it in the comments below, and I will join in on the discussion. So, I want to thank you guys for watching, and I actually have a special shout-out for Pavo Luevano. So, Pavo wrote in my last episode that this editing is ten times better than any TV show.
Honestly, Pavo, thank you so much for the kind words, and it's actually our fabulous editor, Christina, that does an amazing job with all our videos. So, Christina, high five for a job well done.
Hey, Lily! And thank you, Pavo.
So thank you so much for watching, but more importantly, being on this journey with me. When I first started out, I really didn't know what to expect.
But all the love and encouragement just kept on pouring in that gave me the courage to keep going on, and I couldn't ask for a better community than Believe Nation to be part of this. So, once again, thank you, thank you so much, I am so grateful, and I will see you very very soon.
---
You might also like
---
More from Brene Brown
---
Watch Brené Brown's Top 10 Rules For Success video. Famous Entrepreneur Quotes Brené Brown's Quotes "There is no innovation and creativity without …