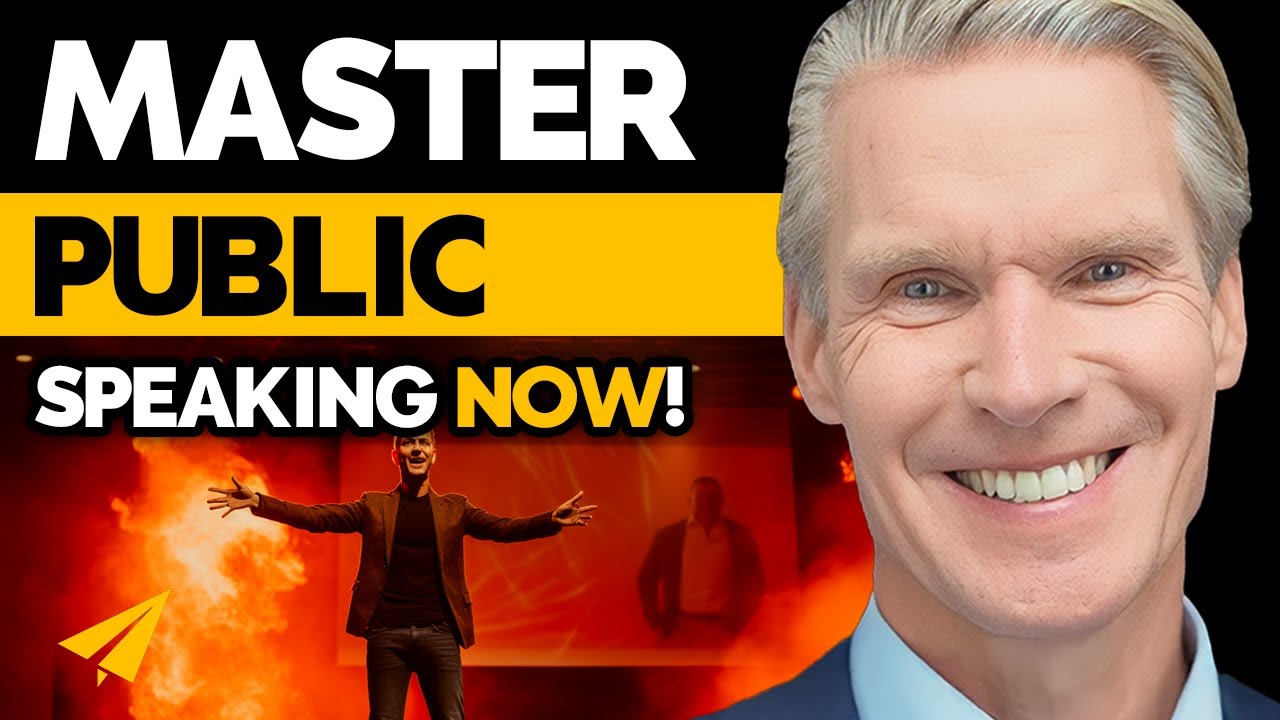 Evan Carmichael
We're getting a couple questions about being a speaker.
So Esteban saying, how do I start becoming a paid speaker? is asking, how do you evaluate speakers who are coming in?
So, in terms of being a speaker, you do a lot of speaking, obviously, as part of what you do.
You've hired speakers to come in and speak at your events. What are your thoughts on people getting into the paid speaking business and their evolution advice to help them out?
Stephen Kelly
Yeah, I think the parasocial is really incredible here, so I think if you want to become a paid speaker, I think it's fantastic, and obviously it could be pretty lucrative. Um, again, I think, number one, you need to have, in this case, the product is you. So you are the product.
So what's your idea?
What's your point of view?
What do you want to be famous for?
And it could be, you know, you've done, like Evan talks a lot, and he goes to speak in conferences about entrepreneurship, and he's now famous for that. He's a brand. And I think, you know, what is your number one?
What is your product?
What is your big idea?
It's you.
What's your point of view?
And then the next question to ask yourself is why are you different?
How do you differentiate yourself?
Because, again, it's a crowded marketplace, it's a noisy marketplace.
Amplify the message
You want to be different. And then I think once you determine that, then you've got to build your profile. The great news about social is the audience can come to you.
So, you know, if you're talking about women in business or you're talking about inclusion or you're talking about breaking through the glass ceiling, whatever it is, or exporting in terms of what are the lessons learned, if you're a U.S. business and you want to export to Europe and Asia, whatever it is, you will find something where …
The good news is there will be thousands of people out there who will want to hear your story again. And then when you do speak, and I'll say it kind of how do you amplify the message, and we've talked about this before in around social media.
I think that's a brilliant way to build a following, build a brand, build your fame, and the audience will come. And then, you know, you get things like DMs where people pop up and say we'd like you to come and speak at this conference, and I think with these things you should kind of test-drive it.
What I'd advise then is develop some really compelling stories. And again, when you do stand up there, you want to tell them most of all the authentic, tell them your story, and again, put yourself, in sort of what we said, put yourself in the shoes of the audience.
And obviously, if it's a big conference of 2,000 people or 200 people, or even 20 people, you want to kind of think, how do I make this really interesting for the audience?
Have a strong point of view
What is likely to be on their mind? And what parts of my story are going to kind of jump out for them and make this memorable? Because again, the amazing thing is we probably all go to conferences. Evan, you must have gone to thousands of conferences.
The question you ask yourself … How do you become memorable?
How do people talk about your story that you presented?
And they share that with your friends and then you have a moment, you have a following.
"Be true to yourself, be congruent, be authentic, and be you. And then people will come to love you. If you've got a compelling idea, a big vision, and you tell it in a great story. Wow, you will make yourself memorable." – Stephen Kelly
And literally, I know the case I quote about someone I went to see speak 10 years ago, and they blew me away. And that could be you. So I think, I do think it starts at the basics about the kind of big idea, the product, the product is you, build your social media following, have a strong point of view, and you will find then that you will get booked on, and you can do stuff.
I'm not a big fan of it, and I think it's likely to be disintermediated, speaker marketing agencies that kind of book speakers and they take a commission and all that sort of stuff.
And a lot of famous people and celebrities, use through their agents, these speaker marketing agencies, but I think the way the reality of the social media world has sort of changed that forever. But what you might want to do, when you get a bit of a following, if you did want to do something around engaging an agent and one of these sort of speaker marketing agencies, there's plenty of them.
Make yourself memorable
If you go to Toronto, there's probably a dozen speaker marketing agencies there, in New York, they're all over the place. But again, they will have the way they do it.
Companies like us, we're doing Sage Summit, we want to book a speaker, we want him talking about maybe general entrepreneurship or how to overcome adversity or exporting or how do you get ready to grow and scale your business from being a startup to scaleup.
Whatever the theme is, they'll go down the playbook of who we got on the books. It's almost like an actor sort of agent. They've got, who's got these sort of skills, who can address this, and then they'll book you in there.
I think, because this is very personal, and the product is you, I think you should take control of that, and I'm always, my advice would always … I'm very reticent … for you to sort of, this is a bad word, but sort of prostitute your brand out there with lots of different people so they dilute you.
I think you want to be true to yourself, be congruent, be authentic, and be you. And then people will come to love you. If you've got a compelling idea, a big vision, and you tell it in a great story. Wow, you will make yourself memorable.
Evan Carmichael
I think to Steven's point, the gatekeepers are disappearing. Those people who you have to go through them to get any opportunities, is disappearing.
Those speaker houses, the people who you need their approval to get anything done, it's going away, which creates a lot of opportunity for a lot of people, but you have to be good.
And you get good by practicing. You've got to practice. If you want to be a speaker, I would be on YouTube everyday, practicing your speech, practicing answering questions.
Practicing, practicing, practicing, practicing. Your talent should be obvious. There's this great clip that we included on one of our videos of Eminem, the rapper, prank calling a radio station. He said his name was like, I'm John from Miami, something like that, and he said, hey can I rap for you?
And he did some wrap, and LL Cool J was on the station, and DJs were on the station, and they said man you're really good, like you should consider doing this as a career, John from Miami. And they didn't know it was Eminem, and later on he said it was Eminem, and he pulled their leg, and the thing is like his talent was obvious.
You need to practice more
So is your talent obvious. Steven talked about he went to go see a speaker 10 years ago that like blew him away. Are you doing that to your audiences? If you make a YouTube video and the people who watch it are blown away, they're going to share it.
They're going to tell their friends about it. You're going to get booked on speaker gigs. And the more you do that, the more content you create that blows people away, the more your profile is going to rise. The challenge is for most people, you're not quite good enough yet. You need to practice more. You've got to get to that point where you can blow people away.
Since the market is so wide open, you've got people around the world now you're competing with that you have to get really good. And so it's never been easier, which is great, but you have to put in the work to get there, and so I would be starting a YouTube channel immediately.
I would be posting daily content, work work work. I was not a great speaker when I started, but I did 4,000 YouTube videos, right? You better get better after doing something 4,000 times. Anything.
If you're practicing basketball, if you take 4,000 shots, you better get better at taking that shot. It's hard not to. And so I think getting out there and practicing so that when people see you, they are blown away, is going to be your ticket in, much more than trying to go to an agency or these houses, because the gatekeepers are going away. To Steven's point. I agree.
---
More from Motivation
---
Watch Ralph Smart's Top 10 Rules For Success video. Famous Entrepreneur Quotes Ralph Smart's Quotes "We're so caught up in the outcome …
Watch Kris Jenner's Top 10 Rules For Success video. Famous Entrepreneur Quotes Kris Jenner's Quotes "You need something to be excited about …
Watch Evan Carmichael's Top 10 Rules For Success video. Famous Entrepreneur Quotes Evan Carmichael's Quotes "Changing my environment had a dramatic impact …