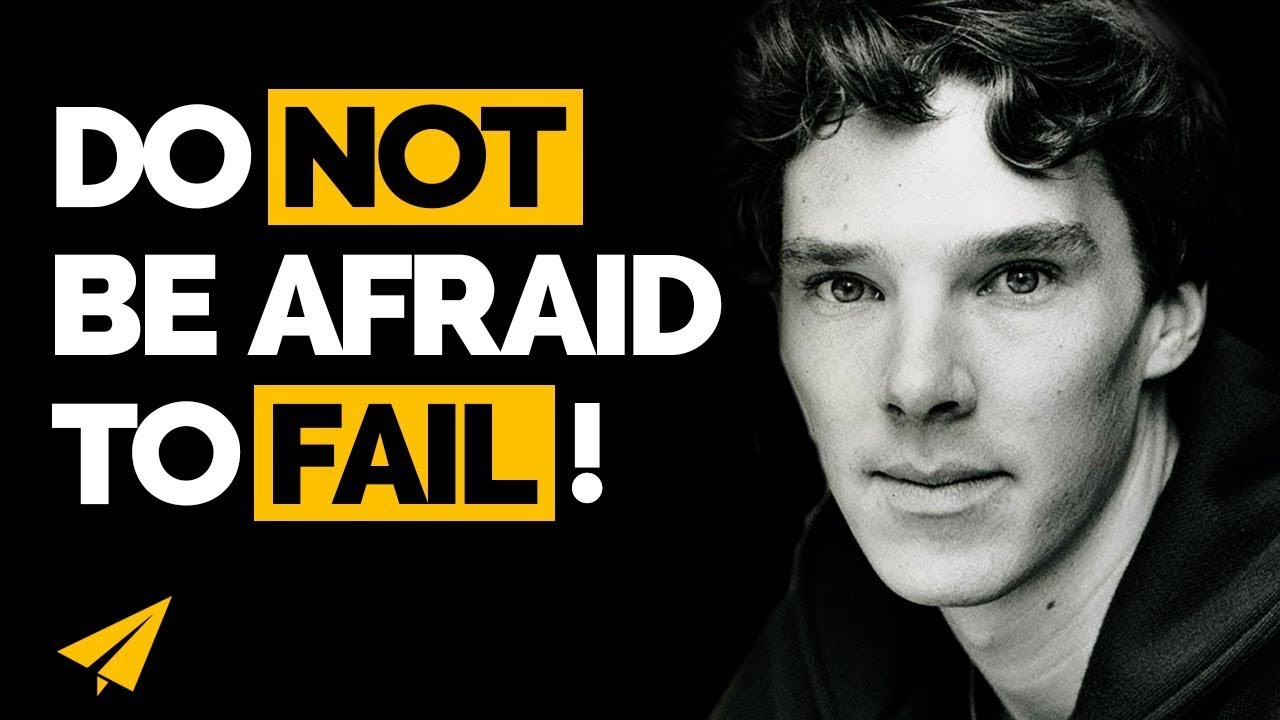 Famous Entrepreneur Quotes
Benedict Cumberbatch's Quotes
"You can never perfect what we do. There is no way… I've never met anyone who goes, that's perfection."
"Forget about your social life. That's the sort of sacrifice to commitment."
"What drives me is having a challenge and meeting that challenge in a way that'll hopefully make my peers, my family, and my friends proud."
Benedict Cumberbatch's Top 10 Entrepreneurship Rules For Business and Success
Today we're going to learn from actor Benedict Cumberbatch and my take on his top 10 rules for success.
Rule #1: Pursue PERFECTION
You can never perfect what we do. There is no way… I've never met anyone who goes, that's perfection. I mean, to an audience outside of your work, people can think that that's the only way they'd ever want to see that part played or that moment done, whatever.
But, as an actor, and this isn't mock humility, I think it just goes for all the art forms really. The whole point is perfection is un-achievable. So, it's that constant pursuit of the unobtainable which is kind of magic really. And, to keep us kind of motivated to try better. It's the Beckett thing. Fail again, fail better.
Rule #2: Bring the "A" game in others
Man: There isn't a better actor, certainly for this role, but perhaps period, than Benedict Cumberbatch, who was remarkable to work with. Immediately when he came on set, it was on. And everyone just was on their A game at all times. No one was slacking because there was something about Benedict's focus and his presence that really just helped challenge everyone to do the best possible job. It was awesome.
"The whole point is perfection is un-achievable. So, it's that constant pursuit of the unobtainable which is kind of magic really." – Benedict Cumberbatch
Rule #3: Sacrifice To Commitment
Interviewer: You fully commit to every role that you play. So I was thinking, when you do fully commit to a role, what are the sacrifices you have to make to fully commit to a part like this?
That's a very interesting question. I mean, a lot I think specifically when you're working, you have to… Wow, that's such a good question. That's such a good question.
So, no, I mean, logistically obviously, just the business of acting, the fact that you're doing certain hours and sometimes you're working all night and doing weird anti-social days and weekends that you… Forget about your social life. That's the sort of sacrifice to commitment. It's nothing quite like the level that Julian sacrifices, but you don't get to see your family. You don't get to see your friends. You are removed from the reality of your life to pursue a given goal.
So there is a kind of comparison. I guess you sacrifice a part of yourself. Because you're exposing… Either end of the spectrum of acting, whether it's just variations of who you are or whether it's completely dissembling into a different character and persona, equally valid in my opinion.
I don't think there's really a distinction to draw other than people are good or bad at it. But I think then you do have to give part of yourself no matter what you're doing. And that, you don't lose, you sometimes gain actually by doing that. But you have to suppress and control certain instincts that you have in order to actually be true to a character that may not be the same as you. Or be driven by the same things as you.
Rule #4: Take a Gamble
Interviewer: You were offered an opportunity to go to Broadway, with a play that you'd already been a part of. And it was a very difficult decision for you, but you elected not to do that because of sort of an idea of where you wanted to take things.
It was a very selfish decision as well 'cause it affected a lot of other people. I did do it eight months before we were supposed to go, but apologies to Nancy Carroll, and Adrian Scarborough, and Thea Sharrock. I just wanted to mix it up all the time.
I really wanted, I wanted… I mean, my theater training at LAMDA was a classical theater, classical English theater one year course and a post-graduate course, which I really enjoyed and got a lot out of. That was it, that was the main focus. Because I thought, a little bit old-fashioned in my kind of understanding of it.
I thought that what I'd do, what the great actors that have been ahead of me had done and inspired me to do, is the idea of starting out in the classics then maybe a modern play or two, then a few roles in television, and then getting a film role, but keep going back to theater. That is what I've done.
That is kind of what I've tried to do. The unhappy accident of that play being such a huge success was it came at a point where I thought, Christ, I've actually got some momentum in a medium where it's much more of a closed door. There's a very little long-term memory.It's much more immediate.
Your currency's something you really have to kind of work on in film quite fast, to a degree. I'm saying this in contra… Everything I'm say tonight is contradictable. I know that. But it's just I guess that's what a personal conversation is really, it's just a point of view.
Every time I say anything, I'm thinking, but the opposite is also very true.  That's the kind of… Yeah, that's my head. You're getting into my head. It's griping me. So, yeah, I really, I was really lucky to have just had a few breaks. Obviously with Sherlock, but also Tinker Tailor, also with Frankenstein, and being cast in War Horse.
And that all came at the same kind of point where we were supposed to be coming here to do this Broadway production of After the Dance. Which might still happen. Might be a film. We don't know. It might, there might be some life left in it. It was a wonderful experience in London.
But I felt that I'd had that experience there, and selfishly, I wanted to make some capital out of this momentum that was building. And I'm glad I did because I got Star Trek and 12 Years a Slave and August: Osage County. Yeah, it worked out well for me. And it fit the state. So I kind of, I was very… I took a gamble, and it paid off.
"You need stability, you need stamina, and you need to be able to keep your perspective and feel grounded and secure in what you're doing as an actor." – Benedict Cumberbatch
Rule #5: Work super hard
Charlie Rose: Are you really glad that you didn't leave college?
I really am. I really enjoyed my further education. I made some of my greatest lifelong friends in those moments and had some fantastic experiences. And we all really worked incredibly hard on the productions we put on. So in a way, it was my version of theater rep, which was the old system in England which I'm sure you know.
But, there was this very arduous, very difficult weekly rep system where you'd be doing a show, you'd be rehearsing one, and you'd be sort of getting ready to stage the other. I mean, three different characters and three different worlds and involvement in those.
It was a great stretch in training for actors in the old days. So, my schedule at the moment is a little bit like that. But also, I think we all experienced that in my group at university. We put on a ridiculous amount of plays…
Rule #6: Let Challenge Drive You
What drives me is having a challenge and meeting that challenge in a way that'll hopefully make my peers, my family, and my friends proud. Part of it is a thrill-seeking as well. Although I think I'm in a lot of danger if you just become an adrenalin junkie. But you need stability, you need stamina, and you need to be able to keep your perspective and feel grounded and secure in what you're doing as an actor.
Rule #7: Perform amazingly
Rule #8: Learn from the past
Interviewer: There's certain, obviously recurring things that you say but also that interviewers and profilers would say. And one of the things, in terms of complimentary adjectives, they… There's sort of the sense that you're timeless. There's something about you. You could have just as easily been dropped into a movie with Trevor Howard or Peter O'Toole or somebody, as you are today.
The blessing of having a weird face. Somewhere between an otter and something that people find vaguely attractive.  Or just an otter, which is vaguely attractive. Yeah, it's, I mean… I've been on these hottie lists, I just kind of go, why? It doesn't make any sense because I was nowhere near the thousandth hottest face when I started out.
So I know a lot of it's projection, which is kind of flattering about the work, I suppose. But what I'm saying all that for is I started out and went yeah, I know, I'm not a typical beauty. So basically, I've got a long face and a long neck. That's usually period.
That's usually some kind of inbreeding weirdness.  So, I'll run with that. I'll wear some high collars and get on a horse or two. I'm fine with that. But not all the time. Not all the time. Sometimes I'll just get a collar in a 21st century drama and turn it up. As you'll notice I did in Sherlock. So yeah, it's, I kind of… The otherworldly… I mean, I had a great, great English teacher called Martin Tyrell.
Oscar, you remember him? He said, it's weird, you remind me of William Blake. I went, what?  The hallucinating visionary poet of the Romantic era? And he went, yeah, we know, it's just that you're quite an old soul. And I went, oh, I kind of like that. It kind of… An old soul. Did someone say what?
As in not a new soul. An old soul, an old, smelly leather soul. And I kind of ran with that because I was fortunate enough to grow up in England, and you're surrounded by your heritage there. And it's a very deep, very long, very kind of old… I mean, not my heritage, but the heritage of the land and the culture.
And I went to school where there were buildings that were 400 years old, and those were the new ones. It was kind of inspiring. And it meant that whatever I was doing in my context, in my time, I could always see what the past had evolved into and realize that we're not all that far away from that. We really aren't. And it's important to be able to recognize it and to be able to honor it and learn from it as well.
"I really enjoyed my further education. I made some of my greatest lifelong friends in those moments and had some fantastic experiences." – Benedict Cumberbatch
Rule #9: Respect Your Customers
Interviewer: You've got an incredible fan base for your work in Sherlock. And working in Star Trek, obviously, opens you to an even bigger one. Did it intimidate you to work ina film franchise with such a rich history, high expectations, and a vocal fan base?
That's a good question. Yes and no, but… Basically, the first film, J.J.'s first outing with Star Trek 2009 made me realize that the franchise was in very safe hands. And that, to be honest, he's such an extraordinary filmmaker and human being, if I was pleasing his idea of what he wanted my character to be within our version of Trekdom then, that was the only concern or preoccupation I had to have with expectations.
Because otherwise that way madness lies. You'll never going to be everyone's meat. Someone's going to be throwing up in the corner going, this guys's horrendous. And that's fine, that's allowed, that's what the world's about. But, I'm very aware, of course, of how possessive, and rightfully so, Trekkies are. There's a huge deal of respect I have for them because it's not just a name for a group of fans.
It's actually about a level of knowledge and understanding of the subject matter. But it's a strange thing because it actually then takes ownership of what it is, which originally was a creative process, and received by them as an audience. And now the audience's sort of taken control of it.
So, there's good and bad with that. There's knowledge which I completely bow to and would love to immerse myself, and have done since doing the film. So, yeah, I think I was, my fears, which were rightfully there obviously because of their kind of presence.
Though I have to say that a lot of them were incredibly benevolent. I mean however vocal they may might be about what they like or don't like, they're opinions. They're not going to kill me. I hope. It's just, it's like there's no more human beings who just have a real enjoyment of quite exceptionally rich, materially rich genre and cult that is Star Trek.
Rule #10: Have Fun
Thank You!
Thank you guys so much for watching. I made this video because siddhant tripathi asked me to. If there's someone you'd like me to profile in a future top 10, please check out the link down in the description below, and you can cast your vote on who we should do next.
I also want to give a quick shout out to Devon. Thank you so much for picking up a copy of my book, Your One Word, and posting it on Instagram with all those other books that you have on your to-read list. Hopefully you'll put Your One Word at the front of that to-read list, and let me know what you think about it. I hope it has a big impact. And, again, thank you for the support.
Thank you guys again for watching. I believe in you. I hope you continue to believe in yourself and whatever your one word is. Much love. I'll see you soon.
---
BONUS
Let Others Guide You
Interviewer: Is there ever any pressure? Because I'd imagine the budget on this film is not small. Do you ever mess up, and you're like, oh God, this is a bit embarr… No, shouldn't have done that the first time.
You have to treat it like, you have to treat it like most other jobs. You really do. Otherwise, yeah, that would get to you. Very much so. You just have to… You're facilitated all the way as well. So, for me anyway, I find that a real privilege.
Learn Your Art
Interviewer: What makes me such a big fan of yours is the fact that you seem to completely disappear in the roles, in the characters you play. No matter if it's Sherlock or Julian Assange or whoever you play. We don't see you anymore. Is it something you would say one could learn? Or is that something, I don't know, don't want to say God-given gift or something, which you just have to have.
No, I think you can definitely learn that. I mean, some of it, you start to have to feel, but even that sort of intuition or emotional kind of feeling, you can learn that by practice. I think you know when something's working. With the rest of it, yeah, no, absolutely. I'd never say that this was some kind of exclusive gift for… I think it's rather like saying that I do believe that everyone has a painter or a drawer in them, or a musician, as well as something that's… I mean, all of us role play.
All of us sort of disappear to a varying degree in different forms of our lives. Whether it's private or public face that we have. And, yeah, I think that makes us all capable of being actors. I don't think it's the exclusive preserve of those of us lucky enough to call it a living.
Treat All Jobs As Equal
Interviewer: Is there pressure when you're doing a superhero? And such a loved superhero. Do you like, uh uh uh? Is it an immediate yes? Or do you call anyone? Do you ask your friends and family like, can I be this guy?
Well… Completely, because… People that know this world and also this particular character far better than me said yes, you can, and it's a fantastic character. You should relish it 'cause there's loads of challenges that you will enjoy within the kind of story and especially if it's an origin story.
And also, Scott Derrickson, the director, and Kevin Feige, the proper, the real sorcerer supreme at Marvel Studios, they do the heavy lifting when it comes to what that world is about, the Marvel cinematic universe. And, there's nothing that I know about the comics, there's nothing that they haven't seen as well. So they're the first people to get bored, as well as to reference what should be there and what shouldn't be there. So, I kind of let them guide me, yeah.
Summary
Rule number two is my personal favorite, and I'd love to know which one you guys like the best.
Benedict Cumberbatch's Rules
BONUS
I hope you enjoyed this article, make sure to check my Benedict Cumberbatch video on his Top 10 Rules For Success as well.
---
You might also like
---
More from Benedict Cumberbatch
---
Good morning, Believe Nation.! Today's message is pursue perfection over you, Benedict Cumberbatch. You can never perfect what we do. There …