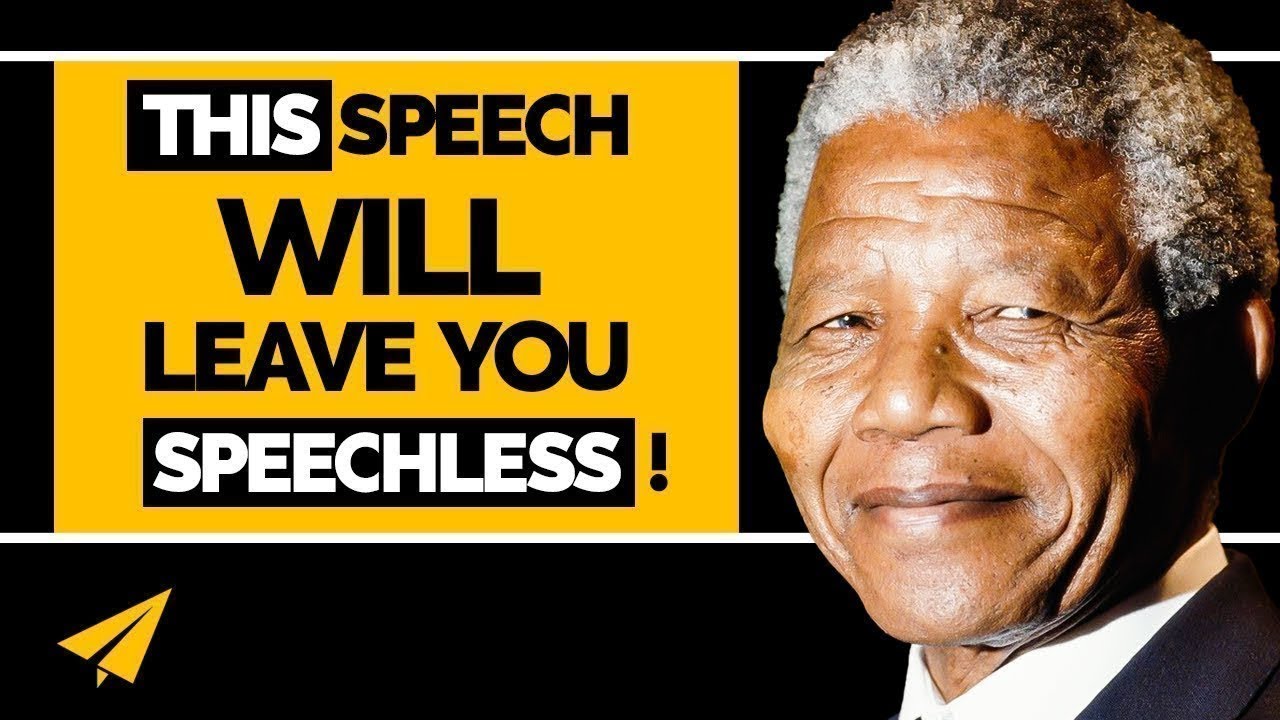 Evan: Hello Believe Nation, my name is Evan Carmichael. My one word is believe and I believe that entrepreneurs will solve all of the major problems in the world.
I started the mentor me series with the goal to try to hang around people who've done a lot more than us and hopefully by spending more time with them some of their mindset, their thoughts, their beliefs, their attitudes, their way of looking at at the world seeps into us to help up become the best version of ourselves.
So today we're going to learn from Nelson Mandela and some of his best speeches. Mentor me, Nelson. Rule number three is my personal favorite and I'd love to know which one you guys like the best.
And as always guys, as your watching if somebody says something that really resonates with you please leave it down in the comments below and put quotes around it so other people can be inspired and when you write it down it's much more likely to stick with yourself as well. Enjoy.
Best Nelson Mandela Speeches
#1: Fight For Equality
I have fought very firmly against white domination. I have fought very firmly against black domination. I cherish the idea of a new South Africa where all South Africans are equal.
#2: Speak With Conviction
For anybody who changes his principles depending on whom he is dealing that is not a man who can lead a nation.  Apparently, Mr. Koppel, you have not listened to my argument. If you had done so, then you have not been serious in examining it.
I have replied to one of our friends here that I have refused to be drawn into the differences that exist between various communities inside the U.S.A. You have not commented that I'm going to offend anybody by refusing to involve myself in the internal affairs of the U.S.A.   Why are you so keen that I should involve myself in the internal affairs of Cuba and Libya?
Ted Koppel: No. I expect you to be consistent. I don't know if I've paralyzed you.
No, no, no, no-
Alright. I'm-
I'm afraid, Mr. Mandela, that paralysis does not set in quite that easily in my case.  The point-
#3: Prove Them Wrong
When I phoned some place in my country and a lady answered the telephone, I then asked "To whom am I speaking?" She said, "you're speaking to me."  I said, "well, lady, I know I'm speaking to you.  But what's your name?" She said, "Who are you to ask for my name? What's your name?"  I said, "Well, lady, as soon as you tell me your name, I'll tell you mine."
But as we argued as to who should tell his or her name she became very cross. And she said, "you seem to be a vapid person. Have you passed your matric?" Now matric in our country is a university entry examination. And I said, "well, lady, you must be very careful.
Because if the qualification to speak to you is the possession of a matric certificate I might work hard and pass my matric and be in the same class as you are." That was treason. She said, "you will never be in my class." And banged the telephone.  How I wish she were here today.  She would now discover that I have achieved more than pass my matric.
#4: Fight For Others
The very right to be human is denied every day to hundreds of millions of people as a result of poverty and the unavailability of basic necessities such as food, jobs, water and shelter, education, health care, and a healthy environment.
As I sit in Qunu, my village, and grow as ancient as it's hills, I will continue to entertain the hope that there has emerged a cadre of leaders in my own country and region, on my continent, and in the world, which will not allow that any should be denied their freedom as we were; that any should be turned into refugees as we were; that any should be condemned to go hungry as we were; that any should be stripped of their human dignity as we were.
#5: Unit People
The time for the healing of the wounds has come.
The moment to bridge the chasms that divide us has come.
The time to build is upon us.
We have, at last, achieved our political emancipation. We pledge ourselves to liberate all our people from the continuing bondage of poverty, deprivation, suffering, gender and other discrimination.
We succeeded to take our last steps to freedom in conditions of relative peace. We commit ourselves to the construction of a complete, just and lasting peace.
We have triumphed in the effort to implant hope in the breasts of the millions of our people. We enter into a covenant that we shall build the society in which all South Africans, both black and white, will be able to walk tall, without any fear in their hearts, assured of their inalienable right to human dignity – a rainbow nation at peace with itself and the world.
As a token of its commitment to the renewal of our country,the new Interim Government of National Unity will, as a matter of urgency, address the issue of amnesty for various categories of our people who are currently serving terms of imprisonment.
We dedicate this day to all the heroes and heroines in this country and the rest of the world who sacrificed in many ways and surrendered their lives so that we could be free.
Their dreams have become reality. Freedom is their reward.
We are both humbled and elevated by the honour and privilege that you, the people of South Africa, have bestowed on us, as the first President of a united, democratic, non-racial and non-sexist South Africa, to lead our country out of the valley of darkness.
We understand it still that there is no easy road to freedom.
We know it well that none of us acting alone can achieve success.
We must therefore act together as a united people, for national reconciliation, for nation building, for the birth of a new world.
Let there be justice for all.
Let there be peace for all.
Let there be work, bread, water and salt for all.
Let each know that for each the body, the mind and the soul have been freed to fulfill themselves.
Never, never and never again shall it be that this beautiful land will again experience the oppression of one by another and suffer the indignity of being the skunk of the world.
Let freedom reign.
#6: Be Willing To Die For Your Cause
When you were convicted in 1964 for conspiracy against the state. And in your, when you pleaded you said that, "I am willing to die for this cause." This is a very tough thing to say.
Yes. I had to say that. Not from a spirit of bravado, but because I genuinely felt that they were going to hang us. And it is the desire of every freedom fighter, to disappear under a cloud of glory rather than that of fame.
It is the task of a freedom fighter, when you see that the end of your days has come, to leave a tradition of bravery, determination, to face death for your principles. And I thought about it. It was not because I was brave. But because one had a duty to perform at that moment.
I have dedicated my life to this struggle of the African people. I have fought against white domination. And I have fought against black domination. I have cherished the ideal of a democratic and free society in which all persons will live together in harmony and with equal opportunities.
It is an ideal for which I hope to live for and to see realized. But my Lord, if it need be, it is an ideal for which I am prepared to die.
#7: Tell Great Stories
In 1993 I was walking along the street when I met a couple of tourists from a well known Western country. And then the husband stopped and said, "Mr. Mandela." I said, "Many people mistake me for that chap."
And he said, "Would I be entitled also to mistake you for that chap?" I say, "Well you'll be doing what many people do." He then turned to his wife and said, "Darling, Mr. Mandela." She was completely unimpressed.  And she said, "What is he famous for?"
And the husband, in his embarrassment dropped the voice and he said, "Mr. Mandela, Mr. Mandela."  And that the dear lady said, "But I asked you what is he famous for?"  And without waiting for an answer from the husband, she turned to me and said, "What are you famous for?"
I must confess, I couldn't answer that question.  We are therefore pleased to announce that we're able once again to increase old age benefits.  I'm very excited about this.
Because in Davos in Switzerland I told the plenary session that in a few months, I'll be standing next to the road, saying, "Please help. Unemployed. No money. A new wife."
Thank You!
Thank you guys so much for watching. I'd love to know what did you think of this video? What was your favorite clip and why? What lesson are you going to pull from this clip and immediately apply somehow to your life or to your business? Please leave it down in the comments below. I'm super curious to find out.
I also want to give a quick shout out to Anthony Avina from Anthony Avina Vlogs. Anthony, thank you so much for picking up a copy of my book Your One Word and doing that vlog review on it. I really appreciate the support, man, and I'm glad you enjoyed the read.
Today I'm going to be reviewing a book for you guys called Your One Word by Evan Carmichael.
So thank you guys again for watching. I believe in you, I hope you continue to believe in yourself, and whatever your one word is. Much love, I'll see you soon.
---
You might also like
---
More from Mentor Me
---
Today we're going to learn from Malcolm Gladwell and some of his best advice from David and Goliath. What's up Believe …
Today we're going to learn from Malcolm Gladwell and his outliers advice. What's up, Believe Nation? It's Evan, my one word …
Today we're going to learn from Floyd Mayweather and Conor McGregor and their motivation. What's up believe nation? It's Evan, my …