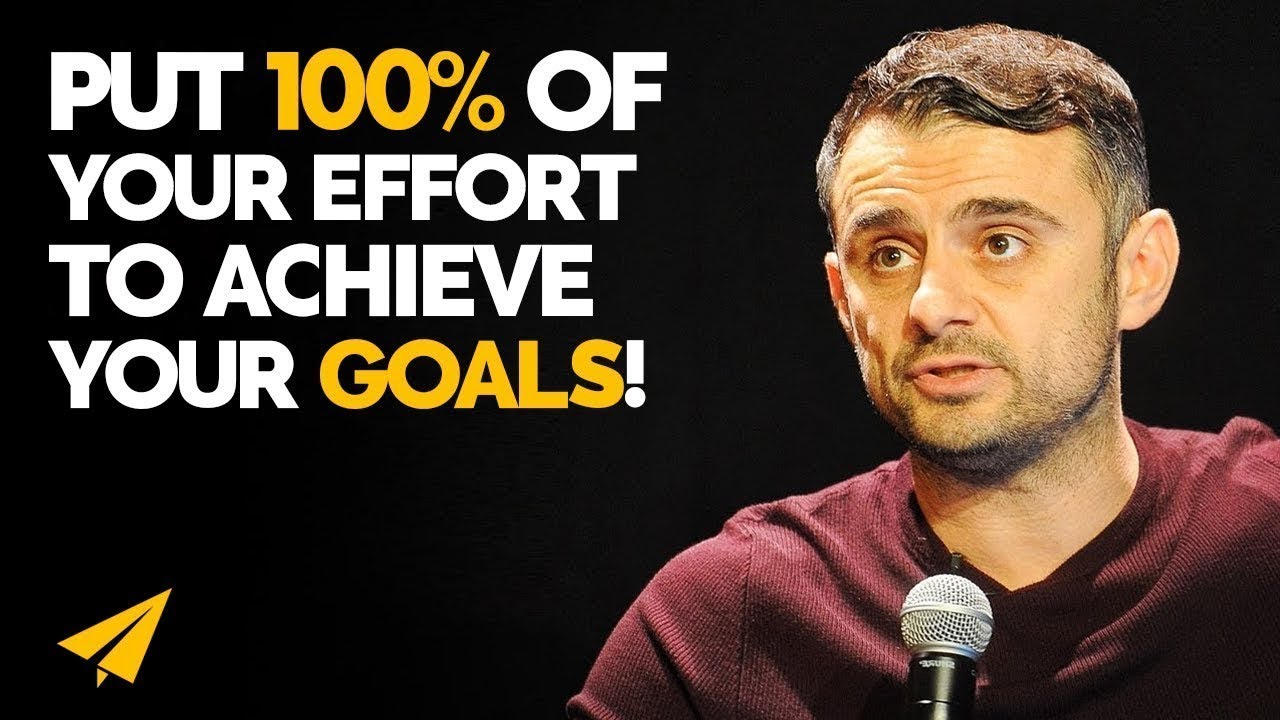 Hello Believe Nation, I started the MentorMe series with the goal to learn from people who've done a lot more than us, and by hanging around them a little bit longer, some of their mindsets, their attitudes, their beliefs, the way they think, seeps into us to help us become the best version of ourselves.
So today, we're going to learn from Gary Vaynerchuk, pulling from his most motivational clips from 2015. Mentor me, Gary.
And as usual, guys, as Gary is talking, if he says something that really resonates with you, please leave it down in the comments below. Put quotes around it so that other people can be inspired as well. Enjoy!

#1: Follow The 1>0 Concept
I hear people say, like, well, how do I get in New York Times, or how do I get that meeting with that CEO, and oftentimes, I just say one is better than zero. The steps it takes to actually get to the biggest places in the world, before you get a meeting with, you know, Zucks, or Cuban, or Barry Diller, or whoever you're trying to have a meeting with in the business world, well, you've got to have a lot of little meetings to build up your cadence.
"I want to go deeper with my community. I wanted to give back to people that were fans of me. And so even today, where I have more leverage than I did three or four or five, six years ago, to get bigger platforms, I still work under the model of one is better than zero." – Gary Vaynerchuk
People are always like, man, you've been on Conan, and Ellen, and the Today Show, and CNN, and Fox, like, how do I get that? And I'm like, well, I also did a thousand interviews, it feels like, on videos that got one or 19 or 137 views.
Like, my PR people and all my managers and handlers are really pissed at me, because they're like, why are you spending 15 minutes doing these blogs that have six readers, you know, every single day, and you're passing on the stuff that we're giving you to be on CNN or New York Times?
I still, even today, am as happy, and sometimes even more excited, to be on a podcast or a video blog that's only going to reach 100 people, because I'm always about depth versus width. Do want to go wide, or do you want to go deep.
I want to go deeper with my community. I wanted to give back to people that were fans of me. And so even today, where I have more leverage than I did three or four or five, six years ago, to get bigger platforms, I still work under the model of one is better than zero.
To me, doing these interviews is the process of the work that so many people are impatient and not willing to do. Are you willing to take ten minutes to get 195 views? I am. I don't know who you think you are.
When you've not gotten the exposure yet, when you have not made your name just yet, when you're still making the climb, when you're not paying attention 'cause nobody else is 'cause 217 people are watching the video, I'm grinding when you're sleeping.
I did those 87s and 59s and 137s and 813 views day in and day out, day in and day out, day in and day out, and continued to. You may make a video on somebody's video show that has 89 viewers, but one of those 89 viewers may be a producer at CNN, or, or, might be the CFO of a big company that you're trying to reach, and so undervaluing just that one view, it needs to be the right view, but it's one view, is a humongous mistake.
It's about having the humility. It's about not saying no, even when you've made it. And the one is greater than zero concept is something I'm proud that I continue to execute on.
#2: Love What You Do
If you actually love what you're doing, if you actually love it, there's no friction to turn on your brain.
The only time I feel like I have to turn on my brain was when I was six to 22 years old when I was going through the bullsh– education system of America. Right? That's when I felt like I had to turn it on, you know, to appease horse crap that didn't match my reality, but ever since that day, when like, yay!
And I went into like, you need to buy this pinot grigio. The second that started in May of 1998, there's never been a day that I've had to activate. It's always on. And I don't mean always-on buzzword marketing, it's that I love what I do so much that there is no friction to turn it on, even when I am landing at two o'clock in the morning from a flight that's delayed like the other night, and then going directly into it at 6:30 in the morning, because the fire is so deep inside, you love it so much. You know, you don't need that jumpstart.
"If you actually love what you're doing, if you actually love it, there's no friction to turn on your brain." – Gary Vaynerchuk
#3: Don't Settle
COLSAUCE: Aimee asks, a professor once said to me, "It's better to be a big fish in a small pond." Do you agree?
Aimee, this, you know, I'm going to be very upfront on this question. This is a good way to bang out the show. That sounds like a loser professor to me. It's small-time thinking, I don't subscribe to it, there's a lot of practicality in it, right, there's…
It's a lot easier to be the most successful businessman in St. Louis, Missouri, than it is to be in the world, right, so I understand the thesis, but honestly, that, to me, is very conservative, not in my DNA thinking.
That could be great advice for a lot of people who are delirious and think they're better than they are, though I love to drive through self-esteem and optimism, and I think early in your life, you should absolutely shoot for the highest stars that you can.
I think as life moves on, and time moves on, you need to become more practical, you've got bills and kids, and all those kind of things, but to start off one's career in the first 20 years, call it 'til you're 40, to be in that thinking, I think that limits.
There have been so many people who've hedged and settled in their lives, and honestly, I'm not the kind of character that's going to play in that kind of sphere. I'm going in a different direction, it's what comes natural to me, but it's also because I think I can be the biggest and the baddest in any game I play.
It's just how I'm wired. I think this comes down to… It's probably very good advice to some, and it's probably atrocious advice to others, and this is why I continue to say, if I could inject anything into anybody, it would be self-awareness, because it would help you answer this question, because for a lot of people, it's probably really solid advice. For me, and for many of you watching this, it's crap advice.
#4: Stick To Your DNA
Being a dick about it. I know I'm sitting in a room full of number two's, three's, and four's. There's so many people in this room that are like, going to be dominant, like, could be dominant, number two, three's, and four's, and I'm pissed that the narrative now is that you need to be a number one and have your company, because a lot of people are going to lose or leave money on the table… Because that's just the narrative.
"To stick to like, your DNA, because the truth is, if you want to be an anomaly, you've got to act like one." – Gary Vaynerchuk
I really do think you have to audit who you actually are. You can look at like, how people roll, and like, it's great to admire and things of that nature, but it's so damn important. You need to bet on your strengths, and don't give a f— about what you suck at.
Way too many people in this room are going to spend the next 30, 40 years of their lives trying to check the boxes of the things that they're not as good at, and that, you're going to waste a f—load of time and lose. To stick to like, your DNA, because the truth is, if you want to be an anomaly, you've got to act like one. You know, like… And so, that's it, that's what I got. So thanks for having me.
#5: Execute With Enthusiasm
Action or enthusiasm. The truth is, my friend, m squared, can I call you that, Mister Money, the real answer to that question really is, both. The funny thing is, I know tons of people with massive enthusiasm, and they can't execute sh–.
On the flip side, I know people that can execute A's on all their papers, but without that passion or bravado, or fire, they're only able to get limited return on that investment of execution, so to me, I'm probably a 60/40, action/execution 60, enthusiasm 40.
I know a lot of people might not get that, but the truth is, I'm way more proud of my execution skills. All this, all this charisma… Hides what I really am, which a hardcore executer.
Don't forget, I had executed a large business before I ever hit the scene. I was already 30 years old when I started Wine Library TV, and started that whole process, and so, I'm a 60/40 execution, enthusiasm, action. I might even be a 65/35. Heck, as I sit here, maybe I'm a 70/30.
#6: Hustle
What I would say the hustle is to me is that when you have passion around something, that you are squeezing every last bit of the juice out of the orange. Right? To me, hustle is maximizing the energy you're putting into somebody.
I'm blown away by people saying that they're hustling, and they want to achieve these great things, and then their actions don't match. It's like saying you really want to lose weight while eating a Big Mac, right? So to me, hustle would be putting all your effort into achieving the goal at hand, and for me, that means making every minute count.
Hiring a full-time assistant who is, I mean, Friday night didn't happen because I was hustling. Like, every minute, like, if I miss my 15 minutes to tape the show, I've missed my 15 minutes, because there's so much hustle in my day.
"Hustle is maximizing the energy you're putting into somebody." Gary Vaynerchuk
There's no, you know, there's no like… There's no hanging out. There's no like time where I like… If I get to do like one joke with you guys as I'm walking in between meetings, we like find that to be a rare acquaintance situation, like, like, occurrence, not acquaintance. Hustle is putting it all on the line.
Hustle is waking up one day, the day before you die, and realizing you gave your all, into the parenting of your children, the building of your businesses, the philanthropy that you wanted to do, whatever you define, it's just, you know, all in. Emotionally and executionally, in theory and in strategy, and in execution.
#7: Honor Your Word
My dad taught me word is bond. I've said it a couple times for the people that watch me a lot, they know this, that when I walked into my dad's business at 14, let's just say I was a little bit of a bullsh– artist.
And, you know, a lot of the charisma and the showmanship and the salesmanship that a lot of you enjoy, and I appreciate that, also comes with being full of crap. It's got a very similar cousin DNA, and I'm glad, I got very lucky, let's call it what it is, I do not think I'd be as honorable or as good of a dude without my dad's correction of, you make a commitment… I'll never forget it.
You make a commitment, you buy 50… When I started buying wine. You buy 50 cases, no matter what, you take those 50 cases. If you say I'll take those 50 cases. If the market changes, if it gets an 84 in the Wine Spectator, you take it, you eat it, you drink it, your word is bond, and because I play the marathon, not the sprint, long-term businessman, that's helped me a lot, because I've kept relationships forever because sticking to it has mattered quite a bit.
#8: Shoot For The Moon
I think that I paint a narrative of me wanting to buy the Jets for 30 years, that when I buy the Jets, everybody's going to freak the f— out. Yeah, right? And so like, and that, I'm sure, on some level keeps me motivated, you know, there's a real dirty secret. I'll go deep on you guys here, like, I don't give a f— if I buy the Jets, right? Like, I love the process.
I made a video four years ago that sits in the cloud, hopefully it doesn't disappear, where I literally talk about, I actually, this is the worst day of my life, and it's the whole narrative of the day I buy the Jets, how upset I am, because I love the climb, right? And that's what I'm here for. Like, that's why I'm even here. I love the climb.
I love, like, talking out stuff with peeps, like I love the climb, I love the process, and by creating such a heavy North Star, you know, it's creating a game where I can, you know, keep climbing without ever really having to change it.
I feel like resetting your North Star, I'm a very big, shoot for the moon, land in the clouds, I feel like always having that North Star, it has made me a much more honorable, legacy-driven entrepreneur, because I'm trying to go for this big thing, and a lot of things are going to happen in the next 40 years, so skimming an extra 50k as a salesman isn't going to help me, you know, because that person might help me in 13 years when they're xyz, and so, I think it is a mechanism that I created for a couple different reasons: one, the Jets represented, to me, becoming American.
And, in a weird way, it's like the ultimate Kickstarter, right? Like my real plan is, if I'm like 75, and I feel like I can't get there, I'm just going to ask everybody to help me. I feel like if I can infect enough people with the narrative, everybody's going to want to kick in their five, three, eight cents.
#9: Bet On Your Strengths
I'm a big fan of going all in on your strengths and outsourcing or not focusing on your weaknesses. I, I think you've got it pegged right. I think the one thing is… Sometimes it's obvious, right?
Don't get caught in the obvious, meaning, it's obvious to you that you suck at accounting. It's kind of easy, right, it's math… You probably also don't want to or like doing it. That's easy. It's the thing that's in the shadows, that's not as obvious. There's something you're doing right now that a lot of people could do better than you. It's easy when you're an F at it, and you know you need an A.
But what about the fact that you might be doing something right now at Tiger or somewhere else where you're a B at it, but you could afford to have somebody be an A at it. That's where people miss the mistakes. So, it takes deep self-awareness.
"I'm a big fan of going all in on your strengths and outsourcing or not focusing on your weaknesses." – Gary Vaynerchuk
You know, I'm not a big believer in like, try, try, try harder, be better at this thing, I think it's a waste of resources, energy, and happiness often. Now, if you get off on that kind of thing, like, persevering, knock yourself out. Roll how you want to roll. But for me, big believer in betting on all your strengths and trying to find complements to your weaknesses.
#10: Love The Process
WHoltzman: Young Entrepreneur asks, would you ever automate your position, delegate to as many people as it takes, and spend 95% of your time fully engaged in family and life?
Absolutely not. Is this Young Entrepreneur? Young Entrepreneur, let me tell you something from Old Entrepreneur, which is I love the process of the work. I love the grind. I love the climb.
"I want the sweat and the pain and the gratitude and the, you know, happiness that comes along with the work. I want the work. I don't want the stuff." – Gary Vaynerchuk
You know, I love the idea of getting to buying the Jets more so than buying the Jets. It's the process. To delegate out what I love would defeat the purpose. Of course I want to spend as much time with my family as possible, but that would be lying to my soul, if I didn't do what I want to do, and what I want t o do for a living is build organizations, build companies, create commerce, be a salesman, and be a guidance counselor, HR character.
Social commentate and put out content. I would suffocate if I couldn't put out the work that's needed to accomplish the things that I want. Psst! The problem, Young Entrepreneur, especially when you're a young entrepreneur is people want stuff, right?
They want the bling bling here, right, they want the cool-ass kicks, they want the car, they want the jet, not the Jets. They want stuff. I don't want stuff. I want the sweat and the pain and the gratitude and the, you know, happiness that comes along with the work. I want the work. I don't want the stuff.
*******
Evan: Thank you guys so much for watching! I hope you enjoyed. I'd love to know what got you fired up most about this video. It's hard not to be motivated after watching this one, but what was your favorite clip, what did you take from this that you're then immediately going to pour into your business and your life? Leave it down in the comments below.
Super curious to find out. I also want to give a quick shout-out to César Bonilla, thank you so much for picking up a copy of my book, Your One Word, and tweeting that picture out about it as well. I really, really, really, really appreciate it.
So thank you guys again for watching! I believe in you, I hope you continue to believe in yourself and whatever your one word is. Much love, I'll see you soon. 
---
BONUS
Steve_Campbell: Roberto asks, what do you feel is a bigger obstacle to success, a lack of time, or a lack of capital?
Roberto, this is a tremendous question. I think the biggest obstacle to success is a lack of optimism. That question in itself is the problem, my friend. Right? You're looking at two things that are both negatives, and guess what, both of them are obstacles.
When I started winelibrary.com transformation for my business, I had time I worked my face off every minute, but we didn't have a whole lot of money in our profit center, so it took more time, right? It's just the way it is.
Today, I have more money, but boy, don't I have time, but neither, ever, ever will be an excuse for me, and so, just to drill this through the throat of the Vayner nation, that's right, I went that graphic, don't smile, D-Roc. Here's the bottom line. I refuse to allow you to get an answer to the question because both of them are firmly square in the excuse column, and I have no patience for that.
"I think the biggest obstacle to success is a lack of optimism. " – Gary Vaynerchuk
There will always be problems. Let's talk about a million other things that are a way to stop success. The health and well-being of your family members, so it takes your mind away from execution. The country you live in's government and political, you know, concepts at these moments, a la startups in China that I've invested in that got traction, but then people that were wired into the government decided to not allow it to happen, and then the startup disappeared.
Not as easy to be an entrepreneur there. It's still a communist country. Sorry, it just is. And so all these things can be problems, right? There's a competitor with a billion dollars who's also skilled and punches you in the mouth and knocks you out in the first round. Right? The world changing. I mean, there's just a million obstacles, right? The media.
One bad coverage of you. A moment in time. You know when I think about it a lot? You know what I think about a lot? Let's get really real. This is why we did this show. I always, I'm a human being, and I always think about a moment in time. What if I just say the wrong thing at the wrong time. Right?
What if I call out China for being a communist country in an episode while I'm on a rant, and somebody who's watching doesn't like the way that tastes, and it takes away a business opportunity for me in China in seven years, even though I'm not trying to zing, it's just things that I saw.
What if, what if, you know, what if… What if I look down on my phone while I'm driving, even though I've really not done that, and I hit somebody, and I kill them, and that becomes the story. And like, forget about the story, about what you think of me. I will never recover from that, because I killed somebody because I needed to check a tweet. These are moments in time.
So there are so many things that can keep you from being successful, right? The people that you invested in having something bad happen to them, so it slows you down. My friends, there are a million reasons why not, but there's one great reason why, which is, you've just got to persevere, no matter what it is.
It's just the way it is. It's hard being an entrepreneur. It's hard building a business. Everybody thinks it's so easy that there's an entitlement. There's a disaster. Zinging China? Here comes my US zing right now. There is an insane generation of 18- to 25-year-olds right now that think they're entitled to having a business because they saw the Social Network movie, and everybody's decided if you're a kid and you know what tech is, because you used Instagram early on, you're entitled to actually build a business.
Building a business is hard, and you know what makes it really hard? Everything that happens every day of every moment. So. You can pick time, you can pick money, as the one or two things that you think stops you from winning your game, but the truth is, there's a million reasons. 99% of businesses go out of business for a reason, and that reason is, it's hard.
"If you don't have the stomach to weather the storm, you will not be successful" – Gary Vaynerchuk
And so, if you're watching this show, I've got a sense of who you are, and you need to start creating layers and layers and layers and layers of skin to be able to get through, because the glamour of being an entrepreneur, though, goodness, you know, you get very confused by my optimism 'cause it's my optimism, I can't help it, it's just how I roll, it's probably one of the variable one percent reasons why I'm successful, but please, don't get it twisted. This is hard. Every day is hard.
And if you don't have the stomach to weather the storm, you will not be successful, and by the way, let me throw you a real weird curve ball. And that's okay. People have to look themselves in the mirror and understand if they're a number two, three, four, five, six, seven in an organization that has differences of being a number one, but maybe that's where your skillset sits, maybe that's how you make your fortunes and happiness and all the things that you're looking for, and so…
That question got me going a little bit, Steve, because it's under the context of excuses, and I will never make an excuse. Everything that's a problem with me, everything I don't achieve, everything that's the problem with VaynerMedia, everything is my fault. And I… I succumb to that, and I respect that, and I actually think that's the way it should be, and so… No excuses, my friends.
---
You might also like
---
More from Gary Vaynerchuk
---
What's up, Believe Nation? Greetings from London, England. It's Evan. My one word is believe and I believe in people, …
Today we're going to learn how to communicate effectively.  Good morning, Believe Nation. It's Evan. My one word is believe, …
Today, we're going to learn how to ignite the fire within you. Hello, Believe Nation. It's Evan. My one word …