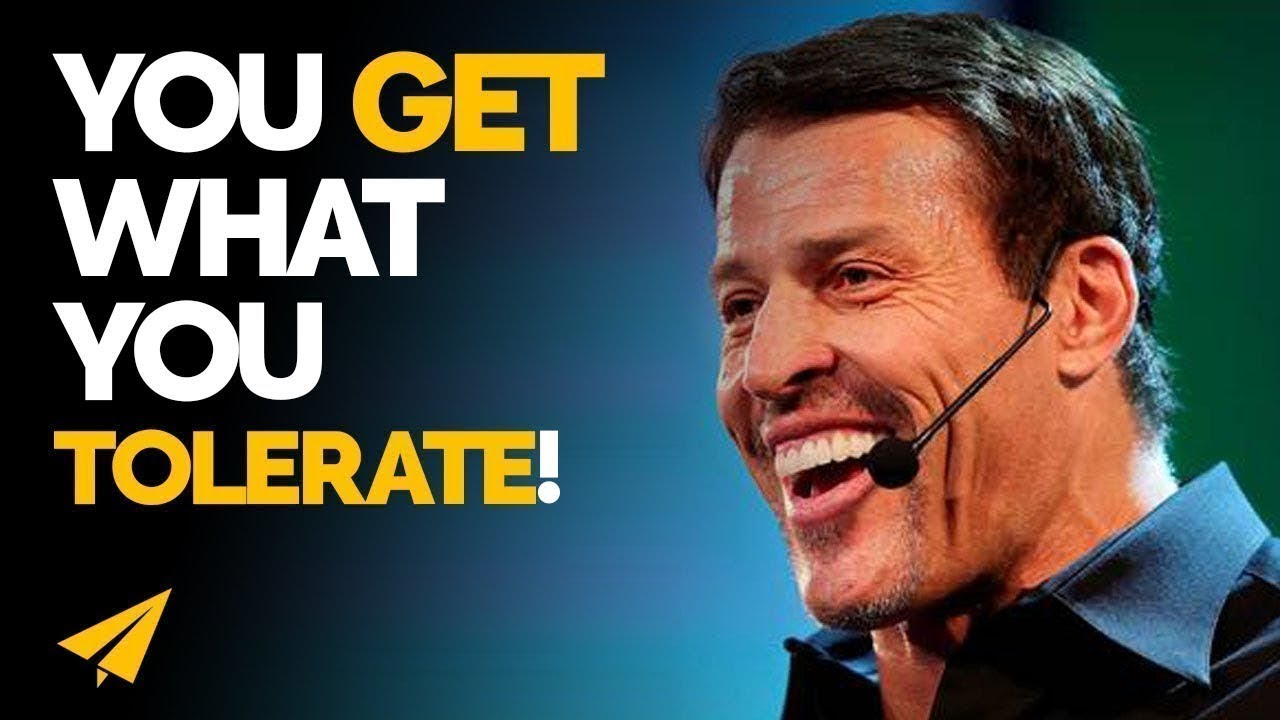 Hello Believe Nation, I started the Mentor Me series with the goal to try to hang around people who've done a lot more than us and by sticking with them a little bit longer, hopefully some of their ideas, their strategy their mindsets, their beliefs seeps into us to help us become the best version of ourselves, so today we're going to learn from Tony Robbins and examine some of his best motivational clips that he posted in 2016 as an incentive for you to go for your best this year.
Mentor me, Tony. Clip number one is my personal favorite, and as always guys as Tony's talking if he says something that really really resonates with you, please leave in the comments below, put quotes around it so that other people can be inspired as well, enjoy.
#1. Raise Your Standard
The number one thing that's going to change your life, the only thing, that will change your life, change your business, change your money, change your relationship, is you must raise your standard. And I know that sounds boring, stupid, basic, but it's the truth. The only thing that changes our life long term, is when we raise our standards. What does that mean, that sounds so boring and dumb. It means that all of us in life have things we want. We don't get what we want, we get what we have to have. Remember what I said earlier? We all get what we tolerate, in ourselves and other people.
"The only thing, that will change your life, change your business, change your money, change your relationship, is you must raise your standard." Tony Robbins
But when you're no longer willing to tolerate something, that's when your life changes. The difference in people is their standards. Period. The difference in people is their standards, period. And what do I mean by standards? Everyone in the world has a list of things they think they should do. I should lose weight. I should work out. I should spend more time with my kids. I should work harder. I should make more calls. I should, I should, I should, I should.
And then you know what, people don't do their shoulds and they get mad at themselves and they, what I call should all over themselves, they beat themselves up about it, what changes people is when your should becomes a must. When suddenly the thing you said should happen, has to happen. That's when human beings change. It's like if you want to take the island and you're the head of the army and you want to take the island, the most powerful way to take the island is to burn the boats.
Cause if there's no way to go back, it's amazing what happens when it's a must to do something versus a should, that's what makes human beings succeed.
#2. Don't Give Up
There is another level, the only reason you keep saying there isn't is you feel so exhausted about where you are, but life, the universe or God is just testing you because there is another level. If this is good, giant jump to excellence, start good, poor, to good to excellence.
There's a level where all your dreams are realized. There's a level that you've always dreamed about, it is real it has not gone away. But it takes that extra burst when you think there's nothing left there's no way, you've tried everything ten million times and you keep going.
It's almost like God is saying if you keep hitting this wall enough times I will see that you will not stop that you are filled with that level of determination, faith and courage and then the door opens and you get to that next level but most people don't know is, the next level is just two millimeters above, and it's called outstanding ladies and gentlemen! Outstanding! (crowd cheers) What's it called?
[Crowd] Outstanding!
What's it called?
[Crowd] Outstanding!
What's it called?
[Crowd] Outstanding!
Outstanding! Magnificent! Unstoppable! Extraordinary! Not excellent, it's a different level. It's a level where you are not one of the best, you are the best. And you know what's amazing? You only have to be two millimeters more than everybody else and you get everything. You get the joy, the laughter, the fun, the family the passion, the economics, the freedom, the spirit, it's all there. What Jerry McGuire called the quan, baby. All of it, and it's just two millimeters above and most excellent people give up because they're exhausted and there's some people that go the harder I hit it, the more I hit it, sooner or later it's going down. I'm not stopping and when you do that enough, it pops open.
#3. Take Command
What makes you a leader is your ability to make a decision, who's with me on this, right? And anybody can make the easy decision. Right, so what makes you a leader is you can make the tough decisions and what makes you leader is, you make the decision, what makes you a great leader is you know I may be wrong, but if I have to wait till everything's resolved, nothing's going to get resolved.
"What makes you a leader is your ability to make a decision – Tony Robbins"
So I'll make a decision, if I make a decision and it's wrong I'll find out quicker than if I sit on the fence while my life goes by. I remember I have shared this with maybe a few of you before but years and years ago when we had the big Gulf War, General Norman Schwartzkopf's a friend of mine and passed away a few years ago, and I used to bring him in to talk about leadership.
And one of the first times I ever asked him, I said how do you define leadership? How do you know when a person's a real leader and he said when they can make decisions. I can remember when I was, he was an assistant to a general and I forget what the exact position is and he said he was responsible for reading all the briefs and this general is one of the highest generals in the army and there was a decision that needed to be made and it had to do with ten years of going back and forth with the Pentagon, trying to figure out if they're going to go one direction or another, it was a gigantic decision that was going to effect the way the army was structured, how money was going to be divided, what resources are going to go where, and he said they brought in this group of 20 people and they had this two hour meeting and everybody got up and pitched their side of what they thought was right.
And at the end when it was completely done, the general said has everyone said their piece? They said yes, he said do this. It was plan A or plan B or whatever it was out of the three choices that they had. And everybody said okay, general, saluted him and ran off to go implement this thing. And Schwartzkopf said he was freaking out because he knew there was no way that general could have read everything even he'd read, and this was such a complex piece, and there was only two hours and everybody gave their best, but oh my god there's so many things to consider, and so he finally got up enough courage he said to go to the general, and said general, permission to speak freely? He said at ease, speak freely.
He said general there is so much information here, there's so much here no one's going to really know for sure. How the hell could you just make that decision like that? He said because someone had to make it. He said because it's been going around for 10 years back and forth and no one being able to make a decision. He said what if you're wrong? He said if I'm wrong, we'll find out quicker. If I'm right the job will be done. Next question, right? It's like when you're put in charge, take command.
#4. Focus
Everyone in this room knows how to create. You're not a manager of your life, you're a creator of your life or you wouldn't be in this room. How do you create your life? You get hungry for something, don't you? Who has done something in your life that once seemed difficult or impossible and now it's part of your life? Who's got something in your life in this area, say I?
[Crowd] I!
How did you do it? You created it, three ways. Number one, you decided there's something you wanted so bad that you unleashed all of your desire, you became obsessed with it. If it was a business or a car or a relationship or transformation in your body. If there's something you once envisioned and now it's real it's because you didn't just envision it, you brought so much emotion to it that now it's in your life. It was once a dream it was once a goal and now it's in your life, how many have something like that in your life now? Say I.
[Crowd] I!
You may take it for granted now, hopefully not, but it was once just a vision. It may have seemed impossible at one time. So how did you do it? You started with a concrete vision of what you wanted and you focused on it continuously didn't you? Wherever focus goes, energy?
[Crowd] Flows
Flows. You envision something, you got clear about it and then you started thinking about all the reasons why you wanted it. You got excited about it.
You said this is what's next for me now. I want this, you may have dreamed about it, thought about it, talked about it, but when you focus on something continuously, something magical happens. You get insights, don't you? You overhear a conversation, and you hear something you wouldn't have heard if you didn't have that outcome or goal that you wanted so badly. Whosoever come up with something obsessed about it, didn't even know how to do it and just happened and it came together, who's had that experience, say I?
[Crowd] I!
So why don't we tap into that power now for your business and life.
#5. Give
There was a day that I became wealthy. I will tell you the day, I know that day I was rich. I was broke, I was pissed, I was angry at everybody else but who? Myself. But really underneath it I was mad at myself. I just couldn't beat myself up anymore so I was pissed and I had a friend that I loaned money to when I had barely enough and I knew he needed it and I gave him $1200 and I'm here not able to eat, I'm down to like 25, $26 and I'm calling him and he's not returning my call and I just need some money and he's ignoring me, I didn't ignore him, so I'm pissed, I'm frustrated. In the midst of all this, I'm also pragmatic.
I got 25 and change, call it $26. What the hell am I going to do? I don't have any plans for economics, I got overhead that's crazy, I'm living in this little tiny apartment 400 square feet in Venice, California. So I thought okay, when I was totally broke early on when I was 17 I used to save my money up, and go to the smorgasbord and load up for Christmas, you know load up for the week, so I said I was in Venice, I'm going to go over to Marina del Rey, where all the yachts are and there's this place there called El Chorito and I'm going to go they have an all you can eat smorgasbord and I'm going to load up for the winter.
I'm going to get that. So I didn't drive there, cause I wasn't going to spend the gas to get there, plus I needed the walk so I walked there. And I go in, I'm not dressed really great, but it's Marina del Rey, it's okay and I got a place right by the window and I can see these yachts going by and I'm dreaming of what life could be like and I'm starting to let go of my anger and I'm starting to focus on what I want instead of what I don't want. How many follow, say I?
[Crowd] I.
And that shifted me just a bit, and now I'm eating which shifted me a lot. And I got this giant plate stacked up, and I don't know what the amount was it was like $6.95, $7.95 right? So I'm going to do this I can probably do this three or four times, right? Somewhere in that range.
As I'm finishing my meal, this little boy comes in dressed in a little suit now I honestly don't know how old he'd be probably in the third grade, so maybe eight years old, nine years old something like that. And he was so adorable and he opened the door for his mother, and his mother's an attractive lady and he came over and he pulled out the seat for her and she sat down. And she was a pretty lady but, as pretty as she was I was totally obsessed by this boy. He was just, he had presence at seven or eight years old.
And it moved me. I don't know why it just moved me. And I thought this kid is like pure, I want him to always be this way, he's a good kid, he's a giver so I got up and I paid for the meal, and whatever it was six, seven bucks. So now I've got whatever left, 17, 18, 19 dollars. And I walk up to this little boy and I said excuse me? And I said I just want to acknowledge you for being such an extraordinary gentleman. I said I saw the way you treated your lady, I saw how you opened the door, how you pulled the chair out, I said that's class. I said my name's Tony, what's yours?
I don't honestly remember his name, Charlie or something. And he looked up at me and I said Charlie, that's amazing, taking your date out for a lunch like this. He goes, "well actually, she's my mom" (crowd laughs) And I said that's even more cool. And he said oh, but I'm not just taking her to lunch I'm just I think he said he was eight. I said oh yes you are, and I had no plan for this, I just reached in my pocket, I took all the money I had left, 17, 18, 19 dollars and I put it on the table and I said you're taking her to lunch. He looked up at me and he goes "I can't take that" I said sure you can! He said "why?" Because I'm bigger than you are. (crowd laughs) and he smiled real big and I didn't even look at his mom.
I just turned and walked away and I didn't walk out of that door, I (bleep) flew home. I should have been freaking out. How the (bleep) am I going to eat? But I didn't, I (bleep) flew because something inside of me had finally got past scarcity, had finally realized there's something inside of us more than our limits, especially around this (bleep) thing called money. That I had let terrorize me. I got home and the mailman came that day and I had no idea how I was going to have my next meal. And a (bleep) letter comes and it's from the guy I loaned the money to. Handwritten note saying I've been avoiding you, it's wrong I'm so sorry, you were there when I needed you, here's what I owe you plus a little bit more. And the 1200 was there plus another hundred for the time that I had to take care of it. And for me $1,300 that was enough to run my show for a month or two.
"The secret to living is giving. Do it when you don't have it and I promise you, scarcity will leave your life." – Tony Robbins
And I cried, and then I decided what does this mean. And I thought this means that whenever you give, it's always going to come back, so you don't have to ever think about that (bleep) again, just (bleep) give. And the rewards will be greater than you could ever imagine. I don't know if that's coincidence, but I decided to believe that day was the blessing when I became rich, and I can tell you honestly I've had tough days in my life economically, emotionally, like all of us. But I have never gone back to that (bleep) scarcity, I never will. The secret to living is giving. Do it when you don't have it and I promise you, scarcity will leave your life.
#6. Add More Value
Steve's a good friend of mine and when he was building the Wyn, I'd never forget, he was at my home in Sun Valley, I had just gotten to meet him, it was New Year's and everybody else is standing watching the fireworks and I was sitting at the table and I was basically doing my brain notes, sucking out of his brain, everything I possibly could, how do you think about this, what do you, how do you market? And here's what I learned from Steve, people don't buy products, they buy feelings. People don't buy products, they buy states.
People don't buy products, they buy identities. And he and I went back and forth for about two and a half to three hours and became lifelong friends for the last decade and a half. He came to this seminar, sat in the front row and I'm not, there's almost nothing that makes me uncomfortable, but I'm like, what am I going to teach him? But he sat in this event, and at lunch took me to lunch he goes, this is the most valuable session I've been in the last 10 years, I know what I'm going to do, this was in 2008.
"People don't buy products, they buy identities." – Tony Robbins
He said here's what I'm going to do, I'm going to when all my competitors are shrinking right now, because they're trying to survive, I am going to go build this giant beach club that goes right to Las Vegas Avenue. I'm going to build this new entrance, I'm going to up my services. He said I'm going to do what you teach, what is the fundamental success to becoming wealthy? It's only one thing, if you want to be wealthy, you have to do more for your clients than who? [Crowd] (murmurs)
Than anyone else, you have to add more what?
[Crowd] Value.
That is the entire secret to wealth in business. You want it on sentence, it's simple. Do more for others than anyone else is doing, add more value and you will own them and you will own the marketplace. He goes you know what I'm going to do Tony? When everybody else is shrinking, I'm going to add more value so all the high end people are going to see I'm doing more they're going to come to me and this down period is going to be the most important period of my entire career.
Because when the economy comes back and those guys start giving services, I'll already own these people they're not going to leave me, I'm their home. You got to ask yourself what'll I do to add more value and many of you think adding more value means cutting your prices or doing something of that nature. Sometimes adding value is raising your price. It's crazy, raising your price can increase your sales if it's the right piece.
Now if you raise your price and do more, no question that could be the right thing in some cases. Some of you, your market is the cheapest price. Maybe it's time to change that business model because unless you're Walmart or Amazon or somebody that can do things in massive volume and lose money and sustain it, you might need a thing called a margin. If you're going to be successful in business, you want a high margin. High margins come from high human needs being met.
#7. Use Fear
The only way to deal with fear that I've found in my life is a couple of ways. One of those ways is to turn it on itself and ask yourself what am I afraid of? I'm afraid of that? I got to be more afraid of what I'm going to miss out on. Missing out on my mission, missing on who I'm supposed to be, missing, in other words, if you're not going to get rid of fear then use fear.
Use fear or it uses you, it's that simple. So you got to say, okay what's the price if I stay doing this what's the price? I need to really get scared if I learn all this and I don't follow through, that's something to be scared about. And that fear will get you over your fear, it will push you through, turn fear onto itself.
"Use fear or it uses you, it's that simple." – Tony Robbins
Second way you can do it is you've probably heard me say it because I've used it since I was 17, is my little rocking chair test, right? I'm going to sit myself in my rocking chair, and I'm 85 years old looking back on my life and I say I didn't do this, or I did.
#8. Master The Art of Fulfillment
I'm going to talk about the art of fulfillment, what I explain to people always is I didn't say science of fulfillment. Why not? Cause it's different for everyone, just like art. What one person thinks is beautiful, somebody else might think is ugly. So if you want to know what's beautiful as many people as there are on earth, it's an art 'cause everyone has a different view. If you want to know what God loves, the universe loves, go to the forest and see it, it's called massive diversity.
It isn't a science, it's an art. But that art unmastered, will create an ugly life. An ugly life. And the phrase I use most often that I hope you've heard me saying you take it in once again maybe deeper is, success without fulfillment is the ultimate failure. Success without fulfillment is the ultimate failure. But if we don't physically make a decision on how we're going to live, then we'll show up like everybody else because the human mind is not going to make you happy. This brain of yours won't do it, you have to direct it.
"Success without fulfillment is the ultimate failure" – Tony Robbins
And there's no worse fate than to achieve everything and not be fulfilled. How many have had the days where you achieve this huge goal and your brain always wanted it, and you got it and then your brain went "is this all there is?" Who's been there? It's the worst experience, it's worse than failing, isn't it? Cause most of you are achievers so failure never stops you you just look at it as a little bump in the road, I'll try something what?
[Crowd] Else.
But when you succeed and you fail, when you succeed and you're not fulfilled, that's scary (bleep).
#9. Keep The Momentum Going
If you find your passion you're going to have this tremendous energy, this sustainable energy. But momentum requires you always do the next thing to keep the momentum going. And the reason you get yourself in a passionate place is so that you change your life, and the only thing that changes your life is making a decision. So while you're in this passionate state, that's where you make decisions. You don't make decisions when you're like, (sigh) I don't know what do you think?
"If you find your passion you're going to have this tremendous energy, this sustainable energy." – Tony Robbins
Alright let's decide. If you make a decision in a state without momentum, if you make a decision from a place where there's no passion, you are not going to get momentum, it will kill momentum, it's decide, commit and resolve. Some of you in the past you've gotten momentum, you've gotten passionate, you've even made a decision but a decision is the first step. Decision is like a war, I got to do this, or that alright I'm going to make myself do this. But commitment is when you nail after you've decided you've committed to do this for the long term, whether it's hard or easy doesn't matter. You're doing this. It takes it from this moment and it carries it to the future even when things are difficult. And the third state is resolve.
Resolve means it's done. It's like, it doesn't even if you took action, it's done inside you so it's done out there. There's no question whatsoever. Then once you decide, the only way the commitment and the energy and the momentum continues is if you take immediate, massive what my friends? Write down in your notes, massive action is the cure all. Massive action is the cure all.
If you're having a difficult time with something, your relationship isn't where you want it to be, your finances are not where you want to be, your body's not where you want to be, your business is not where you want to be. You need to take massive action! And if that doesn't work, try something else if that doesn't work, try something else. Keep going with massive action and you will find the way because it will give you momentum.
#10. Adopt An Attitude Of Gratitude
Here's the belief I'd like you to try on. I don't need an excuse to feel good. What if I don't need an excuse to feel good, I just feel good for no good reason, how many like this idea, say I! (crowd cheering) Now notice, notice when I first said it you guys were kind of quiet processing it like, I don't need to use a reason to feel good?
"I don't need an excuse to feel good, I just feel good for no good reason" – Tony Robbins
How will I know to feel good? Most people don't need a reason to feel bad. How's it going? Feel like crap. How come? Woke up. (laughter) In a moment, I'd like you to celebrate for no good reason just because you decided to but I mean really celebrate so you're going to rise up, are you ready?
[Crowd] Yeah!
We'll clap when I yell three we go crazy, one, two, three, go! (crowd cheering enthusiastically) Come on! Come on! Come on! Come on! (energetic music)
Evan: Thank you guys so much for watching I hope you enjoyed I'd love to know what did you take from this video, it's kind of impossible not to take something, so what did you take from this video that you're going to immediately apply to your life or to your business, please leave it down in the comments below, I'm super curious to find out, I also want to give a quick shout out to Jmiah Expose, thank you so much for picking up a copy of my book, Your One Word, I guess the e-book version of it, I really really really appreciate it and hope you are enjoying it.
Thank you guys again for watching, I believe in you I hope you continue to believe in yourself and whatever your one word is, much love. I'll see you soon.
---
You might also like
---
More from Mentor Me
---
Today we're going to learn from Malcolm Gladwell and some of his best advice from David and Goliath. What's up Believe …
Today we're going to learn from Malcolm Gladwell and his outliers advice. What's up, Believe Nation? It's Evan, my one word …
Today we're going to learn from Floyd Mayweather and Conor McGregor and their motivation. What's up believe nation? It's Evan, my …