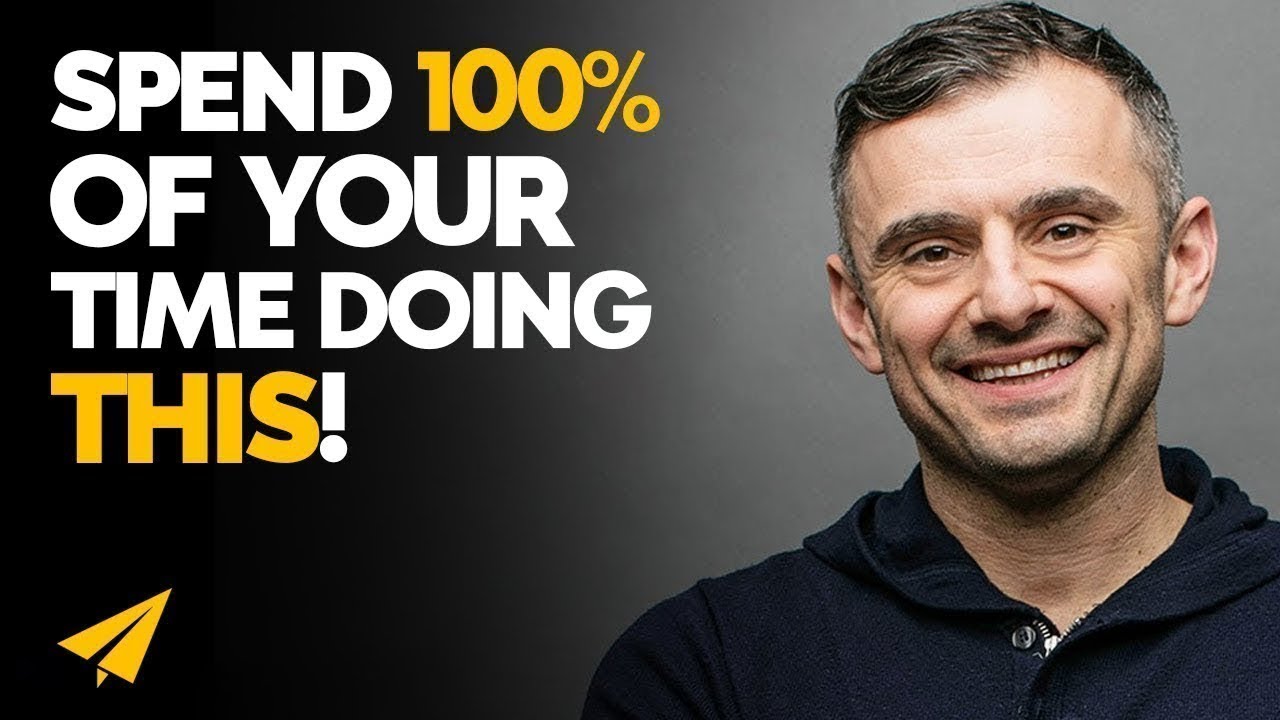 Good morning, Believe Nation. My name is Evan Carmichael. My one word is believe. And I believe that entrepreneurs will solve all of the world's major problems. So to help you on your journey today, our message is bet on your strengths. Over to you, Gary Vaynerchuk.
Bet on Your STRENGTHS – Gary Vaynerchuk
You need to bet on your strengths, and don't give a f- about what you suck at. Way too many people in this room are going to spend the next 30, 40 years of their lives trying to check the boxes of the things that they're not as good at. And that you're going to waste a  load of time and lose.
I highly recommend auditing yourself, or if you have no f- empathy or EQ or self-awareness, then find somebody in your family or friendship that does, and let them tell you who you are. And once you believe that, either for yourself, or someone else told you, go directly all chips all in to that, because that is the only possible way, in my opinion, watching from the outside…
Let me rephrase, that is a very highly likely way of over indexing because the truth is, if you want to be an anomaly, you've got to act like one. And so that's it, that's what I got. And so thanks for having me.
Evan Carmichael
So there's this great story that I've told before but I love it, so I want to tell it again, about this rabbit who goes to animal school. And as he's going to animal school, he learns all the skills that he needs to learn to be a successful animal when he grows up. And at the end of the first year, he gets his report card. And on that report card, he scores an A plus in hopping, and he's scoring an F in swimming.
And so his parents come home and they look at the report card, and they start shaming him, and they say, how are you failing in swimming? You're a disgrace to the family. You got to get trained. We're going to hire you coaches and extra practice after school, and we're going to make sure that you do really well on swimming.
You're really good at hopping, so don't worry about that, just focus on the swimming. And so for the next year, he's focused and focused and focused on swimming and getting better and better and better at it. And in the process, he forgot how to hop. And as for the swimming, have you ever seen a bunny that swam?
And so this is the mindset that I think a lot of people fall into, where we get our report cards from school or from life, and we feel that we're weak in certain areas, and our default solution for some reason is we need to work on fixing those weaknesses. We want to be a well-rounded individual.
And what ends up happening is, you become mediocre at everything, and those things that you potentially can be world-class genius level talent at, you don't do. That's not how you have success as an entrepreneur. If you try to do everything and you only spend 5% of your time doing the thing that you could be great at, you're always going to be mediocre.
You're never going to get the results that you want. Success in business will come from you focusing on what you can be amazing at, world-class at, and spending as much time doing that as possible. And the rest, you eliminate, you automate, or you delegate. And as quickly as possible, you want to figure out how can I build a team around me to complement my weaknesses so I can go all in on what I'm great at?
If I look at my YouTube channel, at the start, I did everything. And I'm a big believer in doing everything to get things rolling. I hate spending money 'til I'm making money, but the first move that I made was to hire an editor for my channel, because I wasn't great at editing. I had no interest in it, it was not something that I ever wanted to be world-class level at. And getting that editor allowed me to go from one video a week, to one video a day.
Seven times my output by hiring that one person. It allowed me to spend more time at what I was great at and wanted to improve at. And so when you see people complaining about their weaknesses, I'd encourage you to think and explain to them, don't worry about it. What are you good at? And spend as much time there as possible. When you're doing a self-analysis, look at what do you have the ability to be world-class, Michael Jordan-level talent at? And then how do you spend 80% of your day every day doing that work?
Question Of The Day
So the question of the day today is, I'm curious, what is your greatest strength? Leave it down in the comments below, I'm super curious to find out.
I also want to give a quick shout out to Yael Forman, thank you so much for picking up a copy of my book Your One Word, it really, really, really means a lot to me, and I hope you're enjoying the read.
Thank you, guys, again, for watching. I believe in you, I hope you continue to believe in yourself and whatever your one word is, much love and I'll see you guys again tomorrow morning for another shot of Entspresso.
---
BONUS 
Bet on Your STRENGTHS
Tim Ferriss
You need to know what your unique strengths are and be willing to delegate. So I would say the question of whether you should take a skill, learn it yourself, delegate it to someone else or hire a new team member, are determined by having a very accurate self-assessment, and assessment of your team's skills.
Not only what you can do, what you should be doing. That's very important. So if you're a startup CEO or founder, and you have a team of say, two to 10 people, as soon as you have funds to hire, you should not be focused on the things that you are bad at. Sounds very, very intuitive, but it is not, because you might have enough time to do those things, but the question is, do you have the attention to dedicate to those things so they're not an interruption?
Especially if you're a venture-backed startup, and you're competing against other companies that also have a lot of funding, the game and the race goes to the swift, so you have to have a lot of velocity.
Steve Harvey
You talk about managing your strengths, I know one of my weak points in my personal life is I don't like technical stuff. So even though I have to be on Twitter and Instagram and Facebook, I don't care for that. So guess what? I find somebody who loves to do that. You know, I find somebody who has a strength where I have a weakness, and I partner with 'em.
All you're trying to do is get to the goal. No one gets there by themselves. Everybody needs help. Now, when you know what you got goin' for you, be confident, not cocky. Managing your strengths, knowing what they are, and don't let nobody talk you out of it. And that gets you fight ready.  You get fight ready like that. You got to know you. Helps you develop your skills.
Sophia Amoruso
A girl boss. A girl boss is someone who, I guess, takes charge of her own life. So it's a girl boss or a guy boss. It's someone who knows their weaknesses and knows what their strengths are and knows how to play to their strengths. I think there's a lot of people out there, and I've interviewed a lot of them who…
My favorite interview question is name your biggest strength and your biggest weakness, or what do you have to work on? And the scariest people are the ones who say like, I show up early, it's my biggest weakness. Or like, I work too much, it's my biggest weakness.
And, you know, everybody has things that they can improve upon, and I think a world where everybody's more aware of that is a good one, and a place where people can be empowered to make choices in their life rather than throw themself into places where they may not inherently be successful, because the world has sold them some story of what they should be doing. So I guess a girl boss is someone who's in choice.
---
You might also like
---
More from Entspresso
---
Today's message is be confident. Good morning believe nation, it's Evan. My one word is believe and I believe that …