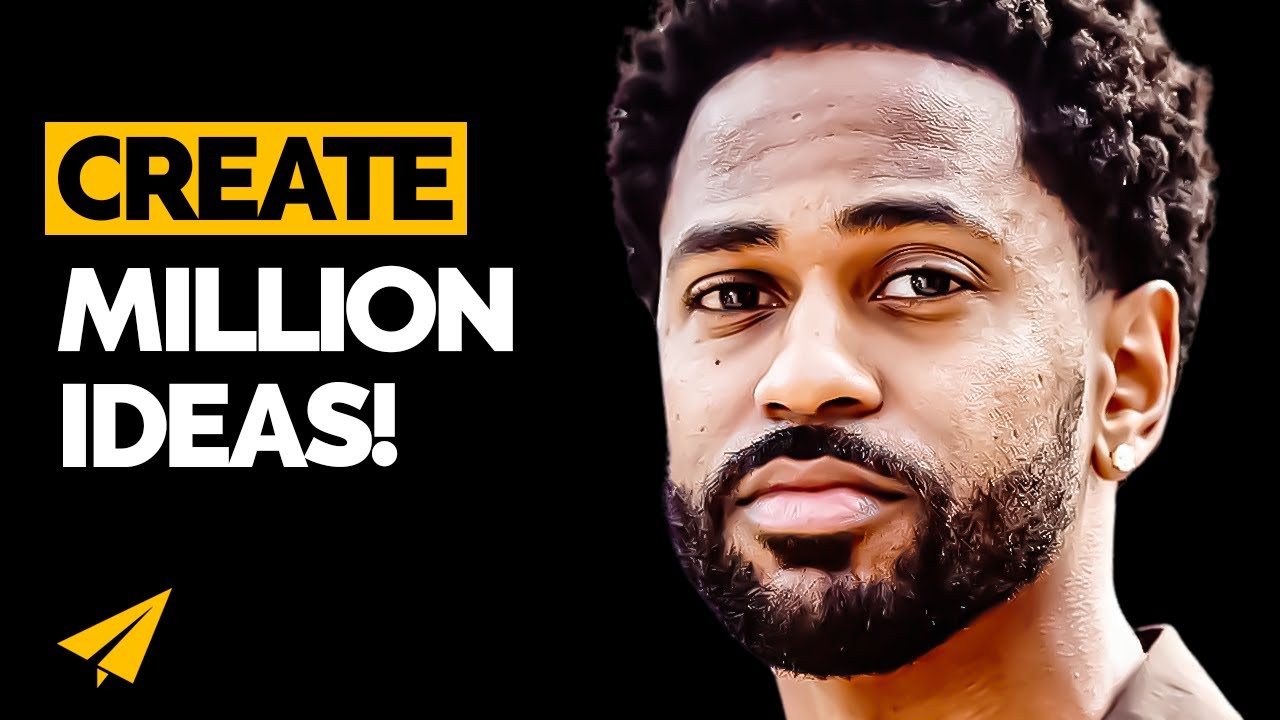 He's an American hip-hop recording artist from Detroit, Michigan. He signed with Good Music in 2007, Def Jam in 2008, and Rock Nation in 2014.  His album Dark Sky Paradise earned him his first #1 on the Billboard 200.  He's Big Sean and here are his top 10 rules for success.
Big Sean's Top 10 Entrepreneurship Rules For Business and Success
Rule #1: Inspiration Can Change Everything
One thing people need is inspiration. They need a lot of things, but they definitely need that too. Inspiration can, you know, it can create anything. Inspiration can create the best ideas. It can create the million dollar ideas. It can create the billion dollar ideas. It can create leaders, inspiration can change everything. So I feel like people need that.
Rule #2: Stay True To Yourself
Man, you just got to stay real to yourself, not ever try to follow the trends. That's when you get lost in the sauce, man. You got to do what you feel, man, be creative and don't be scared to be yourself and always keep that faith.
I've been in the darkest times in my life when I didn't know what was going to happen, and I was flat broke. Anything you can think of, man, I done been through it. And you got to be strong enough to make it through. It just makes it that much sweeter when everything starts going right.
Rule #3: Follow Your Heart
When I was in the third grade and my teacher was like, now this is some funny shit though, my teacher was asking people what the want to be and they was like lawyers, doctors, this, and I was like, "I want to be a rapper signed to Def Jam." I said that in the third grade. And my teacher was like . And she was like, "Oh no" and shit. Same teacher wants me to come back to speak at my school.
No, no, no, that's not my point! My point is, whatever you're doing, you make sure you follow your heart and do what the  you want to do, that . You don't want to be 50 or 60 years old wishing you would've, could've, should've did something.
That's the best advice I could give you. And I promise you if you follow your heart and always keep that faith, it'll lead you to your pot of gold, it'll lead you to your million dollars, whatever you want in life, it'll lead you to that. I promise, man.
Rule #4: Learn From Others
I learn something different from everybody, it all depends. From Ye, I just learned, you know, always follow your heart, always be real, straight up, don't take no , you know what I'm saying.
Common is somebody who, like, no matter what Common has going on with one thing, he'll always have something else going on. He'll always be like, if he's not acting right then, he's making music, if he's not making music, he's always finding some ways to brand himself away from music too, and I respect that.
You know what I'm saying? He's more than just a rapper, he's an all around business man and I respect that about Common. You know, it's those little things you learn from guys like that that you hang around, that you take little tips and apply to yourself.
Rule #5: Don't Ever Be Afraid To Take Risks
Risk. There is no chance to evolve and progress without taking risk. I feel like it's the necessary element to self development. It's the key to living life to the fullest. Risk, according to Webster, is the chance of injury, damage, loss, the failure of your expectations. But I realize that it's also the opportunity to learn and gain the fulfillment of your desires and dreams.
When I think of risk or just what risk means, I feel like I might think of being afraid, or really risk is a way to overcome what you fear. You can be afraid to risk something or everything because you don't want to lose what you have. Because you're afraid you may fail or think you can't handle it, or whatever the case. You'll spend so much energy and time trying to keep what you have instead of progressing into something new.
Everything changes, nothing stays the same forever. Nothing. From business to personal, everything in between. I realize that you can't be afraid. A lot of us aren't all the way satisfied, but are scared to lose security and what we do have.
I might not be able to get a better job, or a better partner, et cetera. Or even as bad as prison is, you know, there are people who don't want to leave because they're afraid of what's on the outside, or being able to succeed. The number one thing I got to remind myself sometimes, and remember, is that life is here not to survive, but to live it up, to expand, to grow. When you settle for what's familiar, or safe, it's because we forget that God is our security.
God is creating all this. And that's the only security. You can try and find security in people, in jobs, or in anything man-made, but there's no point because everything is designed to change, including you.
We want our songs like memories, desire, want, and needs , you can keep quiet. Most people who have successfully taken risks and succeeded, have failed too. But the point is you learn from every lesson, you learn from every risk. Change is always exciting. It's always exciting when you know God is involved. The world is designed for change. Don't ever be afraid to take risks.
Rule #6: Find Your Motivation
Interviewer: How did you make this perseverance to push through all of this?
I don't know man, I just did. People, man, my grandma is one of the biggest inspirations. My mom, you know. My desire to want to give everybody around me a better life. The desire to want to live a better life, man, that's my whole motivation coming from Detroit City. People don't make it out of the west side of Detroit.
Rule #7: Spread Good Vibe
I believe is just spreading that love, you know what I'm saying, that good vibes. I live like a hippy, you know what I'm saying, so I believe in just feeling great. Letting people know how I made it happen for myself, and making it happen.
Rule #8: Stay In Your Lane
One thing I used to be a victim of, when I was in the studio with Kanye, Jay-Z, all these people, and they would do verse to a song, I would try to do a verse like they would, you know what I'm saying, and that just wasn't me. It wasn't me, it didn't sound right. So I just realized that you have to stay in your own lane, you have to do what you do, and go all the way with it. Don't look back.
Rule #9: Success Is An Emotion
My definition of success, I think success is more of an emotion than it is what you get physically. Success isn't how much money you make. It isn't, like… It's just about what you accomplish, how you feel at the end of it all, you know, that's success.
I feel like I've been successful in some ways, but I'm still hungry for that success that I want, and I'm going to get it. I'm going to make it happen. I'm young now, 25, you know, and I look at people who, who I consider successful, and they're way older, and I got a lot of time to get it right. I'm learning, so I think success is definitely an emotion more than 100 million dollars, or anything.
Interviewer: Yeah, I've interviewed quite a lot of people, and I ask that same question, and that's one of the best answers.
Yeah, success is like. Yeah, you can be successful, there's people that are the richest people in the world… You can be the richest person in the world and not be successful. People who have the most money got the most problems, too, and are the unhappiest.
There's people who are taking the bus everyday and got a family, and they're the happiest ever. You know, so I think success isn't measured by how much money you make or the house you want, it's measured by how you feel.
Rule #10: #Believe
Imagination. How many people you know, I mean for real know, made it? Got on. Nobody from my city. Detroit, hell no. I ain't no Eminem. I don't know nobody who did. These waves are for real too. I know I made it my point to be the one who made it.
The one people knew before I made it, to show everybody it was real. I grew up watching Biggie, Mase, I wanted a Rolly like Pop, you feeling me? I wanted a money like Master P. Stunting like the big timers. I wanted to pop champagne, you feel me?
I wanted to put my crew on, have a label like Rockefeller, put the city on. You know. I started off young, spitting, rapping, trying to be a role model, trying to be signed. I knew I was going to make it, I just ain't know how. But I knew.
My mom taught me early on, this world is what you make it, you create your own environment. It all starts with a vision. What you can imagine, you can create. I came up middle class.
Not really having shit to spare, not having no money to spare. Had to work for new clothes, gas money. I always wanted to get my mom what she wanted, you know, cars, Benz, houses, whatever. I ain't have it, but I can see it in my head.
I could feel the energy of it. Built a house upon that ass, that's an ass-state. Roll my weed on it, that's an ass-tray. Say, Ye, say, Ye, don't we do this every day, day  like we just have payday. I don't even know if that makes sense, but it always made sense to me.
It was all real to me. My imagination was real to me. The people that used to tell me I was wasting my time or said it wouldn't work out, or the people who ain't have , they ain't have nothing. It wasn't until after meeting the people I grew up to, getting a chance to meet my idols, work with them, I realize they believe what I believe.
Imagining it. Changing the world, changing their world. A lot of people could imagine, but wouldn't believe it, couldn't fathom it. Not me. I believe.  I had imagination.
---
Thank you, guys, so much!
We made this because Patrick Vane asked us to.
I'd also love to know which of Big Sean's Top 10 Rules meant the most to you. Leave it in the comments below, and we're going to join in the discussion. Thank you so much,, continue to believe, and we'll see you soon.
---
You might also like
---
More from Big Sean
---
Good morning Believe Nation. My name is Evan Carmichael. My one word is "believe," and I believe that entrepreneurs are …