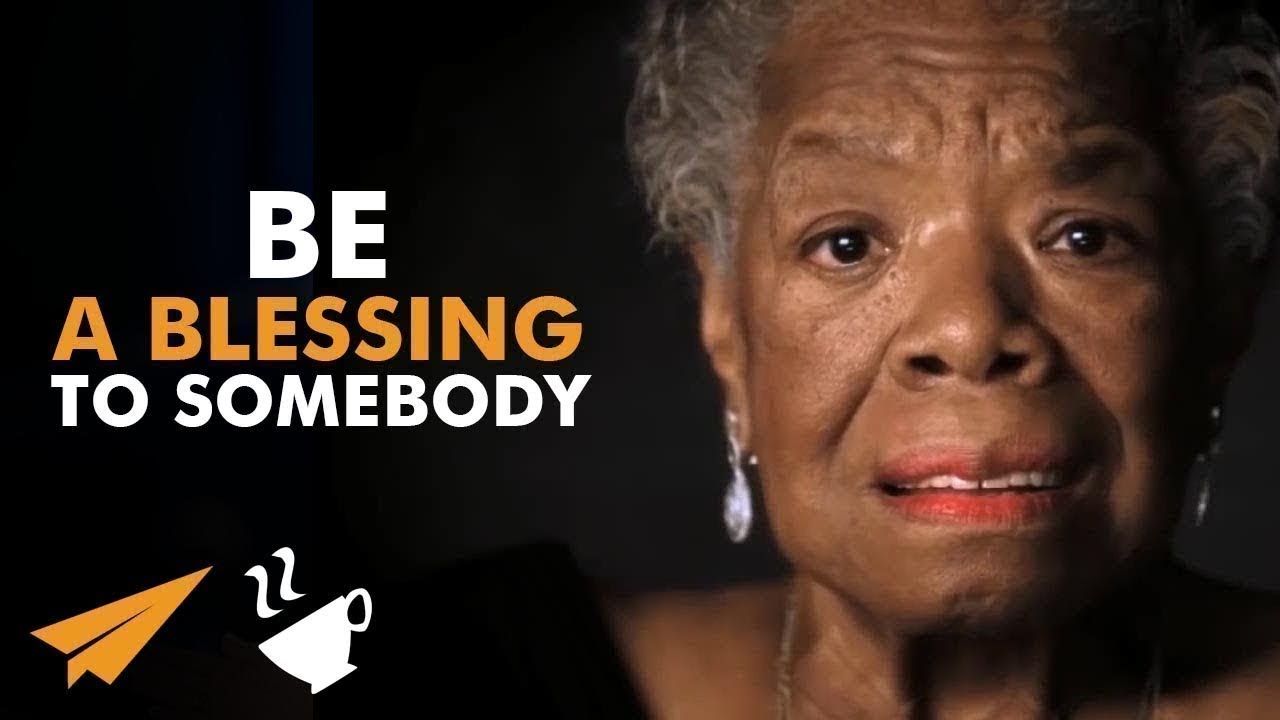 Good morning, Believe Nation. My name is Aleks, and my one word is belong, and I believe the world would be a better place if more people felt that they belong. So to help you on your journey, today's message is be a blessing to somebody. Over to you, Maya Angelou.
Be A Blessing To Somebody – Maya Angelou
There's an African-American song, 19th century which is so great, it says, ♫ When it look like the sun ♫ Wasn't going to shine anymore ♫ God put a rainbow in the clouds Imagine. And I've had so many rainbows in my clouds. I had a lot of clouds. But I have had so many rainbows.
And one of the things I do when I step up on the stage, when I step up to translate, when I go to teach my classes, when I go to direct a movie, I bring everyone who has ever been kind to me with me. Black, white, Asian, Spanish-speaking, Native-American, gay, straight, everybody, I say, come with me, I'm going on the stage.
Come with me, I need you now. Long dead, you see. So I don't ever feel I have no help. I've had rainbows in my clouds. And the thing to do, it seems to me, is to prepare yourself so that you can be a rainbow in somebody else's cloud. Somebody who may not look like you. May not call God the same name you call God  if they call God at all.
You see. And may not eat the same dishes prepared the way you do. May not dance your dances. Or speak your language. But be a blessing to somebody.
Aleks Saiyan
This message resonates with me as a human being, as an instructor, as a speaker, as a leader. It is super important that you take responsibility, not only for yourself, but for the well-being of others. Because ultimately you never know what kind of impact you could have on others.
When I was a student, seven years ago, I struggled asking women to dance. So here was I, sort of a beginner dancer, going to socials, and just being too afraid to mess up, make mistakes, and people not wanting to dance with me. And I remember there was a short woman, she was like 5′ 1″, 5 foot, she came up to me, she was an advanced dancer, she had no reason really, to ask me to dance.
But she saw how afraid I was, and she offered to dance with me. And for multiple socials as I kept going out, she would always ask me to dance. And every time I'd get nervous, I'd make mistakes, I'd be hard on myself, I'd start looking around, I'm looking at all these other people dancing, and that being intimidating for me, she would tell me that it's okay.
That it's not important. Just keep dancing, smiling, that I'll get better. I saw her about six years later at a social, by this point, I was already an instructor. When I saw her at one of our socials, I ran up and I gave her a hug, and I told her how much of a difference and impact she made on me, on my confidence, and was one of the pivotal reasons why I stuck around.
Even though at the beginning, I was one of the worst dancers. Never underestimate how powerful a simple hello, a thank you, a you're going a great job can be. Every single day is an opportunity to make a positive impact, in the smallest of gestures in people's lives.
And all it can sometimes take, is just one second of you stopping, and doing what you feel is right, versus walking away and not wanting to deal with the hassle of things. Take responsibility, not only for yourself, but take responsibility for others, and be a rainbow in somebody's cloud.
Question Of The Day
The question of the day is, what's one regret that you have right now where you wish you could've been a rainbow in someone else's cloud, but you didn't take action? Leave it in the comments below, I'm excited to see what you have to say.
I want to give a quick shoutout to Emma Hayward, Emma thank you so much for purchasing Evan's book, it really means a lot to us. I'm really curious when you figure out your one word, and when you do, leave it in the comments below, with your answer.
Thank you so much for watching, we believe in you, and we hope you continue to believe in yourself and whatever your one word is. And we'll see you tomorrow morning for another shot of Entspresso.
---
BONUS
Be A Blessing To Somebody
Dalai Lama
The ultimate source of satisfaction within our self. If you do wrong things mainly harming other, you get negative consequences. If you do helping other, bring more happiness to other you get benefit. More inner strength there and more sort of confidence of purpose of life and fulfillment about that purpose, then you always feel happy.
George Lucas
I guess the advantage that my generation has, when we were in film school, and we're starting in the film business, the door was absolutely locked. And it was a very, very high wall. And nobody got in. Therefore, all of us… Beggars and scroungers down at the front gate decided that if we didn't sort of band together, we wouldn't survive.
And that if one could make it, that one would help all the others make it. And we would continue to help each other. So we banded together. That's how cavemen figured it out. Any society starts that way, any society begins by realizing that together, by helping each other, you can survive better than if you fight each other, and compete with each other. If I got a job, I would help somebody else get a job. If somebody got more successful than me, it was partly my success.
My success wasn't based on how I could push down everybody that was around me. My success was based on how much I could push everybody up. And eventually their success was the same way, and in the process they pushed me up, and I pushed them up, and we kept doing that. And we still do that.
And even though we all have in essence, competing companies, we see it as, if everybody succeeds, or my friend succeeds, then everybody succeeds. And that's the key to it, is to have everybody succeed, not to gloat over somebody else's failure. One of the basic motifs of fairy tales is that you find the poor, unfortunate along the side of the road, and when they beg for help, if you give it to them, you end up succeeding. If you don't give it to them, you end up being turned into a frog or something.
It's something that's been around for thousands of years, a concept that's been around for thousands of years. It is even more necessary today, when people are much more into their own engrandizement, than they are in helping other people, I mean the one thing you hear at the academy here, is constantly about public service, about helping others.
I don't think there's anybody who's become successful that doesn't understand how important it is to be part of a larger community, to help other people in the larger community, to give back to the community. It's not something you do, you start doing when you've made it. Now I'm on the top, I can sort of, enhance my joy and self-esteem by helping the poor underlings. it's when you are at the very lowest level, and you're struggling.
When we were in film school and stuff, we were all very, very poor, we were all very, very struggling, we all need jobs very desperately, and if one of us couldn't get a particular job, we'd send another friend in on the interview. Because we were hoping that one of us would get the job. So you do it right from the very beginning.
You can start every single day whether it's helping your brother or sister, or helping your peers at school, or helping in the community, but it's not just a kind of public service thing, it's a way of life. If America is the pursuit of happiness, the best way to pursue happiness is to help other people. 'Cause there's nothing else that'll make you happy.
You can be as rich and famous and powerful as you want to be, and it will not bring you happiness. And that's said over and over and over again, it's such a cliche, it hardly goes, it hardly needs to be said, but people don't understand that it's actually true.
You can find people, rich, powerful, and famous and they aren't happy. And you can find people who have discovered the fact that it's really helping people. It's really being compassionate toward other human beings that makes you happy.
Natalie Portman
At the risk of sounding like a Miss America contestant, the most fulfilling things I've experienced have truly been the human interactions. Spending time with women in village banks in Mexico with Think, a microfinance organization. Meeting young women who were the first and only in their communities to attend secondary school in rural Kenya with Free the Children, a group that builds sustainable schools in developing countries.
Trucking with guerrilla conservationists in Rwanda. It's a cliche because it's true. That helping others ends up helping you more than anyone. Getting out of your own concerns, and caring about someone else's life for awhile, reminds you that you are not the center of the universe.
And that in the ways we are generous, or not, we can change the course of someone's life. Even at work, the small feats of kindness crew members, directors, fellow actors have shown me have had the most lasting impact.
---
You might also like
---
More from Aleks Saiyan
---
Good morning believe nation! My name is Alex and my one word is belong. And I believe that the world …
Good morning Believe Nation! Today's message is Study the business, over to you, Ross Perot! Ross Perot My advice to a person who's …