By Evan Carmichael on June 29th, 2010
We all have the same 24 hours in every day. So how come some people seem to do so much more with their time than others? The answer comes down to productivity. Making the most with what you have, whether that be time, energy or resources, is one of the keys to business success.
As small business owners, it's even more important for us to manage our time and efforts if we want to stay in the game. But that doesn't necessarily mean doing more. Entrepreneurs need to learn to master the work-life balance so they don't burnout before the game even gets going. Check out the Top 50 Productivity Blogs to Watch in 2010 for tips on getting organized, becoming more productive at both home and work, and creating the life you want for yourself!
You can also view last year's list here.
---
Life Hacks
---
1) Lifehacker

http://lifehacker.com/ – Lifehacker is an award-winning daily blog that features tips, shortcuts, and downloads that help you get things done smarter and more efficiently. Lifehacker launched in January 2005, and now ranks as one of the top-linked blogs on the internet according to Technorati.

---

2) Lifehacker Australia

http://www.lifehacker.com.au/ – Lifehacker Australia is a technology blog with a slightly different way of looking at the world. They see technology as a shortcut to life. When they look at products, software or gadgets, they stop and ask – how does this make my work or play faster, more efficient, and more fun?

---

3) Stepcase Lifehack

http://www.lifehack.org/

– This site is dedicated to lifehacks – hacks, tips and tricks that get things done quickly by automating, increase productivity and organizing. Follow blogger Leon Ho on his trip.

---

4) Marc and Angel Hack Life

http://www.marcandangel.com/

– At "Marc and Angel Hack Life", they enjoy sharing practical thoughts on a broad range of topics pertaining to life, hacks, productivity, aspirations, health, work, tech and general self improvement.
---
Getting Things Done
---
5) Zen Habits

http://zenhabits.net/

– Zen Habits is about finding simplicity in the daily chaos of our lives. It is about clearing the clutter so you can focus on what's important, create something amazing, find happiness. It also happens to be one of the Top 100 blogs in the world, with more than 175K readers.

---

6) Lateral Action

http://lateralaction.com/ – It is not enough to be productive if what you produce does not make a difference. Maybe it is time to stop just getting things done. And start focusing on doing things that really matter. That's how creative entrepreneurs operate. That's Lateral Action.

---

7) GTD Times

http://www.gtdtimes.com/ – GTD stands for Getting Things Done. That is the title of David Allen's blog, which offers personal experience with tools and GTD-supportive technology, as well as GTD tips, tricks and strategies to help each of us lead happier, healthier, and more successful lives.
---
Productivity At Work
---
8) WebWorkerDaily

http://webworkerdaily.com/ – WebWorkerDaily was launched by GigaOM's Om Malik in September 2006 and is written by a growing team of writers who cover the future of work in a post-broadband world. They offer practical tips and advice for anyone who uses the web for work, especially those who want to use the web to be more productive, more connected and more successful than they could otherwise.

---

9) N2Growth

http://www.n2growth.com/blog/ – N2Growth is where CEOs come to grow. Coach Mike Myatt offers CEO Coaching, Leadership Development and Personal Branding tips.

---

10) Workplace Learning Today

http://www.brandon-hall.com/workplacelearningtoday – Workplace Learning Today is a daily blog on workplace learning from Brandon Hall Research that provides readers with a daily summary of news, events, commentary, and research on all aspects of workplace learning, including training and development, performance support, job aids, learning technologies, talent management, organizational learning, and adult education.

---

11) All Things Workplace

http://www.allthingsworkplace.com/ – A former Drill Instructor with the U.S. Army, Steve Roesler teaches smart people practical ways to become extraordinary in his blog, All Things Workplace.

---

12) Productivity Bits

http://www.productivitybits.com/ – Marlon Ribunal blogs about productivity and GTD hacks. From working remotely to finding a mentor, you'll find here the tips you need to make yourself more productive at work.
---
Getting Organized
---
13) I'm an Organizing Junkie

http://orgjunkie.com/ – Blogger Laura is a self-proclaimed organizing junkie. This blog is dedicated to her love of all things to do with organizing (especially containers). She chronicles the life of an organizing addict and attempts to get others hooked along with her.

---

14) Unclutterer

http://unclutterer.com/ – Unclutterer is the blog about getting and staying organized. A place for everything, and everything in its place is their gospel.

---

15) Organizing Your Way

http://www.organizingyourway.net/ – At Organizing Your Way, blogger Mandi looks at a different Weekly Hot Spot and the various methods and systems for organizing that area of your life. She shares Time Management methods, Quick Tips, Frugal Organization ideas and Product Reviews.

---

16) Ian's Messy Desk

http://www.ismckenzie.com/ – Ian McKenzie is the voice behind Ian's Messy Desk. Blogging since 2001, this particular one helps you get the most out of the 24 hours in your day.

---

17) 1-2-3…Get Organized

http://1-2-3getorganized.blogspot.com/ – Blogger Beverly Coggin's passions are to help you make home a refuge instead of a crisis center, and to help you function in peace rather than chaos – at home or at work. Find out how on her blog.

---

18) Complete Organizing Solutions

http://completeorganizingsolutions.com/ – As founder and "chief organizing officer" of Complete Organizing Solutions, it is Tanna's mission to help people reach their organizing potential. She has spent years researching and implementing organizing ideas and testing them out on friends and family. Now it's your turn!

---

19) The Interval Blog

http://www.myintervals.com/blog/ – Struggling with tracking time? Drowning in a sea of task and project details? You are in the right place. The Intervals Blog is a project management and time tracking blog for web designers and small business run by co-founders John Reeve and Michael Payne.

---

20) Get Organized!

http://getorganizedtips.blogspot.com/ – To get organized is to make purposeful decisions about your life. It's not just an action here or there; it's really about a lifestyle. This blog provides organizing solutions – tips, tools, products, websites, fun facts – all to help you find the motivation and know-how to get organized and stay organized.

---

21) The Time Finder

http://thetimefinder.com/ – Paula Eder is a life coach and executive and organizational consultant, a distance learning specialist and writer of articles and now a blogger! She works with people to recognize and help facilitate the small time choices that lead to large, life changes because the way you use your time is the way you live your life!
---
Productivity Through Technology
---
22) Gear Diary

http://www.geardiary.com/ – Judie Lipsett started Gear Diary on September 30, 2006, and her goal was that this not be an easily labeled site. We all have gear that we use daily – some of it electronic and some of it organic. She thinks it is fascinating to explore the equipment that makes our lives easier, more entertaining, more productive, and more manageable.

---

23) Popwuping

http://www.popwuping.com/ – Today, mobility represents more than movement. This blog is a guide to the design and culture of mobility. Find out about the gear you need to get ahead.

---

24) OfficeSupplyGeek

http://officesupplygeek.com/ – Blogger Brian Green finds himself obsessively fascinated by office supplies, especially pens, fountain pens, and notebooks. He hopes that his news and reviews on cool office supplies keep you interested and coming back for ways to be new, innovative, and to stay productive.
---
Lifestyle Design
---
25) Dumb Little Man

http://www.dumblittleman.com/ – In this blog's infancy, Jay White would personally write about his experiences, sites and resources that he found helpful. As his sales career expanded and his writing time diminished, he decided to open the door and allow anyone to share stories or publish tips and advice. Join the club.

---

26) The Happiness Project

http://happiness-project.com/ – The Happiness Project is a memoir of the year Gretchen Rubin spent test-driving the wisdom of the ages, the current scientific studies, and the lessons from popular culture about how to be happy. As one of the hundreds of happiness experiments she conducted during the research and writing of the book, she started this blog. Here, she recounts her daily adventures in pursuit of happiness.

---

27) The Blog of Author Tim Ferriss

http://www.fourhourworkweek.com/blog – Tim Ferriss, nominated as one of Fast Company's "Most Innovative Business People of 2007," is an angel investor and author of the #1 New York Times, Wall Street Journal, and BusinessWeek bestseller, The 4-Hour Workweek. This blog is one of Inc. Magazine's "19 Blogs You Should Bookmark Right Now." Check it out now.

---

28) The Art of Nonconformity

http://chrisguillebeau.com/3×5/ – This site features unconventional ideas for remarkable people, and is written for artists of all kinds, entrepreneurs, and anyone interested in changing the world. If you've ever felt like "there must be more" to life, this blog is for you.

---

29) LifeClever ;-)

http://www.lifeclever.com/ – This is Chanpory Rith's personal site on how to live and work better as a designer. He's a designer, but not an expert, rock star, or guru. He just wants to share his obsession with design, productivity, and ways to live better.

---

30) Life Optimizer

http://www.lifeoptimizer.org/ – Author Donald Latumahina believes many people (him included) live below their maximum potential. The problem here is they do not optimize their life. There are aspects of their life which can be made better and more effective than they are now. Life Optimizer is about living your life to the fullest.

---

31) LifeDev

http://lifedev.net/ – Anyone can have an idea. Making the idea actually happen is a whole other challenge. Read Glen Stansberry's blog about helping creative people create.
---
Personal Productivity
---
32) PickTheBrain

http://pickthebrain.com/blog – PickTheBrain.com is a website dedicated to self improvement with a focus on personal productivity, motivation, and self education. The first article was published to PickTheBrain.com on November 22, 2006. Since then it has become one of the fastest growing self improvement sites on the web.

---

33) The Berkun Blog

http://www.scottberkun.com/ – Scott Berkun is a best-selling author and "kick-ass speaker". He writes books and essays, lectures at Fortune 500 companies and top universities on creativity, management and a fun mix of everything else. Follow him on his blog.

---

34) SimpleProductivityBlog

http://www.simpleproductivityblog.com/ – LJ Earnest is a blogger who has been fascinated with doing things better for a long time. She's always on the lookout for new ways to be productive and simplify her life. Follow her journey on her blog.

---

35) Mindjet Blog

http://blog.mindjet.com/ – Mindjet provides collaboration and personal productivity advice that visually connect ideas, information and people to save time, improve business processes and drive innovation. Check their blog to find the tools to succeed with almost any business or personal productivity challenge.

---

36) 43 Folders

http://www.43folders.com/ – 43 Folders is focused on an arc about how to improve the quality of your career and life by managing your attention in a way that allows you to work your ass off on the creative projects that matter most to you.

---

37) Productivity501

http://www.productivity501.com/ – Productivity501 is a site dedicated to bringing you regular tips and tricks to help increase your personal productivity. This site focuses on original content so the publication schedule is a little slower than other blogs out there, averaging one new article each week.

---

38) Learn This

http://learnthis.ca/ – Learning things about life, career, leadership, and relationships are very important to Mike King for home, business and the spiritual world. Most of those things he learned or started to learn from someone else and this site allows him to provide that same unique place that he can share, teach and give back again to others.

---

39) The Productivity Pro Blog

http://www.theproductivitypro.com/blog/ – The Productivity Pro Laura Stack blogs about Time Management, Getting Things Done, and How to Be More Productive.
---
Personal Development
---
40) Brip Blap

http://www.bripblap.com/ – Work, wealth and life success – Brip Blap is Steve Schoenly's blog about everything from making career choices to finding inspiration to living the fullest life you can. Check it out.

---

41) Self Empower Magazine

http://selfempowermagazine.com/ – Self Empower Magazine publishes free, useful and empowering content designed to help you solve specific problems within the 3 core areas of your life – your health, your wealth and your happiness.

---

42) Brilliantly Better

http://www.dragosroua.com/ – This blog is a continuous story about all the crossroads Dragos Roua wants to overcome, to solve, to discover, to find, to explain, to understand, to build, to create, to share or to complete, in order for his travels to be as fulfilling as possible. Follow the journey and learn for yourself.

---

43) Abundance Blog

http://abundance-blog.marelisa-online.com/ –  Meet Marelisa. In her blog you'll find tips and resources to help you increase your creativity, be more productive, and get the most out of life.

---

44) Steve Pavlina's Personal Development Blog

http://www.stevepavlina.com/blog – Steve Pavlina is widely recognized as one of the most successful personal development bloggers on the Internet. He has written more than 1000 articles and recorded many audio programs on a broad range of self-help topics, including productivity, relationships, and spirituality. Get his tips on his blog.

---

45) Change Your Thoughts

http://www.stevenaitchison.co.uk/blog/ – Change Your Thoughts is a place to visit to help you try and change your thinking patterns, behaviors, beliefs and thought processes to live the life you were truly born to live.

---

46) David Seah's Journal

http://davidseah.com/ – David Seah specializes in simplifying complexity with informational graphics, documents, and interactive programs. Put more personally, his work revolves around making sense of the world, using his writing, programming, and graphic design skills to create clarity from confusion. Read his thoughts on his blog.

---

47) Success Begins Today

http://successbeginstoday.org/wordpress – Having an intense interest in personal development, John Richardson enjoys reading and writing about the subject. His goal with this blog is to take what he has learned and turn it into tools and concepts that you can use in your daily life. If he can save you time, help you become more productive, or find ways to help you organize your life, his goal will have succeeded.

---

48) Sid Savara

http://sidsavara.com/ – Sid Savara offers his writings on Personal Development, Maximizing Productivity and Life Hacking. Follow his blog to achieve your goals more effectively with analysis driven personal development.

---

49) The Positivity Blog

http://www.positivityblog.com/ – The Positivity Blog is focused on positivity and opening up new possibilities for happiness and awesomeness through motivating and practical articles on how to improve your life.

---

50) Careerealism

http://www.careerealism.com/ – This blog provides daily career advice served up in an original, refreshingly real manner. The conventional job search tactics are no longer valuable in today's job market. Every article you read on their website will put you one step closer to be in a position to own career success.
---
Grab the Badge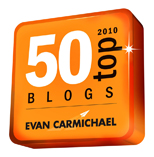 Categories: Top 50 List
Tags: angel, blogger, blogs, burnout, gadgets, hacks, increase productivity, january 2005, keys to business success, lifehack, lifehacker, looking at the world, pash, small business owners, technorati, time energy, tips and tricks, tips shortcuts, work life balance