By Evan Carmichael on July 20th, 2010
It's what every business thrives on. Without it, even the greatest product in the world isn't going anywhere. What is it? Sales. Some of the best ideas in the world have crashed and burned because entrepreneurs have been unable to turn ideas into products into sales. That's why we've come up with this all new Top 50 Sales Blogs of 2010. How do you reach your target customers? Who are your target customers? How do you conquer your fear of cold-calling and is cold-calling even a good idea? Get tips and strategies from some of the freshest and most innovative thinkers in the industry by visiting the blogs below.
---
Sales Strategy
---
1) Jonathan Farrington's Blog

http://www.thejfblogit.co.uk/ – Jonathan Farrington is a globally recognized business coach, mentor, author, consultant, and sales strategist, who has guided hundreds of companies and thousands of individuals around the world towards optimum performance levels. Follow him on his blog here.

---

2) Think Customers: The 1to1 Blog

http://www.1to1media.com/weblog – Ginger Conlon presents articles on customer strategy, trends and best practices in her popular blog "Think Customers: The 1to1 Blog."

---

3) N2Growth Blog

http://www.n2growth.com/blog

– Mike Myatt is a Top CEO Coach, author of "Leadership Matters…The CEO Survival Manual" and is the Managing Director and Chief Strategy Officer at N2growth. He is also the author and moderator of the N2growth Blog which was ranked as the #1 consulting blog in 2009 by Postrank. Check it out here.

---

4) Selling to Big Companies

http://sellingtobigcompanies.blogs.com/selling – Jill Konrath's sales blog offers selling tips and strategies to help you win big contracts. She covers everything from training strategies for prospecting, cold calling, and more.

---

5) Revenue Journal


http://www.revenuejournal.com/ – Kristin Zhivago provides revenue-increasing insights, strategies and techniques for CEOs and entrepreneurs.

---

6) ChangeForge


http://www.changeforge.com/ – Ken Stewart solves business problems by helping craft solutions to achieve business objectives through applying technology smartly, change management considerately, and motivational techniques genuinely.

---

7) Create Business Growth


http://createbusinessgrowth.com/ – David Williams started this blog in April 2007 and it covers a wide array of topics to help you grow your business online and offline.

---

8) Sell More, Work Less


http://www.engageselling.com/blog – Colleen Francis is driven by a passion for sales – and results. A successful sales professional for over 20 years,  Colleen delivers her savvy, no-nonsense approach to sales, rooted in the belief that there really isn't a single magic formula to success.

---

9) Strategy Stew


http://www.strategystew.com/ – In 2009, Ivana Taylor created this blog.  A membership community of scrappy, savvy marketers dedicated to getting and keeping loyal, happy customers without busting their budgets,  it's been a learning experience.  It's still in the early stages — so you'd better join now while she's still learning and not charging.
---
Just For Fun
---
10) The Customer is Not Always Right

http://notalwaysright.com/

–  While customers deserve to be treated right, so do the employees and the other folks that serve them. Not Always Right is about leveling the playing field for those who toil and sweat every day trying to juggle demanding customers and often unreasonable corporate expectations. At the end of the day, it's about remembering that whether we're a customer or an employee, we're all human, foibles and all. The blog is produced by A.J. Adams.
---
The Bigger Picture
---
11) Understanding the Sales Force

http://www.omghub.com/ – When Dave Kurlan began this blog, his goal was simply to capture his thoughts in one place and ultimately organize them into his next book, as yet untitled, on effective sales management.  Now, more than 500 articles later, he challenges you to look for a sales force topic that isn't addressed here.

---

12) New Sales Economy Blog


http://newsaleseconomy.com/ – The New Sales Economy blog reveals the companies, people, processes, and technologies shaping and succeeding in Sales 2.0. Informative interviews with leaders and innovators in the fields of sales, CRM, personal branding, marketing, social networking and blogging will show you how you can use Sales 2.0 & social media to your advantage.

---

13) Ideas Sandbox
http://www.idea-sandbox.com/blog – Ideas Sandbox is here to help you create remarkable ideas. They brainstorm ideas that help you solve and fix things that are broken, grow your business (your sales, brand, awareness, customer loyalty), think-up ideas, and create new and innovative ideas.

---

14) Ideas to Deals
http://ideas2deals.typepad.com/ – Michael Bowers shows you how to transform ideas into deals through the innovation of small business and entrepreneurship.
---
All About The Buyer
---
15) Selling to Consumers http://blog.sellingtoconsumers.com/ – Skip Anderson is a recognized authority on consumer selling, and is Founder and President of Selling to Consumers, a sales training and consulting company.  His blog helps companies and individuals maximize their sales effectiveness by focusing on the consumer.

---

16) Sharon Drew Morgen http://sharondrewmorgen.com/ – Sharon Drew Morgen is the visionary and thought leader behind Buying Facilitation® the new sales paradigm that focuses on helping buyers manage their buying decision. Morgen  shifts the buying decision tools from solution-focused to decision-support. Use her tools from her blog to get started.

---
---
Sales Jobs
---
17) Medical Sales Recruiter
http://www.phcconsulting.com/WordPress – In 1999, Peggy McKee moved to the Dallas area and founded PHC Consulting. PHC Consulting is well known for providing top of class candidates for sales, marketing and technical support positions. In her blog, she gives advice and tips on finding that sales job of your dreams.

---

18) Best Sales Jobs http://best-sales-jobs.com/ – The mission of Best Sales Jobs .com is to provide visitors searching for the ideal sales job with information about some of the best opportunities available today.
---
Prospecting
---
19) Wendy Weiss


http://wendyweiss.com/blog – The Queen of Cold Calling, Wendy Weiss is a sales trainer, sales coach and author. She helps entrepreneurs, business owners and sales professionals gain confidence, reach more prospects, close more sales and make more money.

---

20) Art Sobczak's Telesales Blog


http://www.telesalesblog.com/ – Art Sobczak offers how-to tips, processes and rants on prospecting, telesales, all sales, and more.
---
Sales 101
---
21) The Pipeline


http://sellbetter.ca/blog – The Pipeline is a blog presented by Tibor Shanto, Founder and President of Renbor Sales Solutions Inc.  His goal is to create an ongoing conversation with people involved in or interested in sales as profession, a science and an art form.

---

22) EyesOnSales

http://www.eyesonsales.com/ – What started in 2002 as a simple idea and a small website and what we then called 'a place designed to inform, equip, and encourage salespeople of all levels, whether new to the job, or a seasoned professional', has now evolved into one of the most vibrant online sales blogs for tens of thousands of Sales Professionals and Sales Managers.

---

23) Sales Machine


http://blogs.bnet.com/salesmachine/ – Connect. Listen. Sell. Geoffrey James has sold and written hundreds of features, articles and columns for national publications including Wired, Men's Health, Business 2.0, SellingPower, Brand World, Computer Gaming World, CIO, The New York Times and (of course) BNET. Find out how to be a Sales Machine on his blog.

---

24) Daily Biz Solutions


http://dailybizsolutions.com/ – Daily Biz Solutions is a free, comprehensive resource for professionals and entrepreneurs who are looking for tips that can help them grow their businesses and operate them more effectively and efficiently. Check in every day for great tips and suggestions related to: Advertising, Sales, HR and more.

---

25) Sales Tips Blog

http://salestipsbyscott.com/ – Scott R. Sheaffer, CSE, DTM, is a sales trainer and authors this sales tips website.  He is a contributing writer for other books, sales blogs and national publications.  Most recently he has completed his book, "Comatose Management."  This blog offers sales skills information for sales professionals and sales management.

---

26) SalesBlogcast


http://salesblogcast.com/ – Doyle Slayton is an internationally recognized Sales and Leadership Strategist, Speaker, and Blogger.  He is the founder of SalesBlogcast.com, the online community where business professionals network, share best-practices, and make each other better!

---

27) Salesopedia Blog


http://blog.salesopedia.com/ –  The blog covers "The World of Sales from A to Z". You will find serious and fun sales posts, some great links, and a more recent addition – podcasts. This blog will share insights, thoughts, and ideas about sales that author Clayton Shold hope will be of interest.

---

28) The SalesRoundup Podcast


http://salesroundup.com/blog – The SalesRoundup Podcast is designed to deliver useful information to  sales professionals and their management teams in a fast, simple and easy to use format. It provides sales people a means to learn new sales skills or brush up on old ones at their convenience, even while driving, in short 40 minute segments each week.

---

29) The Sales Blog


http://thesalesblog.com – The Sales Blog covers the 101 of Sales, including topics on sales attributes,  success attributes and more.
---
Sales Tools
---
30) Fill the Funnel


http://www.fillthefunnel.com/ –  Miles Austin is recognized as one of the leading authorities on Web Tools for sales, leveraging deep experience in the selection, strategy and tactics necessary to maximize sales productivity.  Fill the Funnel helps sales leaders, managers and salesmakers with the selection and implementation of Sales Web Tools and the training necessary for your team to benefit quickly.
---
Sales And Web 2.0
---
31) Cindy King


http://cindyking.biz/ –  Cindy King's aim is to inspire you on all things international and business-related at the intersection of sales, web marketing and social media, as she explores applying today's new media tactics for international business development.

---

32) The Virtual Handshake


http://www.thevirtualhandshake.com/ – The goal at TheVirtualHandshake.com is to create the leading resource guide for users of Web 2.0 technologies: blogs, social network sites, virtual communities, relationship capital management software, and so on.
---
Sales Management
---
33) Sales and Sales Management Blog


http://salesandmanagementblog.com/– Paul McCord discusses current sales and sales management issues. His background includes over 28 years selling, building and managing top sales teams, and training and coaching sales professionals and managers

---

34) The Experience is the Product http://www.cindyalvarez.com/–  For the past 11 years, Cindy Alvarez has helped startups succeed through early focus on product management, user experience, and customer outreach. Get her tips on her blog.

---

35) Sales Evolution


http://www.brooksgroup.com/blog– Sales Evolution is The Brooks Group's sales and sales management training blog. Get tips from one of the industry's most well known.

---

36) Dave Stein's Blog for Sales


http://davesteinsblog.esresearch.com/– After a career as a sales consultant, trainer, and author, Dave Stein is now CEO of ES Research Group, Inc., which he founded in 2005.
Through ESR, and this blog, he helps maximize the value of the relationship between the sales training buyer and the sales training provider through his knowledge base, experience, and guidance in making the right decision.

---

37) Sales Java Blog


http://blog.anthonycoletraining.com/– The Sales Java Blog delivers leadership development, sales management and sales training tips to companies and individuals in order to help drive consistent and predictable sales results.

---

38) Sell, Sell, Sell!


http://sellsellsell.salesnexus.com/– This is the blog where business owners, executives and sales people come to get answers. It covers topics such as sales management, sales training, and more.

---

39) Sales Loudmouth


http://salesandmarketingloudmouth.com/– A recognized leader in sales, sales management and sales training, Tim Rohrer runs this community for professional sellers.

---

40) S&MM SoundOff
http://vnutravel.typepad.com/soundoff– This blog is an outlet for idea swapping and opinion sharing from Sales & Marketing Management Magazine, the leading authority for executives in the sales and marketing field.
---

Communication Sales

---

41) Neuromarketing


http://www.neurosciencemarketing.com/blog –  Neuromarketing lives at NeuroscienceMarketing.com, and is the place to talk about using brain science in Marketing and Sales. This blog cover both breaking news about relevant brain research as well as "big picture" topics like ethical dilemmas posed by cutting-edge technology.

---

42) Drew Stevens Consulting


http://www.drewstevensconsulting.com/– Drew Stevens, President of Stevens Consulting Group and renowned author, consultant and sales expert helps thousands of frustrated sales managers, selling professionals and entrepreneurs improve their skills and gain dramatic results through his blog.

---

43) Business Sales Coach for Introverts and Shy


http://prostrategies.com/wordpress– Since 1990 Patricia Weber's coaching has been transforming the lives of introverts who sell reluctantly or lead with less than stellar personal power, and helped them become people who are a beacon of success for others in their organizations. Get her tips on this blog.

---

44) The Accidental Communicator


http://www.theaccidentalcommunicator.com/– Welcome to the premier blog for quickly conquering your fears and improving your public speaking, presentation & communication skills. "The Accidental Communicator" is where Dr. Jim Anderson shares the knowledge that he has gained while working with individual speakers and audiences for over 20 years.

---

45) Gavin Ingham


http://www.gaviningham.com/blog/– For the last 10 years, sales motivational speaker Gavin Ingham has been helping sales people to explode their sales performance by turning self-doubt, fear and lack of motivation into self-belief, confidence and action. Don't get left behind; follow his blog.

---

46) Persuasive


http://www.persuasive.net/– Persuasive.net is the fastest way to learn persuasive communication because AJ Kumar provides compelling articles without the fluff. Almost everyday, he provides 'easy to digest' articles, that can help you excel in your career, personal business, or overall life.
---
Lead Generation
---
47) The Sales Hunter


http://thesaleshunter.com/blog –  Nationally recognized for his sales motivation and sales training insights, Mark Hunter, "The Sales Hunter", helps you build your business by finding more customers and closing more sales.

---

48) The LEADSExplorer Blog


http://www.leadsexplorer.com/blog/– The LEADSExplorer Blog is all about lead generation, website visitor identification, CRM, prospecting, sales, conversion, funnel, B2B, visitor tracking, and more!

---

49) Sales Lead Insights


http://www.sales-lead-insights.com/– Sales Lead Insights is a blog about business-to-business lead generation, marketing and sales from Mac McIntosh, The B2B Sales Lead Expert. Topics include B2B lead generation, lead nurturing and lead qualification, following up leads and turning them into sales, and more.

---

50) Get More Clients


http://www.sales-excellence.co.uk/ – Ian Brodie has been helping some of the world's leading organisations with their marketing and sales challenges for over 16 years. This website captures much of his thinking about strategy, marketing and business development for lawyers, consultants, accountants and other professional firms.
---
Grab the Badge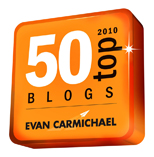 Categories: Top 50 List
Tags: business coach, ceo coach, chief strategy officer, coach mentor, cold calling, conlon, customer strategy, jonathan farrington, konrath, leadership matters, managing director, myatt, optimum performance levels, s sales, sales strategy, strategist, target customers, training strategies, zh