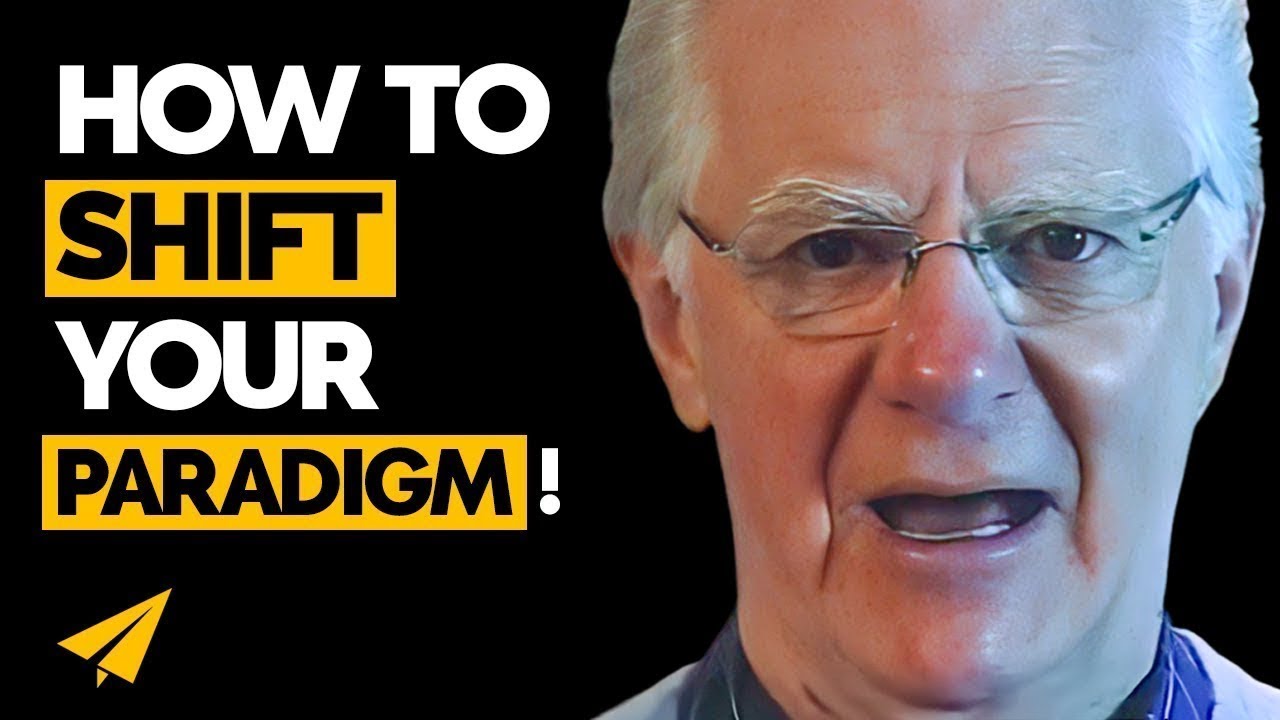 Hello Believe Nation, I made the Mentor Me series to try to hang around people who've done a lot more than us and hopefully by spending a little more time with them some of their mindsets, attitudes, beliefs, way of thinking seep into us to help us become the best version of ourselves.
So today we're going to learn from Bob Proctor on how to change your paradigm. Mentor me, Bob. And as always, as Bob is talking, if he says something that really resonates with you, please leave it in the comments below and put quotes around it so other people can be inspired as well. Enjoy.
1. Change Your Life
When you're going ahead, the only thing you can measure is what you're giving up. What about what's coming? Well know what's coming? What you want. But you've got to be able to pay the price. You've got to have guts, if you don't got guts, you don't deserve it.
[Narrator] The opposite of courage in our society is not cowardice. It is conformity. And there you have the trouble today is conformity. People all do like everyone else without knowing why, without knowing where they're going.
It was like a bucket of ice water got dumped on my head and I started really wondering, is here something bigger? Is there something more? And then Bob kept saying, in a way that only he can say, "What do you want? What do you really want?" And he said, "Don't think about what you think you can have" he said, "Most people are extras in their own movie." "What do you really want?" If you believed you could have absolutely anything, do what ever you want, be whoever you wanted, what do you want?
Regardless of the intellectual or physical abuse you're subjected to, no one can cause you to think something you don't want to think!
"You've got absolute control over your thinking. No one can change you if you don't want to be changed." – Bob Proctor
Life is very short. You're not here for a long time, you're only here for a short time. Every one of us are hardwired to do something phenomenal with our life. We're God's highest form of creation and we should start thinking.
2. Be Honest With Yourself
I'm going to share some information with you that, it could change the direction of your life like night and day. And when I say that, I want you to really stop and take a look at your life. Take an honest look at your life. I was thinking just before I started to make this, we have actually been conditioned to kid with ourselves, to lie to ourselves, to not really take an honest look at the results we're getting.
"I want you to take a real honest look at your results. And when you look at them, ask yourself, 'Am I living the way I really want to live?'" – Bob Proctor
You see, most people aren't. One of the first questions I ask a person that comes to work with me, I want to know what's the most they've ever earned in a year. I really don't care what the answer is, but I want to know what the answer is. Because, you see, if a person says the most they've ever earned in a year is $50,000 I know where their mind is programmed.
If they tell me the most they've ever earned is $250,000 I know where they're programmed. And then I want to find out what they want. And I know, then, what has to shift. Because their mind is programmed and if they're really going to live the way they want to live, they've got to change the program. And if they don't change the program, then nothing really happens.
3. Understanding The Law Of Attraction
Do you know that the law of attraction is always working, it's like the law of gravity. If I let this go, it's going to go down. It's never going to go back up, it's going to go down. That is the law of gravity. Anything heavier than earth is attracted toward the center of the world.
Well the law of attraction's always working. Now, how does it work? Well, I use a diagram to explain the mind. Let this circle represent your mind. And let this little circle here represent your body. Now I want you to think of this for a moment. Your body is a molecular structure.
This is a mass of energy at a very high speed of vibration. If you looked at your body through a microscope, you'd see that energy dancing right before your eyes. And here's something that'll keep you thinking for the next 20 years, when you move out of it, the body does not stop moving. If you go to a funeral parlor and pick up the remains and look at it, you will see it moving. And if it wasn't moving how would it ever change to dust?
You move into your body and you will move out of it. And it's how you use your mind that's going to dictate the vibration you're in. Stay with me. You have an imaginary line right across here and that separates the conscious mind from the subconscious mind. Now, the subconscious mind has been programmed.
When you were a little baby this is the way it was. You were just like this. Subconscious mind wide open and everything that was going on around it went right in there. And all the energy that went in there when you were just a little baby formed something called a paradigm. A paradigm is information. It's a multitude of habits.
You are the product of your environment, but prior to that you are a product of a genetic strain that goes back for generations. Now I'm going to say that the paradigm is X type energy. Now you've got the ability here on a conscious level to think. And you can think anything you want to think. And as you think you build ideas.
There's a power that's flowing into your consciousness, it never stops. It flows to and through you. You can actually photograph this power leaving you. It flows to and through you. Now, as it flows in, you will start thinking and you'll probably think X type thoughts. Therefore you're going to be in an X type vibration. And that will produce X type results.
Now it's the results you want to change. And to change the results you're going to have to change what you attract. You see, the thoughts that you think control the vibration that you're in. Vibration is nothing but an idea, it's a law of the universe everything vibrates, nothing rests. We live in an ocean of motion. And it's the thoughts that you're thinking that you impress upon your subconscious mind that control the vibration the body's in and that dictates how you act, but it also dictates what you attract.
You attract energy that's in harmony with you. You attract people that are in harmony with you. You see, everything operates on frequencies. There's an infinite number of frequencies, but you and I operate on the frequency, just like a radio station does. And the only music you can attract is the music that is tuned in to the vibration you're in.
Now it's the paradigm that's been controlling the vibration. You can change your thinking but that doesn't do anything, you've got to change the paradigm. And if you don't change the paradigm nothing happens. Now, talking about paradigms is another subject, we'll do that at another time. But it's the thoughts that you think that control the vibration you're in and that dictates what you attract.
"So if you keep attracting what you don't want, understand this, it's the paradigm that's causing the problem." – Bob Proctor
You can think a Y type thought which is totally different than the X type conditioning, it isn't going to go anywhere. Because when you go to get emotionally involved, and this is the emotional mind. When you go to get emotionally involved with that Y type thought, the paradigm will kick it out. You know why? It's so uncomfortable.
That's stepping out of the box, that's doing things different and we don't like to do things different 'cause it causes a lot of discomfort. But understand this, the paradigm and the thinking control the vibration you're in and the vibration you're in is going to dictate what you attract.
People that are in a poverty consciousness will continue to attract lack of limitation. It has nothing to do with this, what's going on here. This is your educated mind and you can gather all kinds of information. Have you ever wondered why some people have such an educated mind, they have degrees coming right off the end of their business card, but it doesn't show up in the results. Why? Paradigm. The law of attraction.
You've got to change this. You've got to change the vibration you're in and your whole world changes. Listen, in 1961, a man gave me this book. And he said, "Do exactly what I tell you." He was giving me Y type ideas, it caused an enormous amount of discomfort, but I did exactly what he said. And you know something? My income went from 4,000 to 170,000 in a year and then I took over a million.
It took me nine and a half years to figure out what happened. This is why I'm showing you. Watch this over and over and over again. There's a number of lessons in here.
4. Change Your Paradigm
When the paradigms change, your life changes. It's a beautiful concept. It's an absolutely phenomenal concept. Now you know why you're getting the results you're getting. It has nothing to do with your intellect, your intellect you can figure out how to do things. That doesn't mean you're going to do them.
You'll hear people say, "I believe that," but their behavior would indicate they've never even heard of it. Why? We believe something on a conscious level, on a subconscious level the paradigm believes something else. There's a word called praxis. Praxis is the integration of belief with behavior.
We've got to take the beliefs that we have consciously, that we determine by thinking, and plant them in the place of the old belief. See, I used to believe that I couldn't do anything better than I was doing. I felt fortunate that I was on the fire department.
The idea of building a company that operated all around the world, furthest thing from my mind. But you know something?
"As I changed my paradigm, my whole world changed." – Bob Proctor
That's what we do. That's what it's all about. You've got to change your paradigm if you want to change your life. You can study all you want, if you don't gain an understanding how to alter that program, and that's what the paradigm is, it's a program. It's a multitude of concepts that are fixed in your subconscious mind that literally control your behavior.
It's a beautiful concept to understand. It's a terrible one if you don't understand it. Because it literally controls your life. Why do you think most people go right through their life and keep getting the same results year after year after year?
Well, it's just the way it is and they don't know. We should be taught this in school, but we're not. How is the paradigm formed? Through the repetition of information. How is the paradigm changed? Repetition of information.
Now let's suppose you're having a difficult time with money. You find that you've got more going out than coming in. You've got to change your concept about money. How do you do that? Through the repetition of an idea. That's where affirmation comes in.
I'll give you one I've been using for years. I'm so happy and grateful now that money comes to me in increasing quantities through multiple sources on a continuous basis. I am so happy and grateful now that money comes to me in increasing quantities through multiple sources on a continuous basis.
You don't just say that once or twice, you've got to repeat that maybe a thousand times a day every day for maybe 90 days and you'll start to change your whole concept about money. Wealthy people all have multiple sources of income.
Now I'm going to tell you what happened to me. I drove around with a battery operated record player and a long playing record and I played it over and over again every day for probably a couple of years. It was so totally illogical, it was behavior, everybody thought I was losing it. And I'm reading the same book every day, Think and Grow Rich. As a matter of fact, I'm still reading the same book.
And it was the repetition of Romant Gail's information and the book that changed the paradigm. I didn't know what I was doing, I didn't understand what I was doing, but I did it. Do you know, I had a man come up to me in the Waldorf Hotel in New York, Waldorf Historia.
At the end of a three day program and he said, "Bob, I really want to thank you for what you've just given to me." He said, "For the first time in my life I've understood how I accomplished what I did." I said, "What did you do?" He said, "I won the gold medal in the decathlon in the Olympics in Melbourne, Australia in 1957." That's right. Milt Campbell. And he said, "I never understood how I did it." He said, "The next time you run a seminar I want to bring my boys," and he did. Milt and I became great friends.
In fact, Milt has a key to our house. He can come stay there anytime he wants. I live in Toronto, he's in New Jersey. But he was the top athlete in the world, best athlete in the world, he didn't understand how he got there. Most people that are very accomplished cannot tell you why they are. That's why they are.
They've rewritten the program, they changed the paradigm, they might not of understood how they did it, but they did it. That's what our company is all about. We teach people how to change paradigms. I want to thank you for watching this. But I'm going to ask you to share it with other people. Share it with them. Say, "Come and watch this." Start a rapport, build a rapport with people, you know? It's a great way to live. And this is great information to understand. Thanks for listening, this is Bob Proctor. I enjoy sharing it with you.
Evan: Thank you guys so much for watching. I hope you enjoyed. I'd love to know, what did you think of the video? What did you think about Bob's message? What impact is it going to have? What changes are you going to make in your life or your business after watching this? What was your favorite clip? Leave all of that somewhere in the comments below, I'm super curious to find out and will join in the discussion. I also want to give a quick shout-out to Ed. Ed, thank you so much for picking up a copy of my book. Thank you for picking it up on Facebook, I really appreciate it and I hope you enjoy the read and find your one word. So thank you guys again for watching, I believe in you I hope you continue to believe in yourself and whatever your one word is. Much love, I'll see you soon.
You might also like
---
More from Bob Proctor
---
Today, we're going to learn how you can stretch your limits. Hello, Believe Nation, my one word is believe and I …
Hello Believe Nation. My name is Evan Carmichael. My one word is believe and I believe that entrepreneurs will solve …
Good morning, Believe Nation. My name is Evan Carmichael, my one word is believe, and I believe that entrepreneurs will …