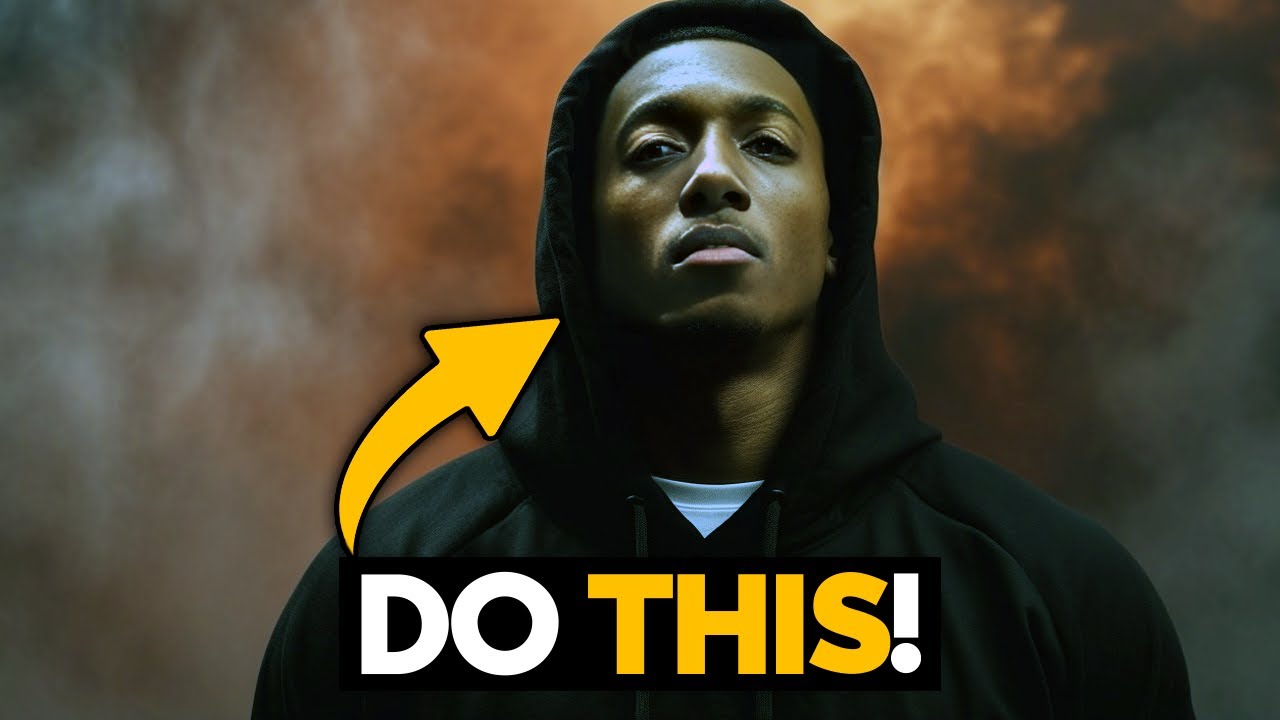 Good morning Believe Nation, my name is Evan Carmichael, my one word is believe and I believe that entrepreneurs are going to solve all of the world's major problems. So to help you on your journey, today we're going to learn how to brace yourself for struggle. Over to you LeCrae.
Brace Yourself for STRUGGLE – Lecrae
Lecrae
I would tell myself, man to brace yourself for real struggle, for real pain, for death, for loss, for hurt. And then as an artist, I would tell myself what I say, I put it on the back of the book too, if you live for people's acceptance, you'll die from their rejection. And that's what I would tell people because tell myself, because I was so worried about being accepted. These people to accept me, these people to accept me. And, when they don't you die, you crumble inside, you devastated but, if you already know who you are, I feel like I'm made in God's image. My worth and value cannot be tainted. You can't add to my worth, you can't take away from it. I was born with it, and so I don't have to fight for your approval or your acceptance and I would want my younger self to know that, be confident in who God made me to be and be the best me I could be.
Evan Carmichael
So starting a business is one of the hardest things you will ever do in your life. People think it's going to be easy, but it's one of the hardest things you will ever do in your life, no matter how hard you think it's going to be, no matter how many videos you watch of people telling you it's difficult, it's still way harder and way worse than what you thought it was going to be. It just is. That's life as an entrepreneur.
People will judge you, people will criticize you, people will hate on you. You'll run out of cash faster than you thought you would. Customers aren't going to come through the door like you thought they would. The media's not going to cover you like you thought they would. Your social media campaign's aren't going to take off like you thought you would. Basically, if you take whatever idea you had, and you have a best case, realistic case, worse case scenario, it's always way worse than your worse case scenario.
That's just life as an entrepreneur and I want to be realistic and share that because I really struggled at the beginning and I wasn't prepared for it. I read magazine articles and I saw documentaries of people who had successes in entrepreneur and I thought, I can do this, I can be an entrepreneur too. And I was prepared to do the work. I didn't think it would just be handed to me.
But I wasn't prepared for how low I would feel about myself. When I making $300 a month and I was working and working and working and not getting any results, not getting any callbacks, not getting any people buying and seeing so little traction, that I felt at that point, the lowest I've ever felt in my life.
"Starting a business is one of the hardest things you will ever do in your life." – Evan Carmichael
Because I knew anything else that I worked on, I could get some results with, at school or athletics. Whatever I worked on, it would improve and here I was working, and I wasn't getting any results and I just felt so low. I felt worthless, I felt like I had no value and I actually told my business partner that I quit, at one point. Because I just felt like I needed to do something where I could feel like I'm contributing something, because this just sucked.
And I was too embarrassed and too ashamed to tell other people about it. My friends would ask me come out to birthday parties or beer night or anything like that and I couldn't. I always had to say no because I couldn't afford it. You know 20 dollars was too expensive for me. And so I had to pick one thing a month that I could go to, but I would never tell my friends what was happening. I would always say that, I'm living the entrepreneur lifestyle.
I'm just hustling hard on my business. I was too embarrassed to let them know what the truth was. And so I think, part of what I wanted to share in this channel is showing the struggles that people go through to make it. That it often doesn't happen in the first year or two years or three years. That you have to have a deep passion for what you're doing, and just keep doing it and keep doing it and keep doing it.
And you do it because you enjoy the work. Because making YouTube videos is fun for me. I enjoy being able to reach you guys, whether I end up hitting my million subscriber goal or other big goals that I have or not, I enjoy doing the work.
And so I think if you really have a deep passion for what you're doing, and expect to struggle, then you let yourself off the hook a little bit, just from an emotional point of view. That when you don't hit the results, immediately, you don't beat yourself up and feel worthless about it and you use that as motivation to go off and do better.
Question of the day
So the question of the day today is I'm curious, what was the biggest surprise that you had as an entrepreneur? Something that you weren't expecting but then that happened to you that you had to deal with and struggle through. Really curious to find out. Share your story in the comments below.
I also want to give a quick shout out to Kelvin Scoon. Kelvin, thank you so much for picking up a copy of my book, Your One Word. It really, really, really means a lot to me man, and I hope you're enjoying the read.
So thank you guys again for watching, I believe in you. I hope you continue to believe in yourself and whatever your one word is, much love, and I'll see you again tomorrow morning for another shot of Entspresso.
---
BONUS
Brace Yourself For Struggle
R. Kelly
That the depth of anybody's struggle will determine the height of their success. And I believe that everything that I've gone through, in my whole life, you know, people ask me what you would change? I wouldn't change a thing, because everything that I've gone through has made me who I am today. You know, so I'm sitting here very strong and very confident and got to love for a lot of, lot of people. Jesus struggled and went through things.
Everybody went through they own thing and people slandered them. I mean, I feel like if Jesus can go what he went through, who am I?  I'm nobody, I'm just a guy from the hood man, that just do this music, you know, but I'm just such a real person, I don't consider myself a celebrity at all. I'm just so real and I love people that, you know man I just flow through this thing and I let my music, I let God guide me, where he'd like me to go.
But God ain't gon' just guide you straight to success. Not God. He gon' guide you through a lot of mess, first. So that when you get the success, you know how to appreciate it and you know how to stay with it and know how to take care of it and that's called longevity.
Taylor Swift
My biggest challenge of this year, actually was convincing members of my own team that this was a good call. I'd get kind of called in front of a group of people who have known me and worked with me for years who would sit down and say, are you sure you want to call the album 1989? We think it's a weird title. Are you sure that you want to put an album cover out that has, less than half of you face on it?
Are you positive, that you want to take a genre that you have cemented yourself in, and completely switch to a new one that you are a newcomer to? And answering all those questions with, yes I'm sure, that was I think something, that really frustrated me at the time, like guys don't you understand? I promise, this is what I'm dying to do. The biggest kind of struggle turned into the biggest triumph when it worked out.
 Maya Angelou
When I was seven and a half, I was raped. I won't say severely raped, all rape is sever. The rapist, was a person very well known to my family. I was hospitalized. The rapist was let out of jail and was found dead that night, and the police suggested, that the rapist had been kicked to death. I was seven and a half. I thought that I had caused the man's death because I had spoken his name. That was my seven and a half year old logic. So I stopped talking, for five years.
Now to show you again, how out of evil there can come good, in those five years, I read every book in the black school library. I read all the books I could get from the white school library. I memorized James Weldon Johnson, Paul Laurence Dunbar, Countee Cullen and Langston Hughes.
I memorized Shakespeare, whole plays, 50 sonnets. I memorized Edgar Allen Poe, all the poetry. Never having heard it. I memorized it. I had Longfellow, I had Guy de Maupassant, I had Balzac. Rudyard Kipling. I mean it was Catholic kind of reading, and Catholic kind of storing.
When I decided to speak, I had a lot to say, and many ways in which to say what I had to say. I listened to the black minister, I listened to the melody of the preachers, and I could tell when they would start up ♫ On that kind of thing, ♫ When we didn't know they mean to take our souls ♫ Straight to heaven or whether they meant to dash us straight to hell, I understood it. So out of this evil, which was a dire kind of evil, because rape on the body of a young person, more often than not, introduces cynicism.
And there's nothing quite so tragic, as a young cynic, because it means the person has gone from knowing nothing to believing nothing. In my case, I was saved in that muteness, you see, in the sort of die, I was saved. And I was able to draw from human thought, human disappointments and triumphs, enough to triumph myself.
---
You might also like
---
More from Entspresso
---
Today's message is be confident. Good morning believe nation, it's Evan. My one word is believe and I believe that …