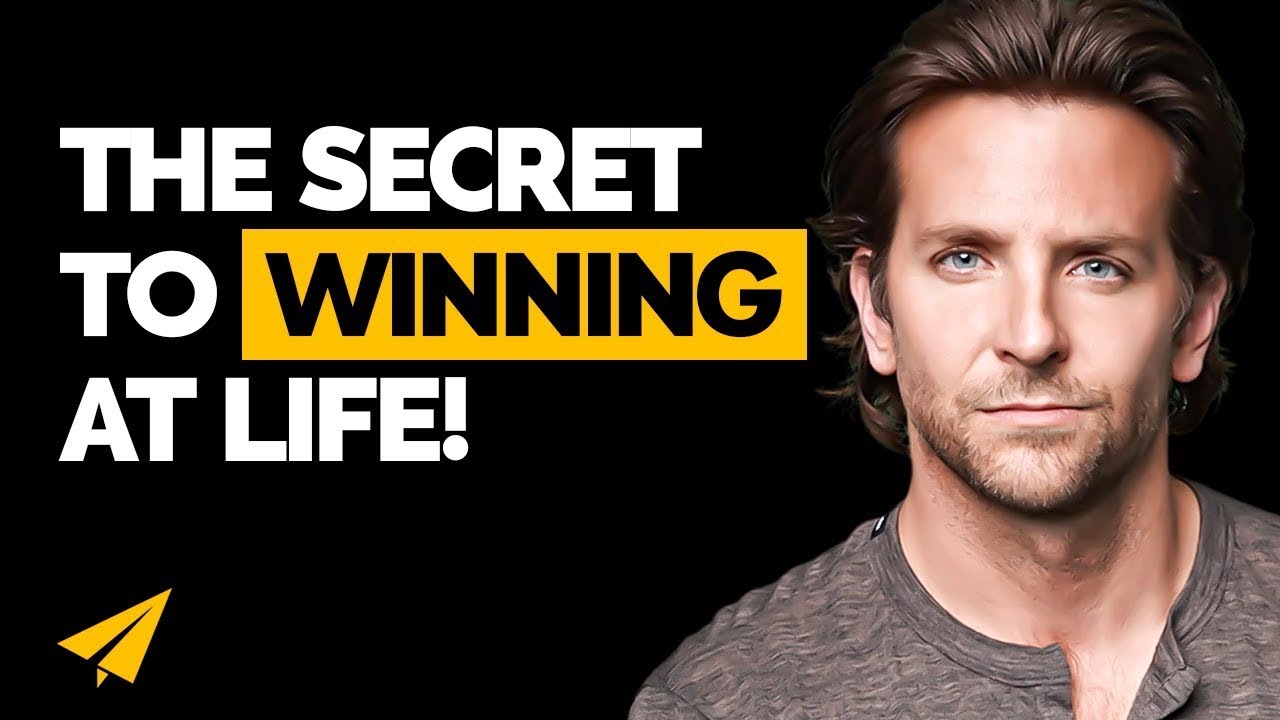 How are you doing Mr. Deniro, my name's Bradley Cooper. My question is regarding awakenings.
And I remember thinking if doesn't work maybe I'm not right for this business, I thought.
You know people talk about how you need a vacation or something, a vacation from what?
I think that if you love what you do, isn't it hard to be an asshole, I don't know? 
– Bradley Cooper
Evan: He's one of the highest paid actors in the world and he's been nominated for four Academy Awards.
His breakthrough came in 2009 with his film The Hangover.
Time magazine named him in 2015, one of the 100 most influential people in the world.
He's Bradley Cooper and here's my take on his top 10 rules of success.
Rule number four is my personal favorite and curious to figure out which ones you like the best. Also as Bradley's talking if he says something that really really resonates with you, please leave it in the comments below and put quotes around it so other people can be inspired as well, enjoy.  
…
Rule #1: Bring it hard
(Movie Subs) Brad: Want to go for a ride in my Porsche?
Announcer: From the one time role on Sex and the City.
(Movie Subs) Woman: You know what I got to go home.
(Movie Subs) Bradly: No way, I'm not letting you out. My shirt doesn't have enough ice cream on it.
Announcer: To his recurring role on Alias, bit parts in movies, but it all changed six years ago.
(Movie Subs) Bradly: To a night, the four of us will never forget.
Announcer: With The Hangover.
Interviewer: How does one go from The Hangover movies to this very serious, in part dark characters in some way.
Bradly: Well I don't see any difference at all. I don't, I mean that Phil Winnick to me was a real character that wasn't me.
(Movie Subs) Bradly: Tracy, it's Phil.
(Movie Subs) Tracy: Phil where the hell are you guys?
And Todd Phillips is an auteur director and Zac Galifianakis, Ed Helms are as good as Christian Bale and Jeremy Renner. I mean, those guys are serious gangster actors, I mean they are no joke and you got to bring it hard every time you're with them. So I actually see it as the same thing.
Rule #2: Go with your gut
How you doing Mr. Deniro, my name's Bradly Cooper. My question is regarding awakenings.
I wanted desperately to ask a question, I was terrified. And I wanted to ask this specific random question about awakenings and right before I came to my, because you have to say before that you want to and they pass you the mic so I thought this is going to be a stupid question, he's going to say why would you ask that stupid question.
And so I thought I'll just ask some bull question about The Mission and riding a horse. And then somebody asked a question about The Mission right before my question and I thought oh no, next thing you know it's my turn, I'm standing up and I'm looking at my idol 30 feet away.
"Just go with your gut. There's a reason why you think the way you do and want to do the things you do and you just can't let anybody tell you don't do it." – Bradly Copper
And then I just asked the question I wanted to about awakenings and he said good question. And it blew me away, it was just a little reminder, you know what just go with your gut. There's a reason why you think the way you do and want to do the things you do and you just can't let anybody tell you don't do it.
But especially you, don't allow you to tell you not to do it. The loudest voice that's a contrarian is usually me. All these little moments of confirmation that that voice should just shut up. Allows you to just do what you're supposed to do while you're here.
Rule #3: Push through
Interviewer: Between those things you also went to Broadway, with Julia Roberts, with Paul Rudd, Three Days of Rain, that must have been pretty special.
Yeah it was a do or die moment for me actually. Kitchen Confidential had gotten canceled, and I remember thinking if this doesn't work, maybe I'm not right for this business, I thought. The moments in life meaning, you know what it kind of does matter if this fails. Or you fail in it. And it was hard, it was the hardest thing I've ever been through by far. I remember thinking if I can get through this, it'll may be as hard but it's impossible for it to be harder and it's true, I've had a lot of hard times since jobs you know, where you're like wow, the pressure's so intense but it always, I have such a foundation, from Three Days of Rain.
Interviewer: I was going to say eight shows a week-
But not even that, actually it was the rehearsal process. Not the, once we got on stage it flew and that thank God, and I thought oh this feels right. And I was hard on myself but it was just, man it was tough.
Rule #4: #Believe
Announcer: The Elephant Man has been a huge success. Smashing attendance records and winning Cooper excellent reviews for Broadway's toughest critics for a role that's been a part of his consciousness for decades. At age 12 he decided he wanted to be an actor after watching the movie version. It tells the story of John Merrick, a horribly deformed British man with a saintly soul who's rescued from a 19th century freak show and given sanctuary at a London hospital. 28 years later, Cooper has produced, cast, and arranged the financing for the current Broadway production.
Interviewer: You play John Merrick.
Bradley: Yeah.
"If I'm acting like I'm him or don't quite make that leap of faith, there's absolutely no way you're going to believe it." – Bradley Cooper
Interviewer: Without any makeup, without any prosthetics. Just you Bradley Cooper. 
Yeah.
Interviewer: And you have to convince the audience that you're him.
Yeah.
Interviewer: How do you do that?
By believing I'm him. That's how I do it. If I'm acting like I'm him or don't quite make that leap of faith, there's absolutely no way you're going to believe it. I had to do a tremendous amount of work to get to a place where I do believe I'm him.
Announcer: Part of it was 20 years of research and part of it a performance unlike he's ever given. The transformation from Cooper to Merrick is shared by the audience in one of early scenes.
Bradley: As the doctor is speaking to the pathological society which is actually is the audience of the play, and you see an actual photograph of Joseph Merrick. He is then describing all of his afflictions.
Man: From the upper jaw, the projected another mass of bone.
And then I then interpret each one in a physical manner
Man: The right hand was large and clumsy, fin or paddle, rather than a hand.
Bradley: Almost mimicry, almost like a mime.
To farther burden to his trouble, the wretched man will avoid developed hip disease which left him permanently lame so that he would only walk with a stick.
And once he's finished with that presentation. I'm fully physically transformed but the soul hasn't been injected yet. He brings the cane over, steps away, and then says please.
Man: Please.  
And that's the first time you hear Merrick alive. That is the moment that the transformation occurs. And if I don't make that leap at that moment, the rest of the play is not going to work.
Rule #5: Explore
Absolutely, I try to find different things for no other reason than to further explore. I have no desire to repeat anything and I want to constantly learn.
Now I'm in a situation where I'm very lucky right now and it won't last forever, it may not last another year, but to really be at a place where it's not just about, 'cause for a while it's, I just got to get a job and now for as long as it lasts, I'm able to read a book like American Sniper and then try to produce it and could go to a director like Clint Eastwood, I mean these are things that if you told me that as a young actor in grad school, you got to be joking.
But that said, I remember being on Alias and I was playing this character who was only good it felt like, I remember feeling like, I got to play something else and really being so grateful that I got the role in Wedding Crashers where he was so diametrically opposed to that character.
And I thought early on, really keep trying to go here and here and I used to, I always remember Willem Dafoe came to our school and talked about how he only takes roles that scare him.
And I remember thinking, or roles that scare him, roles that he thinks he can't do, and I thought I think I would only want to do things I thought I could do. And it was interesting I used to think that and now it's more like things that scare me.
"I try to find different things for no other reason than to further explore." – Bradley Cooper
Chris Kyle, if you told me I could have played him, I didn't even when we were developing, I thought well I'll just develop the material, tell the studio that I'll play him but really I won't play him.
I'll get another actor who I thought would've been perfect for it, honestly. And Phil with The Hangover, it was funny because you mentioned that because we were saying that I saw it last night and I was telling my friend.
Looking at that guy then, I was so the opposite of that guy because I was going to give up the business, I was doing a play at Williamstown and I thought, I just can't it's not going to be, it's not going to happen because I knew I only really wanted to be in the middle of story-telling.
I love making a movie, I don't love just acting, but I love the whole thing. And then Todd Phillips called me, or emailed me and said let's do this bitches and then we were filming it.
And Phil's like this very confident guy and I was at a point in my life I wouldn't say, and I'm with these massive juggernaut comedians who are crushing and for Phil to come off the way he did, I don't know how that happened because I wasn't in that place. So I always feel like that I try to do things that don't come easy. But that only happened later.
Rule #6: Hustle
People talk about oh you need a vacation or something.
A vacation from what?
I love my life, I feel, I'm healthy thank God and you know, I have these incredible directors that are interested in working with me and I'm going to jump at that as long as there's enough time to prep and I feel like I can add to it, yeah I mean for sure.
Interviewer: Has it changed in terms, I guess there's a point where you don't have to chase quite as hard.
You know it depends on the project. I still chase. I wrote an email to a director about six months ago about a project that I felt so connected to, never got a response.
Interviewer: That's surprising.
But you never you know.
Interviewer: You just think professional courtesy would be enough-
Oh not in this business.
Rule #7: Keep getting better
Interviewer: Do you have a career idea in, do you have a mindset?
Uh, no, I mean yeah I do, mindset is so simple. I just want to get better. I want to get better and I want to work with great people, it's really simple.
Interviewer: Do you want to pushed in new directions all the time or you-
"Mindset is so simple. I just want to get better. I want to get better and I want to work with great people" – Bradley Cooper
I don't want to be pushed, I think I would push myself. I have a pretty strong engine of wanting to grow. Although David is a good example, I didn't think I could do that role and he was example of a director saying just walk with me. And we're going to do another movie together in the spring where he's, it's the same thing, it's a difficult character.
Rule #8: Love what you do
Woman: I had the opportunity to play one of your background nurses on American Sniper. You were in Inglewood in the hospital and you spoke to us, you were so nice, and I remember meeting you were, you greeted us, and I was like oh my God, he's such an A-list actor, a principle, and he's so nice to us background. So my question is how do you stay so nice?
Well you know I think the question perplexes me at the root and maybe that's why because why wouldn't I be?
" I love what I do. I absolutely love it. " – Bradley Cooper
Yeah but I don't know you're a human being and we're all on set together trying to tell a story, to me it's always very clear and that's the real truth, everything else is a sort of artificial, branding, or ladder, I don't know what that means, but you know what I'm saying, so I don't know, I'm always happy to see another human being on a set that we're going to tell a story together with.
And maybe it's because I love what I do. I absolutely love it. And I think that if you love what you do, isn't it hard to be an asshole, I don't know. And I'm also grateful. It's not lost on me to be able to do this, we're lucky, we're so lucky.
Rule #9: Focus on the work
Interviewer: So you have no ego about seeing yourself on the screen at this point.
No.
Interviewer: In a positive way or negative way.
No I don't have a hard time at all watching myself for the honesty of a moment as an actor like saying that's bull or that's working or not, I could totally do that objectively. I don't ask me to tell you what I look like on screen. What I've managed to do is divorce myself from the utter shock of because I do, my initial thing right away I go, how do I make a living? This is, is this a joke? I really , I don't know if most people, that's just the way I feel. But at least I divorce myself from that, do you know what I mean, okay that's, I don't even think about that anymore. And then I just focus on the work.
Rule #10: Do awesome impressions
Had you worked with De Niro before this film anywhere?
No.
Had you met him anywhere?
Oh gosh, on the show, I met him, I had a whole long history that he wasn't aware of. I auditioned for a movie, I put myself on tape for a movie to play his son, my mother played him, and he actually saw the tape and called me in to meet him.
David: Oh that's nice.
Yeah, I was a mess, I couldn't believe it. And I sat down and he didn't say much, he just said, yeah I see it, I see you, I see it, okay. Yeah but I've worked with some characters. Owen Wilson, you can't, Dave I loved Hall Pass. Jason Sudekis, what a funny character.
Let me ask you, there was a rumor going around that I believed, that a lot of people in the business believed that President Clinton was in Hangover 2. I was reading it in the trades, they were saying he's going to have a cameo in the Hangover 2, you know how was that started that rumor?
The real is we were in Bangkok, Clinton was there with his fund giving a speech, so Zac and Todd and I went to see him speak and then they said, hey do you want to have dinner with the president afterwards. I thought oh my God, that'd be great. So we had dinner with him. And he was late and I just happen to get lucky, I was sitting next to the empty chair.
Conan: Yeah.
It was so crazy, the first thing he says when walks in was like, all I want to know is there an A-Team 2 and can I be in it? And literally this is what I thought, are you messing with me man? I get you, it underperformed you don't have to embarrass me in front of the table. But he meant it.
You do impressions as well Bradley don't you?
Sometimes, if you want me to talk, I just, whatever comes in my head, I say. I don't know when or what it's going to be.
Man: Is that your mum?
Christopher Walken by the way.
…
Evan: Thank you guys so much for watching. I made this video because Bradleygirl999 asked me to.
So if there's a famous entrepreneur that you want me to profile next, leave it in the comments below and I'll see what I can do. I also love to know what did he say that had the biggest impact on you, what message meant the most to you, please leave it in the comments below and I'm going to join in the discussion.
I also want to give a quick shout out to Roger Pierce and his cartoon Sully Startup. He made a cartoon strip about me and my one word, the book signing and I really appreciate that Roger, feel the love man, thank you for the support.
So thank you guys for watching, I believe in you, I hope you continue to believe in yourself and whatever your one word is. Much love, I'll see you soon.
---
You might also like
---
More from Bradley Cooper
---