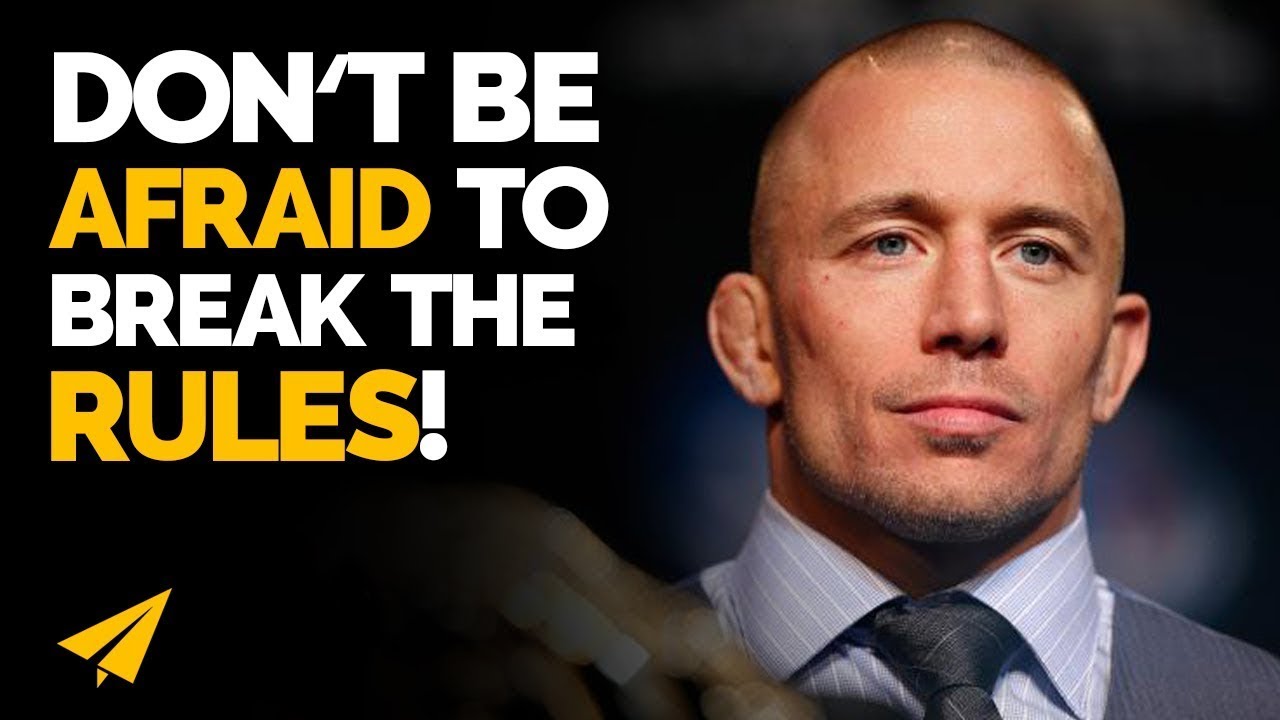 Good morning, Believe Nation. My name is Evan Carmichael. My one word is believe and I believe that entrepreneurs are going to solve all of the world's major problems. So to help you on your journey, today's message is break the rules. Over to you, Georges St. Pierre.
BREAK the Rules – Georges St-Pierre
Georges St-Pierre
I've never been afraid to break the rules in life. I'm not talking about break the law. Break the rules. Why would you want to be in this world if it's to be like everybody else? The most successful people in life are the ones that are doing the things out, they are thinking outside of the box. So don't be afraid to break the rules.
Evan Carmichael
So I've never been a huge fan of rules and I'm guessing if you're an entrepreneur and you're watching this channel, you're not a big fan of rules either. Entrepreneurs in general, we are rule breakers. We like to create new things, we like to push the boundaries, we want to change the way things are done in our industry  and so for that to happen, we have to break some of the rules. I think the rules are important and just to understand that rules are here to keep average people doing average things.
And there's a lot of things in life that you are average at. Most things, you are average or maybe even below average in life at and so the rules can help you. The rules can help you stay safe. The rules can help you get by. You know, if you're in the emergency exit of an airplane, they have rules that you're supposed to abide by. Unless you're an airline security expert, like, follow the rules. The mask comes down, put it on your face, right?
There are rules to follow that if you don't know anything better, just follow the rules. It'll help keep you on the average. But for the things that you're way above average on, for the things that you have genius level talent at and you could be one of the best in the world at, for those things, then you have to adopt the mentality of I'm going to break the rules. There's this great clip of Steve Jobs who was doing an interview and he was talking about how the world is made up by people who are no smarter than you.
The rules that are in place were put there by another human being who is no smarter than you and if you are an expert in your industry, you're probably smarter than them. And so don't live your life and run your business according to rules that are old and created by people who aren't as much of an expert as you are. I think a lot of people are afraid to break a rule because that's the way that it's always done.
"Entrepreneurs in general, we are rule breakers. We like to create new things, we like to push the boundaries, we want to change the way things are done in our industry  and so for that to happen, we have to break some of the rules." – Evan Carmichael
And I'm not suggesting go out and do something that's illegal, 'cause that's a whole other can of worms, but the way things are traditionally done in an industry. A lot of times it doesn't even make sense anymore. And that's on you to not just break the rules, but to create the new standard. So I'd look at my YouTube channel. I just came back from ClamourCon as an example which is an event for YouTubers and a lot of these guys are publishing one video a week or a video every two weeks and part of the YouTube algorithm that's really important is consistent content. Once a day is really going to be the minimum.
When I went from once a week to once a day, my channel shot up. When I went from once a day to twice a day, my channel shot up again. From twice a day to three times a day, not as much, doesn't really make a huge difference. It still goes up but you don't get the same returns as the other ones.
And so everybody's saying wow, I don't know how you do it, I don't know how you build up that team and we're responding to every single comment and we're updating our tags and descriptions and titles and testing thumbnails and doing all these things that most people aren't doing on YouTube and that's why I've had the success that other people haven't.
And so it's setting a new standard. Right, breaking the rules that people thought were important before and saying no, this is the new path to go and come and follow me and I think if you have that ability, you have that genius level talent at something, you are the expert in your industry. It's not only what you should be doing for yourself. It's your obligation to go out and create a new standard for your industry and not play to a smaller level just because there are some rules in place.
Question Of The Day
So the question of the day today is, I'm curious, what is the single biggest rule that you want to break in your industry? What is the rule that drives you nuts that you want to abolish and say, this is the new way. I'm curious, leave it down in the comments below.
I also want to give a quick shout out to Diana Gartland from dianagartland.com. Thank you so much for picking up a copy of my book, Your One Word, Diana. I really, really, really appreciate it and I hope you're enjoying the read. So thank you guys again for watching.
I believe in you. I hope you continue to believe in yourself and whatever your one word is. Much love and I'll see you again tomorrow morning for another shot of Entspresso.
---
BONUS
Break The Rules
Arnold Schwarzenegger
We have so many rules in life about everything. I say break the rules, not the law, but break the rules. My wife has a T-shirt that says well behaved women rarely make history. Well you know, I don't want to burst her bubble, but the same is true with men. It is impossible to be a maverick or true original if you're too well behaved and don't want to break the rules. You have to think outside the box, that's what I believe after all.
What is the point of being on this earth if all you want to do is be liked by everyone and avoid trouble? The only way that I ever got any place was by breaking some of the rules. After all, I remember that after I was finished with my body building career, I wanted to get into acting and I wanted to be a star in films. You can imagine what the agent said when I went to meet all those agents. Everyone had the same line that it can't be done.
The rules are different here. Just look at your body, you have this huge, monstrous body, overly developed, that doesn't fit into the movies. You don't understand. This was 20 years ago the Hercules movies. Now there is the little guys that are in, Dustin Hoffman, Woody Allen, Jack Nicholson, before he gained weight of course that is. But anyway those are the guys that win. And the agent also complained about my accent.
He said no one ever became a star with an accent like that. Especially not with a German accent and yes, I can imagine with your name, Arnold Schwarzen, Schnitzel or whatever the name is, on a billboard, yeah that's going to draw a lot of tickets and sell a lot of tickets, yeah right.
"We have so many rules in life about everything. I say break the rules, not the law, but break the rules." – Arnold Schwarzenegger
So this is the kind of negative attitude they had, but I didn't listen to those rules, even though they were very nice and they said look, we can get you some good parts. We can get you to be playing a wrestler or bouncer or maybe with your German accent we can get you to be a Nazi officer in Hogan's Heroes or something like that.
But I didn't listen to all this. These were there rules, not my rules. I was convinced I could do it. That if I worked as hard as I did in body building, five hours a day, and I started getting the work, I started taking acting classes, took English classes, took speech classes, dialogue classes, accent removal classes I even took. I remember running around a fine wine rose and a vine, you see because Germans have difficulties with the F and the W and the V so fine wise rose and a vine.
I know what some of you now say is I hope that Arnold got his money back, but let me tell you something, I had a good times doing those things and it really helped me. And finally I broke through. I broke through and I started getting the first parts in TV, Streets of San Francisco, Lucille Ball hired me. I made Pumping Iron, Stay Hungry, and then I got the big break in Conan the Barbarian.
And there the director said if we wouldn't have Schwarzenegger, we would have to build one. Now think about that. And then when I did Terminator, I'll be back  became one of the most famous lines in movie history all because of my crazy accent. Now think about it. The things that the agents said would be totally a detriment, it would be impossible for me to get a job, all of a sudden became an asset for me.
All of those things, my accent, my body and everything, so it just shows to you never listen that you can't do something. And you have to work your way up, of course. Run for something else first. I mean it was the same when I ran for governor. The same lines that if they work you up, it can't be done, and then of course, I ran for governor and the rest of course is history.
They said you have to start with a small jump as mayor and then as assemblyman and then as lieutenant governor and then as governor and they said that's the way it works in the political career. I said I'm not interested in a political career. I want to be a public servant. I want to fix California's problems and bring people together and bring the parties together. So like I said, I decided to run. I didn't pay attention to the rules and I made it and the rest is history.
Simon Sinek
Let me tell you a story. So a friend of mine and I, we went for a run in Central Park. The Road Runners organization, on the weekends, they host races. And it's very common at the end of the race they'll have a sponsor who will give away something, apples or bagels or something. And on this particular day, when we got to the end of the run, there were some free bagels and they had picnic tables set up and on one side was a group of volunteers.
On the table were boxes of bagels. And on the other side it was a long line of runners waiting to get their free bagel. So I said to my friend, let's get a bagel. And he looked at me and said, that line's too long. And I said, free bagel. And he said, I don't want to wait in line. And I was like, free bagel.
And he says nah, it's too long. And that's when I realized that there's two ways to see the world. Some people see the thing that they want and some people see the thing that prevents them from getting the thing that they want.
I could only see the bagels. He could only see the line. And so I walked up to the line. I leaned in between two people, put my hand in the box, and pulled out two bagels. And no one got mad at me because the rule is you can go after whatever you want, you just cannot deny anyone else to go after whatever they want. Now I had to sacrifice choice. I didn't get to choose which bagel I got.
I got whatever I pulled out. But I didn't have to wait in line. So the point is is you don't have to wait in line. You don't have to do it the way everybody else has done it. You can do it your way. You can break the rules. You just can't get in the way of somebody else getting what they want. That's rule number one.
---
You might also like
---
More from Arnold Schwarzenegger
---
Today's message is execute your idea.  Good morning, Believe Nation, it's Evan. My one word is believe, and I believe …
Today we're going to learn how to expand your mind. Hello, Believe Nation! It's Evan. My one word is believe, and …