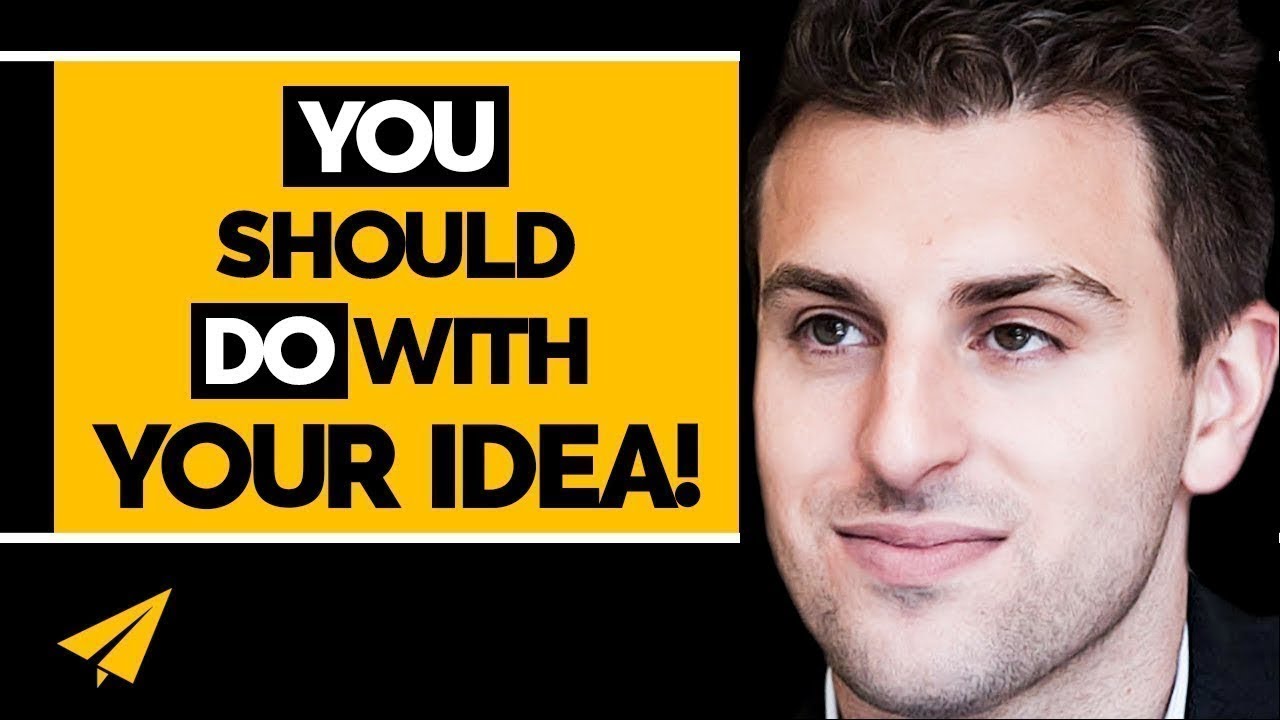 Famous Entrepreneur Quotes
Brian Chesky's Quotes
"I met Joe, my co-founder, and both of us had this dream that we were going to do something that would make an impact in the world, and we didn't even know what that meant."
"I think a key thing to learning is having mentors. And a key thing to having mentors is being shameless."
"Start with the perfect experience of just one person. Get that right, and then figure out how to scale something great."
Brian Chesky's Top 10 Entrepreneurship Rules For Business and Success
He's an American internet entrepreneur. He's best known as one of the co-founders of Airbnb. He was named one of Time's 100 Most Influential People of 2015. He is Brian Chesky, and here is my take on his top ten rules for success.
Rule #1: Chase your Dreams
When I got to RISD Art School, and everyone was like creating their own projects. And I had a teacher who said, "You're a designer. "Everything around you is designed by other designers. "You can design the world you live in." I met Joe, my co-founder, and both of us had this dream that we were going to do something that would make an impact on the world, and we didn't even know what that meant. I got this job at an industrial design firm in Los Angeles. It had health insurance.
My life felt a little bit like I was in a car, and the road in front, it's like, you look out of a car and the road in front of you looks exactly like the road behind you. And you're like, that's your life. And something about that really terrified me. Joe had been calling me up to try to get me to start a company. And then one day I go into work, and I quit my job.
I'm living in a house in Los Angeles with three friends and I tell them I'm leaving Los Angeles. And I pack everything in the back of an old Honda Civic. A foam mattress, $1,000 in the bank account, hardly any savings or any money. I have to pursue the dreams. I'd rather fail doing something I love than always wonder what could have been. And so that one weekend, it's October 2007, I drive to San Francisco, and that was the beginning of Airbnb.
Rule #2: Ask for Feedback
When I came to the valley, I did not know much about Silicon Valley. In fact, somebody told me there are these people called angels. I had no idea they meant angel investors. I think a key thing to learning is having mentors. And a key thing to having mentors is being shameless. In other words, shameless people learn really quickly and are successful.
Most people are just afraid to ask people for help. And so we, Joe, Nate and I, were shameless about asking people for feedback. Whether it was just our investors or meeting famous entrepreneurs like Mark Zuckerberg or Jeff Bezos, who ended up becoming an investor, or Warren Buffet. You know, you seek out people, and most people are really nice and they'll help you if they can.
Rule #3: Start with the Perfect Experience
And Paul Graham said something to me that I'll never forget, and he's now written an essay about he said, "Do things that don't scale." And it's counter-intuitive. And what that meant for us was we were able to go door to door meeting every one of our users, trying to provide an amazing experience and if we had only relegated ourselves to a bedroom or our office, apartment, you know, because that's the only thing that seems scalable we would never have created an amazing experience.
And often times the best methodology is to start with the perfect experience of just one person. Get that right, and then figure out how to scale something great. Instead of scaling something not so great, and then trying to improve it. That's really hard to do.
Rule #4: Persevere
I get to San Francisco, I had a rent check of $1,150. And I have $1,000 in the bank and I can't pay rent let alone live in San Francisco, it's very expensive. And Joe had the same problem. The first weekend we were there, This international design conference is coming to San Francisco and all the hotels they're recommending are sold out.
We said well what if we could just turn our house into a bed and breakfast for the design conference. I mean, people need housing, we certainly need money. We didn't have any beds, I'd just moved up there. And Joe said, "Don't worry, I have three air mattresses." And we called it not the Bed&Breakfast, but the AirBed&Breakfast.
We built this website and we ended up having three people stay with us. We made enough money to make our rent, but we also made some deep friends. And that was the very beginning of something that we saw. Many people told me it was the worst idea they'd ever heard of. It was months and months and months of people trying to talk us out of our idea. And so we had to continue to think, like look at the mountain top and not worry, and not look down.
Rule #5: Always be a Startup
You know, Paul Graham, I used to, he was our first investor and I used to worry about all these random things like competitors, like, you know, kind of cities, all this stuff. And he said something to me I'll never forget. He said, "Brian, start-ups die of suicide, not homicide. "All great companies that had a downfall, "they died of self-inflicted wounds." So what are those self-inflicted wounds?
Woman: That's a horrible thing to say!
I know.
Woman: But anyway.
But it's really, the key thing is it's about like, there's this thing like you're a small company and you exist cause no one else, especially big companies couldn't do what you could do as a small nimble company. You know Pablo Picasso's saying, "The older you get, "the stronger the wind gets. "It's always in your face."
It's like small companies become big companies and sometimes they become really bureaucratic and the culture gets lost, people leave the company. That is something, it's not unique to Airbnb. But that's the thing that we have to worry about and I'm deeply paranoid about that. I want to make sure that we're always a start-up. Maybe the world's biggest start-up, but we stay there.
Woman: So you're scared of yourself.
You have to be afraid of what you might become if you're not like, you know, if you relax, that's for sure.
Rule #6: Redesign the world you Live In
We believe in an unreasonable vision of the way the world could look. And we believe that world can be designed. I mean, I had a teacher at RISD, and he told me, "Brian, you're a designer. "Everything around you is designed by somebody else "if it's man-made. "You can re-design the world you live in." I think so many of us go through life, or not people here, but a lot of people go through life thinking they're living in someone else's world.
We enter someone else's world but we leave our world behind. The world that we've contributed to in design. And I think the sense that anything can be rethought, anything can be designed. Anything around you is just, somebody else did that with less information than you have today is an unbelievably empowering idea. And as I think about running Airbnb I don't try to presume any convention of running a company. Anything can be done a little bit better if you just imagine like where you want to get to.
Rule #7: #Believe in the Idea
We tried to raise $150,000 and sell 10% of the company. That would have been an amazing deal. And we got introduced to more than a dozen investors. Most of the investors that we got introduced to didn't even return our phone calls or emails. A few of them wrote back and say, "This is not something "we're interested in." And the very few that met us did not give us money. We're AirBed&Breakfast, the air beds aren't working maybe the breakfast will work .
So we decided, let's sell collectible breakfast cereal. Obama O's, the breakfast of change. And then we we also came up with a John McCain-themed cereal. We ended up making 1,000 boxes of cereal. We sold them for $40 a box, and we made almost $30,000. And this is how we funded the company. Before that, we were funding the company on credit cards. I don't know if you know those binders you put baseball cards in, kids put baseball, we put credit cards in those.
We had sleeves of credit cards. I would go to sleep, and I'd wake up, kind of like and my heart would be pounding, and I'd be like, oh my God, like, how did I get myself into this situation. I have no money, like we launched a year ago, we still have no customers, the people don't like the idea, and what are we going to do, and now what? I kept saying now what, and like, when is this going to happen? And then you get the courage over the course of the day, and you find a new plan, and you get through the day. And you go to sleep confident. You're like, you know what? It's going to be fine. And tomorrow's a new day. And you go to sleep. And you wake up. And you're oh my God! And your heart starts pounding again. We had launched three times. We launched, no one used it. We launched, we launched again.
And a year later, we have almost no customers, tons of credit card debt, and every investor we knew said no. Many people have asked me, "Why?" "Well, why didn't you lose hope at that point?" And I guess I just believed in the idea. And we believed that if people could experience what we've experienced, then this would be an idea that would spread. They just needed to experience it and it would just take more time.
Rule #8: Be Nuts!
One of the most common things people say when they hear about the idea of Airbnb now when they see people all over the world doing it is, "Why didn't I think of that? "It's such a simple idea, why didn't I think of that?" You might not have thought of that, is because when we thought about that years ago the most common thing people said is, "Are you nuts?"
Rule #9: Do more than Expected
When we design products, we imagine, okay, this is what customers expect, They expect to have a five star experience. And then we basically ask the question. So let's take airport pick-up for example. What's a five star check-in experience on Airbnb? The five star check-in experience is they give you the address, you get to the house, you knock on the door, and they're there. And they open the door and they let you in the house. And that's five star. And anything worse than that, and you start to leave, like, four stars is you call them, they're like five minutes away, you'll probably leave a four star. And like one star is obviously like they never showed up. So the bar's kind of low, like you knock on the door and they open the door, that's a really low bar.
So we ask what's a six star? Well a six star is they probably pick you up at the airport. So you don't knock on their door, they actually pick you up at the airport. So what's a seven star review? You can actually play, this is kind of fun. Well a seven star is they don't pick you up at the airport, they send a limousine, and you open the limousine door and they know that you like, I dunno, Pringles. Sorry, that was a weird example, this is all, this is like improv so we're growing with it. So there's Pringles there, and there's like coconut water, and they know you're into surfing, and there's some surfing magazine even though you're in San Francisco you're not going to surf, that's fine. And so that's a seven star.
So what's an eight star pick-up? Well an eight star check-in is, you know, there's a, you get to the airport and they're like we're coming. And you're like where are you? And all of a sudden you see like a giant elephant. And that elephant is walking by the gate, the terminal. And there's a parade in your honor, and you get on top of the elephant and you are paraded away. And you said, well what's a nine star check-in? If that's an eight star check-in how do we get a nine star? A nine star check-in is you get off the plane and the moment you step off the plane there are 5,000 screaming 13 year old women and boys. And their holding signs. I call it the Beatles check-in. It's The Beatles in 1964 and they're coming to America and they're just cheering for you, screaming for you and you basically, they follow you and they do a press conference in the front yard of your Airbnb. And so then what's a ten star check-in? Well, I can go to 30, but I won't. Because it'd be a long day.
The ten star is you, you get to the airport and there's a little card and it's got your name on it and you're like great, there's my ride. But you realize the person dressed in the limo suit is Elon Musk and he just takes you to space. And, so, I've exaggerated to make a point, usually we don't go all the way to ten.
The whole point is that like, if you, if what you need to do is just find a hundred people to love you then it's very easy to take for granted the five star is what people expect. But to build something people love you almost need to do something more than they expect. And so, like, every moment is an opportunity to do something slightly more than people expect. And we play this out, you go to like, all the way to ten. Okay now we're not going to do all that. But maybe, suddenly six stars doesn't seem so bad. Now we should have a service, airport pick-up or something like that. And so we do this about every frame of the experience. And this also can apply to almost anything, office assign, or how you hire people. Like, you know, we storyboard end to end the interviewing experience.
Rule #10: Have a Mission
This August we had on a peak night one million people, more than the population of San Francisco, staying in a home around the world, in 180 countries. In one of the stories I heard, was this host, his name is Sebastian. And he says to me, "Brian, there's this word "you never use in your website." And I said what's that word? And he said, "That word is friendship." He said, "Six months ago, the London riots," this was a couple years ago, "broke out outside my home.
"And the next day my mom called me to make sure I was okay." He said, "Here's the interesting thing. "Between the time the riots broke out "and the time my mom called me "was a 24 hour period of time. "And in that period of time," he said, "seven of my previous Airbnb guests called me. "Just to make sure I was okay." I wonder how many of these people would have called a hotel, by the way.
But the point is, that Airbnb is not about spaces. And it's very easy to come to our website and see a couple million spaces, but it's really more about the people. And our mission is to provide this feeling not of space, but belonging. And we belong at home, we belong at our work sometimes, but we want you to be able to belong anywhere in the world in 34,000 cities.
Thank You!
Thank you so much for watching, I made this video because Senay Geletaw, I really hope I pronounced that properly, asked me to. So if there's a famous entrepreneur that you want me to profile next, leave it down in the comments and I will join in the discussion.
I'd also love to know which of the top ten rules resonated the most with you. Leave it in the comments and I will join the discussion. Thank you so much for watching. Continue to believe, and I'll see you soon.
---
BONUS
Don't chase Money.
Airbnb, we created the company not because I wanted to be some successful entrepreneur and make a bunch of money. If I was going to do that I would not have started air beds for conferences around the country. That was not going to be a good idea. In fact, I had a mentor, I told him about the idea of AirBed&Breakfast, and he told me, "I hope that's not "the only idea you're working on." And my mom, growing up, all she ever wanted, because I went to art school. She said, "Just make sure you get a job "that has health insurance." When we created AirBed&Breakfast, she said, "I guess you never got that job "with health insurance. "This is what happens, you start having "to let strangers into your homes."
Define your Business.
But one of the things we did a few years ago is we had to ask ourselves what business are we in? Are we in the business of homes? Are we in the business of space? We made a decision a couple years ago, and we said, "We're not in the business "of homes or space, we're in the business of trips." That's what we're in the business of. You travel to have a trip, not to have a space. And so a space is a part of it, but we're in the business of trips.
And we created this thing that we call Snow White. It was basically, we storyboarded out what the perfect trip would look like, and we said, "We're only present right now, "in a few of these frames. "We want to get to a place where we're present "throughout the entire journey." And so obviously like dining in homes is one experiment that we're doing, you know, we have tours, that's another experiment. But there's a lot of different things. We haven't officially unveiled anything. We want to make sure when we launch something it's truly amazing.
Just Do It!
We may very well be the first website on the internet where you could actually book with somebody else and pay them directly. In other words, there was eBay, and eBay used PayPal. But you didn't feel-
Man: Before PayPal there was checks.
There was, yeah, yeah, checks, exactly. And we had, there wasn't a lot of legacy there, you know, because we looked at, there was eBay and Etsy. And they were both before us, and Etsy used PayPal, and both of them you would book and it would send you on a PayPal gateway, and we wanted to feel like booking a hotel. You never leave Airbnb, we would hold, collect, remit the money, and so, whereas they were paying direct. And they would take a cut, and there was two different payments.
So we, and that was kind of a crazy idea, it almost scared us. It seemed insane that like, you would actually be able to pay somebody else and be able to book something with them and you'd get a reputation system. And we decided let's just do it. And at the time we're like, this is a little too crazy, it's a little too scary, I don't know if we're allowed to do this, I'm not sure if it will work.
We decided to do it anyway. And so then in the summer of 2008 We ended up basically designing the final version of the product. So we design this product where you could book someone's home anywhere in the world. We had a rule. Three clicks to book it button, because there was so many clicks and so many different ways to get a home that it was just too hard.
And I remember hearing the story of when Steve Jobs developed the iPod. No matter where he was in his iPod, he wanted to make sure he was always three clicks from a song. And we said, "We should always be three clicks "from being able to have a paid booking." And so we created this, basically, a home page with a search bar, listings, the home, and that's exactly the product as you see it today with reviews, payment system, and customer service. And we basically end up landing on that.
Summary
Brian Chesky's Rules
BONUS
I hope you enjoyed this article, make sure to check my Brian Chesky video on his Top 10 Rules For Success as well.
---
You might also like
---
More from Brain Chesky
---
Robert Downey Jr.: I've never, ever been motivated by money. Tyler The Creator: It's not about money for me. …