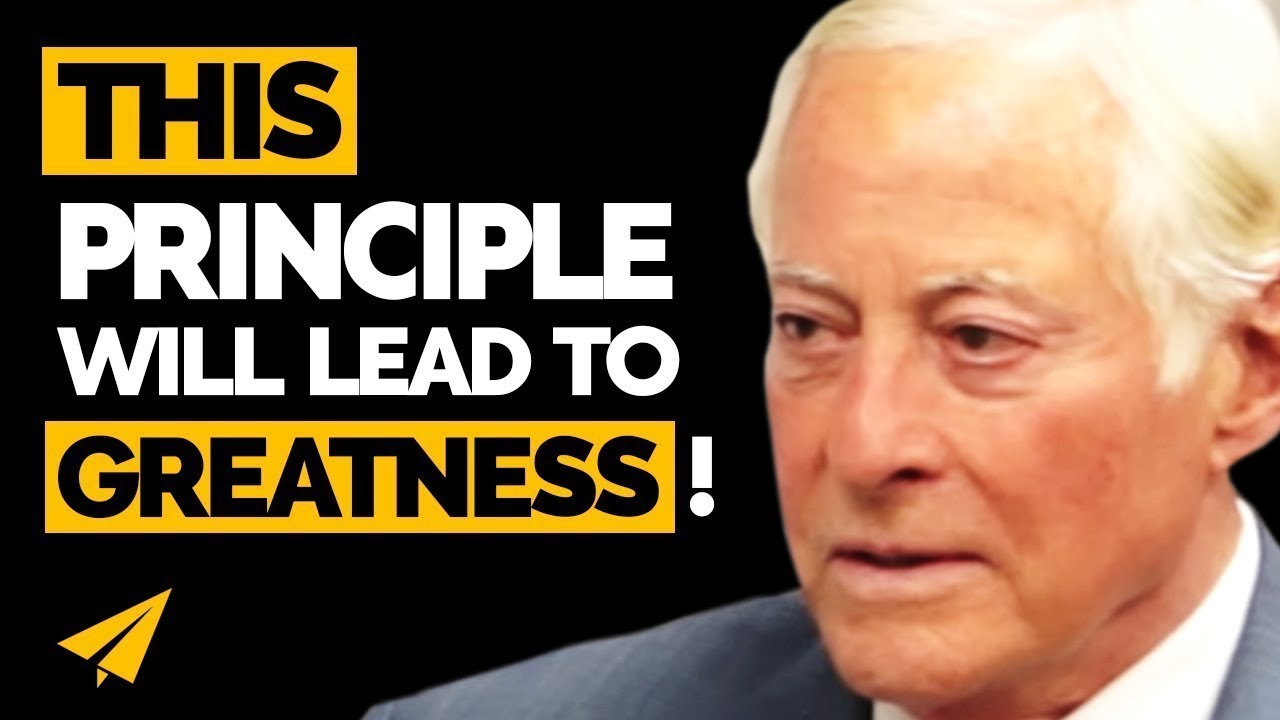 In life, it's a very simple principle, but all success comes from completing tasks.
Fully functioning people, these are the top 10% of people, never complain and never explain.
If you're stuck in a dead end job that you can't leave, because you have no money set aside, you have put a brake on your potential.
– Brian Tracy
Evan: Hello, Believe Nation, I'm Evan Carmichael. My one word is believe and I believe that entrepreneurs are going to solve all of the major problems of the world. So, to help you on your journey, today we're going to learn from motivational speaker, author and sales expert Brian Tracy and my take on his Top 10 Rules for Success, Volume Two.
Rule number two is my personal favorite, and I'd love to know which one you guys like the best. And as always, guys, as you're watching, if you hear something that really resonates with you, please leave it down in the comments below, put quotes around it so other people can be inspired, and when you write it down, it's much more likely to stick for yourself as well. Enjoy.
Brian Tracy's Top 10 Rules for Success Vol. 2
Rule #1: Act "As If"
Act as if you already had a goal that you desire. So, let us say, for example, that you want to be financially independent. You want to be financially successful. How would you behave if you were financially successful? How would you dress, how would you organize your life? How would you treat other people? Sometimes I say, imagine that you are financially independent. You're independently wealthy, and you're only doing your current job as a curtesy to your boss and to keep yourself busy during the day, but basically you're an extremely wealthy person.
You've inherited an enormous amount of money from some source. How would you behave if you were already the wealthy person that you desire to be? Many people don't realize that, if you behave like a poor person, there's an old saying that poor people, poor folks have poor ways.
If you behave like a poor person, you'll always be poor. If you dress like a bum, if you have a messy home or apartment, if your car is dirty with junk in the back seat, that's how poor people live. And, what happens is that you're surrounding yourself with the image of being poor, and you cannot change your outer world until you change your inner world.
Rule #2: Complete A Task Every Day
Ask yourself what are the three most important things that I do in my work? And, then you have to discipline yourself to start with the most important task and work on that task until it is completed. And, it's a very simple principle, but it is the beginning and the middle and the end of success. Decide on your most important task, begin immediately and work on that task with self discipline until it is 100% complete.
In life, it's a very simple principle, but all success comes from completing tasks. It's not from working at tasks, it's from completing tasks. It is only when you complete tasks that you are successful. The most important key to success is to start and complete one important task first thing in the morning. If you-
Man: Eat the frog.
Eat the frog. If you try to do many things, you end up doing nothing. So, you make a list of all your work before you begin, and then you ask, "If I could only do on thing "on this list, which one activity is the most important?" And then you do that activity, only that until it's complete. If you start every day by completing a task, you will double and triple your productivity.
Rule #3: Network Successfully
You will find that every major change in your life is accompanied by a person or persons who either opens or closes doors for you. The possibility of your achieving the best life for you will be determined by the number of people who know you and like you and who are willing to help you. Now, in order to broaden your network of contacts, you must network continually at every opportunity.
There seems to be a direct relationship between the number of people you know and how successful you are. Now, to network successfully, the simple strategy is this. When you meet a new person, ask them what they do. Ask for their business card and then see if you can't find something that you can do for them.
And, the one thing that people like the most is if you can send them a customer. Many people who network are thinking "What can I get from this other person?" Your strategy when you meet a new person who can be helpful to you is to think "What can I give to this person? "What can do for this person and how quickly can I do it?" That way, you sow seeds of people who'll be prepared to help you in the future.
Rule #4: Never Complain And Never Explain
A fear of rejection is caused by a hyper concern for the opinions of other people. In William Glasser's work on what they call the fully functioning person, they had a wonderful line. They said fully functioning people, these are the top 10% of people, never complain and never explain. They never defend themselves, is they do it or they don't do it, but they never feel that they have to explain themselves to anyone else. If someone doesn't like it, they say, "And your point is?"
And they just don't care. And, your job is to reach the point where you say "I like myself. "I like myself. "I'm responsible for own life, "and if someone doesn't like what I do or don't do, "that's their problem, it's not my problem." And if you repeat this to yourself over and over again, you can actually reprogram yourself and cancel out and override all the previous programming that's generating these fears that you experience in your adult life.
Rule #5: Love The Product
Here's a very important story. They studied the 500 owners of the fastest growing businesses in the world, and they asked them, "Why did you choose this business?" And all of them said, "I choose this business "because I really love the product. "I wanted the product for myself, "and, so, I developed it for myself." Like the founder of eBay was lookin' for a way to sell his candy dispensers. He had a collection.
And there wasn't anything, so he created a little auction site on the internet at the beginning, and then, he found he could sell other things in an auction, and built eBay, one of the most successful companies in the world. But, he started it because he wanted it for himself. So, you'll always be successful if you create the product or service 'cause it's something that you want and believe in for yourself.
Rule #6: Define Your Financial Goals
Financial freedom means that you're making enough money so that you don't have to think about it continually, or, best of all, that you never think about it at all. Most people worry about money all the time, and that's a lousy way to live.
Nearly 80% of the population is preoccupied with money problems. They think about it when they wake up and they think about it during the day and they think about it when they go to sleep at night and sometimes, it keeps 'em awake at night. The only way for you to achieve financial freedom is for you to define your financial goals clearly and then make plans to achieve those goals.
Rule #7: Be Ambitious
There is a process that you've heard about, it's called serendipity. And, serendipity is defined as the process of making happy discoveries, is that you find things that seem to conspire together to bring you the things you want in life. You meet the right person, you read the right article, you get the right email or phone call and so on. It's called serendipity, happy discoveries. Now, what they've found, and, by the way, this is a common factor that you can tap into, what they found is that people who are, seem to have serendipitous, wonderfully coincidental experiences, are people that are characterized by one thing.
They're looking. Nobody has a serendipitous experience sitting there watchin' television at night, or reading the paper or drinking in the bar. In other words, these people who have these happy, just make these happy discoveries are people who are looking. And so, one of the most important requirements for success, again, based on years and years of research which I've done, is ambition. Ambition means that you're hungry, is that you're hungry, you want to be successful. You want to be successful more that almost anything else.
Rule #8: Improve The Quality Of Your Product
Always choose higher quality rather than lower cost. Most companies think the way to sell more is to lower the price. But, the true reason for success, and there's years of research, is to improve the quality of your product. You improve the quality of your product. There was a study of the 500 fastest growing companies in the world that came out last year. And, they found the number one place where they invested was improving the quality of the product. That, if you had a certain amount of money to invest in your business, it was not on advertising or machinery or computers.
Quality.
Improve the quality. That's the key to success.
Rule #9: Have Opportunity Money
Having money in the bank gives you greater freedom and the ability to take advantage of opportunities when they come along. If you're broke or in debt, and an opportunity comes along, you have no options open to you. There's nothing that you can do. So, having money makes you free. One of the most important things I ever learned in life is that you're only as free as your options. If you have no options, if you have to do whatever it is you're doing, you have no choice, you have no freedom.
If you're stuck in a dead end job that you can't leave because you have no money set aside, you have put a brake on your potential. You are locked in place and you have no option for moving forward. You can end up spinning your wheels and losing months and years of your time by the very fact that you have no choice but to accept whatever is being handed to you.
But, if you have money, they call this opportunity money, if you have money put aside, you can walk away from a bad job and you can take time to find exactly the right job for you. This idea of saving up money so that you are available to take opportunities has transformed many people's lives.
Rule #10: Carry On
Let me leave you with the last verse of Carry On. There are some who drift out in the deserts of doubt, and some who in negativity wallow. There are others I know who in piety go because of a heaven to follow. But, to labor with zest and to give of your best for the sweetness and joy of the giving, to help folks along with a hand and a song, why there's the real sunshine of living. Carry on, carry on, fight the good fight and true.
There's big work to do. Believe in your mission, greet life with a cheer, there's big work to do, and that's why you're here. Carry on, carry on, that the world be the better for you so, at last when you die, let this be your cry, carry on, my soul, carry on.  Ladies and gentlemen, ladies and gentlemen, if you will resolve with whatever life hands you to carry on there is nothing that can stop you from achieving the greatness for which you were created. Thank you.
Hear!
God bless.  Hello, this is Brian Tracy. I wanted to thank Evan for making this video and sharing these important messages with his audience.
Thank You!
Thank you guys so much for watching. I hope you enjoyed. If you want to get your pick of who I should profile next in the Top 10s, check out the link in the description and go and cast your vote.
I also want to give a quick shout out to Clyde Hayz. Clyde, thank you so much for picking up a copy of my book Your One Word, and taking that picture of you and the book. I love it, thank you for posting it and sending it in. I appreciate the support, man, and I hope you're enjoying the read.
So, thank you guys again for watching. I believe in you. I hope you continue to believe in yourself, and whatever your one word is. Much love, I'll see ya soon.
---
BONUS
Accept yourself
Self awareness is a critical part of mental health. This is how you discover why you react and respond the way you do to people and situations around you. Successful people understand themselves and why they think and feel the way they do, and that's one of the things that you learn. When you can understand and accept yourself, you can begin moving forward in other areas of your life.
Improve your skills
Your level of ability in your field will determine the quality and quantity of your results. The better you get at what you do, the easier is it for you to start moving forward and to get a particular level of results. As you increase your skill level in your field through study and experience, you get better and better at doing the small things that increase the speed and predictability of your results. Remember, skills are things that can be developed over and over and all business skills are learnable. You can learn any skill you need to learn to achieve any business goal that you can set for yourself.
Talk to yourself positively
Talk to yourself positively about the person that you want to be and the things that you want to have. When you see a beautiful car, you say, "I drive a car like that pretty soon." When you see beautiful clothes, you say, "Those are the kind of clothes I wear." When you see beautiful homes, you say, "I'm going to live in a house like that." Just keep talking to yourself about the things that you want to have and the person that you want to be, and each time you do, you're reprogramming. And your subconscious mind is accepting your new commands and is working 24 hours a day to bring them into your life. Just give it a try and see what happens.
---
You might also like
---
More from Brian Tracy
---
Today we're going to learn how to communicate effectively.  Good morning, Believe Nation. It's Evan. My one word is believe, …
Today, we're going to talk about how you can create a massive action plan. Good morning, believe nation. My name …
Watch Brian Tracy's Top 10 Rules For Success video. Famous Entrepreneur Quotes Brian Tracy's Quotes "Use proven success methods." "Time management is the …