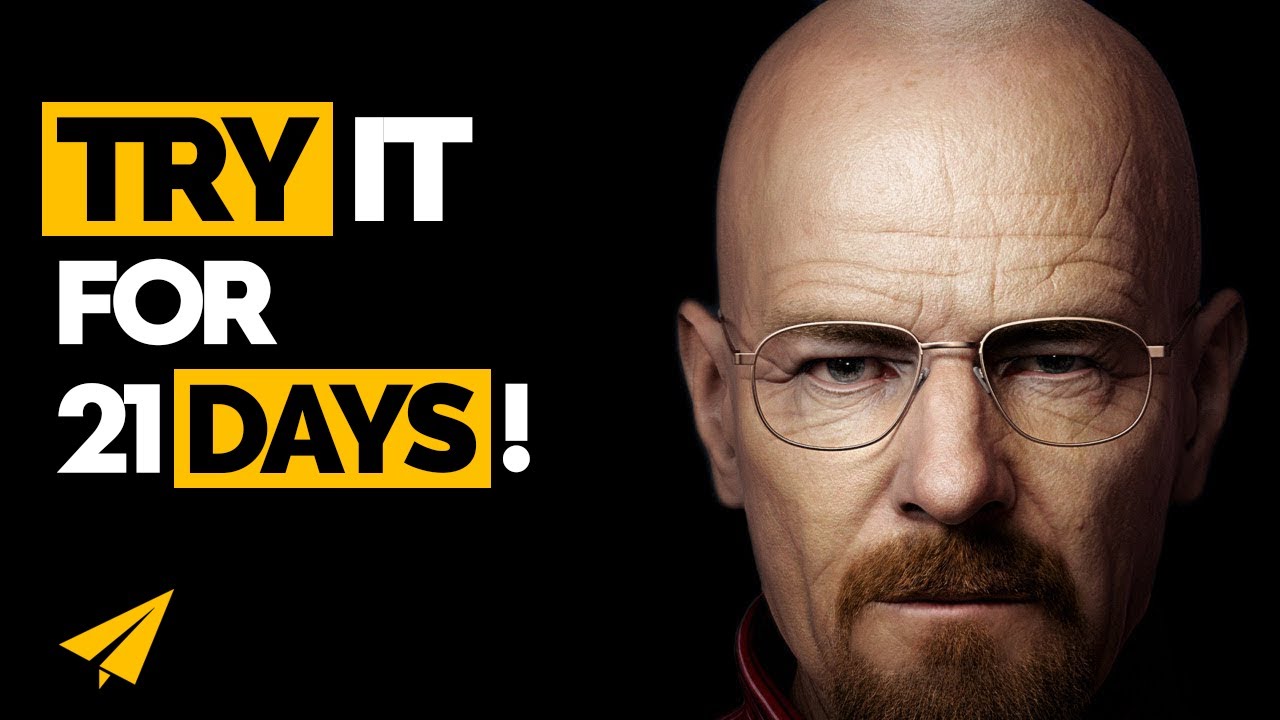 Famous Entrepreneur Quotes
Bryan Cranston's Quotes
"There is truth in the saying that you have to know when it's your time."
"The best advice for fellow actors is this, know what your job is."
"I look for different projects different things that take me to more challenging areas difficult or easy or fun, simple."
Bryan Cranston's Top 10 Entrepreneurship Rules For Business and Success
He's an American actor, director, screenwriter and producer. He's best known for portraying Walter White in the AMC crime drama series Breaking Bad. He won four Primetime Emmy Awards for Outstanding Lead Actor in a Drama Series. He's Bryan Cranston and here are his top ten rules for success.   
Rule #1: Know When It's Your Time
I started working in this business in 1979 so I've been doing it for 32 years.
Interviewer: And you got steady work you had lots of gigs.
Bryan: Yeah but but the last ten years have been just crazy. You know I think I think there is truth in the saying that you have to know when it's your time.
And sometimes you know people go through their awkward moments in high school and they feel gangly and they're not you know they're not sure of themselves and things. This seems to be my time. It waited awhile but I'm glad it's here.
Rule #2: Know What Your Job Is
Well the best the best advice for fellow actors is this, know what your job is. About 18 years ago I had this cognition that I realized I was going into auditions trying to get a job and that simply wasn't what I was doing.
It wasn't what I said what I'm supposed to be doing. An actor is supposed to create a compelling and interesting character that serves the text we presented in the environment where you audition.
And then you walk away and that's it. Everything else is out of your control so don't even think of, don't focus on that. You're not going there to get a job you're going there to present what you do.
You act and there it is and walk away. There's power in that, there's confidence in that. And it's also saying I can only do so much and then the decision of who might get a job is so out of your control that it can really when you analyze it it makes no sense to hold on to that.
That to me was a breakthrough. And once I adapted that philosophy I never looked back and I've never been busier in my life. And once I grabbed onto that.
Rule #3: Be Passionate
For me when I first read the first page of the pilot script it read just like you saw, opened up on a beautiful setting, red mountains, trousers are falling from the sky. They hit the ground, an RV rolls over them.
Inside there's a middle-aged man only wearing tighty whitey underwears and a respirator driving madly in the back two dead bodies sliding up and back in a sea of fluid and glass.
Another man passed out with a respirator. And I'm thinking what the fuck is going on?  That was page one.  And it took off from there and so it was it was one of those those rare moments when you respond to a piece of material so strongly that I knew I had to get in as fast as I could to try to get this role.
Because the the longer I waited I knew that every actor in Hollywood would want to would want to be a part of this. And fortunately I was the one to get it.
Rule #4: Experience New Things
Being able to display all that you feel is not unlike a person wanting to experience everything in life.
You don't always want to be serious you don't always want to be silly. You want to have moments in each, for me anyway.
And so that's why I look for different projects different things that take me to more challenging areas difficult or easy or fun, simple. Sometimes incredibly complex like Breaking Bad.
Rule #5: Get Lost In What You Do
I had a cognitive moment when I was 22 years old and my brother and I were riding motorcycles across the country for a couple years because we were both trying to figure out what we wanted to do with our lives.
And it was raining, I was on the Blue Ridge Parkway in Virginia and it was raining hard. So we found this little off the beaten path rest stop that was near a creek.
And there was a slab of cement with four wooden posts and a roof and a picnic table. At this rest stop no one else was there it was pouring rain. So we pulled our motorcycles and jumped up the curb right up onto it.
It looked like we were going to be there for a while so we set up a camp on this slab of cement. And it stayed there for six days because it didn't stop raining.
And over the six days the only thing that really got me through was reading a book of a thick book of plays it was on a motorcycle so I couldn't take a lot.
So I had this book of plays and I was reading Hedda Gabler Ibsen's Hedda Gabler at the time. And and all of a sudden it was nightfall, it was dark. I went what and I realized wow that went fast because I was so into the reading and I thought man that would be.
And it just went everything lifted and I went that's what I should do. I loved getting lost in story so I want to tell stories. And I had done some acting and I thought that's what I need to do I need to follow that lead get involved in something that I love to do and hopefully become good at it. As opposed to getting trapped into something I happen to be good at but I didn't love.
Rule #6: Display Your Emotions
The success of an actor is being willing to go into those dark places and and display them publicly. We have to have that kind of courage and vulnerability to do that. In high school all the way through school I remember trying to stay the same as everyone else.
I didn't want to stand out everyone were wearing that and this is what everybody else is wearing I kind of want to I don't want to be isolated or ostracized.
Certainly I don't want to be embarrassed or have someone point the finger at you, look at that guy, you know. What happens is that we think that if you are vulnerable and sensitive and open that you'll be ridiculed.
And but as adults when we mature what we realize is that if you have the audacity to display those human honest emotions that the opposite is what happens.
People embrace someone who is in trouble, someone who is vulnerable, someone who is frightened. We they they have a tendency to come forward and put their emotional arms around you.
Rule #7: Study Human Behavior
As an actor you need to to study human behavior in some ways in order to do that you test. You behave a certain way and the response to that informs you whether it's working or not.
You know I think in ways without me consciously knowing it I'm always kind of experimenting with characters in waves and seeing how it feels to be a certain way. It's intriguing.
Rule #8: Take A Chance
Shirley Knight was was interesting because she got me over a hump where I was putting up resistance to be you know to say you know I was getting some work and I was starting I was working exclusively as an actor since I was 25 years old, 24 years old. I've never done anything else from that point on.
And I came to her later and I was working as an actor and she said, "Own it." You know because I was putting it, oh no, I don't want to be I don't want to be a star I don't want to because. Let all that go and just again philosophy let it come in let it come on. Whatever's supposed to happen happens and let it go.
You don't have to hold on to it and hold a mirror up to yourself but but just let it let it flow. And she she had a point that was very interesting, to to accept and embrace an actor's arrogance.
And at at first you, arrogance oh, I don't want to be arrogant. And she goes, "No, but it's okay. "Because actors like athletes are the ones who say, "give me the ball three seconds left. "I want to take the shot. "Or whoever is best to take the shot you take the shot. "Well we'll do all we can to make sure that you get."
You know whatever the case but you want that shot. And then there are some kids you know who, "Don't give me the ball, don't send it to me, "don't leave it to me I don't want that responsibility. "I don't want that pressure." And an actor has to be the type of person that says, "Give it to me, let me try this." Takes a chance.
Rule #9: Be Ready When Luck Comes To You
You have to have a healthy dose of luck to become successful. That's just the way it is. You can't you can't prepare for it but you can be ready for it if it does come to you.
I was very lucky to get that role on X-Files simply because I was physically in the city where it was casting. And I was out of the city for three weeks prior and I very could have easily not been in town and they just go on and someone else would have got the role and who knows where I would have been.
I certainly odds are very high that I wouldn't have gotten Breaking Bad had I not met Vince Gilligan before. So it's one of those things where you you have to just do your wor, do the best you can and hope for the lucky breaks here and there.
Rule #10: Be A Good Sport
(Click here to watch the video)
---
Thank you so much. So if there's a famous entrepreneur that you want me to profile next leave it in the comments below and I'll see what I can do.
I'd also love to know what your Bryan Cranston's top 10 rules meant the most to you. Leave it in the comments and I'll join in the discussion. Thank you so much for watching and continue to believe and I'll see you soon
---
BONUS
Be Truthful
Interviewer: And when you're playing a guy who's afflicted with cancer you know the people watching the show a lot of your audience has cancer. Like that's just the nature of this new world we live in right now. How do you play a guy like that when you know that there are people who are really feeling it?
Well the the responsibility of an actor is to is to be truthful in how you portray that. So one of the one of the simple things is I knew that when my character was going to go through chemotherapy and radiation is that he would lose his hair.
So I shaved my head. I also knew that from personal experience in my family that the chemotherapy and primarily makes you lose your appetite and it all tastes like metal inside when you're going through that treatment. And so you lose weight. I lost 16 pounds in ten days.
Interviewer: Hard to do that healthy.
Yeah but I did it carefully. I cut off my right leg.  And this is a prosthetic right there.
Interviewer: Certainly got down there yeah.
Sixteen pounds, easy. Just put in a bag, put in the freezer we can attach it later.
So no I measured the time between when I would have my shirt off you know when a shower scene or something before the weight loss and then when I was going to have my shirt off again after the chemotherapy.
And it was it was 16 days oh it's in ten days so that I had to quickly drop that weight.
Always Follow The Well Written Word
I can tell you the the the best lesson that I've ever learned as an actor for my career is always follow the well-written word. It will never fail you. Whatever production you may be in may not necessarily be ultimately quote-unquote a success.
The film, role may not be hit at the box office but fuck that, who cares about that stuff? It's not that's not your job to worry about those things. It's to focus on on that work and it's always about the writing.
I have I know that as sure as I'm sitting here when I when I decide to do a film or a play or whatever the first thing I look for is the overall story. How compelling is it? How rich is it? How important is it? Will this make a social statement? What, where in in line does this you know rest. The next is the text.
It's either the script or the play itself. And they're not the same, make the distinction between those things because sometimes you can have a great story it's just not fully realized by the the script it just didn't quite hit it. Or, the script was fantastic and I didn't think the story was going to be so good and all of a sudden now it's clear to me.
Have Fun
Man: My question is because I grew up in Albuquerque what was there any cool places anything that you liked being there? Like how was it because it's my hometown. So I want to know, how'd you like it? Or did you have fun there?
Yeah I'd go and visit your mother once in awhile.
Summary
Bryan Cranston's Rules
I hope you enjoyed this article, make sure to check my Bryan Cranston video on his Top 10 Rules For Success as well.
---
You might also like
---