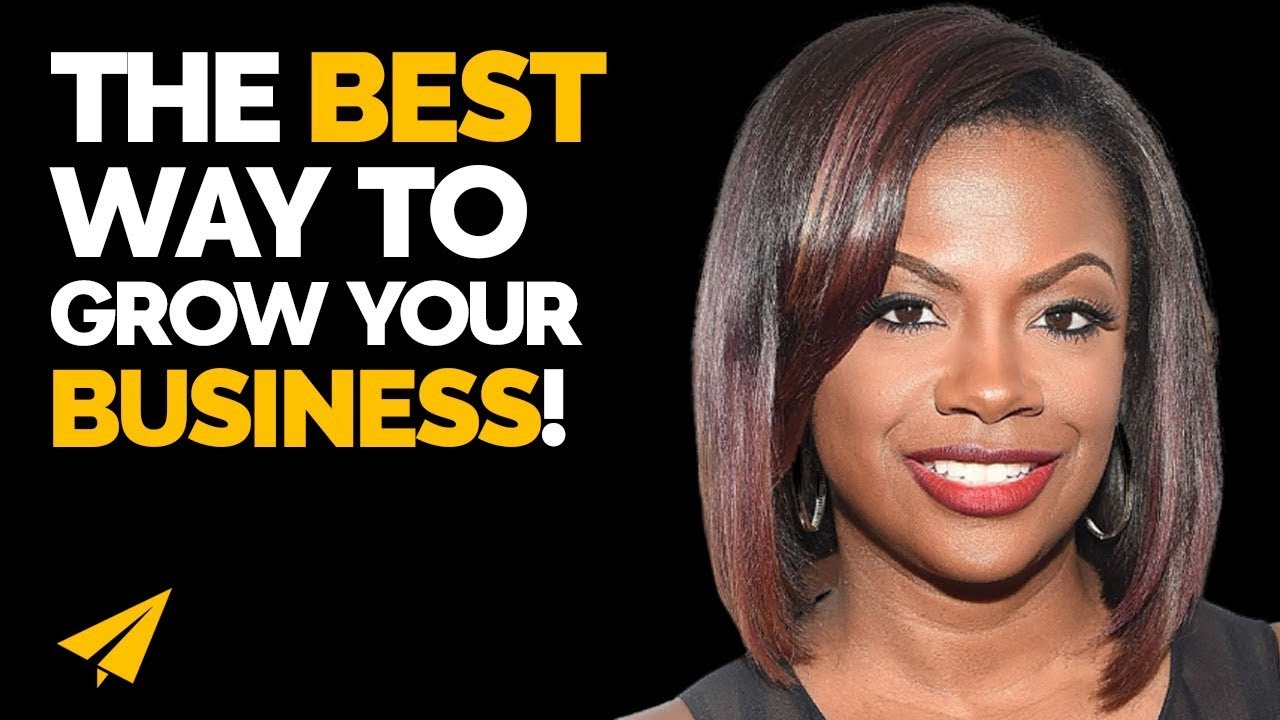 Good morning Believe Nation, my name is Evan Carmichael, my one word is believe, and I believe that entrepreneurs are going to solve all of the world's major problems. So to help you on your journey today we're going to learn how to build a great team. Over to you Kandi Burruss.
Build a Great TEAM – Kandi Burruss
Kandi Burruss
It's always good is if you can get somebody to partner up with you and with other businesses. Because for me, I have a business partner with tags in my stores, I have a business partner with Bedroom Kandi. If it wasn't for that, I wouldn't be able to do all the things that I'm doin'. But because I do have great business partners, they help me keep those things going. So you have to have a great team. You by yourself, it probably wouldn't work. You can't be but in so many places at one time, so you have to have people to see your vision and help make your vision happen.
Evan Carmichael
You can't do everything yourself if you want to be a successful entrepreneur. There are only so many hours in a day and you only have so much limited ability, that if you try to do everything in your business and never look to scale or grow, then you're going to be limited in how much you can do and how much you can accomplish.
Now at the start, you do everything yourself. At the start, you boost up, you hustle, you find ways. But quickly, you need to figure out what is a thing that you are among the best people in the world at or have that world-class potential? You are genius-level talent at something.
What is that? Figure that out and spend as much time in that lane as possible, and then look to expand by building up people who are great at all the things you're not good at. Here are a couple of the pitfalls that people falter when they go through this process.
First off, rarely the first person that you hire is a good fit. They may have the skills that you want, but your values don't align, right? You don't have similar one words, you haven't gone through that process, your values don't align and so it falls apart.
You also likely suck as a leader. Part of now building a team is you need to lead a team. You need to be a good manager, you have to care about your people and not just about them getting the work done, but care about them as human beings and what they're going through and how you can help, and how you can be supportive to them.
So a lot of times, that first hire doesn't work out. And here's what happens to so many entrepreneurs. That person didn't work out, I can't build a team, that was a stupid idea, I'm just going to go back to doing everything myself because it was so much easier.
And then you end up playing small again. So what ends up happening when you hire is they take up a lot of your time, there's a learning curve, they may have some problems at the beginning.
But by working through that and maybe getting rid of them and bringing somebody else in, work it through that getting the right people in place, that's when you can go and explode and do much more meaningful work, spend your time doing the things that make you a lot more excited, and have a much bigger impact.
"You can't do everything yourself if you want to be a successful entrepreneur." – Evan Carmichael
A lot of people also say, well I don't have the money to go out and hire somebody, I can't afford to go out and hire somebody. How am I going to build a team? I can't even pay myself. Well, a couple ideas. One, you don't necessarily need to hire somebody right now.
As long as it's on your roadmap, as long as it's something that you're constantly paying attention to that is in your vision so that you are not going to be doing this alone for the rest of your life. Two, you can look at hiring somebody on a part-time basis.
The first person I hired was for one hour a day, one hour a day doing database work for me because he was better at it than I was and he freed up an hour and a half of my time to go off and do other things that I enjoyed more and I was better at and could help build the business.
So you could hire somebody for an hour a day or a couple of hours a week just to free up some of that work that you don't want to do to focus on bigger things. And three, you can also look for people to volunteer or to be a part. It might be a partnership in your business and you're both putting sweat equity in.
It might be mentoring somebody who is a high school intern or a university intern and bringing them into your business. Now you have to do your job of actually mentoring them, but they're looking more for the experience of being involved in what you're doing than for monetary compensation, right?
They're getting a grade at their school, so they have to do a good job and that's what they're looking for, much more than getting paid to do it. So there's always other options, and one of the most important things that you need to understand as an entrepreneur is you need to be resourceful.
You will get these kinds of problems, constantly. I need to bring on a team, but I can't afford to do it, how do I do that? I need to go and market my company, but I can't afford to take out an ad on the Super Bowl, so how do I go and do that, right? You will constantly have these restrictions and restraints that are put on you as you try to build the business.
You are constantly lacking in resources and so, you succeed by being resourceful, by finding another way, by being creative, by understanding people and what they need and how you might be able to give it to them in a non-monetary way. That's the game of entrepreneurship.
I was able to greatly expand my businesses, my YouTube channel, since that's what you may be more familiar with. At the beginning it was me doing videos all by myself, and I would make a video at most once a week, but usually maybe once a month or twice a month.
And then as I brought my first editor on-board, that's when I was able to go from once a week max to once a day. That was a huge increase right? Seven times or more. And then when I got a second editor, when I got researchers I can move up, and I went to two a day and went to three a day.
And so you can greatly improve your productivity by building the team and I get to focus on what I love doing. I don't like editing. That's not what I love, Christina loves editing. Christina's editing this video, you know I love you Christina. Christina loves editing, it's what she loves to do and what she's great at.
It's amazing. I love being in front of the camera and it's the highest value that I can bring to the team. If it relied on me being a great editor, this company would fail. 'Cause it's not something that I actually want to learn to get better at. There's this old saying, if you want to go far, you go with the team.
If you want to go fast, you go alone. And so stop focusing on the short-term game of just going fast, think long-term, think bigger-picture, think going far, think about the vision, think about what you're trying to accomplish. You need a team to help you get there.
Question Of The Day
So the question then today is, I'm curious, who was the first person that you hired on your team that added incremental improvement and you saw big business growth because of it, or if you haven't hired yet, who is the first person that you need on your team to be able to blast through? Really curious to find out, leave it down in the comments below.
I also want to give a quick shout-out to coach Bailey Cooper from canvassingcoachaustintx.com. Thank you so much for picking up a copy of my book, Your One Word. I really, really, really appreciate the support and I hope you're enjoying the read.
So thank you guys again for watching, I believe in you. I hope you continue to believe in yourself and whatever your one word is. Much love, and I'll see you again tomorrow morning for another shot of Entspresso.
---
BONUS
Build A Great Team
Richard Branson
Over the next five years, we plan to take on the banking community, we plan to take on the cosmetics industry, we plan to take on the clothing industry and telecommunications, and one or two othzer industries and see whether we can give them a run for their money and do it slightly differently than it's been done before.
Why do you think you can do it?
Mainly because I think we've got a fantastic team of people. We attract good people.
And their skills are translatable to whatever the industry is. It's creativity, it's risk orientation, it's what?
I think if you can run one business well, you can run any business. And if you know that what matters in business is a good team of people, well-motivated team of people, incentivized well, given a lot of freedom to go out and prove themselves, you can pretty well achieve anything.
G-Eazy
Interviewer: What do you credit for your success?
I mean you got to have a great team. It's all about having the right people around you.
Surprised, surprised by the night of turn-up, whoa. ♫ Whoa, it's just me, myself, and I.
Both for solid workers, but also just positive influences to you, you know what I mean? People that inspire you, people who bring good energy every day. That and just hardworking dedication.
Shakira
You sound so passionate about so many diverse pieces of your life that the big question is, how do you juggle all that? How do you make all of that happen and successfully from your music career to being a mom, to being a life partner, all of that is so hard to juggle, how do you do it? What's the secret behind that?
I don't know how I'm going to keep doin' it. That's a good question. 'Cause with a baby, things tend to change a lot, but I have a great team, people who understand me very well who understand my cause, my commitment, and who support him and make my life easier. So it is very important to be well-surrounded.
---
You might also like
---
More from Entspresso
---
Today's message is be confident. Good morning believe nation, it's Evan. My one word is believe and I believe that …