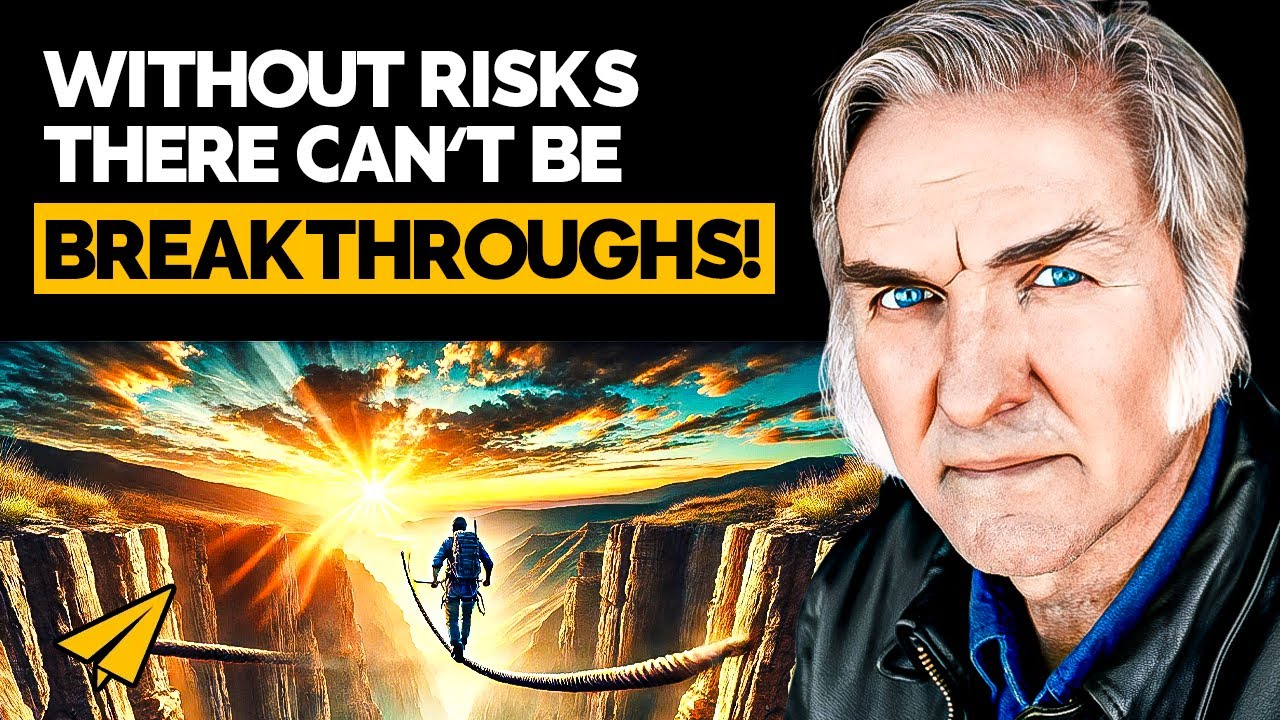 He's an aerospace engineer, noted for designing light, strong, unusual looking, energy efficient aircrafts. He designed the record breaking Voyager, which was the first plane to fly around the world without stopping or refueling. He designed the first privately funded space craft to enter space twice within a two week period. He's Burt Rutan and here are his top ten rules for success. 
Burt Rutan's Top 10 Rules For Business and Success
Rule #1. Be Willing To Do It
Someone ask him what's the most difficult thing about going to the moon. And then he says the will to do it. The engineering is just calculations but the decision and the will and the courage to try to do it, is the most difficult hurdle.
Rule #2. Aim For Breakthroughs
We are known for trying new things, even though we have a tough schedule. We did an airplane that the customer wanted it flying within I think it was eight and a half months and we elected on our own to try a totally new manufacturing method for the wings and tail services and control services.
Something that hadn't been done before. Something that may not work. Something that was really exciting and interesting and if it did work, it's breakthrough stuff.
Rule #3. Take Risks
Our first astronaut, Alan Shepard, who flew a sub-orbinal flight followed Gagarin by only three weeks. After Shepard's flight, it took only seven and a half years for us to launch Apollo 8 to go out and orbit the moon. They went to the moon on the very first man flight of the big Saturn 5.
Now can you imagine today, NASA developing a brand new, huge, big advanced rocket and the first time people fly on it, they go to the moon or they go somewhere we've never been before.
That puts in perspective the kind of risks that we, that we were taking and those who put themselves in a position to take enormous risks are those that have breakthroughs and those that have research results.
Rule #4. Have Confidence In Nonsense
I believe that confidence in nonsense is a major factor and the reason is, think of the most important breakthrough that you can think of. Go back before it was recognized as a breakthrough and the populous normally would consider, well that's nonsense.
That's nonsensical. Now all of a sudden when it really is recognized as a true breakthrough then of course, oh yeah, that's really cool. But what people forget is it's nonsense before.
And what that means, that's why the weird folk have the breakthroughs because they have confidence in nonsense. If it's nonsensical and you say, well I'm not going to try to do that, it doesn't make sense, you're not going to have a breakthrough.
The guy who is silly enough to think that Hey I'll try that even though it's nonsense, he's the guy that's going to have the breakthrough. So, try things that you don't think will work. If you think they'll work, you're not doing research anyway.
Rule #5. You Will Have Failures
You're going to have failures if you try hard stuff. If you go out and try to build a, a better seaplane and your goal is to go 12 knots faster, you're probably not going to fail.
You may fail because it only goes four knots faster but it's not going to be a disaster failure. But if you go out and try something that is, Holy crap, can you really do that? And it fails, it is a failure.
Rule #6. Be A Role Model
And I feel very strongly that it's not good enough for us to have generations of kids that think that it's okay to look forward to a better version of a cellphone with a video in it.
They need to look forward to exploration. They need to look forward to colonization. They need to look forward to breakthroughs. They need to. We need to inspire them because they need to lead us and help us survive in the future.
Rule #7. Keep It Simple
What I try to encourage people to do is to have a breakthrough by finding a way to do it more simply. And even if the real simple one has a chance of not working because it's too simple, well try it anyway. Because in trying it, sometimes you'll stumble unto a solution on why it wouldn't work and now you've really had a big gain.
Now you have a simple thing that does work and that's the real challenge now. You can always make something work by adding complexity but you can never make something affordable by adding complexity.
Rule #8. Bad Times Lead To Breakthroughs
I think breakthroughs occur not when everybody's doing fine and when your priority is to make everyone equally happy, you don't have breakthroughs then.
That's monotony and that can lead to monotony and it can lead, even to your ability to survive. But you have breakthroughs either during or after crises, when you have really bad times. We're creative when we're threatened.
Rule #9. Provide Inspiration
I think the world of aviation will gain from me mostly inspiration. The fact that a few people literally in a garage or a small shop built an airplane that doubled and absolute distance record, flew all the way around the world, flew through all this weather and came back home safely, the fact that that was done all composite without mixing metals without solving all these stupid problems that the engineers make for themselves, that will provide the inspiration, that my God, it can be done.
We're going to do it. We'll stick our necks out. I knew how the Wright brothers felt when they came upon these things and had success.
Rule #10. Have Passion
We decided, this is the best way to pun this. What's one thing and that was the passion that I saw in your eyes for the outcome. And I knew that you would stick with it because I knew that passion was genuine.
When you go out and look to venture capital or look to whatever, you're looking for people who have a passion for money. But you have a passion for stage flight and I think that's the difference between
---
Thank you guys. So if there's a famous entrepreneur that you want me to profile next, leave it in the comments below and I'll see what I can do.
I'd also love to know which of Burt Rutan's top ten rules for success you love the most. Leave it in the comments and I'm going to join the discussion.
Thank you guys so much for watching. Continue to believe and I'll see you soon.
---
You might also like
---