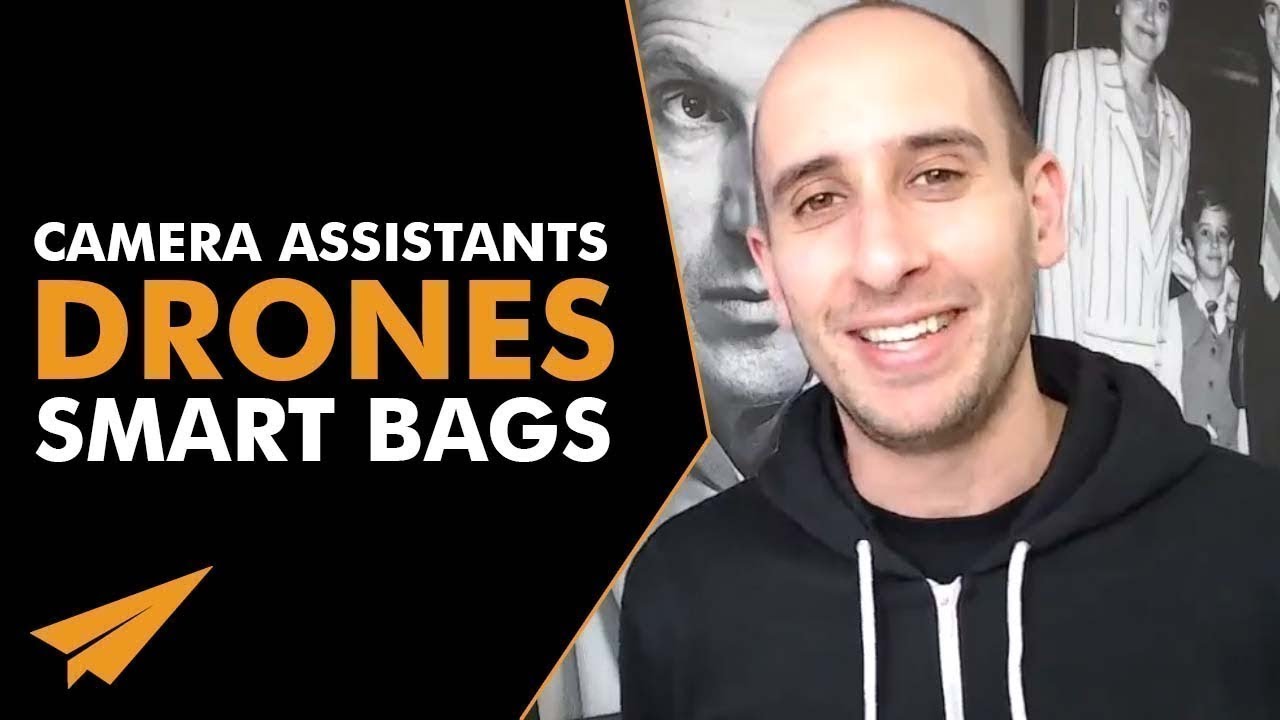 What's up Believe Nation, I'm Evan Charmichael. My one word is "believe" and I believe that entrepreneurs are going to solve all of the world's major problems.
And today I'm excited because I'm launching a new series, we're kickstarting a new series, that's a pun. We'll see how it works and if you guys like it. I'm calling it The Best of Kickstarter where I look at three different campaigns that are currently happening right now on Kickstarter.
Show some of their videos, and I'd love to know what do you think of them? Would you support them? Do you enjoy them? And I'd love to hear from you below if you want this series to continue, and I'll keep on promoting some different entrepreneurs with some innovative products on Kickstarter.
Camera Assistants, Drones, Smart Bags – #BestOfKickstarter
Arsenal Intelligent Camera Assistant
Evan: Up first is Arsenal which dubs itself as the intelligent camera assistant, and promises to "unlock the potential "of your DSLR or your mirrorless camera "and capture amazing images in any conditions."
Narrator: Let's talk about taking the perfect photo. First, compose the shot, check the histogram, adjust the exposure, focus on your subject. Compute the hyperfocal distance to keep everything sharp, enable bracketing to get more dynamic range. Add a neutral density filter, update the exposure, and then take the shot. We built a better way.
Today's DSLR mirrorless cameras have amazing optics and sensors, but they do very little to actually help you take a good photo. Finding the right settings involves a series of complex techniques and formulas. As an engineer with a background in artificial intelligence, I knew I could build a tool to simplify the process. I wanted something that would let me focus on the composition, but would handle the details for me.
So I created Arsenal, the world's first AI photography assistant. With one tap Arsenal finds settings to take the best photo possible. Arsenal's AI searches thousands of images in its database to suggest good settings.
Next, it fine tunes the suggestions by analyzing 18 different factors. Arsenal uses state of the art machine learning to help you take a great photo in any condition.  Many of the memorable shots you see today are captured by combining multiple exposures through a labor intensive process called photo stacking. With Arsenal you can do this in seconds. Capture all the details in scenes with high dynamic range, get everything in sharp focus, and create long exposures without buying expensive filters.
Using these advanced techniques, Arsenal will let you go beyond the limitations of your camera's sensor or lens. For times when you want complete control, you can wirelessly adjust manual settings, see a live preview, and trigger the shutter all from up to 100 feet away. Arsenal also improves the experience of reviewing photos in the field. You can flip through the photos on your camera, zoom in to check out details at full resolution, then share your favorite photos right from your phone.
And finally, Arsenal makes it easy to capture stunning time lapses. It automatically adjusts the exposure and changing light, giving you a smooth day to night transition. You can even watch a high def preview of your time lapse while it's being taken. Whether you're a pro who has already mastered manual shooting, or you just bought your first DSLR, Arsenal can help you take your photography to the next level.
So before you replace your gear, try upgrading your technique with Arsenal. Arsenal is already being tested in the field. Now I need your help to ramp up production. By supporting our campaign today, you can be one of the first to get Arsenal.
We've got exclusive rewards for our early backers, and some awesome stretch goals in the works. I'm really excited about the photos I've been getting with Arsenal. I can't wait to share it with you and see all the amazing photos you'll create.
Evan: Alright, that's Arsenal.
Bolt Drones
Evan: Up next is Bolt Drones which promises to introduce a whole new flight experience in innovative and versatile First Person View drone at a radical new price. Let's check it out.
Narrator: Piloting drones is a relatively new activity that most people are starting to explore. We wanted to design a drone that introduced as many people as possible to the First Person View drone experience without breaking the bank. Introducing a whole new flight experience.
The Bolt is an innovative and versatile First Person View drone available at a radical price. It's a complete, ready to fly out of the box solution that's easy and safe to pilot. The drone for everyone. There are three ways to fly. First, for beginners, to start flying, simply turn on the drown and turn on the controller. The two will sync up and pair, and you can take off.
The drone features altitude stabilization and a beginner's mode that makes picking up the basics a breeze. Learn how to safely and confidently maneuver and control your drone. Next, for those ready to expand their horizons, attach the screen to the controller and start piloting the drone further away.
Simply turn on the drone and the screen. The camera on the drone will automatically sync and broadcast a live, high definition feed. Mount the screen on the controller and you're ready to go. Finally, for those ready for the full First Person View experience, swap the screen to the goggles and prepare for a whole new flight experience.
Immerse yourself into the world of FPV piloting, and cruise around high in the sky. Or try your hand at FPV drone racing and experience the incredible excitement from every twist and turn. Drone racing is a new and exciting sport that is quickly growing around the world. Using FPV goggles, pilots race their drones around courses to compete for the fastest times. It is truly the sport of the future.
The Bolt can be used to experience drone racing at a fraction of the current price. It's an exciting virtual reality flying experience. The Bolt drone was designed and tested in Los Angeles by a team of expert product designers, aerospace engineers, and drone enthusiasts.
It's built on a carbon fiber frame that offers unmatched performance and durability. The HD camera provides crystal clear video and photos. And the battery easily slides in and out for quick swapping. The drone design is modular so that individual parts can be replaced. The result is a highly maneuverable and lightweight and aerodynamic drone. The bolt features a unique and innovative FPV viewing system that allows seamless transition from traditional viewing on the controller to FPV viewing using goggles.
We're excited to offer the Bolt drone at a radical price. Traditionally, consumers purchase their drones at a high price point since importers, wholesalers and retailers mark up the price of a drone up to 500%. By cutting out the middleman, we are able to sell directly to you and pass on the savings.
The Bolt drone was designed to introduce as many people as possible to First Person View piloting and racing without breaking the bank. With our finished prototypes ready for production, we're here on Kickstarter to raise the money we need for our first batch. With bolt drones, we want to make First Person View piloting and racing accessible to everyone. With your support, this could be the start of something big. Thanks for watching.
Evan: Alright that's Bolt Drones.
FYB London
And last, but not least, we'll give it up for FYB London which dubs itself to be "the world's smartest handbag." I think Nina will like this one. Let's check it out.
Hello?
Caller: I'm interested in getting a handbag like yours. Can you tell me more about it?
Narrator: A dead phone is the perfect way to ruin a good day, but with the Smart Handbag you'll never have to worry about that again. Simply drop your phone into the charging pocket and keep your phone up and running for as along as you are. No more searching at length for important items in your bag. With this handbag, everything has its place, ready for a quick retrieval when needed. Whether at work, or traveling, or anywhere in between, our London Smart Handbag keeps your items organized and safe. To protect your belongings from theft, each handbag unlocks only to your unique fingerprint or access via the Bluetooth app.
Our Smart Bag is also equipped with RFID protected card holders to keep your credit card and other sensitive information safe. And the Bluetooth connectivity feature automatically notifies your phone if your bag leaves your side. But we know none of these features matter much if the handbag isn't beautiful. Rest assured, we spent several months diligently working not only on all of the amazing smart features, but on the eye catching, luxurious leather classic style. This bag is the ultimate smart fashion accessory.
So those are the three Kickstarter campaigns I wanted to highlight. All the links are down below, I'd love to know what do you guys think? Did you like the camera assistant? Did you like the Bolt drones? Or did you like the Smart Handbag? If you were going to buy one, which one would be your favorite. Leave it down in the comments below. Also, this is again a test of a new potential series. Do you want this Best of Kickstarter idea to continue next month or not? Let me know down in the comments, we'll see what you have to say. Thank you guys so much for watching. I believe in you, I hope you continue to believe in yourself and whatever your one word is. Much love, I'll see you soon.
---
You might also like
---