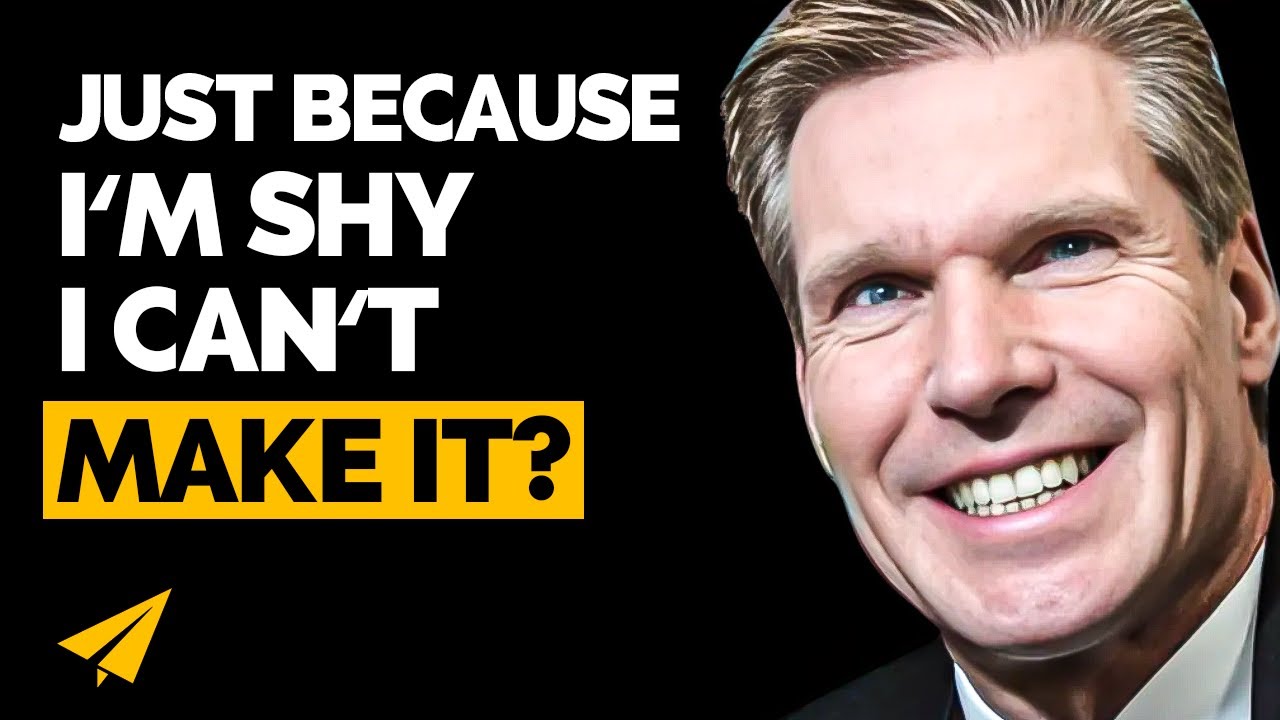 Evan: Canar saying, "Do you think just "because I'm shy, I can't make it?" Canar, so obviously shy.
Stephen: Do you know what, Canar? I think I said this, and I think lots of great entrepreneurs are introverts. I think, you know, shy's a relative term, isn't it? 'Cause I've known really shy people who have become a business owner, and they've been hugely successful, and, as time goes by, they grow in confidence.
"Lots of great entrepreneurs are introverts" – Stephen Kelly
Their shyness sort of disappears. I think you never, you never, ever get carried away with your own P.R. You always keep your feet on the ground, you always keep that great sense of humility, and you really want to be true to your idea and the purpose that you're pursuing.
So I think, Canar, honestly, I think in this area, actually, shyness can be quite a virtue, and I think with all these things, if you are feeling particularly shy. Actually, another example. When you go up to these kind of meetups and stuff like that, Evan, I will tell ya now, I go and do loads of talks and stuff like that, if someone comes over to talk to me, I will allows talk to them.
So, if you're at a meetup, and you want to kind of zone in on one person, get loose in your head saying, "That person wants to meet me today." And walk up to 'em and just introduce yourself, and you lose nothing. Even if you're going to never see that person again, you lose nothing, but every time you do that, you lose a bit of your shyness, and you gain a bit more of your confidence, and I would advocate all the great entrepreneurs you and I follow, they're all super nice guys.
They really are nice guys and gals, and fundamentally they all started where you're probably starting today, and the good guys never forget where they came from. In reality, we never forget where we came from.
"Don't feel any shame, just go up and overcome, and then, the more you do it, the more you practice, the more confident you become" – Stephen Kelly
We all started as aspiring entrepreneurs with a dream, with an idea and an ambition, and some of us kind of got lucky and the cards played in our favor, but we're never, ever, ever in reality lost that sense shyness, and I think, Evan, he looks like an amazing extrovert, but again, I'm sure in his past had moments of shyness or lacking in confidence.
I certainly did. I've been to places where I've been afraid to go up and introduce myself to someone, and sometimes it sort of either a little friend on my shoulder, or someone in my inner self just kicks me to say, "Go on, introduce yourself." Don't feel any shame, just go up and overcome, and then, the more you do it, the more you practice, the more confident you become, and, you know, Canar, you might be the next Tony Robbins or something like that.
Within you, all these guys who go and do Ted Talks and all these sort of things, if you look back at those guys 10, 20, 30 years ago, they all started as someone who was pretty shy, someone who probably lacked confidence, and any of those people could be you.
---
You might also like
---
More from Evan Carmichael
---
What's up, Believe Nation? Greetings from London, England. It's Evan. My one word is believe and I believe in people, …
Watch Evan Carmichael's Top 10 Rules For Success video. Famous Entrepreneur Quotes Evan Carmichael's Quotes "Changing my environment had a dramatic impact …
Today we're going to look at seven different ways that you can make business alliances. What's up Believe Nation? It's Evan. …