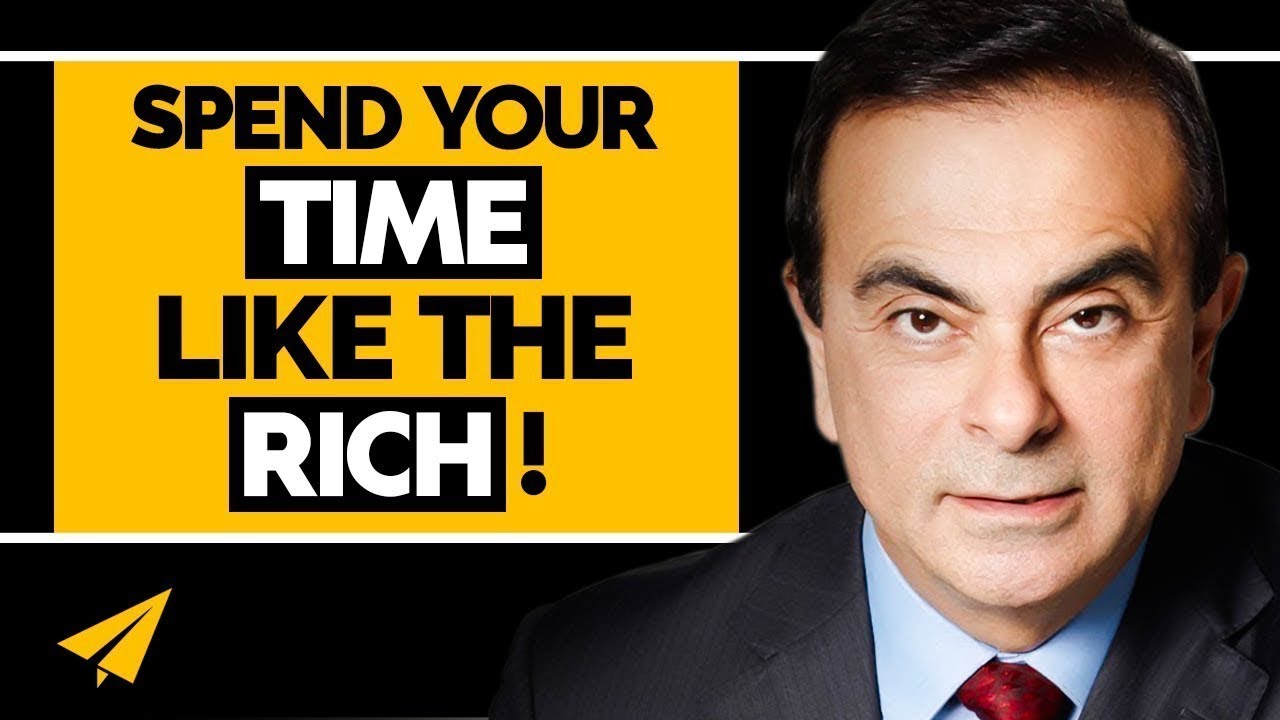 He's a French-Lebanese-Brazilian businessman. He's currently the chairman and CEO of France bast Renault, and Japanese based Nissan. In 2003, Fortune named him one of the 10 most powerful people in business outside the U.S. He's Carlos Ghosn, and here's my take on his top 10 rules for success.  
Carlos Ghosn's Top 10 Rules For Business and Success
Rule #1. Don't Listen To The #Littleman
You have to have vision. This vision has to be based on understanding about the dynamics of the market globally, and then you have to pursue this vision. No matter what, you have to built motivation inside your company.
This is easy, because you're saying okay, we want to be leader in technology that is meaningful for the consumer, and all the Nissan people, all the Renault people are buying into it.
Then we need to come to the consumer and tell him, you know, tell the consumer, that's a great product which is affordable, and on top of this is going to allow you to drive without the guilt of the melting of the icebergs and the change of the seasons and the temperature, et cetera, and I think it's going to be very powerful.
But again, before it starts, there's always a doubt. And now we are in the period of time where a lot of people are throwing at you a lot of stones by saying, "That's not going to work," and then you have a lot of comments from competitors saying, you know, "You're too much bullies, "it's just not going to work." Well, obviously, what you want competitors to say? He's in the right direction?  I'm saying, "Okay." he's in the right direction, and where is your car? Why I haven't noticed your car? So what's your situation?
Rule #2. Have Discipline
Interviewer: So, going on perhaps a decade of running simultaneously two global companies, how do you get the stamina to keep going and to stay fit personally, and mentally and physically?
Well, you know, somebody said, "With a little discipline, "you do little things, "with a lot of discipline, "you do a lot of things, "and you start to discipline, "there is nothing which you cannot do."
There was a lot of discipline. I mean, obviously, because you're going to move from one world to the other, from one culture to the other, from two completely different company, you have jet lags, organization. People are expecting you when you come down from a plane after 14 hours flight to be fresh and ready for them . They are not expecting to see you to come and say, "Oh my God, this jet lag, "he cannot answer a question."
They want you to be on the goal all the time. So this requires a lot of discipline. You have to organize yourself. If you know you're going to do this job and you accept the job, you have to organize yourself in order to do it. It's tough, but there is a solution.
There is a solution for it. But it requires a lot of choices, personal choices. There are a lot of things you cannot do, you know? There are a lot of things you can do, but you're going to do them within a certain order, but particularly with a lot of discipline.
Rule #3. Create Hit Products
Are you going to be able to make products who are hits? Okay? First question. After one, two years, we started to renew the product lineup. We had some hits, some of them are major. How you know you have a hit? Stuff the media writing about you is how much profit are you making from this car? That's the way you know you have a hit. The 350Z is a hit. The Murano is a hit.
These are some of the most profitable cars we have ever had. That's why. I mean, it's not only the media saying this is a great car and people are buying it, because you can have a great car, people buying it, and not make one nickel on it. It doesn't mean that it's a hit.
Where the real hit is the product has to be successful, but at the same time you need to sell as much as you think the potential is, and make money out of it. That's the real demonstration of faith.
Rule #4. Take Risks
Interviewer: You had pretty ambitious sales targets. Are you going to be able to hit those?
You never know until the last minute, you know? The objective of when you make a long-term plan is not to make sure from the beginning that you're going to hit them, because if you are sure from the beginning going to hit all your targets, that means your targets are conservative.
That's the only way you can be sure. So you want to maintain a certain stretched inside the company, and being innovative and creative, and finding new products and new solutions in order to hit the target. So it's risky, but that's a price to pay for development.
Rule #5. Be Flexible
Don't plan too much. Doesn't work. For me it didn't work, frankly. Don't plan too much your career, because what you're going to be facing in life is probably more powerful and much bigger than you ever imagine.
So if you're following your plan, you may miss a lot of opportunity coming on the side, but you don't even look at them but saying, "Oh, I need to continue on my plan." Okay? Even though on the side you're going to have a huge opportunity coming, you don't look at them.
So don't plan too much, or be flexible on the planning. You're going to have a lot of ordinary, particularly in the period we're getting in, 2010, 2020, I think there going to be a lot of transformation coming, and there going to be a lot of opportunity, so be flexible.
Rule #6. Know How To Execute
Interviewer: I think you famously said, "Strategy is 5% of the answer, "and execution is 95%." So, what does that mean? And how did you actually, what did you do differently?
Well, you know the 5%, yeah, I said, yeah. 5% of the challenge is the strategy, 95% is the execution. This, I said it as CEO of Nissan, I said it also as CEO of Renault, and I said it as Deputy CEO of Renault. When I said it the first time it was mainly in France, and that was to the top management of Renault in France, because there was a tendency in the company to spend too much time on strategy, and leave the execution for other people.
And this is where I said, "Strategy's fine, it's very important, "but it's only the 5%. "If you don't go to execution after this, "the delivery and the performance "of the company's going to be very weak." I really believed it.
Now, it doesn't mean strategy's not important, but when you establish north, and you know exactly where north is for the company, you've done something very important because you're giving the direction. But if you don't start moving north, if you don't start mapping and establishing milestone, you're never going to be getting there. You're never going to be getting there.
Rule #7. Learn From Diversity
The same, nobody likes people who are different. Usually we like to go, and you can go out with males, engineers, from the same schools, same education, speaking the same language. It's much more comfortable.
The problem is when we are all alike, we don't learn anything. It's comfortable, but we don't learn. Now, when you go with somebody who's completely different from you, different background, it's more difficult. But we're going to learn a lot of things.
Maybe you can learn a language, a different way of looking at things, et cetera. Diversity is a wealth. But diversity has to be managed, and managing a cross-culture is something which is going to be at the same time very hard, but can generate a lot of potential.
Rule #8. Work For Yourself
Don't work for recognition. It's an illusion. As somebody was saying, you know, if you want recognition, buy yourself a dog.  I mean, don't work for recognition. You're going to be disappointed. You're going to be disappointed. Work for yourself. Obviously work for, not matter what are your objective, if you want to become wealthy, if you want to, you know… I mean, work for yourself.
Work for yourself. And I'm not saying that you need to be egocentric now, looking, no. But I think do not put too much emphasis on the outside, what the outside is going to be bring you, because you're going to be disappointed.
You're going to be disappointed. And I want to tell you why it's very important to hold this line. Because when you'll have to make hard decisions, and probably some of you will have in the future, you're going to be alone.
Do not think that this is a team. No, it's not true. At the end of the day, the guy is going to make the intimate decision is one, and this guy's going to do it alone, and he's going to do it based on his own value and his own beliefs and his own analysis, transmitted by his team, whatever, every, but at the end of the day, he or she is doing the decision.
And then when you carry the decision, you're going to be bombarded no matter what. So, if you're looking for an outside recognition, it's going to melt you down. You're going to say, "Oh my God, "that means it's not working, everybody…" No, no. You need to have your own strength, you need to have your own beliefs, make your own analysis, and carry the decision.
Rule #9. Make The Right Decisions
One of the things I learned particularly in Japan that from time to time making quick decision is going to hurt the execution of the decision. Because what do you want? When you make a decision, what do you want?
You want to transform reality. You don't want to make a decision for the sake of making a decision. You're making the decision because you want something to change. So, your goal is the thing changed. That's your goal.
So, now, the question is when should you make the decision in order to make sure that this thing has changed in the fastest period of time? So from time to time you have to wait to make the decision, because you're preparing people to execute.
From time to time you need to make the decision very early. From time to time a little bit late. But when I say decisiveness mean capacity to take the decision at the appropriate time, because at the end of the day what you need is reality changes. That's your goal.
Rule #10. Be Committed
How can you ask your people, whoever they are, to do efforts, to go the extra mile, if somehow you don't commit to the results? It's impossible. If people don't see that you are working as hard as they do, if you have too much, you have been at the top level, at all the level of the company you have too much, as much as risk as they do, they're not going to follow.
They're not going to follow you. So commitment is a very important part of the management's tie of the lines, because in a certain way, this is one way to stretch your organization and stretch people by putting the challenge very clearly on the table, and no but and ifs, and what you have to dedicate everything in order to make the plan a success.
You're not going to spend your time explaining why it was not successful, okay? And that's a big difference between the Renault plan, and all the other plan which were announced for the two weeks before and after where there was no commitment. Okay? If I come and see you and I say, "By the way, I'm going to do my best. "I'm going to reduce costs, "and eliminate 6,000 jobs, "and shut down three plants, "and we're going to shut down this operation, "and we're going to stop this and that and that, "and you know, if it doesn't work, "we'll come back next year with another plan."  You know, if I am working in the company, I say, "Hey, first, my job is going to  "what's going to happen with you. "I'm worried." Yeah? So I'm not going to give a hand to this guy, because I don't know on top of this what's going to happen.
If it's not successful, he's not committed. So, this, from the other side, people say you taking commitment? You're not smart. Because if you don't fulfill the commitment, it's a bad consequence for you. Yes, that's it. We are in the heart of the issue.
You're at the heart of the issue. We can't manage in the 21st Century. We can't. We can't lead people in the 21st Century if somehow you don't assume the consequence of your acts. And the consequence of your acts can not be only, "I made a mistake." No. From time to time, it's you have a vision, you have a plan, you have obstructions, you have objective, you're asking people to work day and night.
For them, you have to assume them personally. That's the management of the 21st Century. That's it.
And I think the strength of the Nissan plants and the Renault plant is the fact that as these two companies are the only one doing this kind of things, in a certain way they're going to have a plus in term of performance because people are going to feel much more motivated and engaged whenever you have this kind of commitment or results, due to the efforts they're going to be doing.
---
Thank you so much. So if there's a famous entrepreneur that you want me to profile next, leave it in the comments below, and I'll see what I can do.
I'd also love to know which of Carlos' top 10 rules had the biggest impact on you and why. Which did you like the most? Leave it down in the comments and I will join in the discussion.
Thank you so much for watching. Continue to believe, and I'll see you soon.
---
BONUS
Be Interesting
I've never seen such a thing as a boring leader. Nothing. Leader is always somebody interesting. Somebody who can connect with you. Very important, very important. I mean, if I'm sitting with somebody and after 15 minutes I want to go to the next meeting, I know it's not very good.
So, ability to connect, ability to be interested and being interesting is also a very important feature. And you know that this is something that you don't learn in school or university. It is something that you develop by yourself.
Everybody has his own skills, et cetera. So I would say, being a listener, being able to connect with people are two absolutely basic condition for leadership. For the rest, you know, efficiency, ability to communicate, openness, curiosity, intelligence, et cetera, ah, that's fine.
And we've seen great leader who are not smart. We probably know a lot of them. I mean, they're not smart. I mean, yeah.  They're very common.  No, but it's true. I mean, they're not smart.
And we've seen a lot of people extremely smart who never were able to take any leadership position. So I don't think this is something discriminating. I've never seen a leader who was boring. Or at least at the beginning. They may be boring at the end, you know, after five or, never. And somebody who don't listen or observe or try to see, okay, what's the situation ?
Fix The Problem
I am not going to challenge what you're learning at the university, particularly telling you that, you know. But when you go and you are a foreigner going to Japan, you're going to Japan for one reason and that's it.
It's turning around the company. Period. That's what people are expecting from you. How much you work, what do you do, if you have problems, if you have remorse, empathy, nobody cares. Fix it. That's it. That's the message. Fix it.
You accept the job, you have to fix it. We had two main problems. One of the main problem of Nissan is that we had 20 billion dollars of debt in 1999, and no Japanese bank, and you know how flexible Japanese bank can be for a Japanese company.
No Japanese bank wanted to lend any money to Nissan. So, we were facing a cash crunch, okay? This is immediate death, okay? So we need to reestablish the trust on it and cut the debt. Second, you need to come back to profits for 10 years.
Nissan had 1% average operating profit, while Honda and Toyota were around 7% to 10%. We had about 1% return on invested capital where our main competitors were at more than 10%. So there was something wrong you need to reestablish.
You reestablish, just put it right. So I knew from the beginning that what was expected from me is fix it, fix it. So when you know you need to fix it, you can say, "Okay, I'm going to make "as many changes as necessary to fix the problem. "Nothing more. "Nothing more."
So, changing the habits, if there is no obvious result, you shouldn't do. But when you know that fixing the company is going to force you to change some habits, while you're going to, you need to say it, you need to explain why you're doing it, and particularly, you need to commit to the results. Because people don't like change as long as there is no commitment to specific results behind the change. Now, if you commit to specific results, they may give you the benefit of the doubt, and that's exactly what happened in the case of Nissan.
Have Mentors
Very important, particularly, but what they teach you what not to do. I had many bosses in my career because I started, you know, like a simple engineer, and I learned as much with the… From the managers or the leaders who were making a lot of things which shocked me, as from the people who were inspiring me. Both of them are very important.
Why? Because the guy, you know, who is your boss, and all of a sudden you say, well, you know, he doesn't communicate well, I'm not motivated, et cetera, you're learning. You're learning the basics, because you're going to always think every time, when you're in a big leadership position.
I don't want to become like X, Y, or Z who were my leaders. I want to make sure that I'm interesting, I'm sure I'm associating people, et cetera. So, the mentors are positive and negative.
You have the people who are going to teach you what are the mistakes not to do, and there are the people who are going to inspire you by saying, "Wow, I would have never thought about this, "and I think this is very, very, very powerful."
So, you learn from both, and that's why it's very important to listen and observe and, you know, some people say, "You know, I have the boring boss, "I'm not learning anything." I said, "No, wrong. "Wrong. "You have the boring boss? "It's an opportunity to see why he's boring.
"What are the things?" Yeah, you know, what are the things that I will learn that I will never have to do in the future so I am not boring for the people who are in my team? If you have a great boss from the beginning, you think, you're going to think it's very easy, you know?
Because the guy's interesting, and the objectives are being hit, et cetera. You're not going to learn as much as when you're going to be facing adversity from a boss who has a lot of imperfection.
Obviously if all your bosses are of this type, it's bad also, because you never know what, you know, what is true north. So having some of both is very important. I was blessed by the fact that I had both. And frankly I learned as much from one than from the others.
---
You might also like
---
More from Carlos Ghosn
---
Good morning Believe Nation. My name is Evan Carmichael. My one word is "#Believe" and I believe that entrepreneurs will …
Hello, Believe Nation! My name is Evan Carmichael. My one word, is believe, and I #Believe that entrepreneurs are going …
Hello, Believe nation! Today we're going to talk about how you can develop discipline. And as always, guys, as you're watching if …