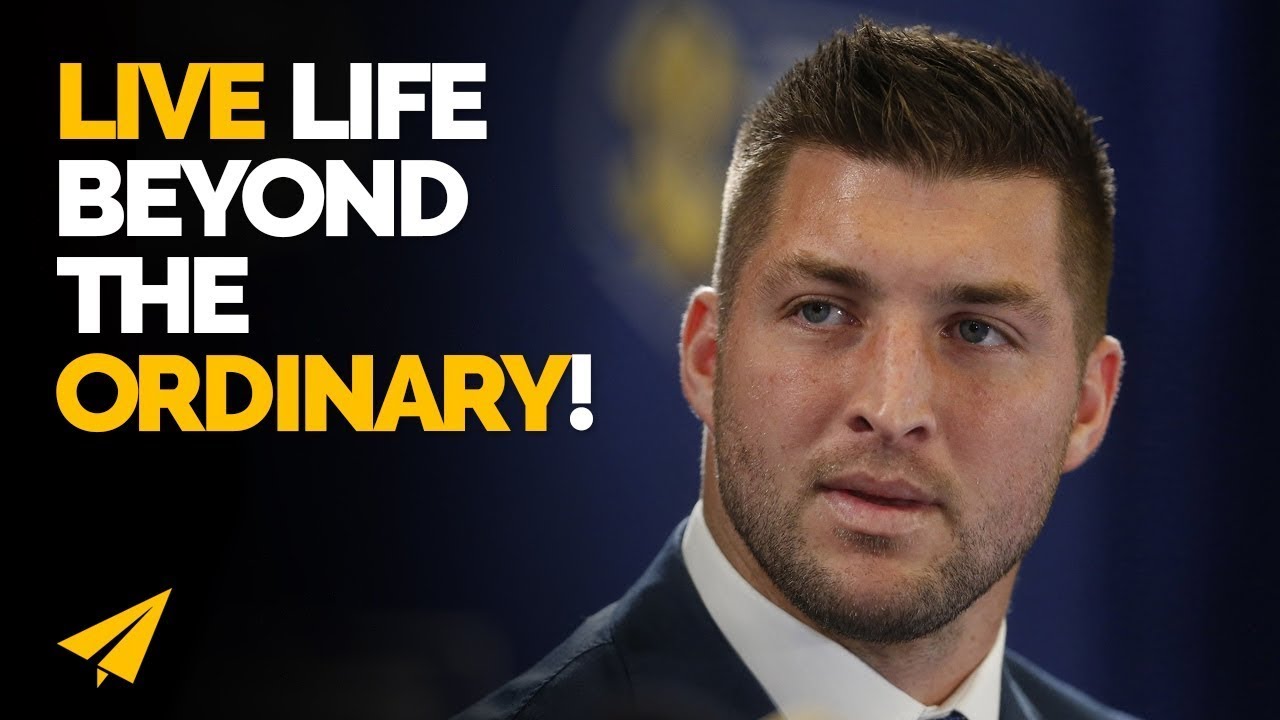 Good morning, Believe Nation.
Today's message is Change lives. Over to you, Tim Tebow.
Tim Tebow
For me and playing sports. It's not being focused on winning or losing a game because. Yeah, you want to be the best. You want to try to win Super Bowls or make it to the Big Leagues and all these things, but you want to, at the end of the day, be more than just the sport you're trying to play.
You want to transcend that sport. If all you do, if all I ever did was win or lose at a game, I don't really look at my life as a lot of significance.
"The goal is to change lives." – Tim Tebow
But if I can transcend that sport to inspire people, to put a smile on people's faces, to encourage people, to make a difference, to change one person's life or a million people's lives, then I would consider that significance and meaning. The goal is not to be famous, The goal is not to have money in your bank account. The goal is not to have what the world defines as a success, The goal is to change lives.
…
Move Away From Your Selfishness
I think it resonates true, where you're trying to do, in whatever position you do, whether you're doing something socially or at work that you want to see people around you that look up to you, that you inspire, and take them over the wing and never be too tired to give them more advice, be there for them a little more.
To move away from your selfishness, you know, "I'm having a bad day" or "I need to get this done" and be there for pretty much your team and your friends and your family.
Yeah, I think people get into things often for the wrong reason. I think a lot of people start a YouTube channel 'cause they want to be YouTube famous and they're only trying to get a million subscribers. I think a lot of people start a business just trying to get rich.
Enjoy the process.
They look at the Forbes magazine or the Top 100 Hot Companies To Start Right Now, Make a lot of money. And then they get into it and they realize it's a lot harder than they thought it was going to be. You have to enjoy the process. You have to enjoy the work.
The people who win are on a mission. They want to make the world better somehow, whether that's through your YouTube channel, through your business, through your salsa dancing. Whatever it is, you're on a mission that is much more than just achieving the end result.
"You have to enjoy the process. You have to enjoy the work." – Evan Carmichael
If you're only chasing result, you're never going to get there. But if you're enjoying the process, then success will be yours.
So the question of the day today is…
Have you been there for someone else today?
Have you been there for someone else today? I like it. Leave it in the comments below and we will join in the discussion.
I also want to give a quick shout-out to Leong Sai Mun. I hope I pronounce it okay. Thank you so much for picking up a copy of my book, Your One Word. I really, really, really appreciate it and I hope you're enjoying the read.
So thank you, guys, so much for watching. We believe in you and hope you continue to believe in yourself and whatever your one word is. Much love. And we'll see you again tomorrow morning for another Shot of espresso.
---
BONUS
Sam Altman
I think in general you really should try to live your life without regrets. And if you are really set on starting a particular company, even if you know that you could go be employee number 30 at Airbnb and Airbnb's already going like this, and you'd have more of an impact. but if you're going to regret for the rest of your life not starting this particular company 'cause you're so in love with it, you might decide to do that.
However, I think this other thing, like making an impact on whatever you do is sort of the satisfying thing in life, in professional life.
So I think most people find that their job satisfaction like goes up with the impact they have on their company or the world or whatever. And if you start a company that is, you know, a mild success or join a company that's a huge success, you probably have more of an impact in the latter case.
Sundar Pichai
The thing which attracted me to Google and to internet in general is that it's a great equalizer, right?.
And so to me, always being struck by the fact that Google search work the same as long as you had access to computer with connectivity, if you were a rural kid anywhere or if you were a professor at Stanford or Harvard.
And to me, I want Google to strive to push to do that, not just build technology for a certain segment. For me, it matters that we drive technology as an equalizing force as an enabler to everyone around the world.
---
More from Motivation
---
Watch Ralph Smart's Top 10 Rules For Success video. Famous Entrepreneur Quotes Ralph Smart's Quotes "We're so caught up in the outcome …
Watch Kris Jenner's Top 10 Rules For Success video. Famous Entrepreneur Quotes Kris Jenner's Quotes "You need something to be excited about …
Watch Evan Carmichael's Top 10 Rules For Success video. Famous Entrepreneur Quotes Evan Carmichael's Quotes "Changing my environment had a dramatic impact …