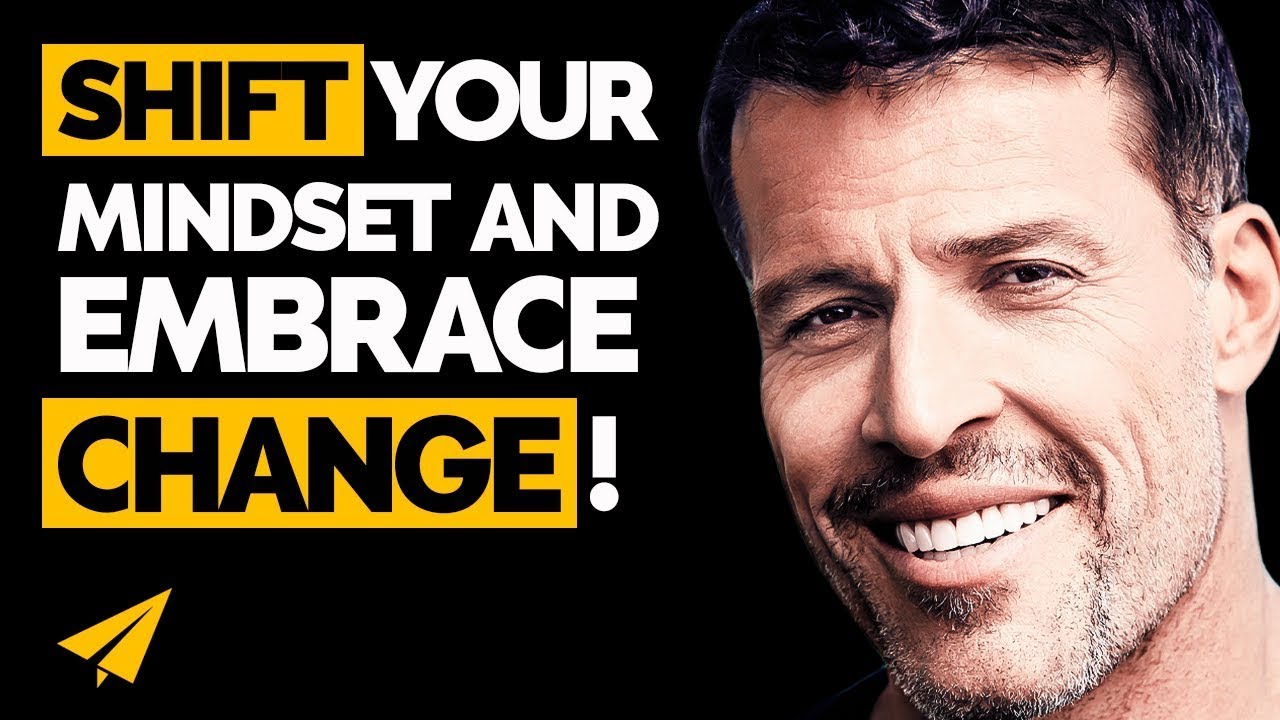 Good morning, Believe Nation.
Today, we're talking about the power of shifting your perspective.
And also, as you're watching, if you hear something that really resonates with you, please leave it in the comments below, and put it in quotes so other people can be inspired as well, and when you write something down yourself, it's much more likely to stick for you as well. Enjoy.
CHANGE the Way You Look at Things
Eric Thomas
Because a lot of you, for real, you're not where you want to be. You're thinking of negative stuff. You're talking negativity, right? You're in that negative zone. You're feeding off of negativity. You're talking to negative people.
You're watching negative stuff, and I need you to do me a favor. I need you to know that, in order for you to get to that next level, you got to change your thinking, like for real. You don't need no money. You don't need no stuff. The one thing you need to do to go where you've never gone before, to have what you've never had before, is to change the way you think.
Ask The Right Question
Tony Robbins
This could be the greatest time you ever live if you control what you focus on, if you find a more empowering meaning, and if you decide to model the actions of those who succeeded before you. It can be the best financial time, the best emotional time, the best spiritual time of your life, but you better take control of your state. So, if you want to change your life, my friends, you've got to change your physiology and you got to change your focus.
By the way, how fast can you change that stuff? How fast, my friends? How fast? How fast? Come on. In a heartbeat, once your re-change your conditioning. That's all you got to do, and you can do it fast. You can do it a question or two. Try this right now.
Answer this question in your mind, and be honest. What, in your life today, if you wanted to be, could you feel proud about right now? If you wanted to feel proud. If you feel like I shouldn't be proud. If you wanted to feel proud, what could you be proud of in your life today?
Your children, your health, your body? Is there a problem you faced, and instead of running from it, you finally stepped up and handled it? What could you feel proud of in your life today, if you wanted to feel proud? How many could think of something?
And when you think about this thing you're proud of, what about that makes you feel proud? What do you focus on that makes you feel proud? How do you breathe when you really start to feel proud? What's the kind of look on your face that starts to happen when you let yourself feel proud? Yeah, how's that feel? Think of another area of life.
Think of an area of life that you're grateful for, or if you go I'm not grateful, if you wanted to be grateful, what's an area you could feel grateful for? What could you feel grateful for, if you really wanted to feel grateful?
If you wanted to be excited about your life right now, and you were willing to be excited, you were willing to buck everybody else's trend, what could you feel excited about in your life if you wanted to feel excited?
What could you get excited about if you really focused on it and you really took it in? And you weren't in a negative place? What could you get excited about, if you wanted to be excited in your life? Or when you're really excited, how do you feel? How do you speak? What's your life like? By the way, when you're excited, does it tend to touch other people, yes or no? Absolutely.
By the way, do people have a tendency, but who feels different right now than just even a couple moments ago? Raise your hand, say I. Why? Because focus is controlled by questions. If you ask a different question continuously, not once, continuously, you will get a different answer. If you ask a lousy question, you get a lousy answer and a lousy state. Somebody said why does this always happen to me?
It doesn't always happen to you, but the brain's like a computer. Ask it a question, it'll have to come up with an answer. 'Cause you deserve it, you idiot. Someone will say how come I can never lose weight? You can lose weight, but if you keep saying how come I can't ever lose weight, the brain's got to come with an answer, goes you're a pig.
Lousy question create what? Lousy answers. Ask a better question, get a better answer. Now, here's what I want you to get. I want you to get that you can change your state, how fast, guys? How fast? How fast? And if you get the habit of doing it, you'll have a different life.
It's Manageable
Eric Thomas
I was in an advising session with a student, right? Man, I wish you guys could have been there. So, I'm sitting with the student, right? And I begin to pull out my paperwork, and I'm about to share with her her math grade, but before I could even open up my mouth, you know what she said to me?
Don't even talk about it. That's right, she told me, ET, the motivator, don't even talk about it. What she was saying was look, I'm not trying to be disrespectful, but I already know I'm not doing that well in math.
My teacher has talked to me about it. I've got a tutor, and guess what? ET, the motivator, there's no way you can help me with this situation, so she said to me let's not even talk about it, and I'm telling some of you out there right now, the reason why you are in the situation you're in, because you keep talking about negativity.
You keep talking about stuff that you can't do anything about, so principle number two, real short and real sweet, don't even talk about it, and you know what? I'm going to throw a tip in with that. Not only don't talk about it, but there's some things you should even listen to, alright?
Negativity, the things that people are coming to you with that you know you can't change. There's nothing you can do about it. Don't just not talk about it, don't listen to it. I want you to know that, from wherever you are, wherever you are, you can get to where you need to get to from that spot, right? I want to share something with you.
Most of you guys know I was homeless for two and a half years, right? Homeless for two and a half years, and a high school dropout, but one day, I just made up in my mind that I was not going to allow homelessness, I was not going to allow being a high school dropout, I was not going to allow that to define who I was, and so I said you know what, Eric? It's manageable. It's manageable, but what you got to do, man, some of you, you live seven days at a time.
You live 30 days at a time, and I had to say to myself, Eric, you can do this, but you know what? You're going to have to do this one day at a time. That's right, one day at a time, and so I started studying for my GED, one day at a time, and I went from a high school dropout to a college graduate, to getting my masters, and working on my PhD.
I went from being homeless to being a homeowner, so I want you to know, you can do it, but you got to break it up in pieces. That's right, take your rent one month at a time. Take your life one day at a time, and I guarantee, if you take it one day at a time, you will see how manageable it is, and one day you will look up and you can get up.
Keep It Real
Denzel Washinton
I was a garbage man, like Troy. You get eight hours worth of work, but you can do it in three, so you can go home as soon as you finish. Post office, you get three hours worth of work, and you make it last eight. I did both. I liked being the garbage man better, but they weren't bad jobs. It's like when people say oh, the difficulty of making a movie. I'm like send your son to Iraq. That's difficult. It's just a movie.
It's like, relax, I don't play that precious nonsense. Oh, a movie, oh, get out of here. You know? Your son got shot in the face? That's difficult. Making a movie is a luxury. It's a gift. It's an opportunity, and most importantly, it's a gift. Obviously, everybody here is talented enough to do that, but don't get it twisted. It's just a movie. It ain't that big a deal.
Connect And Learn
Brendon Burchard
In the dark times, it's the easiest time to curl up in a ball, and sometimes that's okay. If you need to have a bad day and sit on the couch and watch a bunch of movies with some tissues, and just go through a bad day and a few bags of potato chips, you know?
A lot of people have to deal with that situation, and it's okay, but if that happens day after day after day after day, that's the time to take control of your life back, or ask for some help, you know? Part of perspective isn't just understanding our life has been better, understanding that we have strengths and choice and will. It's understanding that we aren't the only thing.
That perspective reminds us there's other people out in the world who we might be able to connect with. who can help us. To raise our hand and connect with a friend or take somebody out for lunch or to call a therapist or to get some support from other people, other family, other friends, it's important.
That's part of perspective as well. I would say, you know, what else comes to mind when there's a difficult time is to ask what should I be learning here, because sometimes, when it's really difficult in life, we don't feel competent. We don't feel capable. We feel like, you know, we don't have any personal power.
We don't have any knowledge of how to proceed through there, so I tell people, when you're in a difficult time, create like a learning map. You know, like okay, based on everything that's going on right now, what are three things I need to start learning right now? You know, what can I learn from this situation? That's always powerful, right? That's one powerful way to learn. Well, what can I learn from here?
What's the universe sending a message to me right now? What can I learn from this situation, from my behavior or my beliefs? From my interactions with other people? But also, going to that next step and saying okay, at this point, what should I start learning in my life?
And I know it sounds so weird, you know? I'm not saying hey, you know, you're really depressed. It's time to start learning French. But you know what? It might help you, because in the process of learning something, our brain starts activating in different ways that also end up activating other parts of our brain's capabilities to grow, to cope, to deal.
A great time to start learning again is the times when you feel just beaten up and kicked by the side of the road. It's time to stand up and say okay, what would I need to learn now to advance my life to the next stage?
Because look, no matter where you're at, if you're in a difficult place in life right now, realize you've been in the last stage, and now there's going to be a new stage, so what will you have to learn or master in this new stage to feel better about yourself or about life, or get ahead a little bit more. Don't forget that.
Remind Yourself Of What Truly Matters
Gary Vaynerchuck
The way I handle things, even in the few rare days when I really struggle, I take a real step back and make pretend that somebody called me and told me that my mother or daughter were killed. And I know that's very dark, and I apologize, but it's really what I do.
I literally am able to, at my deepest, most struggling moment within business, take a step back and remind myself that I can make a drillion dollars tomorrow on bitcoin, and if something bad happened to the people I love the most, that it would mean nothing, and it very consistently rewires me very quickly.
I just put business in perspective. At the end of the day, you know, it's money. For me, it's not really money, it's my legacy, so I get hurt by it a little bit more, but yeah, I mean, you know, I put it in perspective. It's money, and you know what? Up until I had a daughter, even while I was married, up until when I had Misha four years ago, I secretly wanted to lose all my money. I had this weird, twisted, dark fantasy of losing everything just to rise again like a phoenix and remind you.
Evan Carmichael
So, if we're going to talk about the power of shifting your perspective, I think, in general, people focus on the wrong things.
I think, in general, most people focus on the small things in their life, in their business, the things that are most immediate things, that are most in front of their face, and it makes us play small on a consistent basis.
One of the most effective strategies that I've found to help overcome an immediate situation of despair or anger, frustration, is to be grateful, 'cause you can't be grateful and upset at the same time.
If you're truly grateful and appreciative of what's happening, then you can't be upset at the same time, so as an example, last week, I'm at my condo and I'm waiting for the elevator, and it's just taking a really long time.
I've got some heavy things. I can't take the stairs, and so I'm waiting. Really frustrated that the elevator hasn't come. I think one of the elevators is on service, and there must be a lot of people going up and down. It's like I'm sitting there, waiting for the elevator.
I'm like when is the elevator going to come? How often have you been in that situation, where you're waiting for the elevator, you're stuck in traffic, or somebody is late, or somebody has let you down?
And instead, I quickly shifted my perspective, and I asked myself how can I turn this into a moment of appreciation? How can I trade my expectations for appreciation? And I just thought of listen, we've got these elevators, these magical boxes that can transport us up and down flights of stairs so that I don't have to carry these heavy boxes, and I have to wait, you know 30 seconds more for that elevator to come down.
That immediately shifted my perspective to focus on what I do have, what I'm grateful for, instead of focusing on the problem that I had, which is not really that big a problem. And I think we can, in general, do that for our life. Look at what you're so upset about.
Look at what's causing you so much massive frustration? The fact that you're even watching this video means that you are better off than 95% of the people in the world, where people can't even, you know, give themselves food or have a stable job, have no, you know, income coming in. They don't have an education. Most of the people in the world, you are better off than.
There are a lot of people who have started businesses and had way more success in what you've done, and they started with way fewer resources than what you currently have right now, and what do we do, as entrepreneurs? We tend to focus on what we don't have. We don't have the finances. We don't have the resources. We don't have the education. We don't have the mentorship. We don't have the connections.
We don't have, we don't have, we don't have, we don't have, and that just continues that cycle of frustration and anger and resentment and depression, and we never get to where we need to go, where instead, if you focus on figuring out what you can do with what you already have, and that you already have enough inside you to build something amazing, if you can remind yourself of that when you get frustrated, then that can help get you out of the hole.
That shifting of perspective can allow you to go off and do amazing things, where otherwise, your day was set off down a negative path, so I hope that helps.
Thank You!
Thank you guys so much for watching. I made this video because John Dominick asked me to, so if there's a topic you'd like me to cover on the next edition of Believe Life, please leave it down in the comments below, and I will see what I can do.
I also love to know which rule did you like the best? What did you learn the most from watching this video? What are you going to take from it that you will immediately apply somewhere in your life or your business. I'd love to learn it. Please leave it down in the comments below.
Finally, I want to also give a quick shout out to Celia Lopez. Celia, thank you so much for picking up a copy of my book, Your One Word, and taking that awesome picture and posting to Twitter. It really, really means a lot to me, and I hope you're enjoying the read.
So, thank you guys again for watching. I hope you have an amazing day. I believe in you. I hope you continue to believe in yourself, and whatever your one word is, much love. I'll see you soon.
Jean-Claude Biver
Interviewer: When you have a down time, like if something didn't work the way you want. What do you do to get back on that positiveness?
I talk to the mountain. I have a mountain next to my home that is called.  It's very low. It goes up to 2004 or 2,500 meters, or I talk to the  which is 4,000 meters, which is a little bit further away from my home, which I see every morning.
I see those two mountains, and I say to these two mountains, mountains, I have a problem, but when I look at you, you are 37 million old, and I'm a little guy. I'm a little guy here with a little problem. Can you help me? And they will say come on. Look what we have already seen in so many years. Your problem is a nano problem. Come on, get up.
Just get up. Do it. That's it.
---
You might also like
---
More from Believe Life
---
Today we're going to learn how to communicate effectively.  Good morning, Believe Nation. It's Evan. My one word is believe, …
Today, we're going to talk about how you can create a massive action plan. Good morning, believe nation. My name …
Today we're helping you to stay motivated, and to learn how to motivate yourself! How to MOTIVATE Yourself - #BelieveLife Why MotivationGrid We're all …