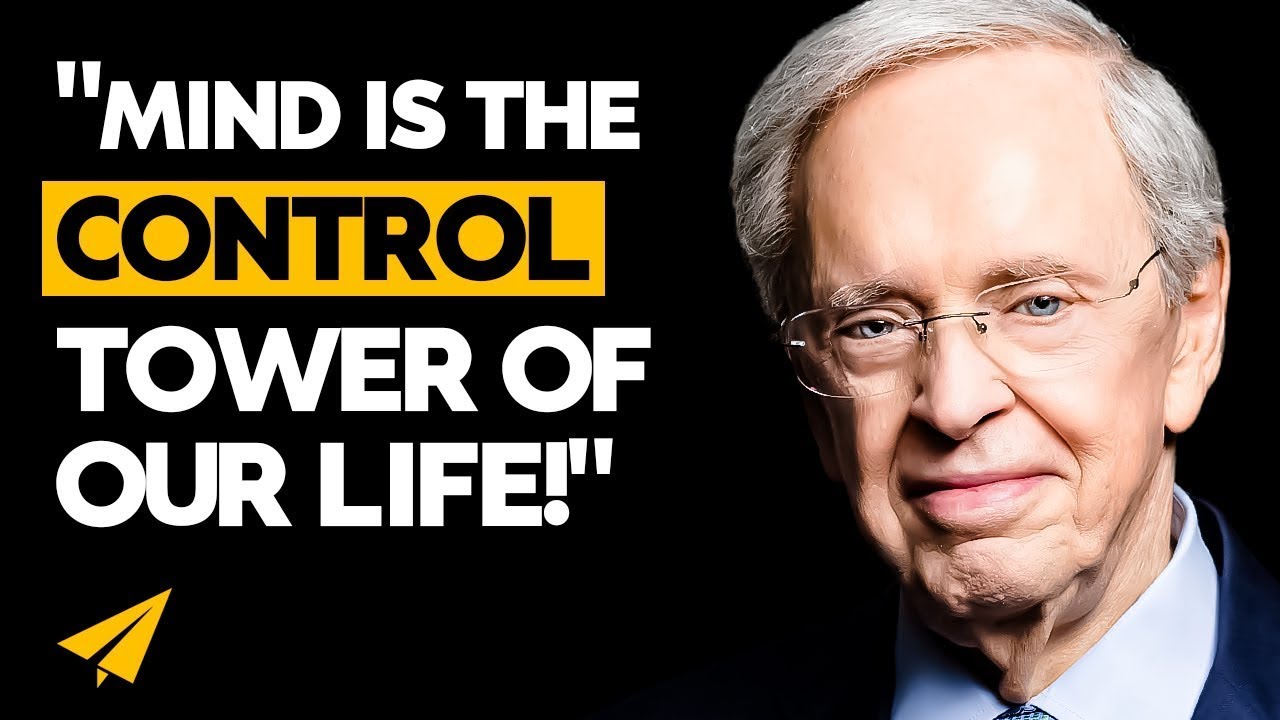 "Our mind is the control tower of our life. Whatever happens in our life starts right here."
"And I don't think you should ever live to the point you think, well, I've reached it now. Then what do you do? You just die."
"People don't realize that money is dangerous. Somebody says, well what could be dangerous about money? It's what it does."
– Charles Stanley
Charles Stanley's Top 10 Rules For Success
Evan:  Hello Believe Nation, I'm Evan Carmichael. My one word is Believe and I believe that entrepreneurs are going to solve all of the world's major problems. So to help you on your journey today, we're going to learn from Pastor Charles Stanley and my take on his Top 10 Rules of Success.
Rule number three is my personal favorite and I'd love to know which one you guys like the best. And, as always, as you're listening, if something really resonates with you, if there's a message that really holds true to you, please leave it down in the comments below and put it in quotes so that other people can be inspired. And when you write it down it's much more likely to stick with yourself as well. Enjoy.
---
Charles Stanley's Rules
Rule #1: Don't Settle For Less Than The Best
Rule #2: Be Courageous
Rule #3: Take Control Of Your Thoughts
Rule #4: Don't Chase Money
Rule #5: Don't Limit Your Potential
Rule #6: Keep Learning
Rule #7: Deal With Rejection
Rule #8: Build Good Relationships
Rule #9: Live Wisely
Rule #10: Laugh
BONUS
Rule #1: Don't Settle For Less Than The Best
A person who's willing to just take it easy, do whatever comes natural, don't have any real goals in life, don't strive for anything, and I think part of the reason for that is that people are lazy. They want the easy way out. They don't believe that they can accomplish anything in life.
They don't have a sense of purpose, they have no goals. They don't know how to set goals in their life. And what they do is, they waste a great deal of their life because they have no sense of direction and they just settle for whatever comes their way. And, oftentimes, thinking that they can't do any better and looking around at what other people are doing and thinking well, I'm as good as they are. And they miss life, settling for less than the best.
Interviewer: Why do you think so many people do that? Why are they so willing to settle for less than God's best?
Well I think they don't really believe that they can achieve and accomplish. They look around and see what other people are doing and they think, well, I'm as well off as they are, but that's not the issue. The issue is, what is the will of God for my life? What could I accomplish? What could I achieve if I really and truly set my mind to do it?
And I think sometimes it's just pure laziness that people don't have a sense of direction. But, they don't want to do anything else and it's a tragedy that a person can live out their life with gifts and skills and abilities and talents that God's given them and just settle for doing whatever comes natural.
Interviewer: What are some of the warning signs that we are living a 'settled for' life?
I think number one there's no progress in life. Not making any progress financially, in relationships, in your relationship to the Lord. Things are just still the status quo. And you're sort of running around in circles and spending time and living from one weekend to the other. And I think people who do that, they've settled for far less than God has intended for them.
Rule #2: Be Courageous
Well, God wants us all to be courageous because he knows we'll face times in life and situations and circumstances that it takes more than just the desire, it takes courage. Many people operate on the basis of fear, on the basis of what other people think. We as believers should operate on the basis of courage. Courage to say no when we ought to say no. Courage to say yes when we should say yes. So what kind of courage do you have? Is yours sort of floating between depending on the situation? Or do you know the difference between right and wrong for your life? And you've made up your mind.
Rule #3: Take Control Of Your Thoughts
Our mind is the control tower of our life. Whatever happens in our life starts right here. All of our decisions are there. And the truth is, whatever we are today is the result of what we've been thinking about all those years. The Bible says, as a man thinketh in his heart, so is he. So if you don't like what's going on around you maybe you should ask yourself the question, "What am I thinking about?"
What do I think about myself, what do I think about other people? Because what we think about is really what controls us. For example, our relationship to God, our relationship to each other, our sense of direction in life, whatever we accomplish, our failures in life. All of that is a result of the way we think. And oftentimes we forget that, that this is the control tower. That everything else is a result of how we think.
And we can't control everybody else and control all of our circumstances, but we are going to respond to circumstances in one way or the other. And so, when I think about how this affects us, I think about the fact that many people are where they are because of wrong thinking. And so they don't like where they are. Other folks are where they are because of right thinking, because they've been thinking the right way.
What you have to ask is this, what is it that determines what I think? This mind of yours controls everything else in your life. You say, well what about all the other parts of my life? We respond to the way we think. And so if we think right we're going to have one response. We think wrongly, we're going to have another. Very important that we understand how that works. So this requires me to understand how to control my thoughts.
If I want to think right, if I want to think Godly, if I want to think holy, if I want to think righteously, right here is where it starts. And many people lose it right here. They don't think right, they don't think Godly. They don't think like they're worth anything. And they say, well, you know I just never had the opportunity or I just never will be that, or I'm just this and I'm not that.
This is why people who are very beautiful can think they're ugly. And people who are very skinny can think they're fat. And they refuse to eat because they think, they look in the mirror and they don't see what's reality. And so your mind controls every aspect of your life. In fact, what you think determines how you live. What you think determines how your relationship to God, as we said, your relationship to others, your relationship to yourself.
And many people start out in life defeated because of the influence of their parents, their grandparents, that tell them they'll never amount to anything. Or this is wrong with them, or that's wrong with them. And as a result, they go through life what, having heard, written in their minds, impressed in their thinking, if my mama said it, my daddy said it and my grandmother said it, it must be true, therefore. And oftentimes, people are ruined as a result of what they have been taught or what they've heard from someone that they value very highly.
Rule #4: Don't Chase Money
That our love and desire for material things can cause us to miss the most important thing in life. People don't realize that money is dangerous. Somebody says, well what could be dangerous about money? It's what it does. It's the attitude people have, that if I have enough money I can go where I want to go, do what I want to do, marry who I want to marry, wear what I want to wear, drive what I want to drive, live where I want to live, eat whatever I want to eat and on and on and on it goes.
That may be some of things that money can do, but that doesn't satisfy you. But think about this, you can have all the money in the world you want if you don't have good health, you can't buy it. If you're not, listen, if you don't have anybody to love, you can't buy it. If you don't have anyone who loves you, you can't buy it. In other words, you can't buy peace, joy, happiness, contentment and you certainly cannot buy eternal life. Money can do some things, it can do many good things in the right hands. But it can't satisfy the longing of your soul. It can't satisfy the longing of your heart.
Rule #5: Don't Limit Your Potential
And when I think about the future and I think about all the possibilities and living in this age of electronics. I mean, we can learn so much and all of the information's right at our fingertips, and the opportunities we have. I would hate to think I'd reached my full potential, no. And I don't think you should ever live to the point you think well, I've reached it now. Then what do you do? You just die and I think many people die early because they limit what their potential is.
Rule #6: Keep Learning
Keep learning. When you cease to learn, you cease to grow. When you cease to learn, you sort of begin to decay a little bit. You are to learn to how to stay healthy. And you say well, how do I do that? Well, the proper diet and exercise and rest, that's part of it. In other words, we're not healthy by accident. It's by learning some key things in life that really make a difference. And when we keep learning something happens in our life.
For example, you and I are living in an age when we've had to keep learning. Because when I was born there were no computers that I knew of, in 1900 and 32. So, we go back and you look at your life and think about all the things that you've had to learn that your predecessors and your parents didn't have to learn because they didn't even exist.
So if you're going to be useful all the days of your life you've got to be willing to keep learning. So I would simply say that a lazy brain is an aging brain. You don't want to learn, what happens? You start decaying. And so, there's something interesting and exciting about learning things in life no matter who you are and no matter what your age might be.
Rule #7: Deal With Rejection
Rejection is probably the most painful of all the emotions. And the truth is, all of us have been rejected, either by somebody or some group or something at some point in life. And so the question is, how did you respond? And if I should ask you well, did that rejection bother you? Do you ever think about it? No, it doesn't bother me, I never think about it much. But let me just correct that. It does bother you.
Until a person recognizes the presence of rejection in their life, and discovers the source of it, and deals with it, it will bother you all of your life. Let's just think for a moment and clarify what we mean by rejection. And the truth is if somebody rejects something that means they refuse it. If you come to me and say I'd like to be your friend and I reject you, what I'm saying is, I don't want to be your friend. I refuse your offer of friendship. And what does that do?
That causes the other person to feel less respect for themselves, less worthy of themselves, and to begin to be self-critical for the simple reason, why wouldn't somebody want to be my friend? And so, there's some basic things that are very basic when it comes to that, and what it does, it sends a message. In other words, rejection isn't just a feeling, it sends a message. When you reject somebody you send them a strong message going straight to the core of their heart, you're not worthy, you're not fit, you don't belong, I don't want you.
You don't fit into this situation. And anytime any body feels that, especially from somebody that's very precious to them, or very important to them, it's devastating. If you don't feel rejected, if you're not careful, you'll reject somebody else. But more than likely, all of us at some point have been. And what I want to show you is this, just because you think you have forgotten it, doesn't mean that you don't still have it.
The question is what do you do with it, how do you handle it? And there are lots of ways people handle rejection that doesn't free them of it. What I want to talk about is how you get free of it. There is a way to overcome that, no matter what it is. There are three feelings that are absolutely essential to a healthy self-attitude and a self, and your own personal view of yourself. Your self-respect and everything else.
These three attitudes are a sense of belonging, I belong. That's very important, to be a part, I'm a part of. The second one is I'm worthy. That is, you know what? I'm worth something, I'm of value, God loves me. And thirdly, I'm competent. I can do it, I can handle it, whatever it is. If you don't have those three feelings about yourself, emotions about yourself, you will go through life suffering and hurting.
Rule #8: Build Good Relationships
Healthy body, a healthy body is always important for the simple reason you feel better, you're more highly motivated, you are cheerful, you're happy, you're excited and people like to be around a person like that. And then when I think about our relationships to others. Without good relationships to other people you're not going to make it in life. We're not lone rangers, God's made us to work and labor and fellowship and have fun with other people.
Rule #9: Live Wisely
Why would a city known for its red economy over all these years go bankrupt? Why would they go bankrupt? Unwise decisions that probably started years before. Why would a family choose to buy a home, house, that they know that they cannot afford? But they're going to buy it anyway. Unwise decision. Why would a person marry just for a sexual fulfillment? Not thinking about other things. Unwise decision.
Why would a person drink alcoholic beverage in front of their children early in life, leaving them an image of their dad sometimes being drunk, thinking nothing of the consequence? Very unwise decision. When you think about the kind of life that you're living would you say that the decisions that you're making are wise or unwise? And we could go through life thinking about all the decisions that people make.
For example, they stack up credit on their credit cards to the point that they know they can't make the payments. Why do they do that? Unwise decisions. Before you make any decision you should always ask this question. Is this the wisest thing to do? There is always an answer. Is this the wisest thing to do? Whether it's marriage, or whether it's something financial, or health, or whatever it might be.
Is this the wisest thing to do? That's always the right question whether it's major or minor. Is this the wisest thing to do? But living wisely is the best life. Wisdom is a gift from God. Living unwisely is a very expensive lifestyle to every aspect of our life.
Rule #10: Laugh
When there's laughter and there's love and there's joy, your body is going to respond accordingly. But if you're uptight and you're not laughing, and if you'll just think about what happens to your whole nervous system when you can't laugh. And somebody says well, I don't have anything to laugh about. Well, yes you do, if you think about it you do. There are times when we don't feel like laughing.
If you can't laugh, I'm not too sure you've got many friends.  Who wants to be around a grouch all the time? Always frowning, there's always something wrong. And when you say, well let me tell you something good happened to me; I'm not interested. Well when people have that attitude I believe your nervous system is affected, your whole system is affected. I think there's some simple things God placed in our life and in the process of exercising them, we'll live longer.
Now you say, "Can you prove that?" Well, so far I can.   So far I can.  And one of the things I love about my friends is we're always jabbing each other and one of my friends, I think all of them are sitting here this morning. Not all my friends, but we're always jabbing each other about something, we're always laughing. And I think that frees up your nervous system. Something happens when you're laughing.
So if you're going to be useful all the days of your life you not only have to be learning and loving, but laughing. So you may say, well, I don't have anything to laugh about. Well, make something.  Get something going. And watch something that will help you laugh.
Thank You!
Thank you guys so much for watching. I made this video because Inga Bowman asked me to. If there's someone you'd like me to profile in the next Top 10, check out the link in the description and go and cast your vote. I'd also love to know what was your favorite message from this video? What did you learn from this video that you're going to immediately apply somehow in your life or in your business? Please leave it down in the comments below, I'm really curious to find out.
I also want to give a quick shout out to Kelly Quittenton. Kelly thank you so much for picking up 10 copies of my book, Your One Word, and sending them out to your friends. I hope you and they really enjoy the read.
So thank you guys again for watching, I believe in you. I hope you continue to believe in yourself and whatever your one word is. Much love, I'll see you soon.
---
BONUS
Show Love
Kelly, how are you? I'm meeting your dad here and he's very excited about you. And he just wanted me to say hi to you so I just want to say hi. I hope the Lord will bless you good, and hopefully one day you can come with him, thanks.
---
You might also like
---
More from Charles Stanley
---
Today, we're going to learn how you can stretch your limits. Hello, Believe Nation, my one word is believe and I …
Good morning Believe Nation. My name is Evan Carmichael. My one word is 'believe' and I believe that entrepreneurs will …