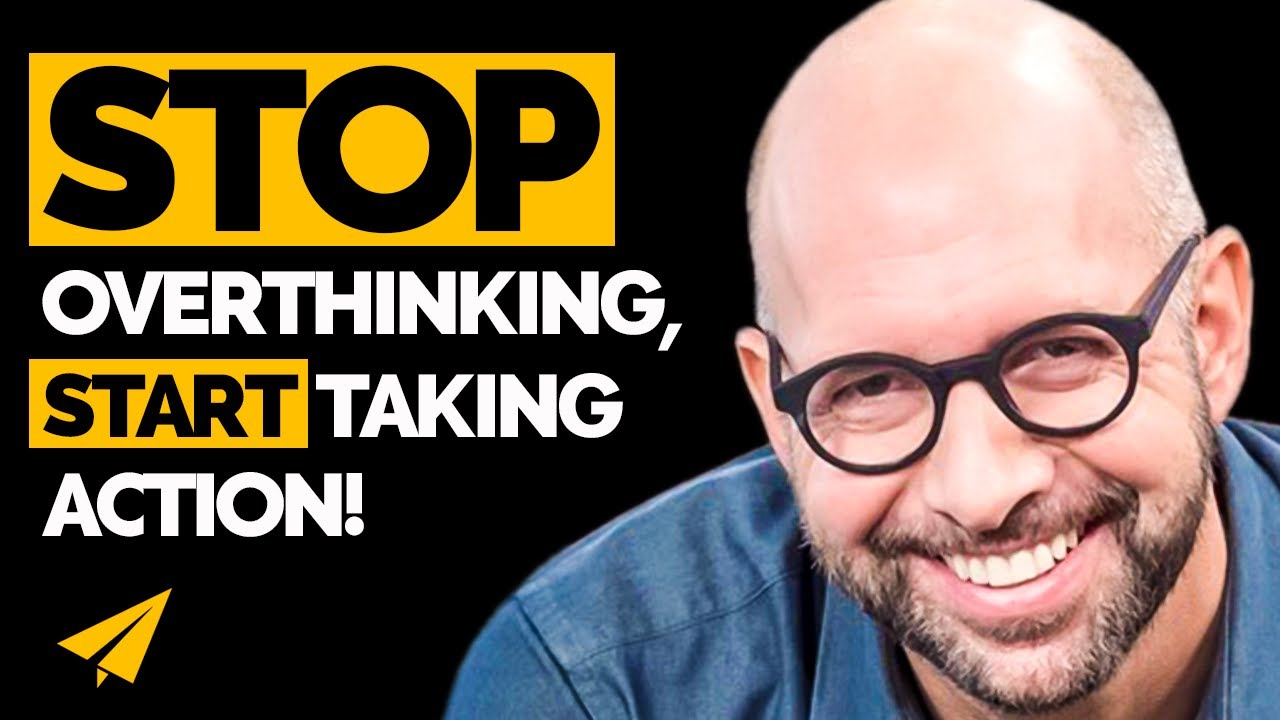 Good Morning Believe Nation. Today's message is Choose Anything. Over to you, Neil Strauss.
♫ I wake up every mornin' ♫ Expresso keep me goin'
Choose anything. It doesn't even matter, just choose anything. So, here's an example, so I wish I could almost draw. But, I'll tell you what. Let's see, what can I use as a,–
We'll use the back of this couch here. This is you. Are we filming that?
I don't even know if it's going to be worthwhile. But we'll say it is.
Chase: Try it.
This is you, right, and you're like "I don't know what to do." "I'm not sure what to do." And you're just sitting here, doing nothing. Right, this little white stain, I don't even know what it is.
It's Lemar Burtons' back sweat. Is that his name?
Chase: Levar.
Levar Furton, I don't know who, it could be anyone's sweat right there. So that's a little piece of sweat, toiling and trying to decide what to do.
But then just choose frigging anything. Let's just say, "Oh, I want to be an actor." Just, who cares? Maybe you don't, I don't know.
Just choose the one thing. So you choose one thing and now you have a goal, right. Just choose a goal, it doesn't matter, and now maybe you're going to start going to auditions, your going to auditions.
And then wait, you got a job but it's voiceover work. Or maybe it's on radio. You got a little radio gig, right. So now you're like "Oh radio's fun, "I'm going to be a radio host."
"Just choose the one thing" – Neil Strauss
And that's your next goal. And then you get a call to do a voiceover on a cartoon, or something and you're like "OK, I'll be a cartoon voice."
And guess what, now you're actually moving, and maybe you will end up being a, the voice of whatever, on the next Pixar movie, or something like that.
Chase: Eugene Mirman is a friend, he's the voice in Bob's Burgers.
Yeah, yeah, exactly, along with (finger snaps), yeah there's so many good John H, John Benjamin, is that his name?
He was also in Home Movies, he's great, anyway. But the point is, just choose one thing to move toward, and then just go with the path and you'll end up somewhere, but if you stay in here trying to decide what to do, you'll still be here in a year, two years, three years, four years. Just choose something you kind of like and don't hate. And then start moving toward it, and you'll find that the course and path of life will bring you exactly where you're supposed to be. Did that work on the compact of the couch?
*******
Evan: I think this is so important because too many entrepreneurs spend so much time planning and planning and planning and planning. They won't do anything until they have the perfect plan.
And you need to understand that there is no such thing, as a perfect plan. You need to start doing. You need to start taking action. I look at my business today and it's nowhere close to what I thought I was going to do.
I never planned on having a popular website. I never wanted to be a YouTuber. I didn't even want to write a book, at the start. I never planned on any of these things happening. It wasn't part of my dream plan.
I thought I was going to be a speaker. And I showed up when I did my first event and three people showed up, and I just loved it so much. On paper it looked like a terrible idea. You can't get more than three people to show up to a free event, how are you ever going to turn this into a money making business?
"You need to understand that there is no such thing, as a perfect plan." – Evan Carmichael
Quit now, save yourself a lot of frustration and headache, and go do something else. I think it's so important that you start. I never thought I was going to run, and own a Salsa Dance School.
I didn't do any dancing growing up. And I came out of a relationship, and I wanted to pick up dancing, and I walked in to a Salsa class, and I'm too tall and I don't speak Spanish, and I've never heard the music before, and I take huge steps, and I'm learning as an adult.
All these things against me in the perfect plan, and here I am, fast forward, how many years later, I now run, maybe the largest Salsa Dance School in North America. The key is that you start. And that you adjust. You can have a plan. It's not just, have zero plan.
You can have a plan that you think makes sense, and that works. And then go do something about it. Stop just thinkin' about it. Stop just sittin' at home planning more plans.
Plans on top of plans on top of plans. Go do something about it. 'Cuz some of your assumptions are going to be wrong. Because once you get out into the market, you're going to discover new things, that you couldn't of planned for or prepared for.
Because opportunities are going to come to you. And maybe that's the right one to jump on to help drive you forward. Start! And adjust.
So the question of the day today is, I'm curious, "What was something that you didn't see coming? "What's an opportunity you jumped on, "that wasn't part of your plan, "and that you're doin' right now?" I'm super curious to find out. Leave in the comments below, I'm going to join in the discussion.
I also want to give a quick shout to Frank Orlando, from orlandowealth.com. Frank thank you so much for picking up a copy of my book. Your One Word, it really, really, really, really means a lot to me.
So thank you guys again for watching. I believe in you. I hope you continue to believe in yourself, and whatever you're one word is. Much love and I'll see you again tomorrow morning for another shot, of Enspresso.
♫ I wake up every mornin' ♫ Expresso keep me goin'
---
BONUS
Hey Believe Nation we're working on a special top 10 of Neil Strauss as well and here's a quick preview of some of the clips we're going to include. I hope you enjoy.
*******
Number one rule of writing is this. Nobody cares. Nobody cares about you, they don't care about your thoughts, they don't care about your ideas, they don't care about what you have to say, what you did yesterday, or anything, the do not give a shit.
And from there, can you make them care? Everything I write, I assume that nobody cares. That they have no interest. And if I start from that perspective, then if I can draw you in, through the writing, that's where the story begins.
So just assume. Start by assuming nobody cares and how can you draw them into your story or your point. Number two, then. One way to draw them in is something called Open Loops.
Who here knows what an Open Loop is? Has anyone seen the new Dr. Strange movie? Any one seen that? Cool, Cal you saw that, so is it good? Okay, by the way that's an Open Loop.
"If I can draw you in, through the writing, that's where the story begins." – Neil Strauss
An Open Loop was I asked you what an Open Loop was, and then rather than explaining it, I went on to another subject and talked about Dr. Strange or something.
So an Open Loop is, if I can start with something that captures your attention, and 98% of you didn't know what an Open Loop is, you're probably curious about it now because I've been talking for two minutes and still haven't explained it yet.
Right, an Open Loop is at the top, can I tell you something that you're interested in and you want to know the answer to, and wait 'til the end. How many times have we stayed through a really shitty movie just so you want to know what happens at the end, right? It can be the worst movie ever, but I want to know how that happened.
Right, so one is to use the idea of Open Loops, and it's true in relationships, you meet somebody you have a lot in common with and start telling all these stories, you want it to continue.
So an Open Loop is a great way to create intrigue 'cuz we're creatures who love story telling. Right, early, early, story telling is part of our DNA. So creating Open Loops at the top of a post, or in a book, is really powerful.
*******
Four things, when someone gives you feedback or criticism, however it's intended, whether ill or positive, and so one is not to take it in, but to kind of catch it I think of it like a catchers' mitt, if you tell me something, you come across this way, I'll grab it and then I'll look at it and I'll think "Okay, is it true?" If it's true, cool, I'll put it in and then I'll learn from it. If I think it's not true, cool, I'll throw it away, no harm, no foul. I'm not going to dwell on it.
Yeah.
Right. And I think everybody needs this in this world 'cuz we're all on, most of us are on social media, and we're all getting like–
All our thoughts are getting picked apart.
Right.
All the time. So we really need this more than ever. Then the third one is, you get it and it's a maybe, well I'm not sure. You said this about me, I'm not sure.
What do you guys think?
What do you think?
I'll ask my friends and I'll ask other people and get some feedback and if it's true, well cool, maybe I'll learn from it. If everyone's like this "It's total nonsense, "ignore that dude." I throw it out. But then there's a fourth one, and this is where the real growth is. Do you know what the fourth one is?
I don't.
The fourth one is, you get it, you throw it out. I'm talkin' to you and then maybe later I'm talkin' to you, I get it, and I'm like "Nah", so should I throw it out, and then later I'm talkin' to someone else, I get it. It's the third time it's come back to me, I've thrown it out. I'm like "Wait, maybe I've got to "take this thing a little more seriously"
Right.
And it becomes a maybe, and then it becomes a yes. And that's when the big growth thing is, because you kept ignoring this thing that was in your face.
So the best feedback, like where you really grow, is you keep getting the same feedback, you keep dismissing it, at some point you say "Wait, "maybe they have something."
So one way I do this is, I get together a group of people, and we sit together once a week and talk about stuff going on in our lives.
I find group therapy really powerful, because if it's just one on one, I can just say I disagree with you, but when four of five people are saying "Hey dude, "no you're really coming off like that, "or you're really having this problem in your relationship "and maybe need to look at it." And five people are saying it. It's pretty hard to dismiss them.
*******
We treat ourselves horribly. We talk to ourselves in ways that we would never ever allow a stranger to talk to us, right? If somebody here walked up to you and said "You're not interesting, you've got nothing good to say, "you're not enough and you're not attractive." You'd be like "Fuck you, let's fight." So, why do we allow ourselves to talk to ourselves that way?
So if there's sort of a message I can give you guys today, that's going to turn and help you get over approaching anxiety, is start treating yourself the way you want that person you're approaching to treat you, right?
If she said that she's not going to say anything half as mean, as the shit you're telling yourself, you know, so you got nothing to fear anymore, right? 'Cuz you've already given yourself the worst of it.
If I could give you one thing this whole weekend, it'd be to stop talking to yourself this way. So every emotion has it's corresponding action.
You may feel a fear of rejection, right? But where is that coming from, like you were saying earlier, if you're giving someone worth and value, higher status than yourself and you're less than them, what's that saying?
That's shame. Shame about who you are. Shame that you're not worthy to talk to this person. Shame that this person somehow is going to' have some power over you, or going to hurt you, that you're not enough, that you're not good enough, you're not attractive enough, that you're not rich enough, you're not socially comfortable enough, that you're too awkward.
What ever it is, that's shame about who you are.And what happens, right, you're shame when you walked in turns to joy. So the overall idea is if you can approach from a place of joy, we offer a place of joy instead of a place of shame, you will have no approach anxiety.
That's what we call, back in the dang ging days, being In State. You know, being in state, is just what, really, having joy is. The overall thing is if you walk out and you're like "Okay, alright, there all these people "and they're going to approve of me, "and if they approve of me I'm going to feel good about myself, "but if they don't approve of me I'm going to feel shit, "myself, and I'm going to go out and improve my self-esteem "in the hands of every stranger I talk to."
You're just setting yourself up for trouble. You know, you can push past it. Using a lot of the stuff I talk about. But you're starting off with a giant, giant handicap.
---
You might also like
---
More from Entspresso
---
Today's message is be confident. Good morning believe nation, it's Evan. My one word is believe and I believe that …