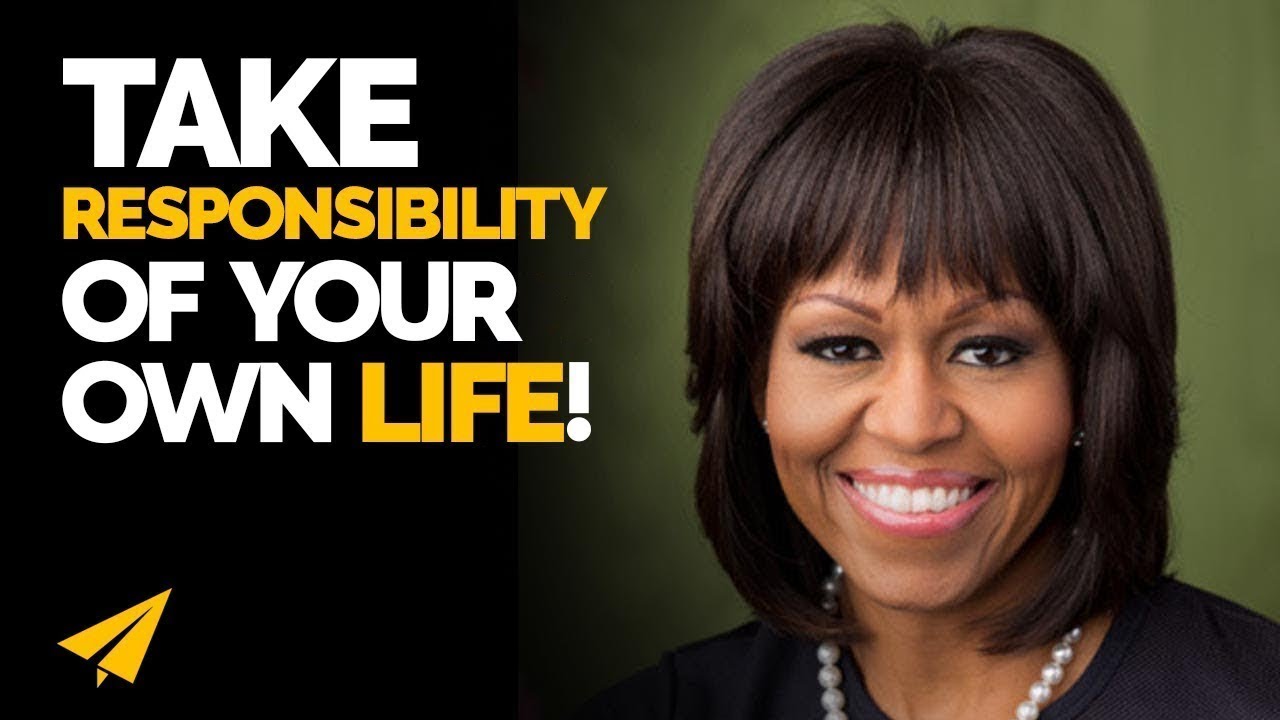 Good morning, Believenation! My name is Evan Carmichael. My one word is believe and I believe that entrepreneurs will solve all of the world's major problems. So, to help you on your journey today's message is choose your own path. Over to you, Michelle Obama.
Choose Your Own Path – Michelle Obama
I want you all to stay true to the most real, most sincere, most authentic parts of yourselves. I want you to ask those basic questions. Who do you want to be? What inspires you? How do you want to give back? And then I want you to take a deep breath and trust yourselves to chart your own course and make your mark on the world. Maybe it feels like you're supposed to go to law school but what you really want to do is teach little kids. Maybe your parents are expecting you to come back home after you graduate but you're feeling a pull to travel the world. I want you to listen to those thoughts. I want you to act with both your mind but also your heart. And no matter what path you choose, I want you to make sure it's you choosing it and not someone else.
Evan Carmichael
Everyone around you has a plan for your life. Everybody around you; your parents, your teachers, your friends, your neighbors, your grandparents, everybody has an agenda for your time and an opinion on what you should do with your life. Where you should go and a lot of times it's out of love. It's out of genuine care and wanting to see you be successful.
But success looks different to different people. And so, a lot of people what ends up happening is they live their parent's version of their lives, their grandparent's version of their lives. They keep going down this path that is not meant for them. And what happens? You may have some success but ultimately you're not going to be happy.
Cause you're not doing the thing that's inside of you. And then what happens is people start complaining. Well, I'm stuck on this path because my parents made me and now I have to go down this job line that I don't want to do. At some point, you have to decide when you're going to live your version of your life instead of your parents or somebody else's. Right?
When you're growing up, you have to listen to your parents. Right? When you're five years old, you're not going to leave home and say I'm going to go forge my own path, right? You're listening to your parents and you adopt some of their beliefs and some of their mindsets and some of those may be limiting.
But, at some point in time, whether it's at 12 years old or 16 years old or 18 years old or 34 years old, at some point you have to start making decisions for yourself. And say, "You know what, this path that you want for me is not the path that I want for myself. I want to go and do this and I get that you want me to do something else and that it's all out of love but I need to go down this path.
And even if I fail, I at least need to know." So, if you're not happy with where you're at. You're not happy with the job path that you're at. You're not happy with the relationship path that you're on. Don't default to blaming other people. It's not your parent's fault anymore. It's not your community's fault anymore. You're an adult.Take responsibility.
If you are unhappy with where you are at in life, it's on you to fix it. And that sucks at the start. It's so easy to complain and to blame somebody else. It would be great to point the finger and say it's the president's fault why you're not successful. That's convenient and easy but it's not the truth.
And when you accept that it's on you and you take accountability and responsibility for where you are then you will also recognize that you have the ability and you have the power to change it in a much more positive direction.
Question Of The Day
So, the question of the day is: I'm curious, what was the moment in your life that you decided that you would go and shape your own path? When was that? Tell me your story. Share it down in the comments below. Super curious to find out.
I also want to give a quick shout out to Jane Cassell. Jane, thank you so much for picking up a copy of my book, Your One Word, and posting it on Twitter and LinkedIn. I really, really appreciate the support and I'm glad that you enjoyed the read.
Thank you guys again for watching. I believe in you. I hope you continue to believe in yourself and whatever your one word is. Much love and I'll see you guys again tomorrow morning for another shot of Entspresso.
---
BONUS
Choose Your Own Path
Priyanka Chopra
But, see what is the choice? That you walk the path like everyone else dressed in suits, go to work, and come back, and never have a legacy. Or you swim upstream like a trout against the norm and then whatever little you achieve is only yours. It's not like everyone else. And I'd rather have something that is my path, paved by me. Something that is my legacy, my own self, my own achievement than being one of the many successful people in the world.
Elizabeth Gilbert
Every pursuit, no matter how glamorous it may seem, no matter how exciting it feels to you, no matter how much you feel like you were born to do it, comes with a shit sandwich. And so the question is not what do I love?
The question is what do I love so much that I don't mind eating the shit sandwich that comes along with that thing? So for me, in my life, writing is the thing that I love.
And the shit sandwich was the seven years that I was not getting published. And that I was coming home from my job as a diner waitress, as a bartender, as an au pair, as somebody who worked for flea markets, as a cook.
And I was coming home tired and smelling like other people's french fries and sitting down and doing my real job which was to write. And then to go to the mailbox the next day and get another rejection letter. And then say, "Do I still want to do this?" Cause this sandwich sucks.
Am I ready to take another bite?
And I did still want to do it. And now even as somebody who makes their living as a writer, there's no end to the shit sandwiches. It's like, oh hello horrible review in prominent newspaper. That's your shit sandwich today, Liz. You still want to do this work?
Yep.
Yeah, I still do. Still worth it. Like, hello awful comment on social media from somebody who thinks you're a pile of dog shit. And just has like chosen every possible way that they can just cannot get it out of their system fast enough how much disregard they have for your entire life. Still want to do this? Yeah, I still want to do it.
You know, so that's the question. Because if the first time you encounter the shit sandwich you're like, "Well, this isn't worth it." Then that's not the thing you're supposed to be doing.
Yes.
And there are plenty of things in life that I have run into the shit sandwich and I've been like, "So not worth it." So not worth it. Like this is not .. I don't want to do this. Like, whatever the alleged benefits of this thing might be, no. Soul cycle, no. You know, like I know it's probably really good for me but I feel like throwing up right now cause it's just too hard.
You'll not be seeing me here again. You know like, and I love my sisters at Soul Cycle, I just don't like feeling like I'm going to throw up when I exercise. So, it's not for me. And so that's the question. So, if you go into this thing thinking, "If I follow my bliss and I live my dream and I stand in my truth, then everything will be great."
It doesn't mean everything will be great. It just means at the end of the day, when you check in with yourself, and you go in the end, on the balance, is this still better than not doing it? And the answer is still yeah, this thing is still better than not doing it. Then you're on the right path.
Morgan Freeman
I got into the air force because I was .. As it turns out, I was romanticizing that whole idea. We were fighting World War II as I was growing up so we had all these heroic movies. And I fell in love with the idea of flying. And then when I got into the Air Force, I had this big eye opener that racism was rampant there also.
And that I didn't .. I'm not as qualified or suited is a better word for military life. That kind of unquestioning obedience to a lot of things that I think are stupid. Didn't quite go over well. So, when I got out I was an early discharge. It was almost dishonorable. Because I just really didn't fit. But, the catalyst actually was I did get to sit in a jet trainer.
Because I had a lot of people behind me to get me into flight school and stuff. But sitting there it occurred to me that this is absolutely not what I want. It isn't the movies, it's for real. This little red button on the joy stick controls guns with real bullets.
And I sat there for quite a while and knew that if I made a strafing run, I needed a camera here and I needed the people to be able to get up and go back to number one. So, I got out of that plane on the runway at North Island Air Station, a naval air station. And I walked away from that and towards acting. I knew that it was all about the movies. It was all about the movies.
---
You might also like
---
More from Elizabeth Gilbert
---