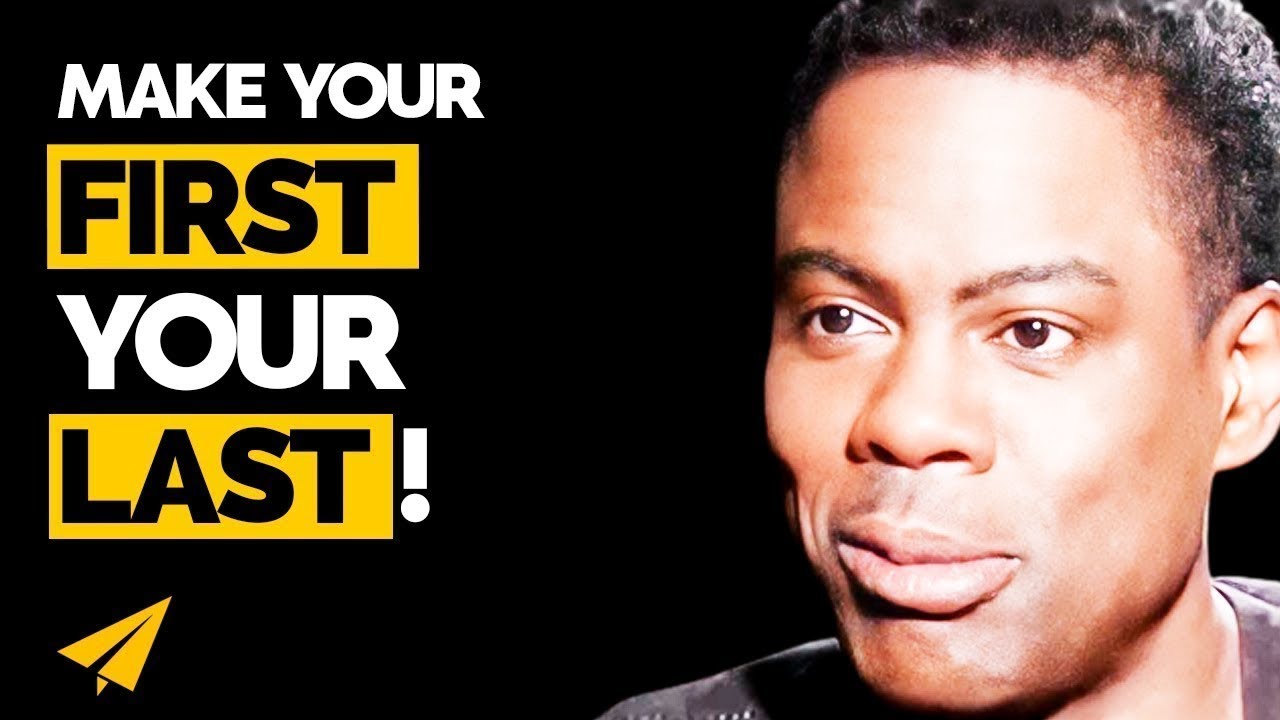 Famous Entrepreneur Quotes
Chris Rock's Quotes
"If it's the right person telling me not to do something, I go, 'Oh, I got something here.'"
"Some guys watch stuff and go, 'I want to do a movie like that.' And I watch movies and I go, 'Okay, I don't want to do that cause I saw it.'"
"I'm just trying to do the best work I can, work that I can be proud of later on."
Chris Rock's Top 10 Entrepreneurship Rules For Business and Success
He's an American comedian, actor, and producer. After working as a stand up comic, he came to wider prominence as a cast member of Saturday Night Live. He was voted as the fifth greatest stand up comedian of all time by a poll by Comedy Central. He's Chris Rock and here's my take on his top ten rules for success.
Rule #1: Don't Listen To Others
You know, people try to tell you not to say things all the time. But, you know, I practice everything. It's not like I ever get up there and think of something on stage or think of something on T.V. I'm pretty much, you know, trying it out.
And honestly, sometimes, if it's the right person telling me not to do something, I go, "Oh, I got something here." You know what I mean, like, "Oh, you don't like it? "It must be good."
Rule #2: Find Your Calling
Interviewer: There's a benchmark, you've set a high benchmark, certainly where the stand up is concerned, a high benchmark. How do you keep pushing past that line?
I mean, it's almost like every, it's like Jay-Z said it best, like, make your first your last. Everything you do you have to do it like it's the last thing you're ever going to do. And, you know, to get maximum effort out of it.
But it also goes, when you start something, it's almost like it has to be a calling. Again, you know, like, you know, we're all like preachers. I was called into stand up. I was called into comedy.
And, you know, I just, the next project has to be something that just calls me. You know what I mean? I'm a decent business man, you know, but, I just really have to be emotionally attached to something.
Rule #3: Have Tough Skin
Interviewer: Before I leave your early life, I also heard that you went to a school that was out of your initial neighborhood and
Yeah, I was bussed. I was bussed to school. It was pretty, you know, whatever man. People, you know, were mean and they called you nigger and whatever and spit on you and threw feces and piss and whatever at you.
And, you know, it is what it is. There's nothing I can do about it. It made me stronger. I'm not here without it. You can't phase me with meanness because of it. So, you know, that was my grade school experience, grade school, high school, junior high school.
Rule #4: Be Curious
Interviewer: And what inspired this story for you?
I don't know. I just wanted, I'm always, my interest is always like, what haven't I seen? You know, some guys watch stuff and go, "I want to do a movie like that." And I watch movies and I go, "Okay, I don't want to do that 'cause I saw it." Now what can I come up with? And I haven't seen this movie.
You know, and I really haven't seen this movie with a black person. You know what I mean? So, that's me. It gets me into trouble sometimes, but I'm just kind of curious that way. Like, okay, can we see a new movie?
Rule #5: Care About Your Fans
Interviewer: How do you personally navigate it? Is it really that easy for you, that simple? You crack a joke and keep moving?
I just keep moving. Here's the thing with me, I don't take the adulation that serious. Because if I put, you know, if, you know, The New York Times says, "Oh, he's a genius." And I just run around going, "I'm a genius! "The New York Times says I'm a genius!" Then if they say I'm an idiot, I got to say that, too.
That has to be important to me, too. So, I find that if I don't pay attention to any of it, then I can ignore the bad stuff. That's me. A lot of people take the criticism more to heart. I just worry about my fans, that's it. That's the only people I'm worried about.
Interviewer: You say worry about your fans. You mean by that, what?
I'm just concerned with what my fans feel. Like, how do they feel about the art? How do they feel about the movie? How do they feel about just me as a person? The people that are into me, not the people that aren't into me.
You know what I mean? Like, I don't listen to country music. So I am not qualified to say, you know, the Travis Tritt album is not good.  So I think only people that are your fans can be your critics. You know what I mean?
You know, I could maybe say a Prince album I don't like, but there are none. You know what I mean? Because I listen to Prince. So, yeah, I'm fine.
Rule #6: Be Proud Of Your Work
Interviewer: But you've awesome said that Top Five is a kind of make or break movie because you've written it, you've directed it, as well as being in it. I mean, you could have chosen the predictable path, couldn't you? And just have taken your comedy and gotten bigger and bigger and bigger, but you haven't.
I mean, I could've done something more contrived. Yes, I could have done something where my partner is killed. I'm a cop and they killed my partner and I have to get revenge on the killers of my partner.
I could have done that movie, which everybody does. And it probably would've been bigger than Top Five,  honestly. But it wouldn't have been better. It wouldn't be better. So, I don't know.
I'm just trying to do the best work I can, work that I can be proud of later on, work that works on different levels. You know, a good movie or a good stand up is different every time you watch it.
Rule #7. Work With People You Know
Interviewer: I was wondering, how important was it for you to get this large ensemble of, you know, your friends, these very talented comedians, these new comedians, as well. You know, why was that important for you to do.
It was just important to get the best people in the parts. That was pretty much it. I mean, and it's hard to make comedy with strangers. So, you got to know people. So, you know, I know Cedric. So I know that part of him. I know that gritty part of Cedric the Entertainer that everybody else might not know.
I know that J.B.'s a, you know, been married for like 20 years and he's got a couple daughters. And I know he can be like a calming influence, where most times you see J.B. in a movie, he's a crazy guy! So, you know, I know this about, it's easier to work with people you know sometimes.
Rule #8. Create For Your Audience
Interviewer: You're happy with it, though?
I'm real happy with it. When I see this thing play in front of an audience, people go crazy.
Interviewer: What's you, is there one of those Inside the Actor's Studio questions. So what's your process, once you do this. You want to watch it with other audiences? You don't want to see it? You study this thing? What's your process once they say "cut" and that's a wrap?
You know, you cut it, you know, you got to watch it with an audience. It's not drama. Drama is whatever you want it to be. When you make drama, you are like Picasso. And it's like, "Okay, whatever."
When you make comedy, you're not that kind of painter. You're like a painter down at the promenade painting portraits to people. You know, so, "Oh, you want more blue in your eyes? "I'm going to put more blue in your eyes."  "You want to be taller? "Okay, you're taller." You know, I'm one of those guys.
That's so, when you make comedy, you make it for the people. You know, you try to have as many screenings, as many tests, and you do focus groups, and you read the cards, and you try to get a peek of what they want, and that's comedy, man.
Rule #9. Follow Your Passion
Interviewer: Where did the comedy part come in? Because you left high school to start a comedy career, didn't you? Was comedy like a way of getting back at the bullies? Or where did it come from?
I always liked comedy. I was always interested in comedians, even when I was a kid in second, I was seven years old. I thought Bill Cosby was unbelievable and I thought, you know, I mean, Richard Pryor and John, all these guys, you know.
I would watch the Dean Martin Roast, and all of that stuff, Abbott and Costello. You know, at every point in my life, there's no point where I wasn't obsessed with comedy. And I'm still obsessed to this day, you know. So, you know, it was just a natural thing for me to do.
Rule #10. Be A Great Performer
---
Thank you guys so much! I made this because Chris Turnier asked me to. So if there's a famous entrepreneur you want me to profile next, leave it in the comments below and I'll see what I can do. I'd also love to know which of Chris Rock's top ten rules had the biggest impact on you and why.
Which one really made you think and feel, is going to change the way you do something in your business or your life? Leave it down in the comments. I will join in the discussion. Thank you guys so much for watching. Continue to believe and I'll see you soon.
---
BONUS
Model Success
Yeah, my grandfather, my dad's father is a preacher. I used to spend a lot of time with him. I would watch him right his sermons. I pretty much do what he did. He'd write the topics and then he would rith on the topics and I kind of do comedy like he preached.
Interviewer: Is there also like another relationship? Because when you're delivering a sermon, you are trying to get at a truth.
You are trying to get at a truth. I mean, I watch reverends as much as I watch comedians. I watch T.D. Jakes every Sunday. I watch Joel Osteen every Sunday.
Interviewer: Now why?
'Cause they're really good performers and they're doing exactly the same thing I'm doing, they're just going for a different thing.
Improve Your Self
You said there was a time when you thought when you were doing stand up, that you felt like you were bad for so long. Like, what do you mean bad for so long? And how did you move over that hump?
I mean, when you start out, when we do anything, I'm sure, like, you've written, you've been writing for a long time. And if you look at something you wrote ten years ago, you're like, "Oh my God! "Did I think this was decent?" So, it's not that I was bad. It was just when I look back at it, it's like, "Wow, I did not even have an inkling "of what I was doing 'til about 8 years in."
Let Tragedy Drive You!
My father never really saw what I became. He never really saw it. He met Eddie Murphy, actually. That was like kind of cool for him, but he, you know, my father's like Richard Pryor, man.
So even that wasn't even, it was like half a big deal. "Oh, that's your friend? "I guess he's funny." You know, it's like, it wasn't really big deal, meeting Eddie Murphy. But, yeah, my father never saw any of this stuff.
My dad died in '88 of he had an ulcer explode. So if you have an ulcer, get it checked out. And you know it triggered a bunch of other stuff. He had high blood pressure, he had diabetes. He was just old, he was just poor, and working since he was like 12. And, you know, didn't have a good diet and his body just gave up.
Interviewer: Do you regret that he didn't get to see you succeed?
Oh, I mean, I think about it probably every day. I think about it ever day. But also, you know, sometimes tragedy can be the best thing. Would I, would I feel the need to have the drive I do if he was alive?
'Cause, you know, he was my safety blanket. And, you know, without the safety blanket, it's like, "Okay, I got to–" A part of me is just constantly trying to create that again, trying to create security. That's like trying to make money, and trying to write movies all the time and, you know, I'm like always-
Interviewer: You're not resting on your laurels.
Yeah, I'm not resting. For a guy that's been doing this a long time, I'm not really resting. And part of that is just trying to recreate the security I had as a child. And that's never going to happen. But I can do it for my kids. You know, I'm never going to be secure again, but my kids can.
Summary
Rule number six is my personal favorite, and I'd love to know which one you guys like the best.
Chris Rock's Rules
BONUS
I hope you enjoyed this article, make sure to check my Chris Rock video on his Top 10 Rules For Success as well.
---
You might also like
---
More from Chris Rock
---
Good morning, Believe Nation, my name is Evan Carmichael, my one word is Believe and I believe that entrepreneurs are …
Good morning Believe Nation. My name is Lily Ma and my one word is extraordinary. I believe that people are …