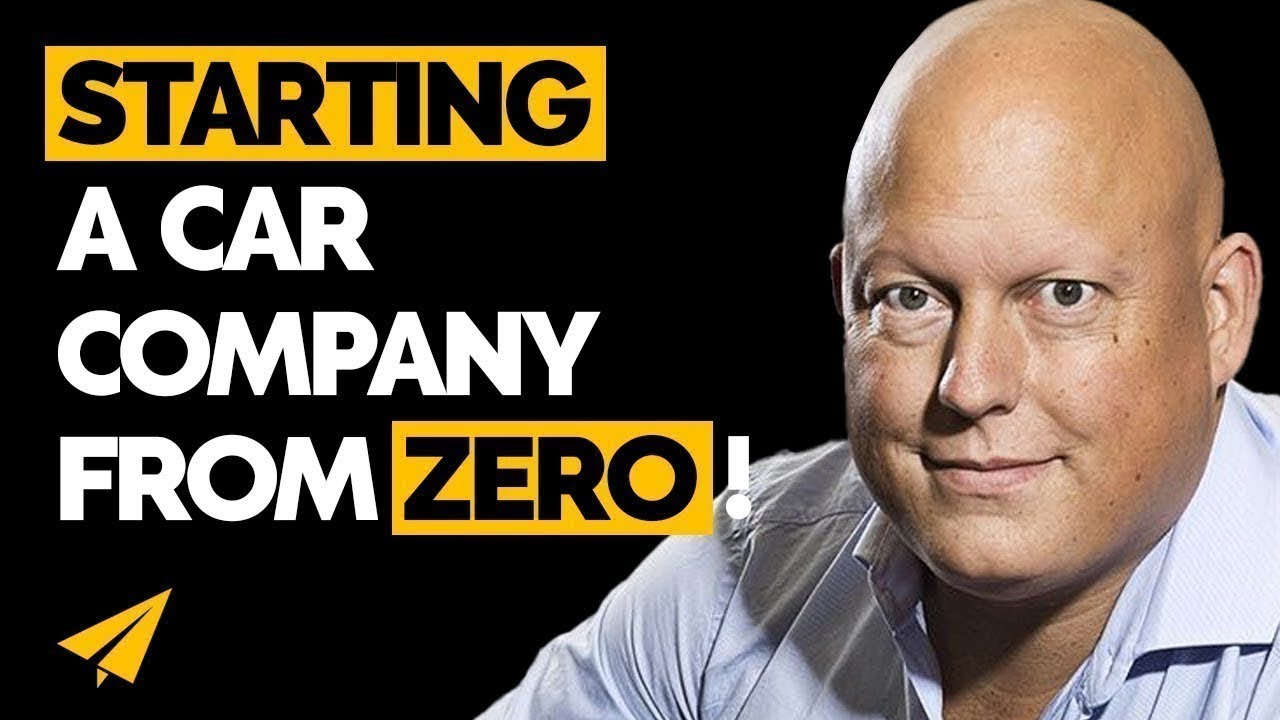 He's the founder of Swedish high-performance car manufacturer Koenigsegg Automotive.
He showed interesting cars from an early age. At six years old, he drove a go-kart for the first time in his life.
He created the world's fastest road car, which can go from zero to 400 kilometers an hour in just under 20 seconds. He's Christian von Koenigsegg, and here are his top ten rules for success.
Christian von Koenigsegg's Top 10 Entrepreneurship Rules For Business and Success
Rule #1: #Believe It Is Possible
Narrator: In only 21 years, Koenigsegg has come from nowhere to be one of the highest regarded hypercar manufacturers, being counted alongside Ferrari, Lamborghini, and Maclaren. How have they pulled that off?
Well, we had to work hard, be a little bit innovative, and don't believe in the hype that it's impossible.  But it's, you know, every day we strive and push and learn and adapt. And when do you do with that for 20 years with a great focus within the group, you can do pretty much anything. I think that's the simple answer. But for sure, it's not easy. You have to be prepared to work hard for it.
Rule #2: Have Long Term Ambitions
From a personal perspective, my ambition has always been to build cars. That's why I started my car company at 22 years of age, 15, 16 years ago. And that's all I've been doing since then. And then this opportunity presented itself to be able to build cars in a larger scale with brand that was very dear to me. And we jumped on this opportunity, and here we are today.
So the Koenigsegg group, we consists of entrepreneurs, and if you look at all our track records, whatever we started, we still have and continue with and work with to make it prosper. And we have the same ambition with Saab.
We have gotten into this because we want to live with Saab and work with Saab for a very long period of time. It's not something we do short-term. It's a long-term ambition. And basically, we don't do it because it's easy, we do it because it's a challenge, it's a real challenge and it's a worthwhile challenge where we can make a difference.
Rule #3: Chase Your Dreams
Christian: Well, as I mentioned, I have this, I saw this Norwegian movie when I was about five years old. And about this guy who built a really interesting sports car. And I remember saying to myself that when I grew up, that's what I want to do as well. I want to build my own car, cars, and sell them.
So that dream never left me. So when I was 19, I started my first company, which was a trading company to make really big money with the ambition to use that money to build my own cars. And then when I was 22, I had made a little bit of money, and then I started the car company. And that was in 1994, which was 18 years ago.
Rule #4: Dare To Try Something Different
Narrator: Koenigsegg are fully independent and manufacture their cars entirely in-house. We asked if this independence is a benefit to them.
I do, I do. For example, with the Regera, I don't see any of the other established super hypercar brands daring to remove shifting of gears. It's such a fundamental thing to take away from a sports car. I think it's only Koenigsegg that could make that decision.
And I'm very confident about the decision, I'm very confident when people experience that direct power, that instant control you get and directness, that they will quickly understand why that's a very good alternative to shifting, even though shifting is fun, nice, and part of driving a sports car. So for example, yeah, we have more freedoms like that, or take more freedoms like that.
Rule #5: Empower People
Of course, we want to infuse Saab with spirit and kind of make people really look forward to go to work and they can, they feel that they can make a difference. It's basically about empowering people.
Saab is, from the Koenigsegg perspective, from a Koenigsegg supercar company perspective, a very large company, but still, it's people, and they're developing cars on a larger scale. So we still think we can get that kind of family feeling going, but it's mostly important to empower people to know they can make a difference and really work together.
Rule #6: Care About Your Product
I see the company as a part of my family. And I guess I see our cars like my children in one way. I have two sons which I love very, very, very much. But also the cars are my babies somehow. I really care a lot about them and it's like a part of myself somehow.
I don't separate my own being from the company or the cars. We're really connected together, and it's my life. And I don't see my work as work. I don't see it as my whole day. It's just who I am and what I do.
Rule #7: Utilize Your Strengths
I think it's one of our strength. I mean, there are strength of being a big car corporation with all the resources you have at hand, but there are also strengths for a small founder-driven sports car company that we have to utilize to compensate for the lack of size.
Rule #8: Stay Ahead Of Your Competition
So, of course, we heard that all the big brands in the industry were creating their next-level super hypercar, hybrid cars, and we were not sure what they were coming out with. We were assuming they want to trump our car, the Pagani, the Bugatti, in every aspect.
And simultaneously, we started developing the One:1 program, so we want to make sure we overshot what we already did by quite a margin, and maybe we brought it little bit higher than we needed to, we will see.
But I think it will compare quite favorably to these new hybrid hypercars. But when it comes to us competing with the big boys, I think that's what we've always been doing, so that's nothing new. It's really a David against Goliath kind of scenario that we're pretty used to and are fine with and enjoy at the same time, I would say.
Rule #9: Listen To Your Customers
So the motivation to create the One:1, even though we already had a superbly fast car that also was good for track use, was that some of our customers really wanted more of a cup car, a GT car, just specifically developed for the track, but they also came with the demand that you should have full road usability and full homologation, and that was a bit of a challenge, because what we ended up building was more or less a car that looks and feels like a GT1 car on the track but then you push a button, it raises up, and you have all the creature comforts, air conditioning, satellite navigation, Bluetooth telephone, air conditioning, whatever, that our normal cars have. But we have to save weight and we have to have more downforce, we had to have a stiffer chassis setting when needed on the track, and also lighter weight. So yeah, that was the motivation and that was the challenge.
Rule #10: Dreams Are Possible
Well, I remember when I started that. First of all, there were many examples of people starting car companies, extreme car companies, and not succeeding doing it for different reasons. And I remember saying to myself, I have to start when I'm young, because it's going to be very difficult, it's going to take very long time, but I am determined to do it, even if it's almost impossible.
And I expected the, I was coming from Sweden, only 22 years old, I expected everyone to say, maybe not racing, but that is impossible, you will never succeed, it's just a dream, and so on. I expected that. So when I got that response from many people, it did not push me down, because I was ready for that response. And it kind of is, that triggered me even more to say, yes, I understand that you think that, but I will show you that it is actually possible.
And I get a lot of, now, feedback and from people around who see this and are doing other things in other areas, not only cars, but they say, it says, you can do that, anything must be possible, so you made me believe in my dream, and now I've done this and succeeded and then kind of thank you, whatever. And that is so great, because it actually proves that even hypercars can be very beneficial to society because it shows dreams are possible, in one way. So yeah, it's just like that, I guess.
Thank You!
Thank you guys. I made this because Mopati Bogatsu asked me to. So if there's a famous entrepreneur that you want me to profile next, leave it in the comments below and I'll see what I can do.
I'd also love to know which of the top 10 tips meant the most to you. Leave it in the comments. I'm going to join in the discussion. Thank you so much for watching. Continue to believe, and I'll see you soon.
---
You might also like
---
More from Christian Von Koenigsegg
---
Hello, Believe Nation! Today we're going to look at how you can bet on your strengths. And as always, guys, if you …
Good morning Believe Nation! Today's message is it's possible. Over to you, Ciara. Ciara I hope to inspire others, and for people to …