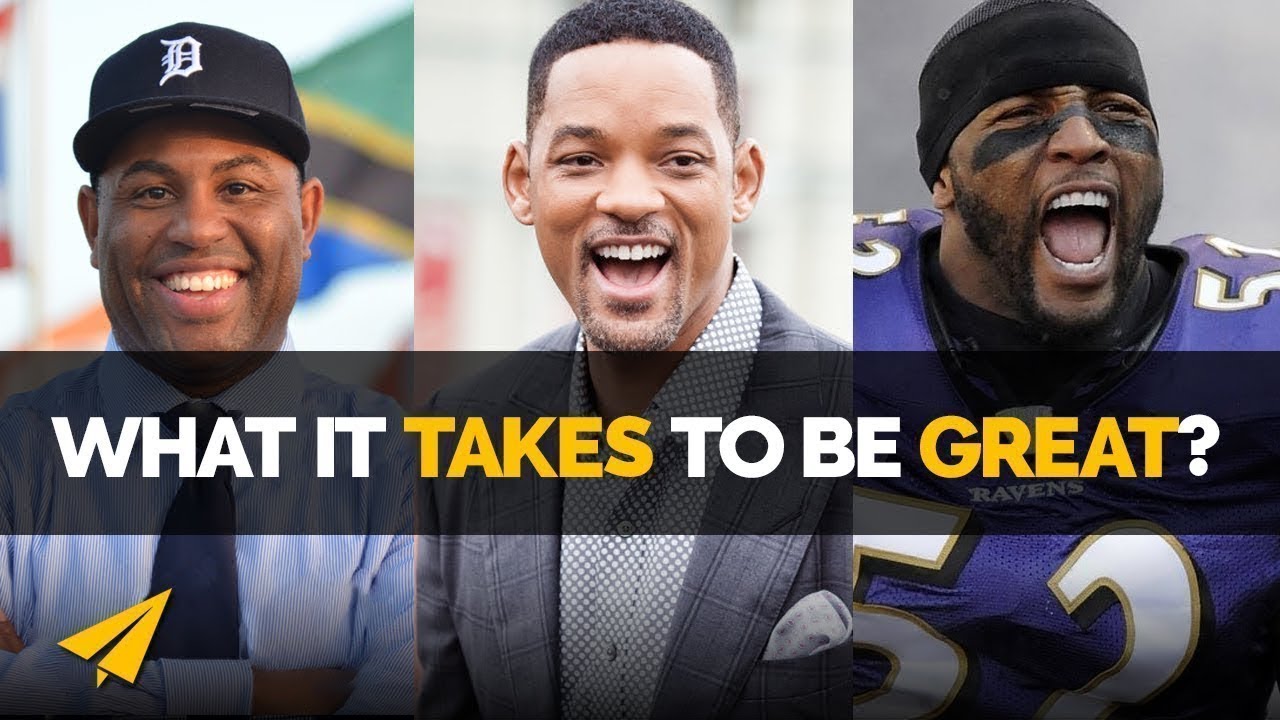 Hello, Believe Nation, my name is Evan Carmichael. My one word is believe, and I believe that entrepreneurs will solve all of the world's major problems. So, to help you on your journey, today we're going to learn how you can commit to greatness. And also, guys if you're watching, if you hear something that really resonates with you, please leave it down in the comments below. Put quotes around it. You might win a prize. But also, when you write it down, it's much more likely to stick with yourself as well, enjoy.
Commit to GREATNESS!
Eric Thomas
Now a lot of you all people talk about The Black Mamba. The Black Mamba, let me tell you something. When you talk about The Black Mamba, you talk about practice, it's a must-have. I watched this dude lose a game, a game. I don't even know if it was the playoffs. I think it was like a regular game against the Miami Heat in Miami, South Beach Florida. I don't know if you've ever been there before, but it's, you want to go.
It's a nice place to just hang out. Especially if you're on the road playing ball. It's a nice place after the game to go get dinner, sit on the beach, it's nice. And I'm sure if you're NBA, they probably got a VIP section for them on the beach. Now unfortunately, the Lakers lost to the Miami Heat because Black Mamba missed a wide open shot in the corner. Set shot, he missed it.
What he did for the next three, four hours while everybody else was getting dressed and going on the beach, he sat there for hours shooting the exact same shot over and over and over and over. Like he had never won a championship. I'm like, now hold up. Where everybody else at on the Lakers? They need to be out there as a squad. But the Black Mamba's out there doing his thing like, "I'm not on them, I messed up. "I've got to practice."
And this is not a coached practice, this is not, the organization didn't call this one. This was just flat out, The Black Mamba was saying, this is a must-have. And where most of you go wrong, you not even 4.0, and you not studying.
Like you not even 4.0 student. Like you a two point, a two five, a three something, and you still not really studying like that because for you it's like, it's not a must-have. It blows my mind. I work with professional athletes, I work with D1 athletes all over the world. And when I look at Twitter and Instagram, it blows my mind how dudes on Instagram, I'm like, "Bruh, you have not won a championship." Like that's what you come here for, to win a championship. And so if you don't win a championship, I don't even know why, there's people broke, I don't even know how you have enough time to do a 30 second video, you broke.
How did you have time to do a video? How did you have time to do a dance routine when you should be practicing? You should be lifting weights, you should be looking at film. You said, not me, that you want to win the tourney, that you want to win it all, that you want to go to the Final Four. How do you want to go to the Final Four, but your schedule don't look like the Final Four? What are you Tweeting about when you broke?"
Will Smith
I realized that to have the level of success that I want to have it's difficult to spread it out and do multiple things. You know, in order to be world-class, and I made a decision, I want to be world-class. It takes such a desperate, obsessive focus to excel on the level that I want to make movies. You know, Star Wars, when I was young, I sat in the movie theater and watched Star Wars, and I just couldn't believe that that movie made me feel like that, just floored and just stunned by the creativity. And just, I'm realizing that in order to move people in that way, in order to touch people in that way, you really got to focus with all of you fiber and all of your heart, and all of your creativity.
Ray Lewis
Making the right decisions is a one on one battle. Whatever the majority of the crowd's doing, find your way doing the opposite. And see nine times out of 10, how right you turn out to be. How many out here, show of hands, how many out here have found out a way to not waste time. Show of hands. So it's simple. See God gives us a lot of things in life, but it's a couple things he don't give us. And time is something he gives no man.
That's the one thing, no matter if you look at your watch, I look at my watch, you look at your clock, I look at my clock, you look at your phone, I look at my phone. Time slows down for no man. So the question is, how much time you going to waste? I gave up on trying to make money years ago. I gave up on entertaining clubs years ago. 14 years since I even entered, even thought about taking a step in anything that doesn't reflect where I'm trying to go.
That's what you got to put in your head. Every decision you make, does this decision influence where I'm ultimately trying to go? Because if it does, you got to get rid of it. So these conversations that I came to have today, I could go all day, because I love sharing the reason why people don't realize what you got to give up to become great. What sacrifices you got to make to become great. What promises you got to make to yourself to become great. Greatness ain't a thought process. Greatness is a lifestyle. It's what you live like. It's what you get everyday and breathe.
Conor McGregor
You know hard work pays. I put in a hell of a lot of work all throughout this buildup and the fight. I pumped out more content that anybody. More content than Fox, more content than ESPN, more content that BT Sport, more content than everybody under my glove, on my own channels. You know what I mean? I'm a mother  work horse from all angles, not just in the gym, but I'm building the media empire now, and we've pumped out the content, and I'm very proud of how it went.
We consistently, daily movies I was releasing, from like a month ago, every single day. Nobody's doing that, so. I'm very proud of it, and I'm very, the work pays. Hard work pay, and we put in the  work and that's why I'm sitting at the top. I put it all on the line, I show up, I perform, and I get the results from that.
Mark Cuban
You know Shark Tank, I do the show not because they're great investments, but I do the show because it send the message to kids 8-80 that the American dream is alive and well. You can watch the show and come to realize that somebody out of Iowa or the middle of nowhere in Texas can start a company, and turn it into something special.
And I think so many families watch the show together that's it's just, particularly in this day and age when so many people are saying what's wrong with this, and what's wrong with that, and what's wrong with America, it just really reinforces that somebody with an idea who's willing to go beyond just an idea to a company phase, and really work, something special can happen. And just reinforcing that is really important to me.
Steve Harvey
And like I've said before, we each have a gift, but too many people miss out because they refuse to sign the lease on their gift. You keep looking for it outside of you. Stop. Sit with yourself. What is it that you do the absolute best with the least amount of effort? That's your gift. But if you are constantly looking outside of yourself, and you don't latch on to your gift, you will never find your purpose. If you want to succeed, you must commit to your own gift and embrace it.
Mike Tyson
A good fighter's not necessarily the greatest fighter that ever lived, it's where do you want to go? A good fighter just to be diligent and committed, and disciplined. Doing what you hate to do, but do it like you love it. Always testing yourself, and forcing yourself to the limits. If you know you love women, then deny yourself that. That's what success in general is all about, sacrifice. From my experience, of any of the little success I may have had, just be willing to sacrifice.
Unfortunately, sometimes you can't have fun accomplishing your goals. And when sometimes people don't have the determination, the will, and the steadfastness, the tenacity, they give in under the slightest struggle.
Tyler The Creator
Greatness is a different definition to different people. Greatness to me is  when I land that  fakie half cab hill on my skateboard or some . Greatness is the  song I recorded last week. Somebody might not find that great, but it's great to me. And that's all that matters. What the  I think, in my head. As long as I like it, that's all that matters. Greatness to me is finally getting my video on MTV. It's on there now, and I'm  I'm happy. I finally got my  on  MTV.
Some people might thing that's selling out or whatever, but I don't really give a . That's  great to me, I'm proud of myself. I've been wanting that since I was seven years old, and I finally got that . Hard work pays the  off.
Own Cook
Martin Luther King tried to commit suicide twice. You guys see what I'm saying here? JFK went through periods of deep illness. Deeply, deeply ill where people thought he would die. These types of things, right? Winston Churchill went through deep, deep depressions. So you can become one of those people, doesn't mean you're going to become one of them, because I mean those guys are in their own  universe, but you can become somebody of great power if you've gone though that because you've been hardened.
Do you guys see what I mean here? If you've been through that kind of bull , then if you've conditioned yourself to pull yourself out of something like that, if the world gets all  up, all the other people, they're used to happiness. They're like, "Whoa, happy." They're like, "My happy world is falling apart. "My happy world is falling apart."  gets all  up, you're like, "It's all good baby." You know, you don't care because you're adjusted to it.
So you've taken conscious control. Do you guys see what I mean? Okay, so there's benefits. Being a hard case newbie means that you can be better than any of the guys that had it easily. It'll be harder to get, but you can excel to a higher level than all the people that were naturally good, if you choose to. But for you, it will be a life of commitment. In the same way that a guy that wants to get kind of big in the gym, if he's going to be big in the gym and he's a hard gainer little skinny dude, he's going to have a higher commitment level. To get to that level, you're going to have a higher commitment level. You're not going to get to average as easily.
And sometimes even striving to stay at average won't work for you because you slip back, so you have to really commit. You have to take your foot off the  parking break, man. You have to burn the boats as they say, And just go for it. As a hard case newbie, if you do that you can slowly build those will power muscles, slowly re-acclimate your body to positivity, build up friends, build up abundance build an amazing situation for yourself, and do amazing, amazing things.
Lewis Howes
Evan: There's a lot of people who get frustrated who then say, "Enough is enough, I'm going to do something." And then the next day they wake up and they're back to their old life. They had this moment of boldness, a moment of greatness and they fall back into repeated patterns and habits and life just gets them down again and they go back to their job and their regular life. How did you break that cycle? this is actually the day I'm going to go and do something bigger?
I think it was just a moment of enough is a enough. I was sleeping on my sisters couch for a couple of years originally, and she had told me, "Are you going to start paying rent?" At about the year and a half mark.  Like, "when are you going to start paying rent?" Because I was just eating her food for free I was a slob, I didn't clean up I was just taking advantage of the situation. And I was 24 years old or something and I just remember being like, "It's time for me to grow up "and do something with my life."
I've sat here for a year and a half, almost two years now, depressed, miserable, whatever I was doing, making excuses. This isn't who I want to be. I aspire to be something greater. My parents didn't raise me to be this way. I wanted to make myself proud. I wanted to make my last name proud. I wanted to make my family proud and I wanted to be a symbol. I think, you know, I've always wanted to be a symbol of inspiration, of possibilities.
From my sports days, I remember the feeling after the games when parents or fans, or parents of other players from other teams would come up to me and say, "Thank you for showing me what's possible. "There was no way you were able "to catch that ball, but somehow you did that. "It blew my mind. "There was no way you guys should have come back "after how much you were down, "and what you did blew me away."
I loved hearing that, and seeing in other people this spark of passion, this excitement of possibility for what they could create in their life. And I wanted to be that symbol of passion and vision, and focus and commitment, towards my dream to show other what's possible. And I've never been the best at anything I've done. In sports, I was always the underdog, I was never the biggest, fastest, or strongest dog.
And I think I just wanted to show people what's possible, so that's what I'm still doing. I'm just a kid from a small town in Delaware, Ohio who had a lot of emotional turmoil inside growing up and I'm trying to show people what's possible no matter where you come from.
Thank You!
Thank you guys so much for watching, I hope you enjoyed. I'd love to know what did you take from this video that you're going to immediately apply somehow to your life or to your business. Leave it down in the comments below. I'm really excited to see what you have to say. So, thank you guys again for watching. I believe in you, I hope you continue to believe in yourself, and whatever your one word is, much love, I'll see you soon.
---
You might also like
---
More from Conor McGregor
---
Today, we're going to learn how to prove people wrong. Hello, Believe Nation, it's Evan. My one word is believe and …
Today we're going to learn from Floyd Mayweather and Conor McGregor and their motivation. What's up believe nation? It's Evan, my …
Today's message is live in the moment. Good morning, Believe Nation! It's Evan. My one word is believe. And I …