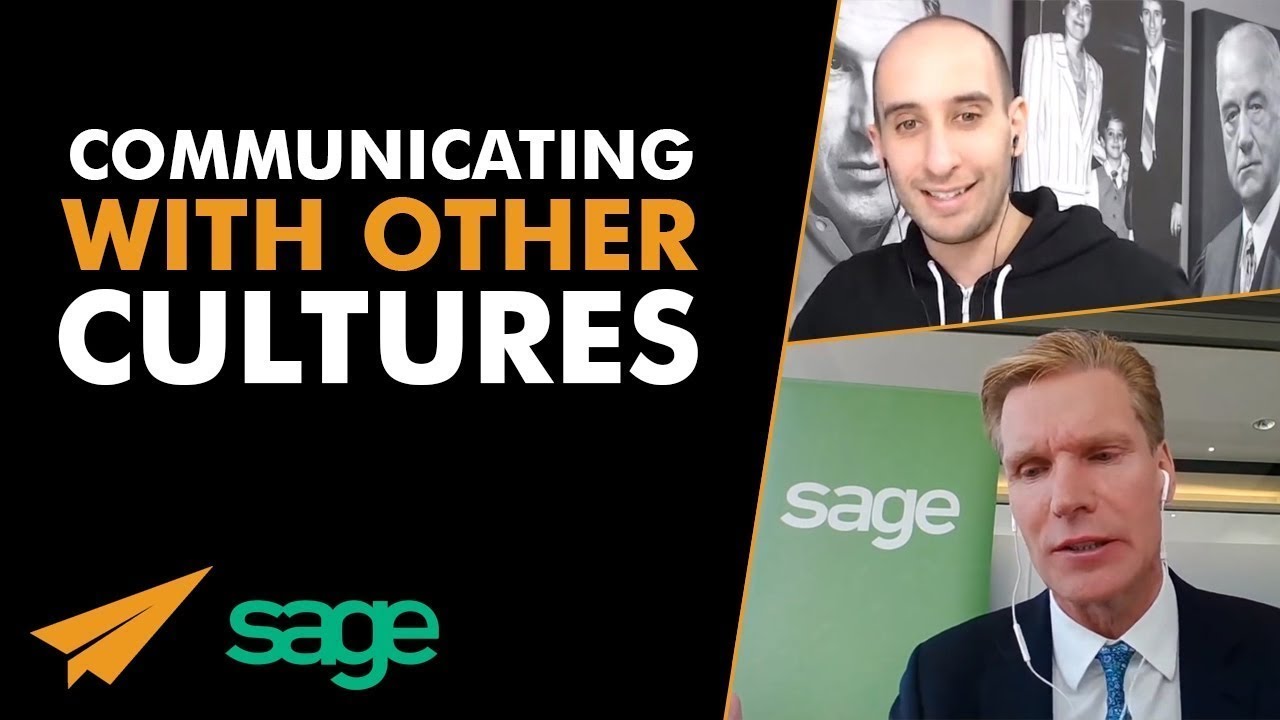 Evan: Next up, coming in from Luigi, "Any suggestions on how to better communicate "with people from other countries? "I mean foreign languages, "different cultures, different beliefs." So, I mean, Steve is a great guy to talk to. He's got offices around the world, thousands and thousands of employees. How do you handle it, Stephen?
Stephen: Yeah, I think Luigi, I think the great thing is, and this is the power of the Internet, is everything's available. 'Cause I think there's a love about business, that you want to become, always educating yourself more and more, and you know, Evan, I speak to you, great business people are just great people in life.
Normally they're very tolerant, they love diversity, they love inclusion, they've got tremendous outreach, and they kind of love the stranger, in many respects. And when you're going and you look at your business, Luigi, whether you're going kind of across the border or you're looking to going out to Asia or Europe, first of all, I'd almost say again, back to kind of Evan said it is, do a bit of research about the culture, the difference, and how your idea might translate.
Then the other thing is, the great thing about if you live in Canada or US, you'll find loads of people, whether they come from, could be Asia, Africa. They're probably within half a mile of where you are. Go and test-drive some stuff in terms of how it might work with them.
The great thing I've experienced is obviously, the world is diverse, we celebrate the tolerance, and actually everything is fantastic about, cities like Toronto, you walk down the street there, it's a fantastic multicultural center. Same with New York, same with London, but in reality, what I would say, the nice thing about products and services, if you got a great idea, it can go global.
It can go viral, and the Internet has no respect for international boundaries, and that's the game changer in the last 13 years. That gives you a huge platform cuz you now have a canvas that is the world. That is your canvas, that is your playground.
So I definitely think it's worth going for it, look into it and do research on the web, and then, road-test stuff. Launch a an Italian website. Before you had to get translated stuff. You can do  translation stuff, then get an Italian friend just to cast their eye over it, make sure it all makes sense. You can go and have an e-commerce platform with your product and test-drive it into that marketplace.
It's just incredible, we've got loads of customers, great customer of ours, Jen O'Price, who started a business up in the north of England, Yorkshire. She started a great organic, really healthy food business, and now, I think she exports to 29 countries, loads of different currencies, and when she started her journey, she was passionate about healthy, organic eating. That was her dream, and really, if we're honest with ourselves, she probably didn't know she'd be as successful as she has been, and she didn't know she'd be in as many countries.
But I think what the power is, and again, it comes back to kind of believing in yourself, and everything Evan talks to, is if you've got a great product, almost, if you put it out there, the market will find it, it will create a pull, instead of what was the old way where you had to push, push, push, push. So you've got that kind of canvas around the world, find out and do the research, and then I would go for it. Road-test it, test-drive it, and scale up on what works. Evan?
Evan: Yeah, I have two thoughts. The first thing that comes to mind is that the intent is most important. I think a lot of people avoid going into another market or dealing with people from different cultures because they're just really worried that they don't speak the language or they don't know the culture, and that prevents them from taking any action. Your intent is most important.
If you know that you can solve this person's problem in that market, then you should go out and do it, because it's coming from a good place. Yes, you're going to make some mistakes, you're going to trip up a couple times, and the thing that gets you through is the intent.
You're not going in there trying to harm them, you're going in there trying to help, and even if you make a couple mistakes, you say the wrong word that maybe, you mispronounce it, it becomes something offensive, you can work your way through it because they can feel the genuine care that you have, to try to help. Don't let that fear of not knowing the culture prevent you from doing something potentially really helpful and great in that market. So that's first
"If you know that you can solve this person's problem in that market, then you should go out and do it, because it's coming from a good place." – Evan Carmichael
Stephen: You've got your second point, you go for your second point. No, go on, I'm just in the mood now, so go for it.
Evan: Okay, the second point was I think, something that Stephen does actually really well, is he's always hyper-aware of what's happening in the markets of the places that he's going to, and so every time we get on, he's talking about the Blue Jays, he's talking about my prime minister, he's always super aware of what's happening in the markets he's going to. I would like to think that Stephen's favorite baseball team of all time is the Toronto Blue Jays. You're going to break my heart Stephen, if you say no.
Yes, go Jays.
Evan: But he's really great at that, and so if you know you're going to a local market, just understanding some things about them, understanding what's relevant in the news, understanding, I like baseball but I don't pay attention to other things.
It allows you to have some points of commonality, and doing a little bit more research and groundwork before going in can really help, just a couple of touchpoints really helps, makes a difference when you're communicating with them.
Stephen: When you're talking there, and I was just listening, and again, you've got a great gift of putting the human touch on things, just a little thing I do when I go around the world, I'm in Berlin next week, I'm presenting, I don't know, couple of thousand people, but my first three sentences will be in German.
If you're going to be, or you get on Skype with people in I don't know, Italy, down in Brazil, and you're looking to strike some sort of partnership or distribution agreement with them, it's pretty powerful, especially actually face-to-face. If you learn a couple of opening, you just say bonjour, je m'appelle Stephen Kelly.
I go to Canada, up to Montreal, if I can speak a little bit in French … That means you break the ice, cuz I think what we forget, and it's so easy to forget, because it's kind of voices in our head tell us people are strangers, but the reality is, when you show a bit of vulnerability like that and say, look, I don't speak very good French but at least I had a go because I respect you, and I respect your nation and culture.
Then I've always found people reach out and actually embrace you, and it's very powerful. It's just a very human thing to say, but it's something where you can go to, and if you looking to go overseas, then as you say, do a bit of research about what's topical, what's happening in the news, what's happening with Justin Trudeau and all that sort of stuff when we go to Canada, if the Blue Jays are winning. But then also, if you can, say a few words in their language, it's so powerful. I remember when I used to go to Tokyo, I had a business out there, and literally first couple of sentences of saying kanji, and then that exhausted my totality of my Japanese, but honestly, you hear stuff about the Japanese.
They're very civilized and they're very respectful and they're lovely people, but you hear it's really hard to go to Japan, it's a difficult market to break into, but I think if you show a bit of interest in them and their culture, and if you can even say two sentences, then you find them grabbing you and bringing you into their community and making a success in their world.
---
You might also like
---
More from Evan Carmichael
---
What's up, Believe Nation? Greetings from London, England. It's Evan. My one word is believe and I believe in people, …
Watch Evan Carmichael's Top 10 Rules For Success video. Famous Entrepreneur Quotes Evan Carmichael's Quotes "Changing my environment had a dramatic impact …
Today we're going to look at seven different ways that you can make business alliances. What's up Believe Nation? It's Evan. …