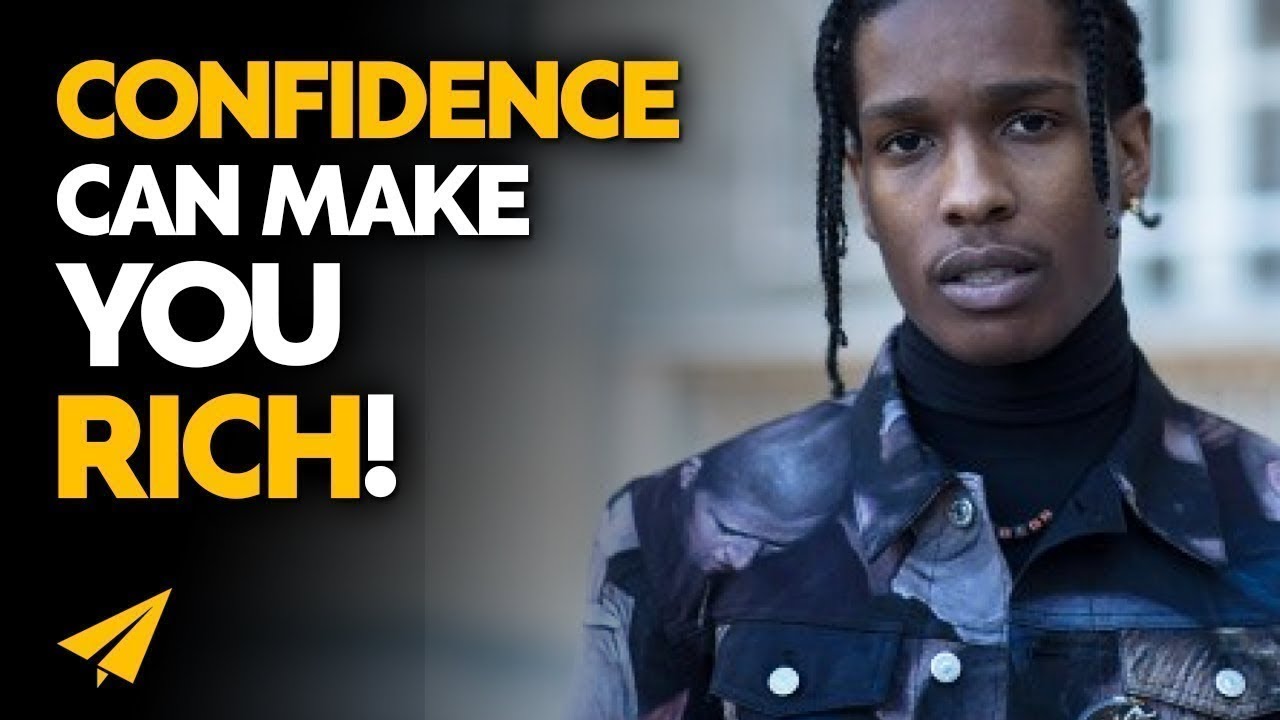 Today's message is be confident. Good morning believe nation, it's Evan. My one word is believe and I believe that you have something special that when you unleash it, it will be able to change the world.
Be Confident – A$AP Rocky
Interviewer: When you sort of first knew that you had that moment that confidence, when you felt it.
When I was poor, man. It's just like, I don't think confidence is something that you could buy, it's something that's embedded in you and some people gain it with success, that's just like the icing on the cake, but a poor man with confidence is unstoppable, almost invincible.
My Thought about Be Confident
A poor man with confidence is unstoppable. I love that quote, I love the message and I agree. The next question then becomes, well how to you get that confidence. If you're in a bad environment, if you're poor, if you don't have great people around you, how do you get that confidence.
And some people may be born with it, I don't know. For me, it was much more about changing my environment. And so I got confidence, some of it from my parents, Belief came from them. They always told me I was Evan Castrilli Carmichael, I could do whatever I wanted and that gave me a sense of confidence.
But if I look then into my entrepreneurial career, a lot of it came from my habits and what I was reading and now later into the videos. By surrounding myself with people that are confident, that are doing big things. Not necessarily in my actual life, you know I don't have a ton of super successful super confident friends that I hang around with.
It's much more from aspirational mentors and I created the YouTube channel in part selfishly for myself. The top 10 rules selfishly for myself. To be around greatness, to be around success on a regular basis. And you could do that for yourself as well.
If you want to develop confidence, it may come by watching videos on seven ways to get more confident, or reading books on how to be more confident. Kind of those tactical how to's, but I think a lot of it also comes from just the environment, just from osmosis. Just by being around confident people.
And some of that wears off on you, right? It's why I started the Mentor Me series. Let's hang around people that have done a lot more than us, and some of their mindsets and their beliefs and the way that they think about things seeps into us to help us become the best version of ourselves, not to be the next Elon Musk or Steve Jobs or whoever, but a more confident, better version of ourselves.
And there was a point where it really struck me, where I was driving with my father in the car and I just signed a deal with Stephen Kelly, who's the CEO of Sage, and he runs a multi-billion dollar company with 10,000 to 15,000 employees, and we're both doing this Q&A, we're answering questions, I'm hosting the show, we get a question from an entrepreneur, he answers it, I answer it, and my dad asks me, how do you get the confidence to be on par with Stephen Kelly, that you're his equal, that you're answering questions alongside him.
It wasn't in a you suck kind of tone, it was a general admiration, like where did that come from? Like that's amazing, in a supportive way. And I thought about it, and it's really from the videos. You know it's really from all this work, because I'm hanging around Elon Musk and Kanye West and Snoop Dogg and Martha Stewart and all of these successful people, whether they're athletes or musicians or entrepreneurs, I'm around that constantly.
And so, seeing people being confident and going off and doing great things makes me be more confident. And so, by hanging around greatness more, you unleash a little bit more greatness inside of yourself as well. And the more you do that and the more consistent you are with that, then the more it's going to come out.
So I agree that a poor man with confidence will be unstoppable, the question then becomes how to you get that confidence. And if you weren't born with it, I think that's okay.
I think there's so much that you can do by changing your habits, by changing your environment, by surrounding yourself with maybe not people, like you may not have people around you, but by resources, information, videos, guides of confident, successful people that will unleash that inner boldness in you to go off and do amazing things.
---
So the question of the day today is, I'm curious, how do you get more confidence for the big things that you're doing in your life. Leave it down in the comments below, super curious to find out.
I also want to give a quick shout out to Kiley Brown aka AnalogSoul. Kiley, thank you so much for picking up a copy of my book, Your One Word, I really hope you enjoyed the read. So thank you guys again for watching, I believe in you.
I hope that you continue to believe in yourself and whatever your one word is. Much love, and I'll see you guys again tomorrow morning for another shot of Entspresso.
---
BONUS
Be Confident
Mike Tyson
While I'm in the dressing room, five minutes before I come out, my gloves are laced up, I'm breaking my gloves down, I'm pushing the leather in the back of my gloves. I'm breaking the middle of the glove for my knuckle.
Could pierce though the leather, I could feel my knuckle piercing against it, tight leather gloves on that Everlast boxing gloves. When I come out I have supreme confidence, but I'm scared to death. I'm totally afraid, I'm afraid of everything.
I'm afraid of losing, I'm afraid of being humiliated, but I was totally confident. The closer I get to the ring, the more confident I get. The closer, more confidence I get. The closer, more confidence I get. All during my training I've been afraid of this man.
I thought this man might be capable of beating me. I've dreamed of him beating me. But that went by. Always stayed afraid of him. But as closer I get to the ring, I'm more confident. Once I'm in the ring, I'm a god. No one could beat me.
I walk around the ring but I never take my eyes off my opponent. I keep my eyes on, even if he's ready and pumped and he can't wait to get his hands on me as well. I keep my eyes on him, I keep my eyes on him, I keep my eyes on him.
Then once I see a chink in his armor, boom, and one of his eyes may move, and then I know I have him. Then when he comes to the center of the ring, he still looks at me with his piercing look and as if he's not afraid, but he already made that mistake when he looked down for that 1/10 of a second, I know I had him.
He'll fight hard for the first two or three rounds, but I know I already broke his spirit. During the fight, I'm supremely confident. I'm moving my head, he's throwing punches. I'm making and missing them, and I'm countering.
I'm hitting to the body, I'm punching real hard. And I'm punching, and when I'm punching him, I know he's not able to take my punches. One, two, three punches, I'm throwing them punches in bunches. He goes down, he's out. I'm victorious. Mike Tyson, greatest fighter who ever lived.
Usain Bolt
When you go into a race, you have to go there always confident. You can't go in there thinking that the guy next to me is going to beat me today.
No you have to, even if you know he's going to beat you, you got to be confident that I'm going to give him a run for his money today. I'm going to give my best. You can't worry about anybody else . Because he may come out and have a really bad day. Then what? So you got to be ready, just in case he has a bad day.
So you got to be on your game at all times.
Lilly Singh
Feel confident. Dress to impress yourself. When you leave the house look in the mirror. Look at yourself, and if you don't go damn, then you need to change. Feel like a million bucks. And that doesn't mean you have to spend a million bucks. You don't need that Gucci Gucci, Fendi Fendi, Prada Prada, you can be rockin that straight 725 from Wal-Mart and still be hella hot.
I'm saying, make sure when you leave the house you're dressed in an outfit that you feel confident in. If you're worrying about your crack showing and you know, your booby popping out, and you know your pants being too tight or too loose or something, you're not going to feel confident.
You need to feel sexy, you need to feel hot, you need to feel smokin'. And everyone is beautiful in their own way, so don't give me no B.S. about I'm ugly and my hair's ugly and skin is ugly. What the hell was that? And my skin is ugly, and just everything. No.
Everyone is beautiful in their own way, so don't give me that crap, okay. That means you just need to connect with your inner swag, and get it poppin.
---
You might also like
---
More from ASAP Rocky
---
Good morning Believe Nation! Today's message is drive emotion. Over to you, ASAP Rocky. ASAP Rocky Yeah I'm 26. I look at life …