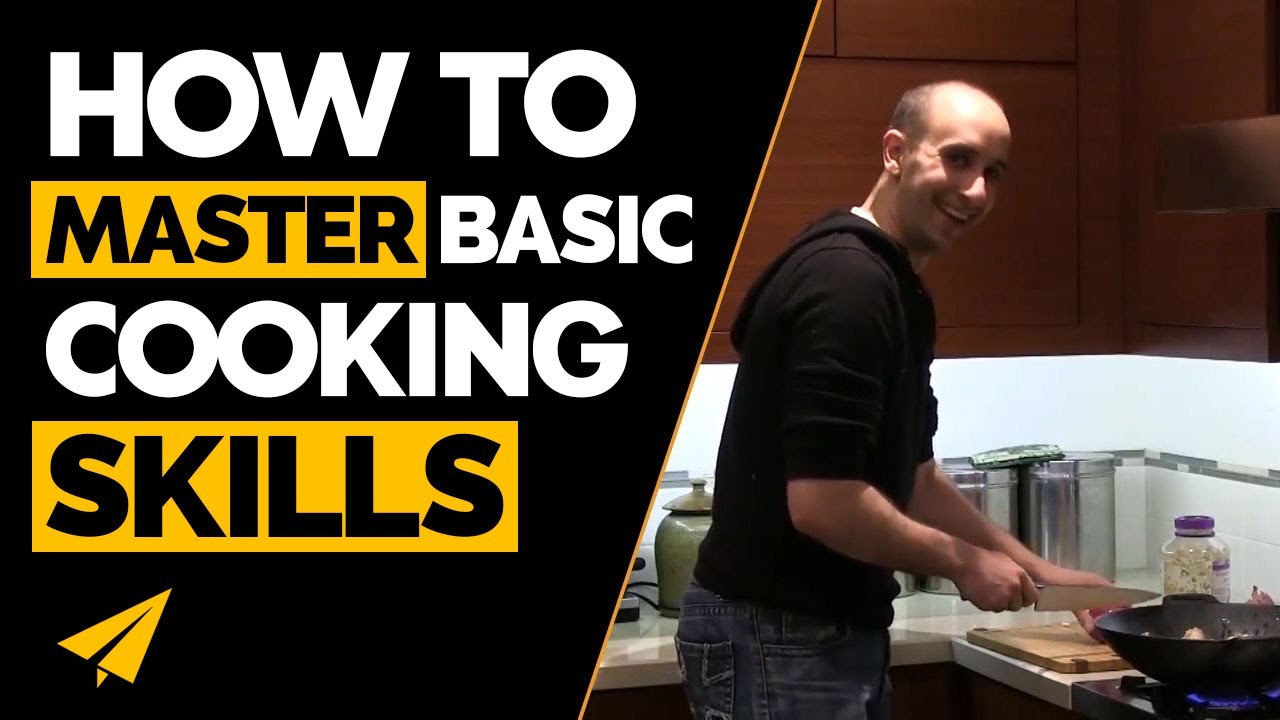 Good morning, Believe Nation, it's Evan. I started the Belief Life series to try to round out our knowledge gaps as entrepreneurs and not only focus on business stuff, but give us some useful tools to help us in our daily lives. And so this weekend we're going to focus on cooking tips for beginners, something that I probably need to pay a lot of attention to. Hope you enjoy.
Cooking Tips for BEGINNERS
Gordon Ramsay
Cooking is a life skill. For me, it's fundamentally important. It's just as crucial as keeping fit. Because Latin, history, geography, no disrespect, but if you're not going to teach that for the rest of your life, it doesn't come into play. Cooking does. Three times a day, seven days a week, for the rest of your life. You need to eat. So we don't cook three meals a day, but there's one meal across that day that needs to be absolutely you. On a plate, done properly, healthily cooked, and sets you up. 'Cause you are what you eat. So we can never underestimate the importance of food, because that's the fuel.
Practice Knife Skills
Jamie Oliver
Okay, lovely people. Knife skills: really, really important. Life is short, you normally eat three times a day, you probably cook a lot of meals in your life, and sit there, clanking around, taking lumps of your body off, and like just being slow and rubbish. Not good. So let's get you good at it. so there's four things in front of me right now: a small paring knife, nice little darling here. Great for sort of little preparations, nipping things, slicing herbs.
A really good, all-around knife, right? Everyone needs one, an essential, okay? Now, not so really an all-around knife, but this is a carving knife. You can use it for carving meats and stuff. It does leave a little bit of a line, but it doesn't really bother me. But most importantly you've got the teeth in it, the serrated sort of jagged dagger edges. It's a really good sort of all-around carving knife there. And then the knife that you're going to use 90% of the time, right? An eight to 10-inch chef's knife.
Absolutely brilliant, well-balanced, nice grip. You've got that thick kind of base here, and that base is also thick here. So with little chicken legs, you can just nick 'em off, and just literally break bones in bits and pieces like that. You've got that nice thick edge here. So that's what you need. We've got the sharpener here. Every time you use a knife: bottom to tip. Bottom to tip. Just do it once on each side.
Okay, there's three methods of chopping that I suggest you learn, okay? And that will get you 99% of stuff. This first method I'm going to teach you, the cross chop, is brilliant. Because hands and fingers are like this, there's no weight on the knife, and that is very, very easy. Right, it's safe. No fingers, no limbs, no body parts anywhere near this knife. And then when you're chopping things… Use it almost like a dust pan and brush.
Let's, for instance, hack up this onion. Let's just cross chop. So it's bad, it's hacking it, right? But then you keep going through it, and then it's almost like a food processor. It's going to get fine eventually, right? But it's falling off, so then you sweep it up and you put it in the middle. This is quite a slow way of doing this, but it is efficient and it is safe. You might see people doing that. Never, ever, ever do that. Always fingers like that. I've seen people take their fingertips off if they do that, okay? Don't do it. Hands like that. So let's just get rid of that. So I'm going to go straight into tap chopping.
The idea is that I put my thumb here and I put my fingers here. And my fingers are tucked in and I pull my fingers as I'm cutting all the way down. And then I redo it and all the way down, okay? If you forget your thumb and it comes out, you're going to cut that off, as well. And I have, we all have. But I didn't have anyone telling me how to do it. So… The top of the knife is feeling that finger, but not obviously, it knows where it is.
I'm not bringing it up beyond here. You never, ever bring this blade beyond the point where your finger goes in, okay? So never higher than there, right? Slowly. As I'm slicing… Now, you're going to go slow to start with, and then you can start to pick up the speed to the point where it doesn't matter anymore, okay? Now, the reality is that, 'cause I know where my fingers are, 'cause I know what's happening 'til this point, at this point I've got wobble again. See, 'cause I'm getting towards the end of the courgette. What do you when you got wobble? On a flat surface, wobbling? No, alright.
And then you can chop again, until then, and you're wobbling again. Then you go to flat surface. Right? So chopping is all about non-wobbly veg. You're in control of that. So let's just have a little go on this chili. That's a rock chopping. chili's perfect for rock chopping. Let's change the angle, let's show you it like this. If you look at this chili now, it doesn't matter if I'm going slow or fast. No, it's fingers in. From pulling the fingers towards it.
That little edge of my finger controlling where the blade's going. At no point does that blade ever go near a finger. It's vulnerable now, so then we're much, much more careful. And then we finish. That's a chili. Practice makes perfect. If your fingers are always out of the way, you can't chop 'em off. It's like learning to write, it's like learning to talk, it's like learning to ride a bike. It makes your cooking so much quicker. And for the show-offs out there, you can style it out. Good luck.
Make lists
Anthony Bourdain
Make lists. What ingredients do I need for this recipe? Make a coherent and comprehensive list.  Mise en place, meaning organize your stuff so that it's laid out in front of you. All your ingredients. The most advanced preparation you could have under the circumstances before your guests arrive. You don't want your guests sitting there, drinking all your liquor and getting ugly drunk while you're around in the kitchen.
Measure Ingredients Properly
Martha Stewart
Martha: When measuring sticky ingredients like honey, spray a glass measuring cup with a non-stick cooking spray like Pam to prevent sticking and allow for easy cleanup. Then fill. And when you pour it out, you'll see that it doesn't stick to the sides of the measuring cup.
When measuring liquids, use a spouted glass measuring cup. Fill with the liquid on a flat surface. And then bend down to read at eye level. When measuring dry ingredients, be sure to use a dry measuring cup. Dip the measuring cup into a canister, this one has granulated sugar, and sweep away the excess with a straight-sided utensil.
When using a scale to measure items like tomatoes, place a bowl on the scale and press the zero or Tare button, which will set the scale to zero. Then add the ingredients you're weighing and you'll see you have an accurate measure.
Use Kitchen Hacks
Jamie Oliver
Hello, lovely people. Have you ever got a little piece of eggshell in your eggs when you're cracking 'em? Well, let me show you the quickest and easiest way to get rid of it. We've all done it. We're making an omelet, we're making a cake, and we're cracking our eggs, and then a little bit of random shell just accidentally, oh, falls into the egg.
Now the thing is the natural instinct is to get in there with your fingers. But if you try and get it, it always runs away and it's kind of annoying. The easiest way to do it, believe it or not, is to go back to our friend Mr. Shell, and you can mop it up easily, get those annoying bits of shell every single time. Happy days.
Let me show you how to remove the skin easily and fast from an avocado. Get a regular spoon like this, go in here, push the spoon right onto the skin and push it against the cup of your hand and simply knock it out. Works every single time really, really good.
Let me show you some really easy ways to chop and slice your garlic. We can slice it, we want to get our thumb out of the way. We want our fingers to go over the garlic like this. And just do that little tap chopping method. We can just continue to chop through this to make chopped garlic. And that's the cross chopping method, very safe. Just grab your garlic clove like this. Just put it on a flat edge. Just go about millimeter slices. Not quite to the end like that, and then flip it over and do exactly the same. And then you can put it on its side and then you can literally just slice. That's rock chopping method.
Let me show you how to take the stone out of an avocado safely. So just remove a little bit of stem from the end. It might look like nothing, but that can send your knife in a totally different direction, which is really dangerous. And then put the avocado down, very importantly. And then carefully but slowly cut using no weight or power down to the stone in the middle and slowly rotate the avocado so it just gently cuts around. Twist it, and then tap it on the board. And off it comes.
It's so important to have a sharp knife. Let me show you how to sharpen it. First off, you need to get a steel. Start with the heel of the knife at a slight angle, and we go evenly to the tip. And we do the other side. So one, two. Really, that's all you should need to do, and that's called knife maintenance.
Let me show you two ways to peel your ginger in the most efficient way. The most efficient way to peel a piece of ginger is simply to use a little spoon and scrape it, just like that. It barely peels just the brown skin off. Let me show you another way to peel ginger. You can make the most fantastic ginger teas with a little teaspoon of honey.
One of the most important things to do when you're cooking in the kitchen is secure your chopping board. Let me show you how. It's the simplest thing on the planet to do, but just get yourself a little tea towel, place it down like that, pour some water on like this, and it will kind of shape to whatever shape the surface and the board is.
I'm going to show you how to cut and prepare a mango. Put it to its flat side like this. I put my knife in, and you're going to hit the oval-shaped pip. Feather out the knife so it goes around the pip. Take this lobe into three. Now once you've done that you got two choices: you can either put the tip of your knife just under the skin, and then just gently roll the knife over the skin and just remove that skin like that. Or get yourself a sturdy glass, nothing too fragile. Literally push it, it takes off the flesh like this, keeping it in one place. You are left with the flesh here. Take the end off. Keep your knife almost in the same place, and then just twiddle and roll the pip, and that is for the chef.
Let me show you the easiest way to take an egg yolk away from the egg whites. Now, one way is to bounce the yolk backwards and forwards from one shell to the other. That's the classic. But the thing is, sometimes you kind of pierce the yolk and then it goes in your egg whites. That means your meringues are not going to work, and that means you've lost your yolks. The other way to do it: crack it into your hand and let it slide through until you've got your yolk. And then there's one more flamboyant way to do it. Get yourself a clean, empty bottle, take the top off, squeeze a little bit of the air out, and suck up the yolk.
I'm going to show you how you can get those beautiful capsules out of the pomegranate. Buy yourself a beautiful pomegranate, cut it open, put your fingers open like that, hold the half over a bowl or a salad or any dish, and just give it a good spanking, which most people love. And they literally just tumble out.
Rachael Ray
Rachael Ray: When you're getting corn off the cob, put a small bowl upside down in a large bowl. Take a good sharp knife and just spin the corn, and the corn collects in the larger bowl.  This is very clever. This is a cooling rack for when you're baking your holiday cookies and all that. But I use it to make a big batch of guacamole. Check it out. Your charred or fresh avocado, squish…
Audience: Ahh!
Rachael Ray:Done!  Hot, right? That's hot. Hey guys, the next time you have to slice a lot of cherry tomatoes, don't go one by one with a paring knife. Take out some deli lids. Fill the bottom lid with a lot of cherry tomatoes, put an extra lid up on top, make one cut, and slice all those tomatoes at one time. Works for grapes, too, if you're feeding little ones.
Heidi Klum: And then we'll mix the dry…  Then take an ice cream scooper
Rachael Ray:Isn't that awesome? When you're making cupcakes or muffins…
Heidi Klum: Amazing!
Rachael Ray:You get identical portions for everybody. You don't end up in the end with some of them bubbling over and some being too short. It's awesome.
Heidi Klum: I'm stealing that idea for sure.
Rachael Ray: Yeah, it's a good one.
Heidi Klum: Look how perfectly that goes in. It's ingenious.
Isn't that awesome?
Heidi Klum: It's really fun and easy, and then it comes out exactly even all the time. I love it.
Rachael Ray: Amazing.
It's a good tip. If you don't have one of these little juicers at home, a great tip is to just squeeze the lemon cut side up. The seeds stay with the lemon and don't fall down into whatever you're cooking or preparing.  When it comes to freezing food, remember, flat is best. Just take a durable freezer bag for stability.
If you're dealing with liquids, place it in a bowl or a large measuring cup like this, then fill your hot soup or stew or sauce in there, let it cool completely, and store it nice and flat. Once it's frozen you could stack these up like 10, 12 high. Guys, when you bring home beautiful fresh basil from the grocery store, do not head for your fridge.
Basil hates the cold. Doesn't like water much, either. You need to treat it like fresh-cut flowers: trim the bottoms, put it in clean water, change that water every couple of days, leave it on the counter, not in the fridge, and then cover it with a plastic food storage bag. This creates a little greenhouse, and the basil will not only not go bad, it'll continue to grow. You'll use every last leaf.
Don't Be Afraid To Fail
Anthony Bourdain
Have reasonable expectations of yourself. When professionals learn how to make a hollandaise sauce, they screw it up the first time, and probably the second and the third. So cut yourself some slack. Understand that repetition, repetition, repetition, that some dishes take repeated doing 'til you get them right.
If you're bringing over your new girlfriend's family for the first time and you want to make a good impression, maybe this is not the day to do something you've never done before. Do something you're very familiar with, you know you do well, you're comfortable with. And if you're trying to do something completely new, invite only people over who've seen you naked already.
Julia Child
And that is, I think, this is one of this awful American syndrome of fear of failure. And if you're going to have a sense of fear of failure, you're just never going to learn how to cook, because cooking is… Well, lots of it is one failure after another, and that's how you finally learn. For instance, you've got to develop what the French call…
I don't care what happens. I can fall, and omelets can go all over the stove. I'm going to learn, I shall overcome, that sort of women's liberation. And I mean, everything like that, if you're not going to be ready to fail, you're not going to learn how to cook.  That's what that little lecture was all about. For one thing, nobody knows exactly what you intend, so you can serve them one of your failures, and they maybe think that's what you intended.
Be Mindful
Brothers Green
Biggest thing about cooking: when you're starting, actually, anyone out there that's just starting how to cook, I'm actually jealous of you, because if I could go back in time and start learning how to cook now, I'd be a lot more mindful and I wouldn't develop bad habits. And one of the biggest habits that cooks do is they rush and they end up cutting themselves. If you look at the potato, and you're like, oh, this is kind of wobbly, know that there's a chance your knife's going to slip.
So when you're cutting, make sure it's firm. Just go one by one. If you're watching yourself and you're paying attention, just like learning anything, you're not going to develop those bad habits of rushing. And I know cooking, some people are like, oh, I don't have time to do it, it takes too long, it's too hard. It's all a bunch of bullcrap. All you have to do is just have some patience and just practice. When you're cooking, not everything has to be cut the same way.
If you're a chef, if you're going to culinary school, if that's your thing and you have to cut everything perfectly, that's fine. You know, in a lot of restaurants they're very demanding of that. But you know, if you're just having fun and you're cooking for friends, things don't have to be that consistent. Just to be, you know, invite some friends over, have a good time. Cook for some people, or just cook for yourself. And as long as you're having fun with it, don't feel like it has to be intimidating.
The first times you cook for people, try the recipe yourself a couple times and just see how it turns out. And if it's not good, if your friends eat it and they're like, it's not that great, or maybe it just needs more seasoning, don't feel like you have to end. If I taste this right now, I'm like… It just doesn't have that boom, I'm sitting at the table, I don't just accept defeat. I go to the cabinet and I grab the salt, I squeeze some salt in there and mix it around.
And I'll be damned if I taste it again to make sure that's better. There you go. It's actually a big difference. And if it's still not good, well, then add some more salt or add whatever you want. A lot of times what I'll do is I'll buy a bunch of stuff, just start heating things up. I'll cut these mushrooms, I'll saute this together, I'll put them in a bowl, I'll cook the steak. And then once I'm done I'll look and see what I have. You're like, oh, you know what? I can make a boom, boom, boom.
So sometimes before I'm really ready to commit to a certain kind of dish, I just start cooking. Get the oven on, get the pans hot. Just start cooking away and then the magic will start to come. And the great things about this kind of food is everything's going to taste good. You throw it on a tortilla, you heat up a tortilla, add a little bit of salsa or something, and next thing you know you're eating delicious tacos. Alright, so peppers are there.
And you know, I'm doing this, like these fancy sort of flip things. You don't have to do that, but if you want to do it, just know that it's all in the confidence. So I'm going like this, I'm kind of getting ready for it. And you sort of, oops, see I even lost one, but it's no big deal. You throw it on the floor, it's delicious. So basically pushing forward and as I'm pushing, at the right moment I just kind of pull back, and it's a finesse thing.
You feel it, you practice it. Before you know it, you'll be impressing your friends, and they'll be like, wow, he can do the thing. That's the thing when you're cooking. The first step to being impressive and cool is being able to do that thing, that's the thing.
Thank You!
Thank you guys so much for watching. I'd love to know what did you think, what did you learn from this that you're going to apply somehow to your life. I'm really curious. Are there extra tips that you want to add to the list, as well, that maybe we missed out? Leave it down in the comments below. I'm really curious to see what you have to say. Thank you guys again for watching. I believe in you. Hope you continue to believe in yourself and whatever your one word is. Much love. I'll see you soon.
---
BONUS
Start clean
Melissa Maker
Start clean. Start with an empty dishwasher, an empty sink, and clean countertops. Cooking will create dirty dishes and stuff. You use spoons and spatulas and pots and plans and plates and scoops and potato ricers, so if you have a few areas to put these items instead of piling items on top of other items, you're in good.
Use a garbage bowl. Save trips to the garbage can by keeping a garbage bowl close to your working area.
Prepare your ingredients ahead of time. Building your recipe requires adding certain ingredients in at the exact right time, and of course doing this reduces the mess created from that frantic scramble to measure the right amount of paprika or something. Get little bowls or a couple of plates and do it that way. These can be easily washed when everything's cooking.
Avoid cross contamination. Ensure you have separate cutting boards and utensils for meat and vegetables. Clean cloths, keep those handy for both wiping your hands and cleaning up spills, and of course, paper towels. That way you can use them for cleaning up meat juices.
Sometimes I even preportion paper towels so that I don't have to touch the roll with chicken fingers. Clean spills immediately. I know it seems obvious, but if you spill something on the floor, the stovetop, the counter, or the backsplash, wipe it up right then and there, because that means less scrubbing for later. Use a utensil soak. This makes it so you don't have to even use the dishwasher for most of the utensils and cutlery that you've used while cooking. Just fill a sink or a bowl with hot water and a couple of pumps of dish soap.
When you've got some down time, say, while onions are sauteing, you can give these a quick rinse and dry. This is a great thing to do also if you're hosting a party and you need to reuse the salad forks for dessert forks.
Splatter screen. These things make a huge difference in oil splatters around your stovetop and your backsplash and even your air vent filters.
Wash items as you go. When you use a knife, you wash the knife. When you use a measuring cup, you wash the measuring cup. To save water, I just spray dish soap and water on the item, scrub it with a sponge, and then rinse it and let it dry. It reduces the strain and the load size for the dishwasher, and it makes cleaning up after cooking so much easier, since you're just putting items away as you go instead of having to put them in the dishwasher and deal with them later. Clean while you wait. If you're waiting for pasta to cook or a sauce to reduce, you've got a few minutes. This is your golden opportunity to wipe up counters, place items in the dishwasher, or dry anything that's been hand-washed.
Soak items while you eat. While you sit down to enjoy your creation, you should have a relatively clean kitchen. That being said, remove any food that you've made from the cooking vessel before eating and presoak those cooking vessels while you eat. That way, you've got a head start on arguably the hardest stuff to clean.
---
You might also like
---
More from Believe Life
---
Today we're going to learn how to communicate effectively.  Good morning, Believe Nation. It's Evan. My one word is believe, …
Today, we're going to talk about how you can create a massive action plan. Good morning, believe nation. My name …
Today we're helping you to stay motivated, and to learn how to motivate yourself! How to MOTIVATE Yourself - #BelieveLife Why MotivationGrid We're all …