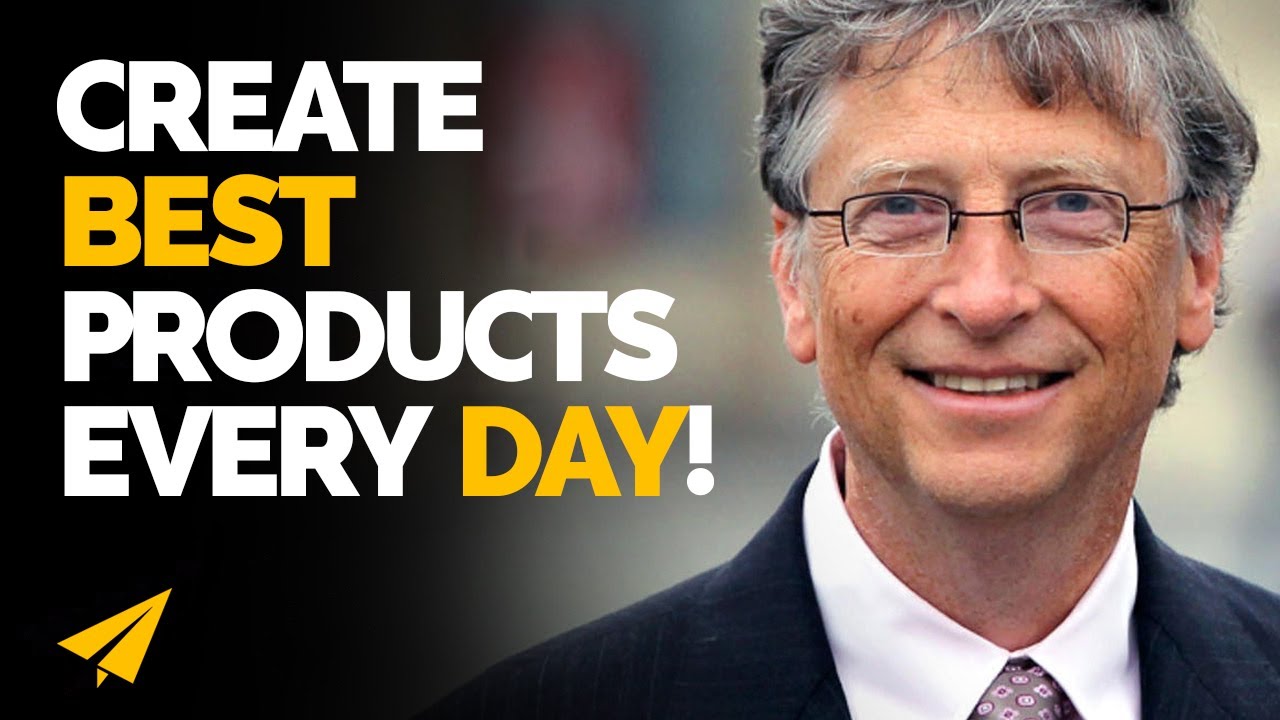 Good Morning, Believe Nation. My name is Evan Carmichael. My one word is believe and I believe that entrepreneurs will solve all of the world's major problems. So, to help you on your journey, today's message is create the best products. Over to you, Bill Gates.
Create The Best Product – Bill Gates
Every product we do is absolutely as capable as it can possibly be. There's no holding back. We are, the people at Microsoft, come in to work every day, building the best products they can. And they're very proud.
You know, you go out, go into schools and see how kids are using this stuff, going, ask people about how their jobs have changed because of the personal computer. You know, we're sitting there .. listening to our customers saying how they'd like to make things better.
So, we do absolutely our best job and, in fact, that's why we've been successful. You know, anybody who holds back in this business isn't going to be around for long because this is a business where you always have to be moving at a very rapid pace.
Evan Carmichael
The number one rule about making money is you need to provide value. It's one of the most basic rules in business. The more value you provide, the more money you're going to make. So the better your product or your service is, the more it's helping people, the more it's providing value, the more your business is going to grow and flourish.
The challenge is, for a lot of you guys, your product or service isn't actually that good. It's okay. Maybe you get some results, maybe it's still early days, but it isn't actually that good, yet. And the market is the test. When you put it out there and people start using your product, are they getting their result?
It should be something that, when they use your product, or use your service, it's instantly noticeable, the value that comes. And that's how you can turn somebody who has no brand name, no recognition, coming out of left field, nobody's ever heard of this person, has no reputation in the industry, can still win because they're providing so much insane value.
The example I've used is Eminem, when he called into various radio stations and he uses a fake name and he called in on LL Cool J's show. LL Cool J's doing an interview on a show and he wanted to rap for him. And he called in under some fake name and, as he was rapping, they didn't know who he was but they said, "Man you're really good. "Like, you are really, really good. "You should be auditioning. "You should be getting a record deal. "You should really focus on this talent "'cause you got something."
And of course, it's Eminem, you know, one of the best rappers in the world. But the talent was immediately noticeable, even though they had no idea it was Eminem. And so it's, can you create on that level? Are you currently making a product or service that is on that level so once somebody immediately uses it, they see insane value? I get a lot of people pitching me all the time with their products, their software, their apps, their tools, their services, all the time.
"The number one rule about making money is you need to provide value. It's one of the most basic rules in business." – Evan Carmichael
I get emails every single day with pitches for different products. And some of them I'll look at and I'm not impressed. It's very early stage. It doesn't provide me enough value. I love tools that help save me time. And if I'm using a tool that will help save me time, I'll tell people about it.
I'll tell you guys on YouTube, I'll tell my entrepreneur friends, I'll tell people on my network, you should use this product, this service because it's doing so much value for me. The problem is what you're sending me is not giving me crazy value and that's okay for now.
It's an opportunity to get better. This is where you are now. There's very little market acceptance. People aren't loving what you're doing. Improve it. Make it better. Listen to feedback. Put it back into the next version. At the end of the day, you have to create a great product. PR will help you, market will help you. You know, but at the end of the day it's going to be does this thing actually work? Does this thing actually solve a problem? And you may love it.
You may think it's the best thing in the world but if you have something that you absolutely love that is not serving the needs of a market, you just have a hobby. You don't have a business. Success will come from both. You have to love what you do and there has to be a market for it.
You love what you do, you just have a hobby. If there's just a market for it, you don't like it, you're not going to have success. Because who love that business will crush you. Both. Love what you do, market for it. Combine those things, provide insane value, you've got a winning business.
Question Of The Day
So the question of the day today is, I'm curious, I want to know a product that you recently bought that you love, that's providing insane value to you for some reason. I want you to share that.
Don't put your own product, I want to product of somebody else that you bought that you absolutely love. And what I'm hoping we can do is kind of learn. Like, look, these are companies who are creating great products.
What can we learn from them and apply to our own business? A concept of modeling success. Leave it on the comments below, I'm really curious to find out.
I also want to give a quick shout out to Devon Triche. Devon, thank you so much for picking up the audio version of my book, Your One Word, and posting a review on it on your Instagram page. I really appreciate it, man. And I'm so glad you enjoyed my book. So thank you guys so much for watching.
I believe in you! I hope you continue to believe in yourself and whatever your one word is! Much love and I'll see you again tomorrow morning for another shot of Entspresso.
---
BONUS
Create The Best Product
Sam Altman
If you look at the companies that endure over decades, they tend to win on product. It is true that it is critical to get sales and marketing right. Because without that you just don't get the flywheel going. But, you know, the most valuable tech company in the world is Apple and I think they make just the best products across the board. I don't know if Google is still number two, but I think Google search dominates everything else.
And also, like, most of, like Gmail and Google Maps dominate their respective products. I think Airbnb won on product. I think that Facebook, although they came late to the game, had, like, the best product by far and they've managed to expand that.
So, I think, I don't ever try to let people off the hook for sales and marketing. 'Cause if you build the best product in the world and don't get anyone to use it, that still kind of sucks. But the, I think it is very hard to win in the long, long term without the best product. I think that you can get acquired two years in because you had a really good, like, press or marketing strategy. But that does not, that is not how you create sort of enduring value. Eventually, sort of, these things converge.
Phil Knight
The key thing for us was the product. And our whole focus for the first ten years of the company was building a better mouse trap, having a better running shoe, having a better basketball shoe, having more cushioning in different shoes and innovating like every six months and spending a lot of money on research and development, spending a lot of money on a lab, and the product process, really, was developed far in advance of anything else that we did.
Marc Andreesen
We don't believe there's a tension between product and business, we believe there's a staging. Which is, in this industry, you don't have a business until you have a product. And in particular, you don't have a business until you have a product that a lot of people want.
We have this concept, we use the term product market fit, which is basically you have a product that the market wants and you can tell because the market's pulling the product. And until you have that time spent building a business around the product is pointless.
Because it's not going to go anywhere. Like, best case, it's going to be a zombie. There's a lot of companies in the valley. There's a lot of companies in the valley amd elsewhere that are, you know, 25, 50, 75 people. They've got a product. Nobody really wants it.
They sell a few every quarter and they kind of eke out a living and they go on for year, after year, after year, after year, after year and they never get anywhere. They never go public, they never get bought, and people just basically collect salaries. And that's not what we want to do and that's not what super high potential entrepreneurs want to do.
So what we basically say is if you want to build a big success, you got to nail the product. You got to, like, it's got to be a killer product. It's got to be something that has product market fit. When you have product market fit, then you build a company around it, right?
So then you build a sales force, then you start doing marketing and then you start doing business deals and then you start expanding internationally and you do all this other stuff. And it's at that point where you start to apply a lot of capital and you big a build board and you start hiring executives and doing all this stuff. But, a full executive team with a sales force and all stuff before you have a killer product is a complete waste of time.
---
You might also like
---
More from Bill Gates
---
Watch Bill Gates's Top 10 Rules For Success video. Famous Entrepreneur Quotes Bill Gates's Quotes "Anyway, if you are going to start …
Hello believe nation! Today we're going to talk about the power of belief. And as always guys, as you're watching, if you …