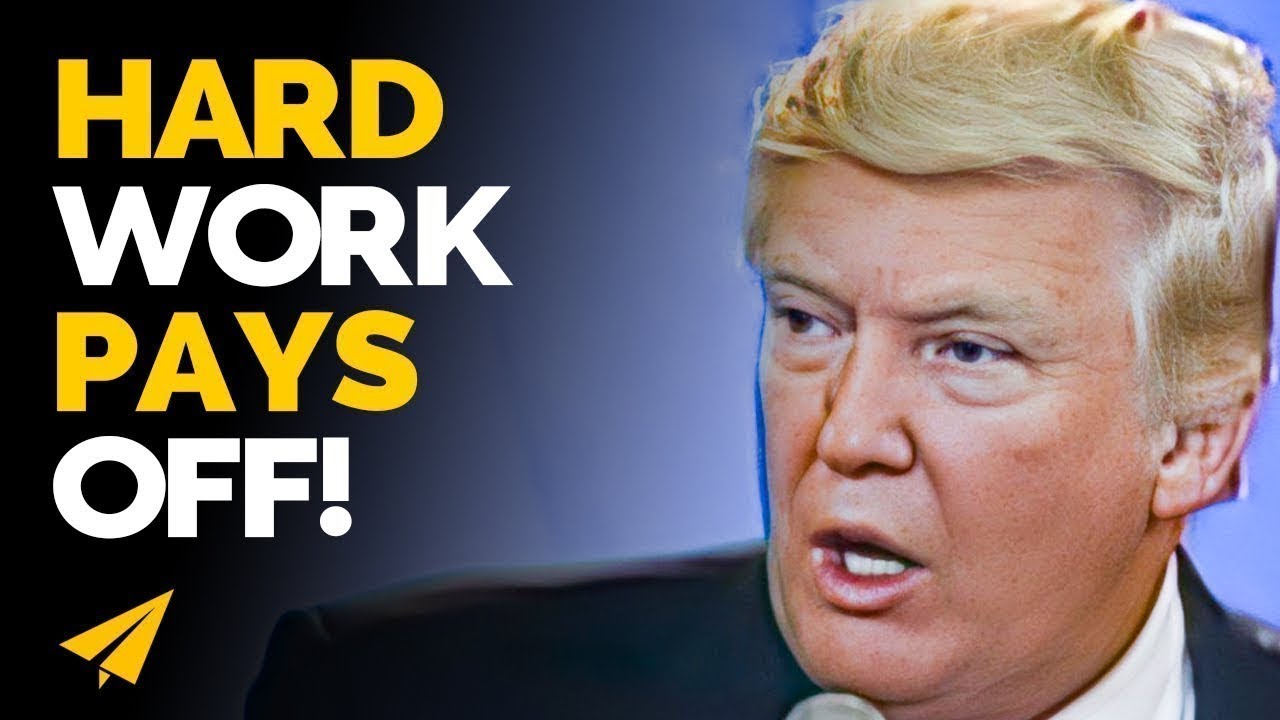 Today's message is create your own luck.
Donald Trump
Knowledge. Knowledge. But if it's one word. One word's very hard for that, but the word is knowledge. But you get knowledge through experience.
One of the things people talk about is luck, and I do believe that people are lucky and some people are luckier than others. I do believe that.
But there's also an expression, the harder you work, the luckier you get.
And I can tell you 10 instances where I didn't quit. One, it was 1990, the world was coming down, the debt markets were down, everybody all of my friends and enemies were going bankrupt, I never did.
The times were, actually just terrible. And even today, you look at times and you see what happens and you have to learn.
But, the word luck is very interesting, but if I didn't work really hard, I'd probably would not, almost definitely would not be here today and unless you had me up as a man who at one point was successful, but let's see what a loser looks like. So you have to work hard because it is true. You can develop luck through hard work.
My thought about Create your Own Luck
So I think luck plays a part in people's success, but a really small part.
It becomes a problem if that's all you focus on.
It becomes a problem when you use it as an excuse not to go out there and do something with your life.
It becomes an even bigger problem if you're always waiting for luck to come your way.
So for example, I'm just starting out as a speaker. I'm in my early stages of my speaking career. I look at Evan.
He just went to Paris and he spoke in front of thousands of people, ate at a fancy restaurant, sat at first-class airlines, went to a beautiful hotel, and he was given this opportunity and he is so lucky. Right?
That is not the mindset that I need to have.
That kind of mindset will completely destroy my future and will not help me grow.
The reason why Evan had that opportunity is through years and years of dedicated hard work over time.
"Next time you look at someone that you think has a lot of luck in their life, change your mindset around and find ways to create your own luck." – Lily Ma
I work with that man. I know how consistent he is. I know how determined he is. And I know how dedicated he is to his mission.
And the reason why I don't have that luck or that opportunity, is because I don't deserve it yet.
And it's no way for me to knock myself down at all. Instead, it raises me even higher because I am not waiting for some elusive fairy to come around and sprinkle dust over my head that is called luck for this to happen. It is within my control.
I have the responsibility and accountability to make that happen for myself. I need to work harder. I need to work harder consistently over time, keep working, keep working, be dedicated to my mission, keep working, gain knowledge through research, and soon enough that opportunity will come my way.
So next time you look at someone that you think has a lot of luck in their life, change your mindset around and find ways to create your own luck.
---
So the question of the day is, what is that one opportunity you really want in your life that hasn't happened for you yet?
And hopefully when you write it down, it's going to give you the fuel, the fire to go and make your own luck.
So leave in the comments below and I'll join in on the discussion.
So I also have a quick shout out for Evan Lieanto, thank you so much for picking up a copy of Evan's book, Your One Word. Your support means a lot to us and I hope you're enjoying the read.
So thank you so much. I believe in you and I hope you continue to believe in yourself and whatever your one word is and we'll see you again tomorrow morning for another shot of Espresso.
---
BONUS
Create Your Own Luck
Jack Dorsey
I think that's one of the strongest things you can cultivate as an entrepreneur is to not rely on luck, but cultivating an ability to recognize fortunate situations when they're occurring.
Odeo was a very fortunate situation. Could've taken that idea, not told it to Ev, not told it to Biz, not told it to Noah and all my other coworkers at Odeo and tried to start my own company with that idea.
But the fortunate situation was that I was working with some really amazing people and we had a great team. And so of course it makes sense to start there.
The fortunate situation for Square, was that in 2008, the end of 2008, the entire market was crashing down. All of these abstractions we built upon, abstraction upon abstraction upon abstraction in the financial world which no single human understood, were now falling apart and suddenly we're getting back to basics, back to fundamentals, management teams were being asked to leave, banks were failing, people were clarifying around we need to start getting innovative, we need to stop treating our customers so poorly, we need to stop encouraging bad behavior that reap fees.
Like, we really need to turn this whole thing around. And anytime there's a recession or a depression, that's a great time to innovate, start a company, start a project, do anything.
We recognize that time and at the same time, my co-founder Jim, he contacted me, I've known him since I was 15 years old, he was my boss when I was 15 years old. And, he's like, Jack I want to talk to you. I want to build an electronic car company.
That's interesting and he was thinking about it because the car industry was failing as well. He's like, why don't we just give these car companies to well-seasoned entrepreneurs. Why don't we Ford to Steve Jobs.
Yeah, it would be amazing. And GM to Ellison or whatnot and also I want to start an electronic car company and I'm like, that's ambitious. But in that moment we decided not to start an electronic car company, but we wanted to do something together.
And we kept having these weekly conversations about what that thing was. And I was researching a lot with finance and healthcare because I was looking at doing something in those spaces. And Jim called me one day in one of those scheduled meetings and he said, I just lost a glass sale.
He's an artist; he sells glass. And I lost the sale because I couldn't accept a credit card. And here he was talking on his iPhone, this general purpose computer and I was talking on my iPhone.
He couldn't accept $2,000 from someone who wanted to pay him, why is that? So we decided that we wanted to answer that question.
And we did a bunch of research, I started writing some server code and we hired a guy to write some iPhone code and Jim built some hardware and in a month we had a little, well, it was actually quite a big device that plugged into the audio jack of your iPhone and could swipe a card, take a payment, it would go through the merchant process and then generate a receipt with a map on it. I went around and showed it to a bunch of investors.
They were all amazed that it could even work. So we decided to really focus on it and make it a company. It really just comes down to recognizing that fortunate situation and recognizing the people around you that could help and just honing it.
Josh Altman
Interviewer: You were bold, you kind of talked him up, you ended up selling his house but you approached him and you said, are you ready to sell one of your houses? You already knew that he owned two houses, you knew where they were, so isn't that also a big part of this. You have to really do the hard work?
Yeah and really preparing yourself to be lucky. Putting yourself in situations where you can get lucky. Where it's not so much luck, it's preparation.
I tell a story about how I'm standing inside a line at Starbucks, and I'm not at that Starbucks because I like coffee, I'm at that Starbucks because that's where all the wealthy people and all the celebrities in Beverly Hills go every morning. I meet a guy in line in front of me, I end up showing him a house later that afternoon and he buys a 12 million dollar house.
Some people will say that's luck. For me, it's all about being at the right place and there was a reason why I'm there because I'm an expert in my community and I put myself in that situation.
---
You might also like
---
More from Donald Trump
---
Whether it's Microsoft or Google, I mean, so many people that have really hit big have gone against the tide. It …
He's an entrepreneur, television personality, real estate magnet and investor. He was number 17 on Forbes' 2011 Celebrity 100 list. He even …