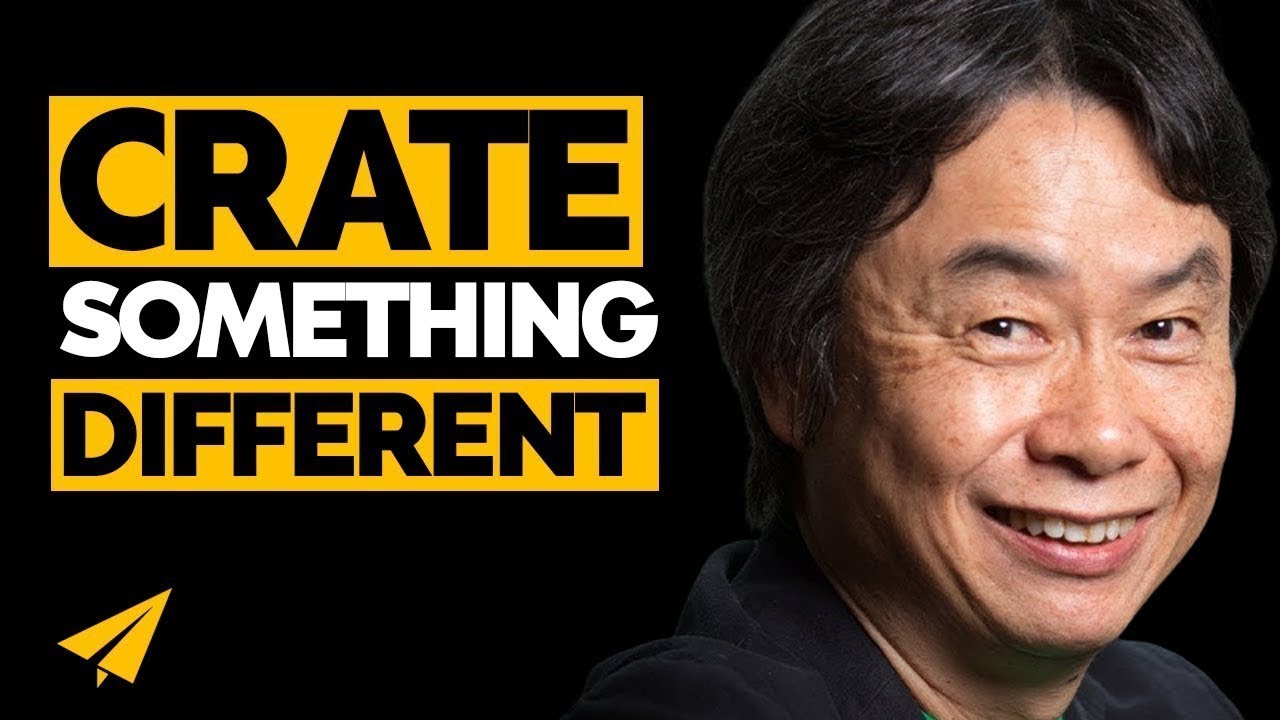 Good morning believe nation, my name is Evan Carmichael, my one word is believe and I believe that entrepreneurs are going to solve all of the world's major problems. So to help you on your journey, today's message is create something different. Over to you Shigeru Miyamoto.
Create Something DIFFERENT – Shigeru Miyamoto
Shigeru Miyamoto
Each creator has his or her own field for which he or she is particularly good at. I'm not saying that I am very particularly bad making the very photo realistic video games. But when it comes to the realistic games, you have to create something familiar. I personally want to make something really different. People have come to expect a lot from me. This certainly makes me feel some pressure. But if you ask me, 'Is it too much pressure to try to come out with something new?' I have to say no, I'm enjoying myself. But when I make something I always try to do my best.
Evan Carmichael
So as entrepreneurs, we like to create different things. It's part of what we do. We don't like working for the may, we don't want a typical corporate job, we want to create our own thing. We want to self express and we want to make something different. I think that's something that should speak to you as an entrepreneur if you're watching this channel.
I feel like I'm already speaking to the converted and I don't need to express the importance of making something different. That's what we do as entrepreneurs, that's our role. Here's a challenge that I think that makes it difficult for entrepreneurs. We don't continue enough to make different things. Entrepreneurs are really good at the start of coming up with some bold brand new idea and then launching it.
Now whether it becomes successful or not, tweaking, tweaking, tweaking, trial and error, testing, customer feedback 'til you hit something. What ends up happening next though is what screws over a lot of entrepreneurs, they stop creating something different.
Because they found this thing that they think is a recipe for success, they found the one way to do something that was different and they're doing it over and over and over again and it's generating cash for them then they stop evolving.
And that's the death toll for an entrepreneur. If you are not continuing to evolve, to create new things, to be different, then you're going to get bored of your business and this happens to so many entrepreneurs. I can't tell you how many entrepreneurs I talked to that are three, four, five years into the company and say, "I'm bored, I'm looking for something different. "I don't know, maybe I'll sell my business." Or they start on some like passion project, some side thing that they want to get going and doing.
And here's what happened. They had so much creative energy, and so much difference going into the first part of their business in the beginning and then they found the thing that worked and so they stuck with that and they stop evolving. They evolved as a human. We constantly evolve, we constantly get new interests, we constantly want to try new things. They evolved and grew, but they didn't grow their business with them.
"Entrepreneurs are really good at the start of coming up with some bold brand new idea and then launching it." – Evan Carmichael
Your business should constantly be a reflection of who you are and what you're interested in doing. If you are sticking down a business line that you are not passionate about anymore, then you're never going to have huge success.
If that's you, if you are not passionate all about your business, then chances are, you grew too far away from your business. You grew and your business stayed here. And even though it's making money, it's not interesting to you anymore.
And so if that's you, sell it and go find something else. Don't find some side hobby passion thing. Get out of your entire business and go try something else. And for the next one, and if you guys aren't at that point yet in your business, where you get bored of it or you're just on the cusp, evolve your company with you.
So if you look at my business, it started off me doing seminars. I was invited to speak, I sold my company when I was 22 years old, how old am I now? 37. So it's 15 years doing this. It's easy to get bored. Now I still love helping entrepreneurs. That is still a huge passion of mine.
But the execution of it changes. It started off me just doing speaking, and I love that. And then it evolved to me doing my website, and I love that. And that evolved from me focusing on my website to spending a lot more time on Youtube, and I love this. And this may evolve to something else. I'm not sold on being a Youtuber for the rest of my life. Something will change, I'll shift and I'll go off and do something else.
It'll still be likely around helping entrepreneurs, that's my passion. But how to do it will shift, will evolve and grow. My introductions on these channels are changing. The video series that I try. So it's like there's the macro changes of the projects I take on, from speaking to website to Youtube. And then there's a micro evolution inside. From launching a new series, and testing and seeing and always trying new things to see how it can improve and make it better.
If I stop doing those things, I would start to die. And then I'd have to get out of it. So stop dying in your business. Continue, constantly, to introduce new things, to get this thing excited and invigorated so you never get bored with your business.
Question Of The Day
So the question today is I'm curious, have you ever been bored in your company and what did you do to change it? Leave it in the comments below. I'm really curious to find out. I also want to give a quick shout out to C.X. Koehler, thank you so much for picking up a copy of my book. I understand it was as a gift actually. So I hope you enjoy the gift and you're reading it and applying it to your life and your business. So thank you guys again for watching. I believe in you. I hope you continue to believe in yourself and whatever your one word is. Much love and I'll see you again tomorrow morning for another shot of Entspresso.
---
BONUS
Create Something DIFFERENT
Hans Zimmer
The Lion King was of course, it was huge. Especially 'cause I did it for all the wrong reasons. I mean I did it for my daughter because I wanted to show off as dad. And I was doing all these grown up movies where people were getting killed and I couldn't take her to a premier. I wanted to do something to take my kid to a premier. And it was surprisingly emotional doing that movie. It deals with a father's death. It's got a lot more depth than the surface that we believe. And it shocked me, my own response. You know once I started writing on it, because I was thinking, oh this is going to be easy. And it wasn't like it was hard. But the emotional involvements only became profound as supposed to hard. And really with Lion King, that got Terry Malick interested in me for instance. Terry loved Lion King and wanted me to do Thin Man Lines. So all these things, working with Ridley Scott. I mean we've done some really good movies together. And they're stylistically so different. I mean Black Rain is so different from Thelma and Louise. It's so different from Gladiators, it's so different from Hannibal, it's so different from Black Hunt Down. It's so different from Match stick men. I'm sure I'm leaving some out. So working with people who, like me, they get a little bored doing the same thing and off they go trying to do something completely different. I mean that's the big part of it.
Stan Lee
Reality television shows is so big now. I like to get on the bandwagon, whenever I can find one. And I felt if we're going to do a cartoon an animated movie for the Hub Network, I want to make it more different than anything before. Why not make it a reality animated cartoon. So in order to make it a reality cartoon, we have real people in it. I'm as real as I know I can get. So I'm in it, we have a few other real people in.
Larry King: You got Jim Belushi isn't it?
Jim Belushi.
Larry King: Christian Slater?
They're doing the voices.
Larry King: Teri Hatcher, Sean Astin, Armie Hammer is in it. Flee and Darren Chris, they're all voicing superheroes. Are the superheroes new heroes?
They're all new heroes. Actually they're aliens from another planet. Which is not unusual in a superhero story.
Lisa Nichols
Let me tell you, in order to have something different, you are going to have to do something different. In order to have something more, you have to do something you haven't done yet. I had to say the things I didn't want to say, do the things I didn't feel like doing to have the life I knew I wanted, period. Period. And all I did was give instructions.
Here, do this bit size, do this bite size, do this bite size bite size, digestible, palatable pieces of what you can do. Does that sound good you guys? And when you look up, and you don't have to have a magnificent change over 12 months, have a small change over 30 days. And a small change over 30 days. Your break through will come in needle point moves. And you'll look up in five years, and not recognize your life.
---
You might also like
---
More from Entspresso
---
Today's message is be confident. Good morning believe nation, it's Evan. My one word is believe and I believe that …