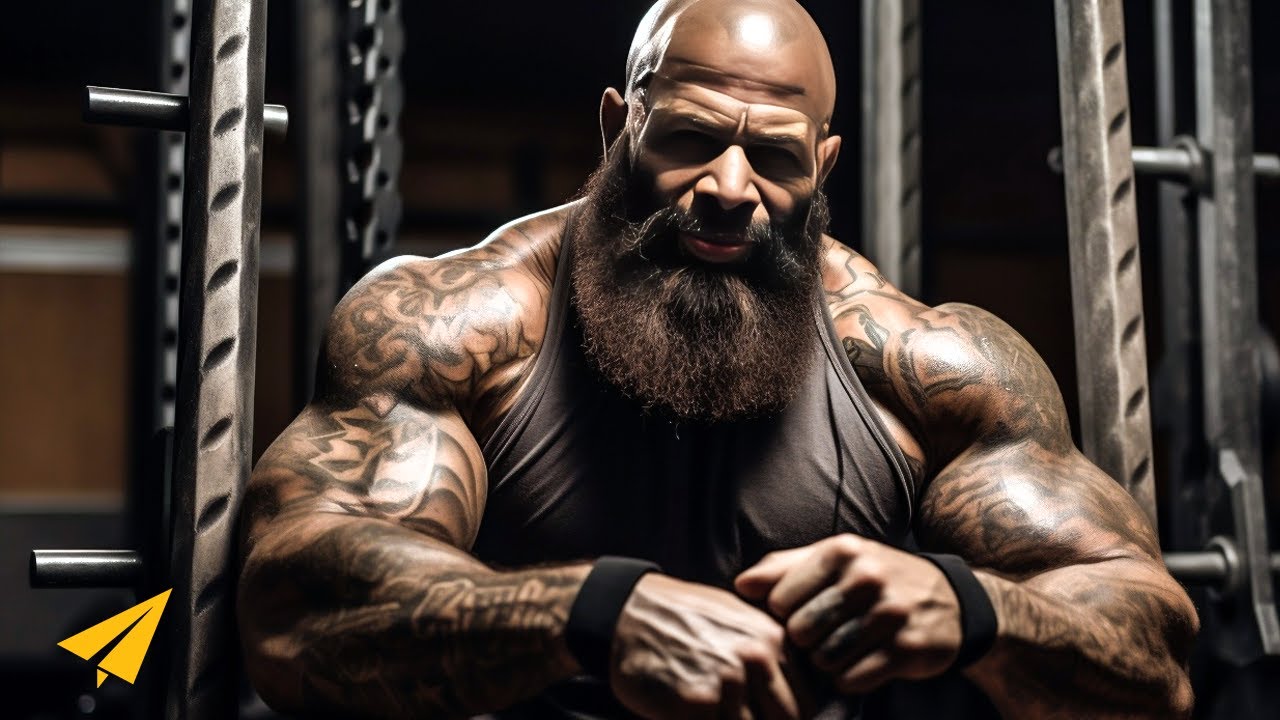 Famous Entrepreneur Quotes
CT Fletcher's Quotes
"Never accept the limitations of someone else! "
"You have to start, with the belief, that you can do somethin."
"If you give me everything you got, all of it, every bit of it, you cannot fail!"
CT Fletcher's Top 10 Entrepreneurship Rules For Business and Success
He's a powerlifter, from Long Beach, California. He's a six time world champion powerlifter!  He co-owns Metroflex Gym Long Beach, where he trains. He's CT Fletcher, and here are his top ten rules for success.
Rule #1: Stay True To You
Which one of you mother****ers is comin' in second?   You didn't think I was gon' do it, did ya? You thought, oh, he's on CNN! I know he ain't gon' say mother******.  I fooled you! I fooled you. To thine own self, be true.
So, to myself, I had to be true. I'm not 'gon litter it, because, yeah, I provide conversation, with mother******s, and ****, as I usually do, if you know anything about me. I'm gon' limit 'em. I'm gon' limit, maybe, 12, 13 mother*******, through the whole thing! Because, I would like, possibly, to get a few seconds on CNN.  But, if I don't make it, **** it.
Rule #2: Decide For Yourself
Listen up, ! Question, question for yourself, what is impossible? Never accept the limitations of someone else! Somebody told you, that it's impossible! Don't even try! Give up, before you even  try it for yourself! Never accept the goddamn limitations, that someone else is placed upon you!
Decide for your  self, what is your limitation! Try it, you son of a ! Try it for your  self, then that is the only way, the only  way, to know if you can, or can't do somethin'. I gave it a  try! That's how I know! Get your punk ass in there, and give it a try!
Rule #3: #Believe
The most important thing is, is this right here. You must have, you have to start with the belief, that you can  do somethin'. I mean, when  set out, to go to the  moon, some airhead  had to be believe, that we can build this goddamn rocket ship, that can take us to the moon.
Some  had to come up with this  idea, and actually believe he could  do it. And the first  said, who invented the goddamn wheel, you know what, I think there's a better way of doin' this . If I make this round  put through sticks, between, I think we can roll it around, a little  faster.
The rest of the cavemen was lookin' at that son of a , like he was a idiot! Are you  crazy? It'll never work! But, if it wasn't for that  lunatic, idiot , we'd all be still walkin' around. Some  has to be the  that says, I believe we can do this .
Be the , that has the new idea! Be the , who believes, that he can do shit, when all these other idiots say you can't do it! I want to be that ! I want to be him! I identify with him! That  was the first , to do , that innovative.
Rule #4: Work For What You Want
So, when I was invited here today, and they said, clever, I say to myself, hmm, I don't think my approach, in the industry that I am in, the fitness industry, would be considered clever. Because, in this day and age, in this time, it's a push, or a training, toward easier is better.
The easier way, the easier approach. Five minute abs, four minute abs, two minute… One minute abs.  Now, you're gon' think I'm making this up, but I'd seen an ad the other day, for a belt. You just put it around your waistline…
And you can sit on your computer, and watch Netflix, chat with your boyfriend, or girlfriend, donkey, or whatever it is you talk to…  And it will work your abs, for you! Wow!
That's cool! I just sit there, and this machine will work my abs for me. I don't have to do one sit-up, one crunch! Cover their ears, cover their ears! Not one, not one! And here, I come along, old crusty old man, 55 years old, and I look you in the eyeballs, pointin' my finger in your face, and I say, **** that!  Get yo punk ass up off the couch, and get out into that goddamn gym, and work for what you want! So, I don't know, if that would be considered clever, or not. What do you think?
Rule #5: Pain Is A Must
Pain is necessary! It's inescapable! It's no way! I mean, out of pain, we are born! Pain is a must! Pain, it is necessity of growth! Be comfortable, with being uncomfortable! Pain is a necessary evil! Get used to it, ! Make friends with it, and then kick  pain's ass!
And that way, when it comes, to take you down, you can brush that   off! I'm used to you, ! Bring it on, come on, pain! Sit yo ass down, and let's have a  lunch together! Me and you, pain, let's do it! Best  friends!
Rule #6: Commit
Your excuses. Be committed. If you can't commit, to this ,  you. If you don't know what total commitment is, if you don't know, if you don't want it that bad again, if you haven't made up in your mind yet, enough, that you're totally committed, to let me kick your  ass, then stay at home.
Do us both a  favor, and just stay yo  ass at home, sittin' on the couch, eatin' a bonbon, with the  little, flashy little house shoes on. This is my job! This is what I like to do! This what I do! I motivate , who want to be motivated.
You don't want to be motivated, leave me the  alone. I'd rather  die, doing what I love to do, than sit at home, talking about what I should be doin'. Oh, damn, one of these days, I'm going to get up and do this, though I should go do that.
You know, I'm going to get up! One of these days, I'm going to go to the gym, I'm going to work out.  that. I would rather  die, on the bench press, or curling, or sprained knee, doing what I love to do, than  talking about what I might do, or what I should do. That's the difference, between me and you. I'm a doer. You're a  talker.
Rule #7: Have The Right Attitude
I used to walk into a competition, and I would say, I am the one! Which one of you guys is comin' in second, 'cause all of you ************* know, CT Fletcher is here! For the competition, for all intensive purposes, for you, it's over!  'Cause, first place… ****, that's mine.
That's a guarantee, that's a lock! So, you can discuss amongst yourselves, come to a decision, which one of you all comin' in second, and third. That's okay with me! But, this top podium… That belongs to me.
Why, because not one of you can out-will me. You may have been born, with more genetic prowess than I have, but you cannot out-determine me! You can't out-will me. You can't out-want me! You can't outwork me.
You can't out-desire me! I'm the king of that ****! And that's why, this top spot, this number one… That's mine. You guys go ahead, and fight over second and third.
But, I know, tell me, from that type of attitude, I really felt, like I was the strongest man on the earth! What you see here, before you, today, is leftovers. I'm 55. Every bone in my body ache.  But, I'm still CT mother****** Fletcher.
Rule #8: Never Become Satisfied
I'm big enough, I'm satisfied. Never, ever become satisfied! Satisfaction… Is the death blow. It's the end of the line! You cannot progress farther, than satisfaction. Satisfaction is the end of your growth! It is the end of your journey! It's over for you, !
I am satisfied, I no longer need to struggle! I no longer need to push myself! I'm done! I have reached my goal!  satisfaction! Am I satisfied? Not by a long  shot!  Is my journey over?  no! And I  will not go quietly, until the night! I will go, kickin', and  screamin'!  satisfaction!  it!
Rule #9: Give It Your All
Average! If it's one thing, I  can't stand, and that's a average .  average. Are you going to be the beast, or a ? You make the call ! It ain't up to me! It's up to you! You gon' be a sorry bunch of bleedin' lookin' , in your whole entire life?
You cotton candy-eatin' ! The  up, and do some work! Grab yo goddamn bootstraps! Tighten your  belt up, and get yo  ass in your gym, and do somethin'! You going to be a hip havin' , in your whole entire life? Ain't you been a  pacified, suckin'  long enough, ?
Don't you think it's time, to do somethin' about that? Step through the looking glass! I'm not givin' you no , Alex stay in your, hell no! Right now, ! And you bring that ! Ball your  fist up, and knock somethin' the  out!
Don't let that  iron rule you! It's a piece of  iron! It's a inanimate object! You command that ! That's why, I'm number one, 'cause I'm willin' to do what you ain't willin' to do! All you want to do, is talk  about what I'm doin'.
But, you know what, ? I'm doin' somethin'! I got my  ass in here, and I'm doin' my  best! That's all I ask, from anyone of you empty headed , is to give me everything that you got! If you give me everything you got, all of it, every bit of it, you cannot fail, ! It's impossible, for you to fail!  average!
Rule #10: Unchain Your Mind
Unchain your mind. Unchain your mind, from the imprisonment of fear! Unchain your mind! It's been encaged, with doubt! Unchain your mind, loose yourself! Let yourself free, from the binds of average, from the binds of normal!
Loose yourself, from intimidation! Let yourself free! Let your mind go! Shift your focus! Your focus, your intensity, your drive, your everything, should be put into the amount, the amount of effort, that you are going to put into that attempt! You cannot fail!
You cannot fail, if you give 100 percent of your effort, you ! You cannot fail! It is impossible! There was a lady, I don't even remember the lady's name, but I remember her act! She came in, absolutely last in a marathon.
Everybody had crossed the finish line! She was the last person, in the stadium! The lights was gettin' dark, and she fell down, 25 yards before the finish line! But, that lady  crawled! She crawled! People tried to rush out, and help her!
The medics came out, and tried to help her. But, she shooed 'em away! She shooed 'em away, and she grilled her  self across that finish line! That is the kind of attitude, that I want you to have! That's what you focus on!
You focus on givin' that  everything you got within you! Every drop of energy, every drop of strength, every drop of intensity, every drop of testicular fortitude, that I can muster! I'm gon' give it every  thing I got!  what ifs!
You always have power, over the amount of effort, that you put into whatever the  you are doing! Because, you know, the only mission that I have, the only goals that I have, the only determination that I will make, is that I'm going to give this  every goddamn thing within me!
Break the goddamn chains, break your chains! Let yourself be free! Go out there, and  lay waste! Destroy some ! Unchain your mind!
---
Thank you so much. We made this because PO asked us to. Once again, if you have any famous entrepreneurs, that you want us to profile next, please leave it, in a comment below.
We'd also love to know which of CT Fletcher's top ten rules meant the most to you, hit you the hardest! Leave it in the comments below, and join the discussion.
Thank you so much for watching. Continue to believe, and we'll see you soon.
---
BONUS
Be Obsessed
I'm coming from a position, of being the best, at what I chose to do. My chosen field, I was the best at that. And the way I approached, being the best at that… My message travels throughout whatever industry, whatever chosen field, that you choose, and whatever endeavor you choose, to take upon yourself.
If you want to be the best, at that. If you want to reach the pinnacle, of that, you must be! There's no way around it. You have to be… Obsessed, with obtaining that! Greatness, in any field! Greatness cannot be achieved, without obsession.
Yeah, I said ****!  I said it! I said it, and I mean that. I stand on that. If you want to be the best, you must be obsessed with it. He had a slide up, a moment ago, Orville and Wilbur Wright. Do you think they wasn't obsessed with flying? Keep fooling yourself.
They were obsessed with that. JP Morgan. CEOs. Even, talk show hosts. Even, anchormen! If you want to be the best anchorman, you must be! You have no choice! There's no other way around it! There's no easy way to do it! You have to be obsessed, with that shit. Can't get away from it. Obsession.
Don't Quit
My recovery was hard! I prayed, to God, I told Him, if this shit gon' be like this, much longer, then just take me out! Don't let me, I don't want to live like this! I can't live like this! Just let me die, because the shit is rough! But, you know what, I didn't die. I kept livin'!
A doctor came in, to me, in the hospital. He said, "I heard, CT, that you're "a three-time world champion!" I said, yes doctor, I am. And he said, "Well…" He shook his head, a young guy, he shook his head, and he said, "Man, what happened to you?" I'll tell you what, I want to thank that  doctor, for askin' me, what happened to me.
He asked me, what happened to me, with disdain in his eyes. He couldn't believe, that I had fell that  far, because I looked like a  human skeleton! He just couldn't believe it! "CT, what happened to you? "You don't look like you ever lift a weight, "in your whole  life!"
But, that doctor, is what made me determined, to get back out there, and to climb back up, to the top of the  mountain, and be king of the  beasts, once more! He, I thank you, doctor! You made me do this ! Asked me what happened?  you, , I'mma show yo ass what happened!
Be The Baddest
My mom used to tell me, all the time, sometimes… If you just a little bit too high, gettin' a little too full of yourself, you must be brought down! You will be taught a  lesson! And I've seen it, I…  Not me!
But, she said, "I don't care how bad you are, son! "If somebody else out there, just a little bit badder," I said, no. Hell no! Mama, somebody got to be the baddest! Somebody got to be the baddest! Mama, I love you, but that's me.
Summary
CT Fletcher's Rules
BONUS
I hope you enjoyed this article, make sure to check my CT Fletcher video on his Top 10 Rules For Success as well.
---
You might also like
---
More from CT Fletcher
---
Today we're going to learn how to expand your mind. Hello, Believe Nation! It's Evan. My one word is believe, and …
Embrace PAIN! Check out what Eric Thomas, C.T. Fletcher, and Joe Rogan have to say about pain, and how it …