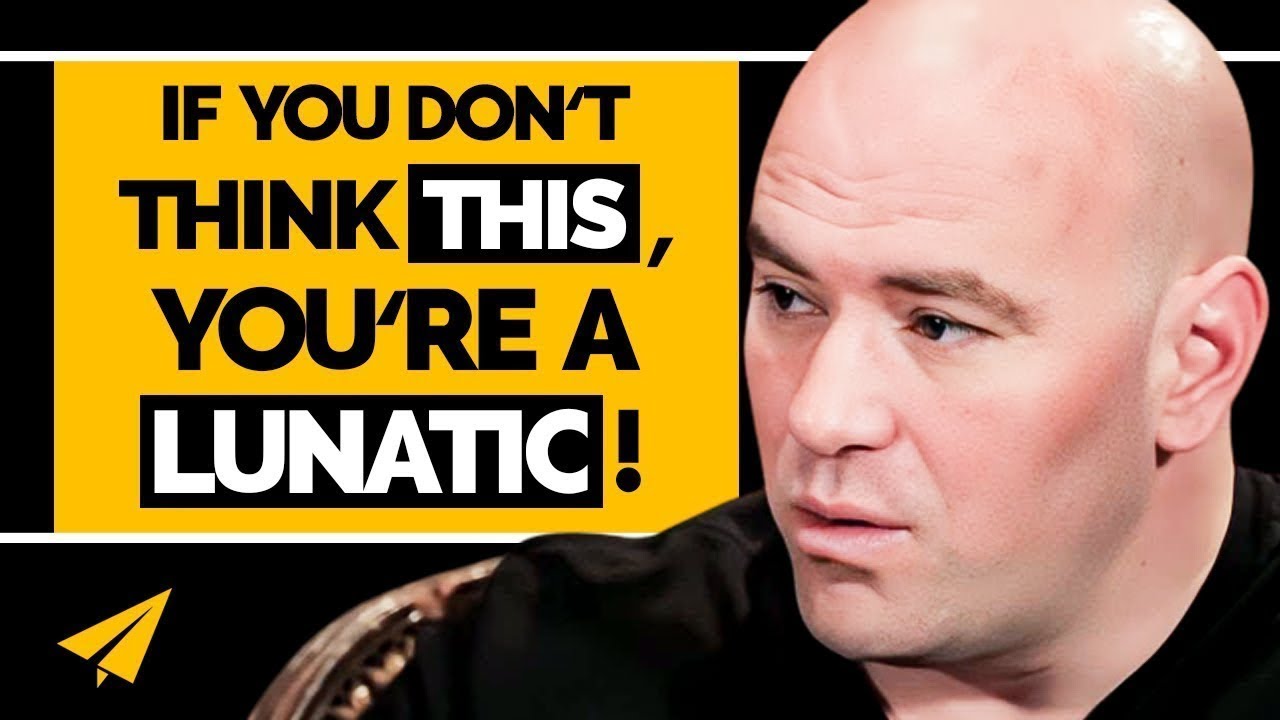 Famous Entrepreneur Quotes
Dana White's Quotes
"Fighting is the first sport ever and it will be the last sport ever. It will be around till the day we die."
"Anything that you do in life, when you become successful, it has to do with timing."
"I already know and have my mind set, and I know that this is what my life's going to be like for the next two years."
Dana White's Top 10 Entrepreneurship Rules for Success and Business
He's an American businessman and entrepreneur. He's the President of the Mixed Martial Arts organization Ultimate Fighting Championship or UFC. In 2014, his estimated net worth was $350 million. He's Dana White and here are his top 10 rules for success.
Rule #1: Have a Game Plan
If you look back six years ago, money was growing on trees. Anybody could get a loan, you could pick up the phone and anybody could get a loan for anything. Business, house, cars, it was easy to raise money. So, you know we go out there, we make this thing work.
The first season of the Ultimate Fighter happens. This thing skyrockets, starts to take off. So of course, the fight business is a fun business to be in. So everybody starts diving into this thing.
Well it's easy, right, you just throw 3 letters together and buy a cage and put on fights. Anybody could do that. So these guys go out and the biggest mistake that everybody makes when they try to compete with us, is they try to compete with us.
First of all, we didn't come out yesterday and put together an organization and now we're on FOX and now we're on pay-per-view. Anything you do, nothing happens over night man, it seems that way but it's all hard work.
I have been on planes, trains and automobiles for the last 13 years out selling this sport, getting deals done, getting doors slammed in my face, you name it, it's all happened.
These guys come out and they just start throwing money around and start trying to be the UFC. Don't try to be the UFC. The first thing you have to do when you start a business is know exactly who you are and what is your game plan.
You know, what are we going to do? First year is where you're looking. What are we going to do first year? You make it through that first year and you're still alive, alright, what's our three year plan.
You get into your three year plan, and that's how you start to build your company. The last thing on earth… This is how stupid it is, okay, be like we're all sitting around, this is my living room.
We're all here, we're hanging out in my living room, and we're watching NASCAR. Okay, holy ! Look at all the people at NASCAR! These guys must be making tons of money.
You know what we should do? We should go get a couple of their drivers, and lets start our own race league. And we'll compete with NASCAR. Anybody want to jump in with me? Hell no you don't! Sounds like the stupidest idea ever! But people think they can do it with the UFC.
UFC's been around for 20 years. Twenty years and this November it'll be 13 years for us. And you think you're going to just dive right in and start throwing money around? You will go out of business so fast.
Rule #2: You Have To Work
You know people always ask me, how do you do this? And you have to do it. I mean, when you're building a business like the UFC or any other business, you know you have to work and it never gets easier.
It's funny, because 13 years now, and we're in 175 countries and 23 different languages, and over a billion homes worldwide on television. And you think, when you're early on building, it's like when we get to this point you know I can probably
Man: Chill out.
Right, exactly. And it just gets harder and harder. It doesn't get easier, it gets worse.
Rule #3: #Believe
Take money out of the equation, him and his brother are billionaires, two of the hardest working guys that I've ever met.
Interviewer: Middle class billionaires.
We got into this thing because we're very passionate about the sport. We didn't get into it, believe me, when we got into this sport, these guys…their peers were laughing at them.
Man: That's true.
Said this was the stupidest investment they'd ever made, they're losing tons of money, the UFC was a joke, and believe me, we've went through a lot of ridicule and everything else when we first bought this thing, and now that its turned around, everybody thinks its the greatest thing in the world and they wish they were apart of it.
We didn't buy this because we thought that it was going to be, you know, oh we were going to make billions of dollars. We believed in the sport and the athletes, and we believed that this could be a global franchise, that this thing could be built into what we're building it into now, and everyday when we get up, we know what the prize is, we know what the goal is, we want the UFC, we're going to put on an event everywhere in every city in every country, all over this planet, and make this the biggest sport in the world.
Rule #4: Incentivize
The thing that we do different than any other sport, especially boxing, when you think about boxing, right, they do the same thing. And how many guys in here, who's boxing fans? I am, I'll raise my hand too, okay? Like five of ya, and me.
But here's the thing that boxing did, and the question was asked earlier on the decline of boxing, well, what would happen was, the fight would be coming it's a week away and I'm so excited I can't wait, I'm watching everything, I'm reading everything that leads up to the fight, right? It's the night of the fight, got all my buddy's over, we bought all the pizza and the beer, and we're ready to roll, and a fight never happens.
These guys run around for twelve rounds and the fight doesn't happen. Do you know why? Do you know why this has happened and why boxing is dying? Because the sport has become so greedy, nobody was ever thinking about the future of the sport. It's about how much money we can all put in our pocket right here right now. Who cares about tomorrow.
So essentially what you get at the end, is you get two multimillionaires, right? Who step into the ring and do everything they can to avoid a fight so they can win, just barely win, to get to the next multimillion dollar fight that we pay for, right? And it just became ridiculous and it's exactly what goes… Think about this, think about every person in this room right now.
If I guaranteed you all $37 million dollars, guaranteed $37 million dollars this year, Guess what you're going to do? Not much, not much. Are you going to bust your ass every day? Your alarm's going to go off in the morning and you're like, I'm not going to go to class.
What the hell do I want to go to class for? I got $37 million dollars.  Right? Who's going to class if they've got $37 million dollars? Nobody's going to class. You know what happens when you get $37 million dollars and you're a fighter?
I don't want to get punched in the face. I got $37 million dollars, man.  I'm not getting punched in the face. This is ridiculous. We incentivize guys to fight. You get money to show, and you get money to win.
And then you get money for the best fight of the night, you get money for the best knockout, money for the best submission. You're incentivized. No different than any other business in the world. Show up at your job and have a half-assed day, see how that goes. Nah, I'm not in the mood today.
See how that goes. You have to be incentivized. When somebody hires you, when you guys leave this school and go to these other jobs, you will cut out a deal where you're working for some big company where you'll have incentives and bonuses. It's the way the real world works. Boxing does not live in the real world anymore. And that's why it's hurting.
Rule #5: Have Goals
Well the first time that I really got involved in UFC was, everybody had seen UFC 1, you know, I saw UFC 1, but when we got involved and it was because we started taking jiu jitsu, and through jiu jitsu we fell in love with this sport, and then we started to meet some of the athletes, and when I say we, I mean me and the Fertitta brothers, and it was really, you know, learning about the sport and meeting the athletes that completely got us, literally, addicted to the sport.
Then when we went to our first ever UFC event, it was down in New Orleans at the UNO arena down there, and literally, me, Frank and Lorenzo were sitting in the audience going holy , imagine if they did this and imagine if they did that, this thing could be big. Then, once we bought it, our goal was and always has been to make this a global sport.
Rule #6: Build Around Your Beliefs
The thing is with the guys like Mike is as human beings we're fascinated by who the toughest guys in the world are. We are. You know, I say this all the time, if you think of all sports, right?
And people in here are probably football fans, baseball, basketball, whatever it is, and take Jordan who's probably arguably the most famous player of all times, you know, do people really know Jordan all over the world in every little country in every…you know.
You know, Wayne Gretsky, the list goes on and on. It's like, right, I'd like somebody, anybody, and maybe this'll be the first time it'll ever happen if somebody in here tell me who the greatest cricket player on earth is?  Nobody? Yeah I didn't think so.
Interviewer: How great would it be if he was here?
Interviewer: Anil just went and killed himself.
I've done that a million times and not one person's ever said I know who the greatest cricket player is, but my point is, anywhere in the world everybody knows Mike Tyson, everybody knows Muhammad Ali.
Bruce Lee died in the early 70's, does anybody in this room not know who Bruce Lee is? Everybody knows who Bruce Lee is, he died in the 70's.
Man: And it's not like they're promoting him. It's not like anybody's promoting him.
As human being's we're fascinated by who the toughest guy in the world is. It's always been that way, from the days of the Roman gladiators.
You know, I always have this thing where I say I can throw all kinds of stats and bull  you about the UFC that's true and all these things, but here's something that I don't know if this is true but its what I truly believe, and its what we built this company on, I believe that before a man threw a ball through a circle, before a man hit a ball with a stick, two men were put on this earth, somebody threw a punch, and whoever was standing around ran over and watched.
Fighting is the first sport ever and it will be the last sport ever. It will be around until the day we die. Till the earth no longer exists. Fighting will always be there.
Rule #7: Know Your Job
If you don't think the UFC is exciting, you got to be a lunatic. Okay, I don't know what you, you want to see people get beat with baseball bats?  you know what I mean?
First of all, that generation of people that think that you know, I want the no holds barred and no rules. It's that big. This many people want to see a freak show. This many people want to see a real sport. Huge difference.
So the market of people that are like, vale tudo, and we want the whole all the no rules and all that stuff, and I got to be honest with you, no holds, no rules and  wasn't very exciting. You know what I mean, it really wasn't.
And what we try to do, is we keep trying to push the sport to be more and more things. You have to understand what my job is, what my job is in this day and age, How old are you?
You're 27? I'm 43, k? When I grew up, there was channel 3, channel 5, channel 8 and channel 13.  If you called me, I had to be home to answer the phone. 'Cause we didn't have answering machines, any of that stuff, right? So, this day and age, if you want to see some crazy , go on YouTube, type in any crazy  you want,  and 50 other crazy  will come up on the other side that you can watch for three days. Right? You can go to the movies, you can go here, you can do this, that, you can do, there's a tons of things you can do.
I have to convince you to stay home on Saturday, not only stay home on Saturday, when you've been busting your ass at school all week, working, all the other things you've got to do, you probably want to go out and you know, meet some girls, or take your girl out to dinner, or go to a movie.
I compete with all these things. Basketball's on, football's on, you know what I mean? All this other stuff that goes on, I have to convince you to stay home on Saturday, and pay $55 dollars to watch my event. That's what I have to do. That's my job in this business.
And when you stay home, get all your buddies together and you sit around and you buy my fight for $55 dollars, you better be entertained.
Because if you're not, you know how hard it's going to be for me to get you the next time I have an event? It's not going to be easy. But that is what I do for a living. I put together fights that are compelling enough to make you stay home on a Saturday night and pay $55 dollars for it.
Rule #8: Timing Is Everything
Anything that you do in life, you know, when you become successful in life it has to do with timing with a lot of different things.
You know, the timing of me coming back to Las Vegas, the timing of me and Lorenzo bumping into each other when we did, the timing of boxing on a downslide, you know, everything in life has to do with timing. Absolutely.
Rule #9: Make It Happen
For instance, I will film, it's coming up, I'm going to film the Ultimate Fighter on Friday I will jump on the plane as soon as that fight's over, fly to Sweden, I will land in Sweden at 6:30 at night, the fight starts at 6:30. I'll go straight to the arena, we'll do the fights that night, I'll jump back on the plane, fly back to the United States, go to Atlanta.
Interviewer: Right
We'll do our fight in Atlanta, then from Atlanta I'll fly straight down to Brazil for a press conference in Brazil and then back to Las Vegas for the Ultimate Fighter on Friday.
Interviewer: How is it possible? How is it on your health? How is it with family? You have a wife and kids, how is it doable?
You just got to do it. I mean, you have to do it. I mean, who's going to do it if I don't? It has to be done and you know, I do a pretty good job of balancing and you know, I make it happen, I make it work. People say it can't be done. You watch, it's already, what month is it? March?
Interviewer: Yeah.
It's March, right? We're going on April.
Interviewer: Yeah.
And I've already done what I've done since January.
Interviewer: Do you continue like that for the rest of the year?
Next two years. It's going to be like that for the next two years for me. I already know and I have my mind set, and you know, I know that this is what my life is going to be like for the next two years till I get this thing  dialed in.
Rule #10: Create Great Content
Any of you guys ever watch my video blogs? Two people, great.  So, I do these video blogs leading up to a fight. You know, and these things have had anywhere from 250 thousand viewers to a million.
And FuelTV, you know we got on FuelTV with FOX, FuelTV, and all the extreme athletes hate me, you should've seen all the hate mail I was getting from these extreme athletes, like I killed them on FuelTV, but they were pulling hashtags for ratings.
You know what a hashtag means? Means so few people were watching, they can't even rate it. And a good night for them was 7 thousand viewers.
When they had skateboarding and surfing and things like that on. And we broke every record but my point was, on YouTube my videos pull better ratings than television shows do on networks. You know what I mean? So that's the power of the future and that's the power of content.
When I told you that I only had channel 3, channel 5, channel 8 and channel 13, then cable came, and there were all these channels on cable, and then satellite came and there's all these channels on satellite.
Well imagine what's going to happen when things really do go internet and there's 25, 30, YouTube's and there's actual programming and it's very interesting but what you said is the truth, content is king. And owning content and having content. It's always been, you know, the way to go.
---
Thank you so much. We made this because James Baker asked us to. If you have any famous entrepreneur's that you want us to profile next, please leave it below.
I'd also love to know what your Dana White's Top Ten Rules meant the most to you, leave it in the comments below, we'll join in the discussion. Thank you so much, continue to believe, and we'll see you soon.
---
BONUS
 Do Something You Love.
If I was in to money, I'd still be standing in the lobby of the Boston Harbor hotel, because there is no guarantee in your future in getting into the fight business. You know, I had a good job. I was making tips, like I said, you could get a 401k there, you have great benefits, if it was about money, I'd still be standing in the lobby.
It was about doing something you love to do. How many people are sitting in their car right now or in their house or at work or whatever they are and hate, literally hate, what they do for a living?
Interviewer: That's why…that's why…
I was that guy but I had the balls to get up and walk out and go for it.
Summary
Dana White's Rules
BONUS
I hope you enjoyed this article, make sure to check my Dana White video on his Top 10 Rules For Success as well.
You might also like
---
More from Dana White
---
Today's message is "Don't dwell on the past."Good morning, Believe Nation. It's Evan, my one word is believe and I …