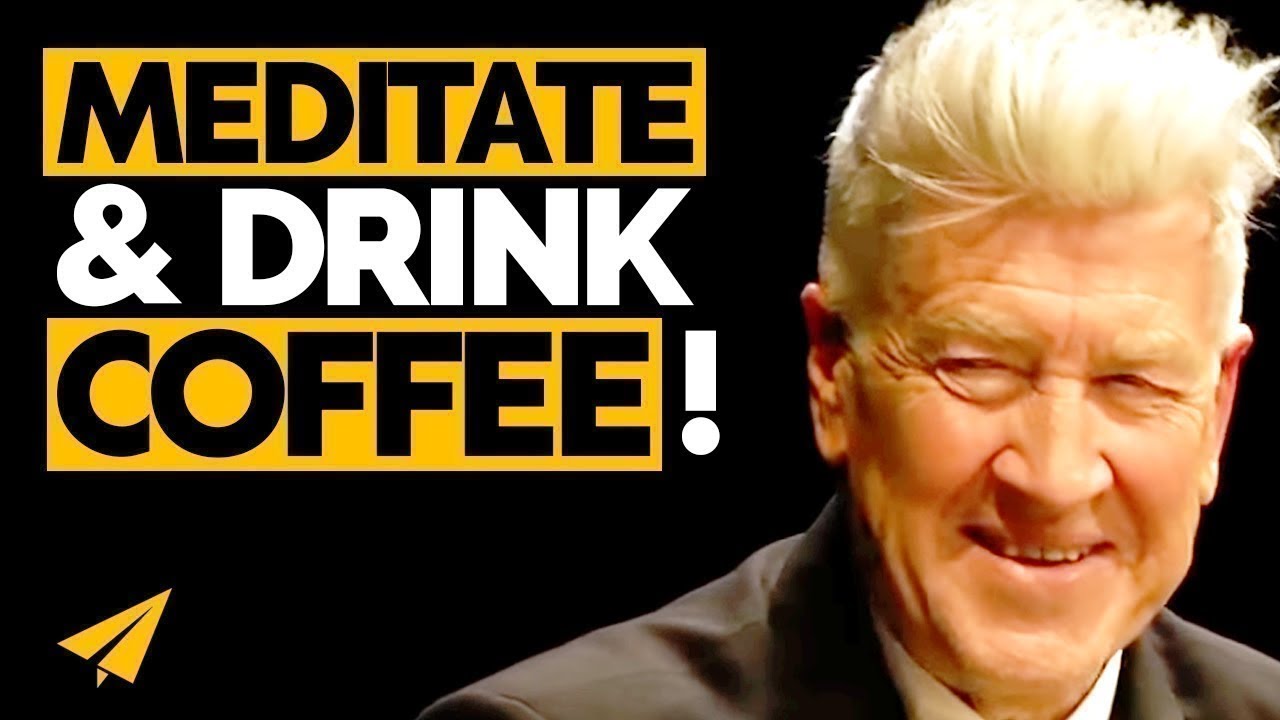 "It's great to go to film school, and you can learn a lot of intellectual knowledge, but, learn by doing."
"If you have a golf ball sized consciousness, when you read a book, you'll have a golf ball sized understanding."
"Meditate regularly. And then, the second thing, I do, is drink coffee."
– David Lynch
…
He's an American director, producer, screenwriter, and photographer.
His films have been known to disturb, offend, and mystify audiences.
He was described by the Guardian as the most important director of his era.
He's David Lynch, and here's my take on his Top 10 Rules of Success.
Rule number nine is my personal favorite, and I'd love to know which one you guys like the best. And as always, guys, as you're watching the videos, if you hear something that really resonates with you, please leave it down in the comments below and put quotes around it so other people can be inspired as well.
Also, as you are writing something down, it's much more likely to stick in your head too. Enjoy.
…
Rule #1: Catch Ideas
An idea comes, and you see it, and you hear it, and you know it.
Interviewer: How does it come?
It comes like on a TV in your mind.
Interviewer:You know, there's a line I've always loved of Leonard Cohen, he said, if I knew where the good songs came from, I would go there more often.
Absolutely. People, we want, we don't do anything without an idea. So, they're beautiful gifts. And I always say, you, desiring an idea is like a bait on a hook.
Interviewer: Yeah.
We can pull them in. And if you catch an idea that you love, that's a beautiful, beautiful day.
And you write that idea down so you won't forget it. And that idea, that you caught, might just be a fragment of the whole, whatever it is you're working on, but now you have even more bait.
Thinking about that small fragment, that little fish, will bring in more. And they'll come in and they'll hook on. And more and more come in, and, pretty soon, you might have a script. Or a chair, or a painting, or an idea for a painting.
Interviewer: But they come as, in small…
"People, we want, we don't do anything without an idea. So, they're beautiful gifts." – David Lynch
More often than not, small fragments. I like to think of it as, in the other room, the puzzle is all together. But, they keep flipping in just one piece at a time.
Interviewer: In the other room…
Over there.
Interviewer: In a sense, David, there's always another room, somewhere.
That's a beautiful thing to think about.
Interviewer: Let's think about it a bit.
No, you think about it.
Rule #2: Learn By Doing
"Do what you really, truly believe in. And learn by the doing." – David Lynch
And my advice, is to do what you truly believe in.
Don't do something to impress any studio or some money people. It always seems to backfire, as far as I've seen.
Do what you really, truly believe in. And learn by the doing. It's great to go to film school, and you can learn a lot of intellectual knowledge, but, learn by doing.
And, now, the cost has come down. You can really, really go. And then you can see how things go. There's lots of film festivals you can enter into and see if you can catch some distribution or some financial help.
Rule #3: Expand Your Consciousness
If you have a golf ball sized consciousness, when you read a book, you'll have a golf ball sized understanding. When you look out, a golf ball sized awareness, and when you wake up in the morning, and golf ball sized wakefulness.
"If you could expand that consciousness, then, you read the book, more understanding." – David Lynch
But if you could expand that consciousness, then, you read the book, more understanding. You look out, more awareness. And when you wake up, more wakefulness. It's consciousness.
And there's an ocean of pure, vibrant consciousness inside each one of us. And it's right at the source and base of mind. Right at the source of thought. And it's also at the source of all matter.
Rule #4: Listen To Your Feelings
I loved two scripts by a guy named Gregory Brooker. Spring of 61 and The Fall and Rise of Glen. And those three I loved.
Interviewer: Yeah. And Mary wants you to direct it. She says, take a look at this and see if you're interested in directing it.
Right, right.
Interviewer: But everybody notes, first of all, this is not like anything you've ever done before.
Right. I, um, it was curious. I'm reading the script, and I'm feeling things. And, I've always said that, film is such a beautiful language, it can do abstractions. It can do abstractions.
And, abstractions, they're the combination of all these different elements you have in a film. It can do an abstraction of emotion.
And, I felt this emotion coming from the script. And that's what I really, that's what lit my fire. That thing.
Interviewer: The emotion of what?
The emotion coming from a scene, from a word, from a look. Um, then when you read something, we all have the experience, we picture it in our minds. And, those pictures, those initial things, are what guide us from then on.
And so, as this thing, you know, I was picturing it, I, at the same time, I'm feeling things, and I'm thinking, film can do this and it could be beautiful.
This thing about emotion, you know, it's an intuitive thing. The film talks to you. And, the story talks to you.
And, uh, so, it's a little bit action and reaction. You know, you're experimenting as you go to get the thing to feel correct. And, how come, it has to feel correct to me. And, um, so you work and work until it does feel correct.
Rule #5: Learn From Your Past
I think it's very important, sometimes, to look at older work.
And it can give you ideas for the present work.
And, or, even ideas for the future. It's kind of important to sometimes go back.
And I felt that same way about seeing films with my son.
I was glad I went back, and it kind of inspired some things for the future. And, uh, it was, basically, a good experience.
Rule #6: Have Boundaries
I, personally, I love restrictions, because it forces you to create, in this, kind of like, boundaries.
And maybe you think up neat ideas, and, because of these restrictions.
Always, in a film, you wish that you could be doing something else. You want to escape. And I think it's like, this pressure and responsibility, it's just, yearning to be doing anything, you know, and going anywhere.
"I love restrictions, because it forces you to create, in this, kind of like, boundaries." – David Lynch
So many times, going to the studio in the morning, I wish the driver would, you know, become crazy and take me anywhere.
But, when you get there, you're back in it, and working. In spite of the restrictions, it's such a fantastic process. And it's creating, and creating is the coolest thing that we can do.
Rule #7: Enjoy What You Do
For me, what has happened is the heavy weight of anxieties and fears, those things have gotten less and less and less. And, for me, life has gotten to be more like a game.
And the things that used to almost kill me, don't kill me so much. And the enjoyment of doing gets so beautiful. And the ideas are flowing more and more.
And the thrill of it all. The thrill of it all. I appreciate people more. I see people, and I see their faces and I, I feel like they seem familiar.
"The enjoyment of doing gets so beautiful. And the ideas are flowing more and more." – David Lynch
And, I just don't have so many problems. And life gets more and more beautiful. And I still love the same things, you know, painting and making films. It just gets better and better. That's my experience.
Rule #8: Find Your Own Voice
Be true to yourself. Have your own voice ring out. Other things can inspire you, but, find your own voice. Be true to that voice, don't let anybody fiddle with it.
Never turn down a good idea, but never take a bad idea. And be true to the ideas. All the way along, every element.
Rule #9: #Believe In Your Work
When you finish a film, your job, basically, is over. And, you have a desire to share your work, and so, you put it out into the world. And you realize, that, yes, you can help the film some by giving interviews or you can go to some places and have talks.
But, basically, the film is on it's own. And you can't tell whether it's going to go good, or going to go bad. It's important that you believe in your work. And that's the most important thing.
Rule #10: Meditate
Transcendental Meditation is, obviously, the most important thing to do day in and day out. Transcending is the key to a better and better life. And this idea is catching on more and more in the world. The receptivity to Transcendental Meditation is growing by leaps and bounds thanks to so many in this room and so many others around the world.
It's really happening. It's built for the human being. And transcending our nervous system, it's built to transcend and experience that unbounded, eternal, infinite, immortal, immutable ocean of pure consciousness within. It's money in the bank.  Meditate regularly. And then, the second thing, I do, is drink coffee.
…….
Evan: Thank you guys so much for watching. I made this video because Luke asked me to.
So if there's a famous entrepreneur that you want me to profile next, leave it down in the comments below and I'll see what I can do.
I'd also love to know what did David say here that resonated the most with you?
What are you going to take from this video and immediately apply it to your life or business somehow?
Leave it in the comments and I'm going to join in the discussion.
Finally, I want to give a quick shout-out to Luke. Is that the same Luke who requested the video? Shout-out to Luke. Thank you so much for picking up a copy of my book, Your One Word, and making that awesome art piece around Hustle, which, I guess, is your one word as well. I really appreciate the support.
So, thank you, guys, again, for watching. I believe in you. I hope you continue to believe in yourself and whatever your one word is. Much love, I'll see you soon.
I spit up.
Stagehand: Yeah?
But the spit up keeps coming. Jeremy, what are you doing?
Jeremy: Sorry.
What are you doing?
Jeremy: Just answering a phone call, I'm sorry.
Okay, now come over here.
All right.
You're in the shot. Take, you know, you've seen this kind of crazy, you know, many times tonight. Greg.
Greg.
And you just hold it like this.
Okay.
And you guys just get up there and you stand right next to her. Just like this and, I got it!
I got it.
Yeah, and then start bouncing up and down. Yeah, yeah, yeah, okay. Bounce around and kissing. Yeah, okay, yeah. Okay. You got 30 seconds, this is absolutely unforgivable.
Actress: It has nothing to do with them.
I don't care. Unforgivable. We could have shot this scene three times. How many minutes will be Justin and Laura ready? On the set, in the bed. She leans against this column, I'm on her. And that's when you,  get in here with the monkey. Alfredo, don't paint the door.
Alfredo: No?
Okay. This graffiti is. No, no, no.
Like this.
You're going to shoot yourself in the crotch. Mousumi is racing into that chair with the monkey.
Uh-huh.
I come off, that chair is empty,
Right.
I come off and I go over here to Mousumi and the monkey. Okay?
Okay.
Now, when I go over to Mousumi and the monkey, you race into this chair.
Yes, exactly.  Yes, exactly, with reflection of the light, oh, it was so beautiful. I remember it now. I need a very microscopic, small amount, thick. Eric?
Yeah?
I need a watch, a cigarette, pack of matches, and the silk. Do we have a mirror ball?
Stagehand: A mirror ball?
I'll tell you, take that Mylar,
Stagehand: Uh-huh.
Wrap it around the rubber ball.
Stagehand: Okay.
That's better than a disco ball, Augur.
And then, behind-
What do you mean, a staircase?
There's a staircase right here that goes up. Which I didn't,
Didn't photo that.
Yeah, I didn't think of it.
Oh! I want to see that staircase so bad, man. Eric?
Yes? Where's that hammer you've been talking about?
David: Not yet!
David: Sweet. There's Jay.  Good.
Stagehand: So the only other moment.
We're still not shooting, we're still not shooting. Where's Julia?
Stagehand: She's coming.
Where is Julia?
She's coming.
Okay, she's not here.
Stagehand: I'll tear the pump off the cart.
Tear the pump off.
Stagehand: What about Dominic, what do you want him, same thing?
Summer, night, why would he be different? Mousumi? This is David. Hi, how ya doin'? Good. Are you ready to work Friday night with the monkey? You're shaking.
God.
Have you been taking drugs while you've been here?  Okay, now listen, Willie, quit the drugs, okay?
Yeah.
We'll start you in on meditation really soon, okay, Willie?  Get the sticks in the meantime. Dreadful. Right here.
Do you need to get through?
Sorry.
Sorry.
Um.
Oh, man. Unbelievable. Oh, that is really good.
Dig down on that one.
Mm-mm.
And, you will use the-
Jeremy? Eric?
---
You might also like
---
More from David Lynch
---
What's up Believe Nation. Today I'm going to share with you my Favorite Top 10 Rules for Success, April 2017 …
Good morning Believe Nation, today's message is catch ideas over you David Lynch. Narrator: An idea comes and you see it …