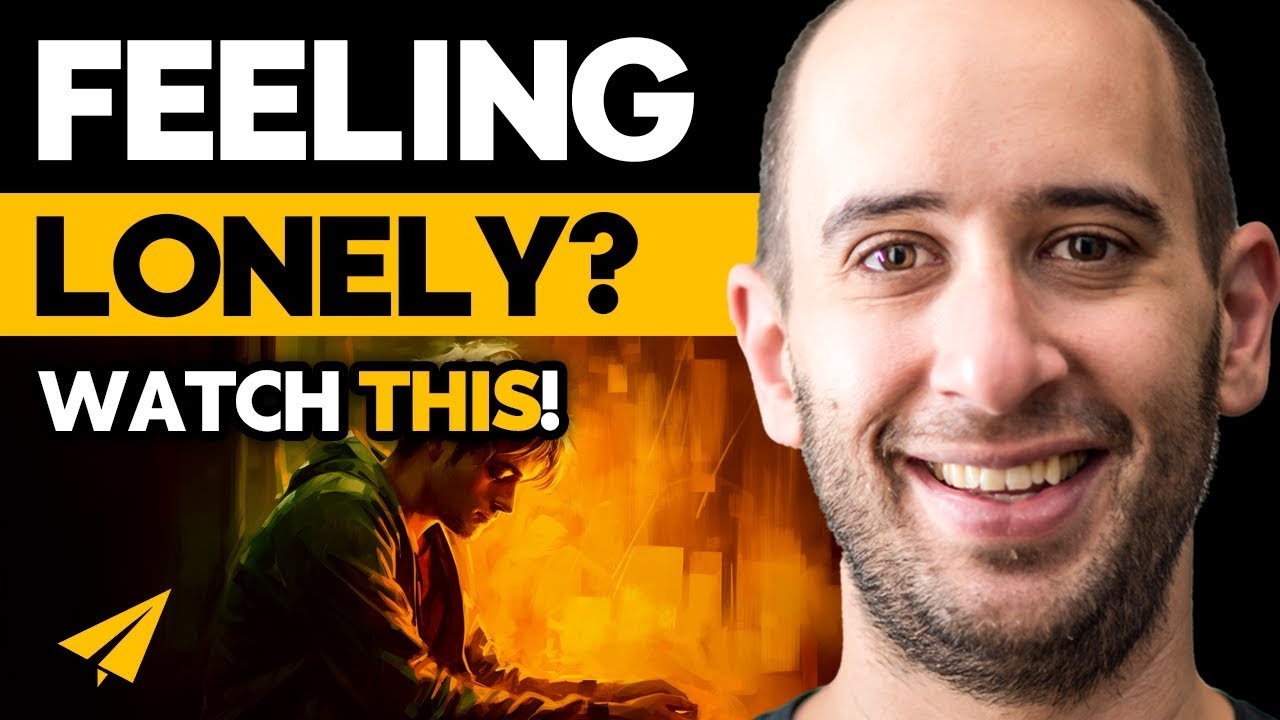 Good morning, Believe Nation!
Today we're going to talk about how you can deal with loneliness.
And also as you watch it, if you hear something that really resonates with you, please leave it in the comments below, and put it in quotes, so other people can be inspired as well, and when you write something down yourself, it's much more likely to stick for you as well. Enjoy.
How To Deal With LONELINESS
WHY
Brendon Burchard
What happens when you're lonely?
You know, when you have this true feeling of aloneness despite being all connected as we are these days, where there's social media everywhere where you can follow all your friends or all your family or all the strangers and celebrities of the world, where you can keep connected to everything, but you're not feeling connected.
Where you feel truly apart from the world or apart from others, or you're in a place where you just feel so separate, or you feel depressed, and truly alone. You feel a sense of loneliness in your life.
It's a big topic today because I think a lot of people feel more of it than they've probably ever felt before, partially because so much of what they're seeing and connecting with online isn't real or it's trumped up as the best perfect rendition of someone's life, and you think like "Well my life isn't that good." or you see all these shows on television where there's these friends and they have all these other friends and there's all this adventure and amazingness.
And you think, wow, the whole world must be full of extroverts who have 50 different friends and are dating 12 different people every single month. That's just not real. And so, we have these unreal expectations about our social world as well, and sometimes it can make us feel even more lonely. So, what do you do?
HOW
It's Okay To Be Alone
Ralph Smart
A lot of people say "I don't fit in!" Well, if you don't fit in to this world, maybe it's because you're here to create a new one. I didn't know that though. So, even when I was studying, I was reading other books about the third eye and stuff and I felt really alone because everybody was just so left-brained. And I'm talking about  different galaxies and stuff. Okay? Now, this is what I found out being a professional alone person.
The first secret is that it's okay to be alone. Oh my gosh, thank goodness for that. Say it again Ralph, It's okay to be alone. I get over a thousand messages every single day, and a lot of people write to me saying "Ralph, "I just can't seem to find anybody I can get on with. "So I'm alone, and I don't like it."  It's okay to be alone. The reason why a lot of people experience a lot of loneliness is because they are in resistance to being alone.
And that was me. Actually, I've got a story. When I was young, my mom was actually very worried because she would find me playing by myself, and I would be smiling, right? So I've always been used to being alone and being okay with it, right? It's okay to be alone.
Because have you ever been around somebody and you never ever see them alone? They've always got like a bunch of friends with 'em? They can't put down their phone for like, two seconds? And yeah, I get it.
Because being alone is frightening to the majority of the human race, because being alone means  yeah, you got to be with yourself, you got to go within. A lot of stuff is going to come out. That's why a lot of us, we want to always be with friends. But if you continue just to follow the crowd, you will only go as far as the crowd.
Try The +1 Strategy
Brendon Burchard
If there are people in your life, wherever it is, try the plus one strategy. You're going to go out to dinner with a buddy, maybe it's your only close friend in the world. Ask your closest friend in the world and say, "Why don't you bring someone to dinner? "We can just have them there, "and we'll make it a, instead of just the two of us, "we'll have three at dinner," you know? And start introducing one more person into your social interactions, asking them questions, sharing a little about yourself.
And as that happens, it's not about quantity, it's about quality, which is why you're starting with that conversation, engaging with real interest in others, sharing yourself with them, and being okay with that interaction. But now, let's just start amping it up, one plus. If you and your spouse are going out with somebody, then ask that couple to bring another couple. Just get used to enlarging your social sphere a little bit more.
Because you know how it is, sometimes you do have a social sphere but you don't really connect with them. You know what I mean? Maybe you've got like three people in your life and you're like, you know, you like one of them? Well ask all three to bring somebody to the next thing that you do, and now the odds are increasing that you're going to find somebody to connect with. Because one new person to connect with can change your outlook, your mood, your life forever.
One new person can bring in a whole new quality of energy into your life. Just one. But you have to be proactive, you can't wait and sit there and go "I hope, I hope, I hope!" You got to invite people to stuff, you know?
That's the key. You got to start inviting people to stuff. And so that plus one strategy, if you're going to do anything with another person, invite another person along with that, you're going to start to see that your social sphere grows and the odds are you'll find somebody in there to connect with.
Build Emotional Fitness
Tony Robbins
Here's the belief I'd like you to try on. I don't need an excuse to feel good. What if I don't need an excuse to feel good? I just feel good for no good reason. How many like this idea, say aye!  Now notice, notice when I first said it, you guys were kind of quiet, processing it, like "I don't need a reason to feel good? "Well, how will I know when to feel good?" Some people say that sounds really naive.
Really! Most people don't need a reason to feel bad. "How's it going?" "Feel like crap." "How come?" "Woke up."  And people go, "I understand, I understand." What if you went up to somebody and said "How's it going?" and they go "I feel so great!" "How come?" "I don't know, I just feel good!" You go, "Take that guy to the psychiatrist."  Right? They're manic, they're crazy. But somebody else is depressed and angry and frustrated, you think that's totally normal.
That's the cultural hypnosis that we've all been in, no matter what country we live in. People come to me all the time in a conference like this and they'll go, "Mr. Robbins,  "I don't know what it is. "I just feel down all the time. "Why do you think I feel that way? So I'll say, "I feel so up! "Why do you think I feel so up all the time?" "I don't know, maybe it's your body." People come up to you and they go, "Mr. Robbins, "I don't know what it is, but for some reason, "I'm angry all the time. "Do you know what it is?" "Perhaps it's your face."
See, do we get into habits of using our body, our face, in a certain way over and over again? Yes or no? And those produce our emotion. Once you're in that state, you'll behave in a way that creates more of that emotion. When you're angry, you'll do things that make you more angry. When you're sad, you'll do things that make you more sad. When you're excited, you'll do things that make you more excited. How many follow, say aye!
Audience: Aye!
So the secret is to build emotional biceps, emotional fitness, by going in these states over and over again.
Change Your Thoughts
Noah Elkrief
The only thing that causes loneliness is our own thoughts. So for single people, what happens is we tend to believe being in a relationship would make me happy. Being in a relationship would make me feel complete and whole.
Being in a relationship is how to be happiest. And as soon as we think that, as soon as we create this fantasy all of a sudden, this moment is insufficient. This moment is lacking. This moment isn't good enough. And that's what creates our loneliness.
So paradoxically, having a fantasy about what you think will make you happy creates loneliness in this moment. And then we constantly end up searching for somebody to love us, someone to be with, and that all just perpetuates the loneliness.
So in other words, what creates our loneliness is the belief that a relationship can make us happy. So if you want to stop feeling lonely, you need to question that belief. Happiness is what remains when we lose the thoughts that make us unhappy.
That's it. So if you can see that a relationship doesn't have the ability to make you happy, then you can stop these fantasies about it. Whether you're in a relationship or you're single, doesn't affect your happiness, only thoughts do.
So being single, being alone, being by yourself doesn't create unhappiness, only thoughts do. So you're not in a disadvantageous position of being happy. You can be happy and fulfilled just as easily as somebody in a relationship can. So your life is not lacking, you are not missing anything. Your life isn't insufficient just because you're single. It's okay, it doesn't mean anything, and it absolutely doesn't mean you can't be happy. So if you can see that, then watch the loneliness just subside.
Persevere
Gary Vaynerchuk
Narrator: Nick asks "It's lonely as an entrepreneur sometimes. "How do you cope with that feeling?"
You know, for me, I'm built for it. I want to be lonely. I want to struggle and grind and have all the pressure. I'm going to take the last shot in the game, always, every time. If you want the audacity to be a millionaire, to be successful, to write books, if you want the audacity, don't you understand the crap that comes along with that?
Like, I wanted the audacity to be in shape. It's come with a lot of crap, it's been a lot of work. But 18 months in, and I'm like, and I said this the other day on my fitness video, I'm not sure I would do this if I saw what I would look like 18 months later.
Meaning I'd look a lot better, but dammit, I would have been like, really? For every single day for 18 months? To wake up at four in the morning? You know, like I'm going to be like , you know. So you deal with it because it's a very small price to pay for all the phenomenal stuff that you headline read and you aspire to and you dream for. The problem is most of you don't want to eat that sh to get there.
Evan Carmichael
For me, developing a strategy around solving your loneliness really depends on the type of person you are. I think we all have different needs for being around people. For me, I'm more introverted, I need to have energy just by myself, I need to have time where I'm in a solo space for a good chunk of time.
If I'm around people too much, then I get depleted and I need to recharge. And I think the only caveat is when I'm around entrepreneurs. When I'm around entrepreneurs, and I'm helping them, we're having an impact, I can do that all day long.
But if you're looking at friends and family and social functions, it really drains me. And so I think what's really important is understanding how much social time you need and devising a strategy around it.
So, as an example, if I'm around people all day, if I'm feeling there's people around me, we're having conversations, then at night, I don't need to be around people, I'm okay just being by myself, relaxing, unwinding, doing some more work, you know, whatever I'm doing, I'm okay to be solo or just with Nina.
If I spent the whole day by myself, and I haven't had any human contact beyond, you know, Snapchat, Instagram, YouTube, that kind of stuff, then I find myself needing to have to go out, whether it's coming to an event here in Toronto Dance Salsa, booking a meeting, going to an event, something so that I have more human contact.
I think what's really important is when you understand how much you need that you devise a strategy for it, so that it consistently happens in your schedule and that you're not stuck, last minute, feeling depressed that you have nothing to do.
I think that's where it can get really scary, I think that's when you can get really lonely, really depressing, is you know that you're spending the whole day by yourself. You know that at night, you're going to have a hard time if you haven't had any social contact.
And then you get there, you're in the moment at night, and you don't have anybody to connect with. Where if you know that that's part of your pattern, you know how much you need, then you can sign up for a dance class, you can sign up for a meet-up, you can book a coffee appointment with somebody you want to get to know, or hang out with friends.
And so I think, first of all, understanding how much contact you need with people to feel whole, to feel good, and then devising a strategy so it's in your schedule and you've planned for it, and you don't get caught last minute on either spectrum of having too much or having too little. I think when you can figure that out, then you'll really combat loneliness and be happier.
Thank You!
Thank you guys so much for watching! I made this video because amardeep asked me to, so if there's a topic you'd like me to cover in the next edition of Believe Life, please leave it down in the comments below and I'll see what I can do.
I'd also love to know which rule did you like the best? What did you learn the most from watching this video? What are you going to take from it that you will immediately apply somewhere in your life or your business? I'd love to learn it. Please leave it down in the comments below.
I also want to give a quick shout out to Martijn, Martijn, thank you so much for picking up a copy of my book, Your One Word. It really, really, really means a lot to me man, and I hope you're enjoying the read. So thank you guys again for watching.
I hope you have an amazing day, I believe in you, I hope you continue to believe in yourself and whatever your one word is. Much love. I'll see you soon.
---
More from Believe Life
---
Today we're going to learn how to communicate effectively.  Good morning, Believe Nation. It's Evan. My one word is believe, …
Today, we're going to talk about how you can create a massive action plan. Good morning, believe nation. My name …
Today we're helping you to stay motivated, and to learn how to motivate yourself! How to MOTIVATE Yourself - #BelieveLife Why MotivationGrid We're all …