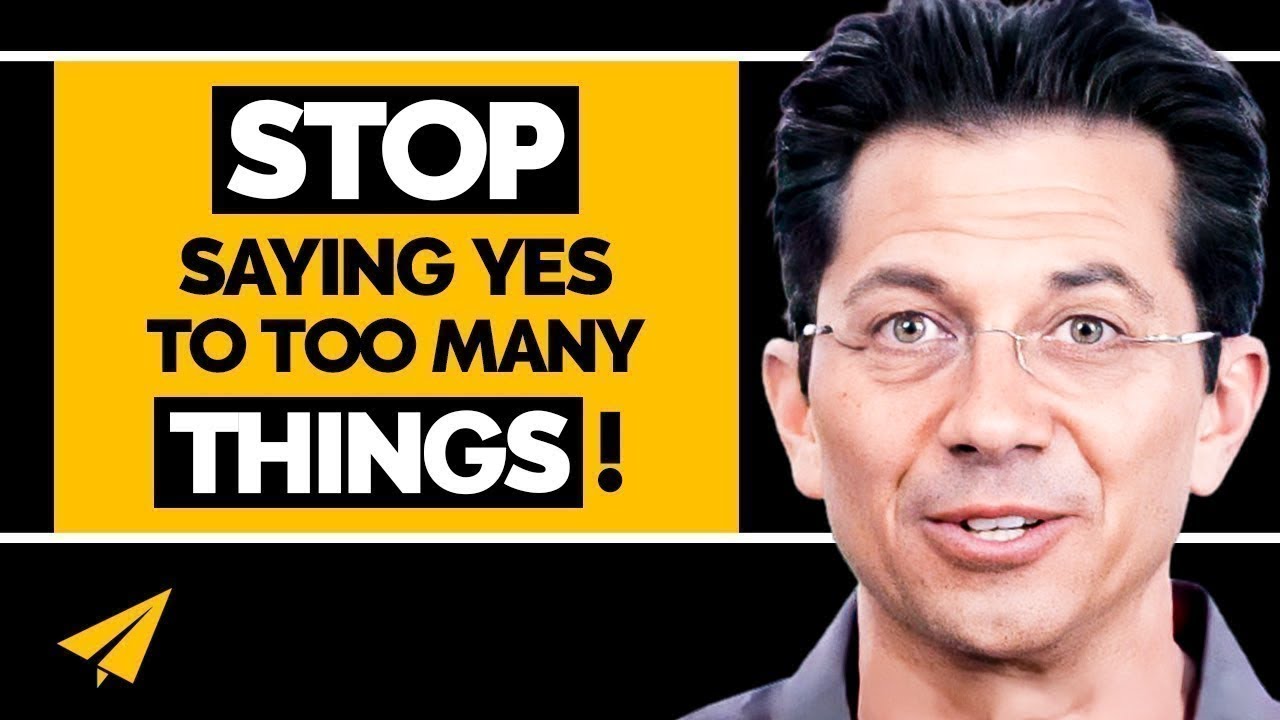 And I want to tell you passion, and from the heart, always always wins over over-prepared and thinking from the head.
Winston Churchill said, "The definition of success is going from failure to failure "without losing your enthusiasm."
We think we have ADD. Most of us don't have ADD. There's just too much coming at us, and we say yes to too many things.
Dean Graziosi's Top 10 Rules For Success
Hello, Believe Nation. I'm Evan Carmichael. My one word is believe, and I believe that entrepreneurs are going to solve all of the major problems of the world.
So to help you on your journey, today we're going to learn from real estate expert Dean Graziosi, and my take on his top ten rules for success.
Rule number three is my personal favorite, and I'd love to know which one you guys like the best. And as always, guys, as you're watching, if you hear something that really resonates with you, please leave it down in the comments below.
Put quotes around it so other people can be inspired. And when you write it down it's much more likely to stick for yourself as well. Enjoy.
---
Dean Graziosi's Rules
Have confidence
Always do your best
Live from your heart
Look at problems as a gift
Be consistent
Learn how to say no
Start small
Know your true "Why"
Overcome your fear
Future proof your life
BONUS
Be authentic
Be competitive
Think you can do it
Rule #1: Have Confidence
Think about how many times in your life you had a massive win because you had no confidence. It doesn't exist. Right, if you're looking to go meet that girl or that guy and you walked up and you're like, "Hey, um, you know I was hoping we could… "can I get your–"
No, that doesn't work! You walk into a business meeting. "Hey, do you think we could–" No, that doesn't work! Go to talk to your kids about something in school. "Hey kids, uh–" No! You need confidence. You need the energy. And you need to be alive.
Well, if you know me, and been watching my videos, that's me. I've made my career on enthusiasm and energy and being in the right state of mind and having the confidence. But the biggest myth is that you're born with confidence. No, I was the shyest kid in the world. I felt so insecure.
I felt dumb. I learned how to manufacture the confidence. And after 25 years of being an entrepreneur, generating hundreds of millions of dollars, being blessed to touch the lives of millions of people around the world, what I know for a fact is that you can create the state of mind and the confidence to live the best you. To unlock that inner hero.
Rule #2: Always Do Your Best
I literally flew to Arizona to meet a media-buyer and I said, "I have no idea what I'm doing." And I just kept pushing in. And one of those things that I think during the evolution of growing from wherever you are to where you want to go, is do whatever you do best.
I mean do whatever you're doing the best you can, knowing there's the bigger horizon. So, I literally was working during the day on cars. I'd paint cars. I was doing collision repair. At night I'd go work on my apartments, and I was a plumber, and hung sheetrock.
And I'd work till midnight on houses. And I was tired. But I had a dream. I knew I wanted to help people do better. So, it made what I was doing okay because I knew there was more. So the big problem I see is people want more and they hate what they're doing.
So they're in a state of mind where, "God, just when I'm done with this crap "then someday I'll reach my dreams." And if you can flop that to go, "No, this is the gateway to my dreams. "I don't care that I'm serving coffee, "or I'm painting cars, "or I'm a teacher right now, "or I'm on my sister's couch. "This is what I have to do "and I have to do it the best."
Interviewer: Become a master at this.
Just become a master at that, and that's the income and the security and the mindset that fuels the next level. It's not, "This is miserable, I hate it. "I fueled the next level, "and now I'm amazing." It's like, you need to master that.
Interviewer: Yeah, the process.
Yeah.
Rule #3: Live From Your Heart
You know, I know I've gone onstage in front of 10 thousand people, and I thought I should have more PowerPoint. I should have more reminders. And I just remember walking out and saying, "I'm here to help rise these people up, "to give them capabilities to change their life.
"It's my vision, it's my goal, it's my obligation "to use my unique ability to just help these people "and live from my heart." And all I could think about is changing these people's lives. And when I got out there, I wasn't perfect onstage. I wasn't robotic and say the right things and I didn't have the crisp, clear PowerPoint.
But when I spoke from the heart, it overcame all of that. And I get to be one of the best presenters wherever I go because I speak from the heart. Now you might be saying, "Dean, that's your unique ability." And maybe that is. But I know for you in life there are circumstances where you have to prepare, you have to do a PowerPoint, you have to do a presentation. And I want to tell you, passion and from the heart always always wins over over-prepared and thinking from the head.
Let me just ask you something. Right now in the crazy presidential race, the GOP race, Ben Carson is probably the smartest guy, when it comes to book smart, out of the whole group. And I don't watch the news a lot, but I just read a lot, and somebody said this the other day and it just hit me. Someone said, "Man, Ben Carson is probably "the smartest guy in that GOP race that's going on."
Whatever you think of it. I'm not going to share my opinion. You know what the guy said when he was done? He's like, "But we all know "the smartest guy never wins." And I was like, "Wow. "We all know that the smartest guy never wins? "What does that mean?" And it's kind of what I'm sharing today. I'm not saying you shouldn't be smart. So many of you are probably way smarter than I am.
But what I want to tell you is enthusiasm and passion and living from your heart, to me, 100% of the time, outweighs being over-prepared and robotic and trying to think what to say. I hope I'm getting the right message across today. Cause I've had this question from so many people.
How are you so easy to talk on camera, onstage? And I never have a good answer. And I really thought through it. And that's the answer. I am here right now doing this video for you because each week I want to deliver you a nugget that you can just place into your life and make a tiny shift towards a better life.
So I don't need a teleprompter. I don't need a script. I come here and just want to deliver, and it's coming from my heart. Now, I have practiced. I've been on video for 15 years. I've been doing these for seven, eight years. And maybe that's not what you do, but you're still going to have these circumstances where you have to talk to your children, talk to your co-workers, talk to your employees, and talk to your employer.
And if you get stuck in your head, that's when you get stressed, that's when you get worried, that's when you try to remember what to say. You leave and go, "Oh, why did I say that?" Or "Why didn't I say more?" But if you can go in and say, "Why am I going in?" And live with passion and have it come from your heart, then that's truly you, and you're giving the answers you're supposed to from the real you. Not the facade that sometimes life makes us wear.
Rule #4: Look At Problems As A Gift
We have this ideal, this image, that everything has to be great. That we don't want any problems because we're supposed to be happy all the time. We're supposed to be fulfilled. We're supposed to be full of joy. And nothing's supposed to go wrong. But the problems are what make us have the other side of happiness.
The harder our problems, and the way we find solutions, the way we overcome those problems, the way we process them: be sad, be hurt, be annoyed, and push it out, learn from them, move on. The level of our problems the level of our success. You know, you might want to be in a rock band, and you want to know the feel of being up onstage and having all these people loving you and cheering.
But if you don't want to go through the practices, and the rehearsals, and carrying your stuff in and out of dumpy little bars, and stuff like that all those years, then you don't want to take on that problem of learning in order to have the reward for being onstage and being a musician, right? If you want to start your own company and you just want to make the money and drive the fancy cars like some of these websites you see, the billion-dollar website and a bunch of people flashing money.
It makes you think, "I want all that happiness, "but I don't want the problems to get there." Listen, that old saying: the smoothest rock is in the roughest part of the stream. If you've had problems, if you are having a problem in your life, how you overcome that problem, how you figure out solutions is the level of life that you get to live. Somebody told me once, "The level of complexity you can handle, "correlates, in so many ways, to the amount of money and the happiness you can achieve."
And, again, I share this with my kids all the time, you don't know tall until you know short. You don't know happy unless you know sad. You don't know cloudy days unless you know sunny days and vice versa. So, what I'm sharing with you is, your problems are here to sharpen us.
Your problems are here to make us stronger. Your problems are here to find the solutions, and the more problems you can take on, the more problems you can get through and come out strong on the other side, the faster your life will go to the next level. Winston Churchill said, "The definition of success "is going from failure to failure "without losing your enthusiasm."
Take it one step further. From problems to obstacles that you can overcome. They make you stronger. They make you have more grit. And you have the ability to go to the next level. Don't try to avoid problems. Fix those problems. Get through it. Find a solution.
And watch yourself just step up the ladder of success, whether it's real estate, whether it's success in your own life, your happiness, your joy, your abundance. You have the opportunity to look at problems differently, as a blessing, as a gift, as hard as some of them are, get over them and hit that next level. The one you deserve.
Rule #5: Be Consistent
I hit it big in real estate by the time I was 26, 27 years old just by taking action. Knocking on a million doors and finally got somebody to do a no-money-down deal with me when I was 20. Then another one. And I rolled that into the next deal and next deal.
Consistent action.
Consistent action. And consistent failing and getting back up, right? The space between failures is really a huge determining factor of your success, right? It's like if you can fail fast, you can win quicker.
Yeah.
Rule #6: Learn How To Say No
How can you find the time, the energy, the effort, and the nerve to start? To make that first call. To put out that first bandit sign. To put up a craigslist ad. To start to 25 to one. To call banks. How do you do that? Well, this one today is learning to say no.
Now, one thing I've learned from the most successful people on the planet, if you want to say millionaires, I've been lucky enough to meet billionaires. The one thing I've learned, the more they say no, the wealthier they get. Now, you may have heard me say this before, but it's that important of a success principle.
It took you a lot of yes's to get here. Yes to overtime. Yes to missing your kid's soccer or dance class. Yes to your wife, your husband getting upset cause you're working late. Or yes to getting my program. Yes to going to a live event. Yes to getting the education. Yes, yes, yes.
Yes to your friends. If you're watching this, you are the busiest people other people know. They say if you want something done, ask somebody busy cause they know how to get things done. That's you. You're the person in your family, amongst your friends, I know it or else you wouldn't be watching me, that get asked for emotional support, financial support, for a ride, for help, for advice.
So you are used to saying yes. So this week I want you to say no. I want you to make the list of the things that you must say no to so you can focus on you. So you can make a massive impact for your family. You want to help family members that need money? Say no to them for a year, become an incredible real estate investor, and then if you want to cut them checks, you can.
If you want to give more to your church, you want to give more to charity, say no for a little while to so many things, so your brain's not all over the place. We think we have ADD. Most of us don't have ADD, there's just too much coming at us, and we say yes to too many things.
So here is the assignment. What can you figure out to say no to this week? Because if you say no to things that don't improve your life, don't improve your family's life, don't possibly increase your future income, or put you on the path to the goals that you have, to spend more time with your family, to get out of a job you hate, to pay off bills.
I don't know what they are, but you have to make, not a to-do list, but you have to make a list of what not to do. Who are you going to say no to? Who are you going to disappoint? What are you going to let go? What habits are eating up your time?
Rule #7: Start Small
Kaizen, the study of kaizen, is one little piece at a time. That's how to eat an elephant, one bite at a time. How do you run a thousand-mile race? One step at a time. When Japan rebuilt after World War Two, they had to adapt kaizen cause everything was destroyed. They looked at everything gone.
They couldn't imagine trying to rebuild Japan. But what did they do? They built it one brick at a time, one person at a time, one business at a time. It turned into such a thriving country so fast cause they adapted kaizen. Break it up into small pieces.
You got a goal? Take a bite today, this moment. When you're done watching us right now, go do something towards your goal. Go send an email. Call somebody. Say no. Say yes. Look for a new job. Start the company. Create the URL. If it's real estate, go make offers.
Rule #8: Know Your True "Why"
The only reason you think about money is cause there's not enough flowing into your life. Because when money flows into your life, you get to be your best you. And the only reason I'm sharing that is cause so many people have this deep-seated fear of making extra money.
Listen, if you can cut a check for a problem, you don't have that damn problem anymore. You worry about your kids, you can cut a check. You're worrying about credit card bills, worrying about your business, worrying about your parents, if you can cut a check for that problem, does it solve the problem?
We still have to work on us. It doesn't fix us, but it solves a lot of problems. So when I ask you why you want to make more money, why you want to diversify, why you want to have a new stream of income, I just want to give you this little example. I hired a consultant to help me be better with my students, get more people engaged to take action. He said to me, he sits down for two minutes, he goes, "Well, did you ever teach them the seven levels deep "of why they're doing it?"
I said, "No, but if it helps them, "give it to me." He's like, "No, you have to go through it or else "I won't give it to you." I said, "Fine, I'll go through it." So the whole thing is, I'm going to wrap this up quick, is whatever answer you said when I said, "Why do you want to make more money?" Ask the same question again with that answer. So my first answer was, I want to have an incredible company that changes the world while I make great money and can help other people.
That was my first answer. Sounds noble, right? Sounds like, that's all from the brain. That's solid. That's who we are. We got this company, we're going to change the world. But then he said to me, "Dean, "why is that important for you?" With my answer, why is it important for you to have a solid business, to help change lives, to make the money?
Then I gave another message from my head of, "Well, I want to set the standard for my industry "and get rid of all the crap." And I did about four or five answers, so I want you to do this tonight, go through this seven times. But what happens around the fourth time you ask yourself that question, you flop from your head to your heart. So I got to the third one, and I said, "I never want to go backwards."
Don't even know where it came from. As a kid, we were broke as crap. I wore hand-me-downs. I got dropped off far from school so the kids wouldn't make fun of my mom's junkie car. I was homeless at one point, where my parents had no place to go.
I'd lie and tell my friends, I had no money at school, I'd tell them that I didn't feel like eating cause my mom didn't have the buck so I could eat that day. And that's not 'poor me.' That shaped me. I love every bit of it. But I hated it, and I realized I didn't want to go backwards.
I said, "That's it." And he said to me, "No, Dean, we're not done. "It's seven levels deep, not five. "So, why don't you want to go backwards?" And it just hit me. And I remember I got emotional, I got goosebumps. I said, "I never want my kids to "experience what I went through. "I don't want to raise entitled kids, "but I want them to have options." I'm like, "That's it, I'm done."
And he's like, "No, there's one more." I'm like, "What there could be?" And it just hit me. I said, "I want to be in control of my life." My parents got married five times each. If you're military or you moved a lot, you know what it's like, every time you have friends, family, new school, you got to move.
I moved 20 times by the time I was 19. And I just realized at that very moment, I wanted to be in control of my life. I wanted to dress the way I want. I wanted to do the work I wanted to work. I wanted to raise my kids the way I wanted. No one was going to tell me what to do in my adult life.
And that was my why. If you're having a tough day, your business is kicking your ass, and you just think you want financial support or financial freedom, it's not enough to get through a tough day. But when you know your true why. I went onstage for years doing this week after week.
And I had a woman come up. A woman, yesterday, said she wanted to make money to travel the world. It reminded me of a woman that came up. Her first why was, "I want to travel the world." After seven levels deep, she got to number one.
You know what she said? She goes, "My physically abusive husband left me "two years ago. "On the way out the door he said you're a pathetic loser. "You'll never amount to anything." And she goes, "I'm going to show him wrong. "Screw him." That was her why. Is that a stronger why than just wanting to travel the world?
I had another guy stand up and he said, "I want to change the youth in my neighborhood. "There's not a lot of dads, no support. "I want to create this company. "I've already started making money. "I'm going to take it to the next level." What a strong why coming from his head.
You know what his number one was? That his mom died before she knew that she set a good example, and he felt he showed her he was a loser while she was alive. And he was going to show her he was a winner in her death. Is that an incredible why?
Rule #9: Overcome Your Fear
I'm talking about these two and I've been blessed to meet presidents, multiple presidents, I've met billionaires, I've been lucky to meet a lot of people, and I feel honored and blessed. But all of them have a humbleness of felt they weren't ready and not as good as you perceive them.
Okay, I'll give you an example. Derek said he went to England to study. And about four weeks before the world championship, his coach came to him and said, "Get ready. "In two weeks you're doing a competition. "If you win that and qualify, you're going to the world championship."
And he said, "I'm not ready. "Four weeks? "I'm not ready." He thought he was going the year after, and she said, "You're ready for it." He said he pined over it and said, "No way. "I'm not ready." And she told him. And the cool part is he had a good mentor. He had someone that became like a second mom to him who told him, "Yes, you're ready. "Yes, you're ready."
He went to that event two weeks in. He won that, he qualified for the world championship. And then he's like, "I qualified there, "but this is the world. "Everybody from the world is coming in. "I can't do this, I'm too young." He started going through all these excuses.
And then, like all entrepreneurs do, so I want you to know, we all think the same things you do. And all the things that are there, are there for everybody. But one difference is: overcome your fear and step it up and jump in the game, because, listen, Wayne Gretzky said, "You miss 100% of the shots you don't take." He wanted to wait a whole nother year.
When he went into the competition, they had him ranked that he would finish fifth through seventh. And he jumped in. He did the performances of his life. And he won the world championship. Feeling he wasn't ready.
Completely didn't want to do it. Think about how his life probably changed forever, forever and ever, because he actually overcame that fear, didn't listen to that demon, those voices inside, telling him he wasn't ready. And he got in the game.
Rule #10: Future Proof Your Life
And I want you to think about future-proofing your life. What does that mean? You know, technology is moving so fast right now. I was just at an event last week with Peter Diamandis, the author of Abundance. He's the creator of the X Prize.
He was the one that put up the money for the first ship that went into orbit that wasn't part of NASA or part of a government. The guy is just unbelievable. He's such a visionary and showed where we're going. Right now there's 100 cars in Pittsburgh, Ubers that are driving themselves.
They're driverless cars. Ford is making driverless cars. They're thinking that Uber alone, in six or seven years, will be 100% driverless. There's a million Uber drivers. Technology, right now, robots are going to be cleaning our house, not in 100 years, like in 10. Robots are taking over factories. So what that means is a lot of jobs are going to be lost. A lot of scarcity.
A lot of people getting scared. Uncertain times. But really, the foundation of all success isn't the magic widget, the magic pill that gets you rich, the lucky invention. All success starts with our habits. All successful people don't worry about the change, they embrace it.
They want it. Peter Diamandis is onstage and saying, "Do you see how amazing this is?" But what you have to think about is how do you future-proof your life? How do you future-proof your income? What are some of the things that you can do to make sure you're in a job that's sustainable? You create a business that's sustainable. All of those are kind of, to me, abundant.
They're everywhere, but what happens is, when you back up five or six steps, that's where it all starts. It all starts with an abundant mindset. It all starts with having a vision and clarity in what you really want out of your life. It all starts with not working on your weaknesses and gaining your confidence.
It all starts with knowing why you want more. And it starts with having the habits that make you, not overcome, but thrive during these uncertain times. Stop worrying about technology. Stop worrying about the crazy politicians in today's world. Stop letting the news affect you. Stop letting the outside world control your knobs, turn you up, turn you down.
You can future-proof your life by not letting those thoughts that the future is bad live inside your head. If we focus on what could go wrong, if we focus on robots and technology taking our job, we get small. What I want you to start doing is think how you can go big, how you can open up and say, "What is this amazing technology?"
A billion people are going to be coming online over the next 10 years. All these changes. This amazing technology, how can you step out in front of it? How can you be a part of something people always need? How can you look at it through glasses where it's half-full?
Where you can look at it through an abundance state, rather than a scarcity state. Life is going to happen anyway. Technology is going to happen anyway. We can focus on what's wrong with it, or how can it hurt us. And that's how we feel. That's how we act, and that's what we get.
Or we can find a way to find abundance out of it. Find joy out of it. Find excitement about the future. And with that, you will find the path that will create wealth, will create joy. If you're one of my real estate students, everybody will always need real estate. If you're not in real estate, whatever it is you do, find the angle. If you're in the life coaching business, everybody will always need life coaching.
High performance coaching. That's two of a million things you could be doing that are future-proof. But the biggest thing I wanted to share today, what really future-proofing your life means, is having the right state of mind. Being the observer of your thoughts, and find a way to focus on the future, not dragging that anchor of your past behind you.
Thank You
Thank you guys so much for watching. I made this video because Dudebuyhouses asked me to. So if there's a famous entrepreneur that you want me to profile next, check out the link in description and go and cast your vote.
I also want to give a quick shoutout to Kevin Fiedler. Kevin, thank you so much for picking up a copy of my book, Your One Word, and tweeting it out, and making animation videos around it. I really appreciate the support, man. And I'm so glad the you enjoyed the read.
So thank you guys again for watching. I believe in you. I hope you continue to believe in yourself. And whatever your One Word is, much love. I'll see you soon.
---
BONUS
Be authentic
Man: Is there a formula to the most successful infomercial, like five or six things that you must have?
You know what's so funny when I went dead before. When there was a thought I had and that never happens, cause I just got off a plane. It might be the Dramamine. But I went flat for a second cause what I was thinking, what I was going to tell you is you said, "How did you know it was going to work?"
And, what I'd share with anybody watching, in any kind of marketing, or any kind of persuasion, or attracting somebody, persuading somebody, get them to take action, when I look back at those original infomercials, I had two things going for me.
I wasn't the smartest guy in the world, struggled reading, insecure about that. Wasn't college-educated. I don't have a really incredible vocabulary. It's hard for me to articulate certain words cause they're just not in there, right? But what I had was enthusiasm and authenticity. When I look back at those infomercials, and they hit like monsters. One infomercial I did did 150 million in sales.
Wow.
Just one infomercial.
How long of a period was that over?
About 18 months.
Wow, that's amazing.
And I look back at that, and I don't say that to brag, all that's not profit.
Of course. You spend a lot on media, of course.
I barely say anything about money. I'm saying it to make an impact. Because I wasn't the smartest guy. I didn't go to college. I didn't come from anything. Most people watching are way further ahead than I was when I started.
You weren't trained on the camera. You weren't , But what I did have, as I look back even at those old shows, where I'm embarrassed to see myself and my New York accent was super-heavy, that's where I grew up, is I had authenticity and enthusiasm. And I think people could see this guy really wants to help. It wasn't scripted. It wasn't perfect. I stuttered. I said words wrong. I look at some of those, I used the wrong words in the wrong context. But it still converted. And as I evolved and the first time I did a sit-down Larry King-style infomercial, he's the one that gave me the idea for that. Then I did the one where I was driving in my car. The reason I did that driving in my car was I wanted people to know that I wasn't using a teleprompter, there wasn't somebody scripting me, there wasn't a million cuts, it was just me just driving.
Wasn't produced, yeah.
Wasn't produced. It was me driving from my office, I started it with a backpack. I said, "I'm going home. "You want to take a ride with me?" And I talked until I got home. Briana and my son were probably three and one. When I got to the door, they came running out. That was the end of the infomercial.
That's cool.
And that wasn't even planned. They just ran out cause Dad was home, right?
Wow.
But I did that because I could tell the authenticity and the enthusiasm I had to change people's lives was there.
Be competitive
I want other people in my field to step it up and do better cause it'll always keep me on my toes. I want my competitors to step up their game. When I get frustrated with my competitors, it's because they're slacking. They're teaching five year old strategies. They're hands-off. They do an infomercial and let someone else run the education. I hate all that crap. I would love for them to be as good as us. I would love for somebody to get close to me because all I do is get more competitive and get better and better. Competition is great.
Think you can do it
I can remember thinking, throughout high school and even in my early 20s, maybe not my early 20s, I flipped pretty quick. But right around 20 years old – You didn't go to college, right?
No, I didn't go to college. I barely got out of high school.
Right.
But I can remember thinking in high school, whatever years that was, I hope someday I can get a job and make a thousand bucks a week and just get by. I'm not that smart cause I had trouble reading I still can't read great. I had dyslexia, is what I think it's been diagnosed now. But I still can't comprehend good when I read, but I didn't realize I was an audible and visual learner. I can listen to a book, and I'll memorize the whole book.
Wow.
I could watch somebody onstage and emulate that if it fits my life, but sometimes we're judged by a scorecard that's an outdated scorecard, right? So not only did we not have money, I also felt, well I'm not smart enough to go to school. And something changed around 17, 18 years old. Something flipped and I noticed, and this is going to sound like it's a pitch for the book, and it's not. But
I noticed people in my town, this little tiny town I grew up in upstate New York, the people that had money, the people that seemed happier, I don't know behind the scenes, but they seemed happier, more fulfilled, they were more relaxed, like they were walking up a ladder instead of my family seemed like they were running on a treadmill. It's like we're going fast, but we're not going anywhere. So why is this guy or this woman in this town doing so well?
And I remember just obsessing on it. And what I noticed was, I didn't call it habits, I'd love to say I figured this out when I was in my 20s, but what I realized is they just did different things than my family and my friends were doing. And I just started obsessing on that. And I was young enough and naive enough to just think I could do it. I mean, sometimes you wish you could give that gift to somebody in their 20s, 30s, 50s, 70s, right? I had the gift of being naive and a little dumb and not listening to anybody. In 1998, I did my first infomercial.
Wow. Almost 20 years ago.
Yeah, 1998, I filmed my first one. And my sister, my daughter's aunt, my daughter's sitting here with us, my sister drove from Virginia, because by then, in 1998 I had apartments, I had a collision shop, I had an auto sales, and I was building houses From that broke kid, I was doing well.
How old when you started that?
1998 was 20 years ago. I was 28, 29 years old.
Wow.
---
You might also like
---
More from Dean Graziosi
---