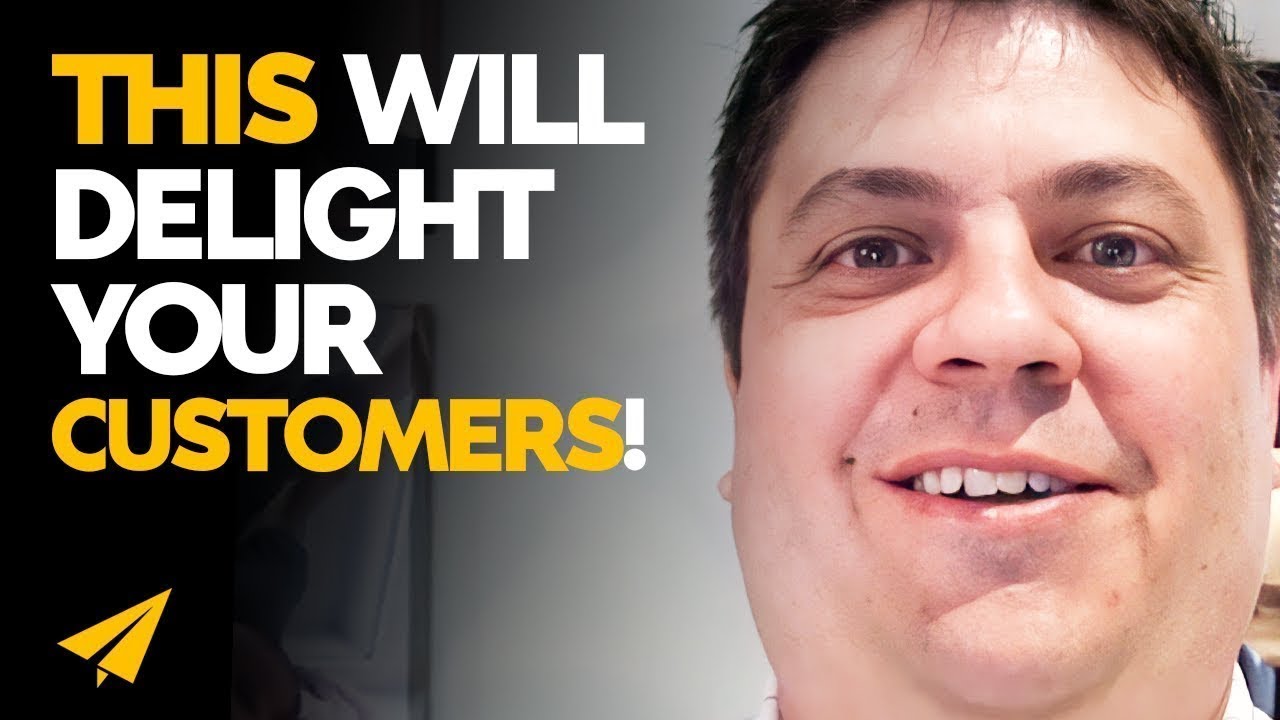 Evan: How to delight customers. My goal is to delight my own family of customers. Just like my dad did for his. Louis Trahan, Founder of Last Minute Training.  Louis Trahan had a problem, he's in a boring industry. Louis' company, Last Minute Training sells training for office workers. Most people don't think about training until they need it and it's really hard to get people excited and talking about it.
Most people see training as a necessary evil, not something to look forward to. When was the last time you went around telling everyone you know about that amazing Excel training you just can't wait to take? Exactly. But with my help, Louis realized that he doesn't really sell training, he sells the experience of being delighted.
His one word is delight and he built his entire business around it. He delights his customers by actually caring about them. He and his team research and know more about all the training options available than any other competitor, so he can give the best recommendations to his clients.
He knows which training providers deliver the highest quality training for each subject area, who is least likely to cancel classes and who has the best learning environment for his customers. He often books people into courses where he makes less money because it's the right thing for the client.
When he interviews new staff members, he first looks at whether they have an attitude of delighting people, before he looks at their skills, experience, or references. In his marketing, he shows a picture of his baby son smiling because he wants people to feel delighted when they see his ads.
The results, when I first me Louis and he joined my mastermind group, he had just an idea on paper, it was a pure startup. Fast forward a few years and Louis now has an office, a team, brand name clients, sells over 10,000 training classes and has booked almost $10,000,000 in business. He's making money and making an impact. So I asked Louis to share how he found his one word.  It was over 20 years ago but I can still remember it like it was yesterday.
I woke up on Christmas morning, wondering where dad was. He was gone because it was cold outside. I mean really cold, like 50 below. And another family needed him to come fix their broken furnace.  He was a furnace repairman and these were his customers. Dad always went above and beyond to help a customer, even if they were total strangers, especially on Christmas. This wasn't the first or last holiday without him.
Dad hated seeing people suffering. I could tell you story after story where he aimed to bring joy and relief to the people around him in every moment, often at his own expense or his family's, and now I understand. We were all family to him. Every person.
Now my goal is to delight my own family of customers, just like my dad did for his. I can't help it, it's ingrained in me, it's part of my DNA. And let's be honest, you probably rarely think of scheduling training as a delightful experience. In reality, it's probably a huge headache.
Most of our clients tell us they would previously spend hours and hours researching and then booking and managing multiple vendors for a variety of different training classes only to get inadequate or even canceled classes. We screen the vendors and trainers for quality, making sure we understand your needs to get you the right training, plus we negotiate the deal for you.
Our staff can often find you the right training class in minutes, where it might take you days to complete the search for the right class on your own. I've built an entire team made up of people who, just like my dad, will bend over backwards to delight you. It wouldn't matter what kind of business I'm in, my number one priority would still be to delight my customers.
---
You might also like
---
More from Book Videos
---
The extraordinary way to one million dollars. If I'm able to live an extraordinary life, If I'm able to do …
The $500,000 Family. It's not about skill level. For the most part, it's about an eagerness to help others, to …
The Honest Company Steps Up. Everyone I approached was skeptical. Even my husband, Cash, thought the idea was too big. Jessica …