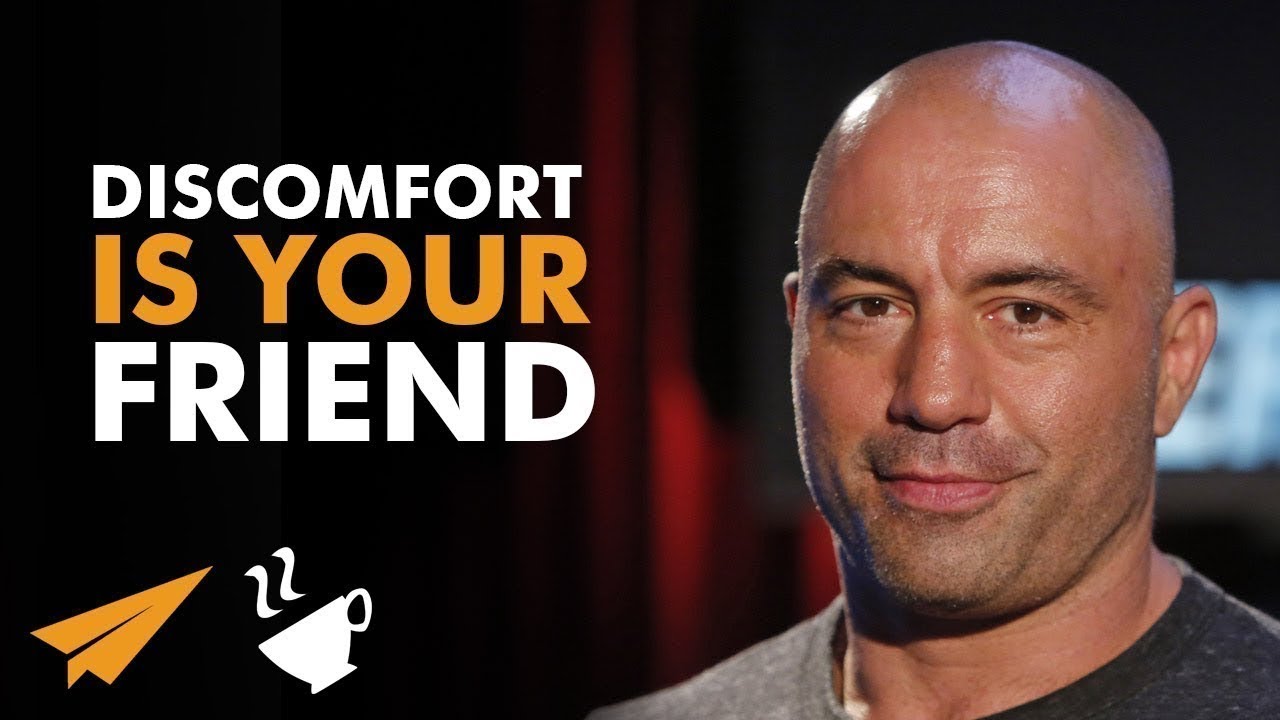 Good morning believe nation my name is Evan Carmichael my one word is believe and I believe that entrepreneurs will solve all of the world's major problems. So to help you on your journey today's message is discomfort is your friend. Over to you Joe Rogan.
DISCOMFORT is Your FRIEND – Joe Rogan
Our bodies for whatever reason most people their associations are to avoid anything that's uncomfortable but it's so illogical because when you look at comfort and you look at success and progress and the eventual feelings of accomplishment and of getting past certain hurtles in terms of how you feel about life.
A lot of those are connected to discomfort. Discomfort is your friend. It really is. Discomfort and not being happy and content with certain situations in life or certain feelings in life, there are massive motivators and they're amazing at facilitating change and yet our instinct is to avoid those and just sit on the couch and watch some reality show about dudes who make moonshine with our jaw open like it's bizarre.
Evan Carmichael
You can measure your growth in life as a human being by how much discomfort you're regularly experiencing. There's that old expression that you need to scare yourself everyday. Right we hear it in songs. We hear it in radio. We hear it on TV. We read it in books.
You got to do something that scares you every day and it's great advice. It's amazing advice. We just don't do it. Do you do something that scares you everyday? When was the last time you did something that actually scares you? When you aren't doing things that scare you that's when you see insane growth. That's when you see yourself developing, your business developing and it may not happen right away but through that process of scaring yourself and getting uncomfortable, that's when you start seeing amazing things happen and you feel great.
You feel scared but you also feel great because we love to grow 'cause as humans we want to grow. We want to get better. We want to learn. We want to develop ourselves and so what I would encourage you to do is try to develop the habit of you can either consciously say I'm tryin' to do somethin' to scare myself everyday. Right? Which can be a good practice but also can be reactive in that when you have an idea or somebody asks you to do something and you get those nerves. Right? You get those nerves that scare you.
I don't want to do that I might fail. To recognize that and then to build and grow from that. To start building that muscle of fear and breaking through it. I think it's really important. I think most of what we do is subconscious. I think most of the actions you take will be subconscious. You will just naturally play smaller without even thinking about it. You'll rationalize the fear. Right? You'll rationalize the discomfort.
You really want to start a YouTube channel and the real reason is you're afraid to get in front of the camera. You're afraid of people's judgment of you but instead of recognizing that you'll say oh but I don't have the money, just to get a camera. I don't have the time. I have a really busy life and you know I got to get the gear and the lights, the microphone and I don't know even know if I need to go to school for this.
All the irrationalize the reason but deep down it's just fear. You're just afraid. So the first step is just understanding that it's fear. That you're really just afraid of doing this thing and then when you understand that, practice developing the courage to go and do it. Whenever I feel myself being a little bit afraid, worried about other people's expectations, then I know I have to go up and do it.
So a couple examples, I went to Paris not that long ago and was speaking on stage at a key note speech to close out a conference. There's about 2000 people in the room and I've done tons of these speeches right? I've done a lot of speeches and every time I go I want to try and do something new. Something different. Not just for the audience, 'cause a lot of the audience hadn't seen me before.
For myself. I don't want to get up on stage and just do the same speech that I've always done. Every time I go I want to do something different for myself and so this time I went up and I didn't use any slides. I had one slide the entire presentation. Usually I had slides that would have pictures, I'd follow it along the story of what I was saying. I don't read from slides I've never done that.
Well maybe probably when I started a bit from slides but this time I was like you know what I have a 20 minute presentation. I'm going to get on the stage. I'm just going to go. And the initial fears that come back like what if I forget what I'm going to say? What if I lose track? Because the pictures at least kept me on track and what if I miss a point? You know. I shouldn't do it you know, I've been paid to come here and I need to make sure I'm providing a lot of value and that's maybe not the smartest idea.
All of these fears come in. Like no I'm going to do it. I got to do it. I need to push myself for me and I was so nervous there was a guy speaking before me I just couldn't wait for him to finish 'cause all the way through his presentation, I'm thinking okay what am I going to say? I got to say this, I got to say this. Fears, fears, fears, fears.
They announce my name instead of walkin' around the stage like everybody else does I just jumped onto the stage. I was in the front row. Evan Carmichael. I jumped on the stage and the MC had to come and shake my hand upfront instead of around the side. I think it's important. I think it's important for yourself. That you do the things that make you feel uncomfortable.
I told this story before on my channel. Even making videos here I'm worried about people walking behind me and doin' it in a public setting instead of closing the doors or doing somewhere else or wearing different colored socks because my son did it and then i was worried that people would judge me if I tried to do it because I was worried about the judgment. I had to go out and do it.
Or listening to music when I'm walkin' in the street and dancing and then when I get to close to a busy intersection. Dancing smaller. See that you catch it. See you'll dance smaller just naturally. You'll play smaller naturally. But if you can catch it that's when you can say no I'm not impacting these people.
I'm not tryin' to make their life worse right? My dancing, my doing whatever I want to do in the street doesn't impact them. If anything it's giving them something different to look at. It's bringing a little more joy. They might tell their co-worker they saw this crazy guy on the street dancing.
Maybe they go back to their office and dance a little bit more. Maybe what I'm doing is actually inspiring them. But an actual baseball so you can catch it. That's when you got to take the action. There's that great expression of doing something everyday that scares you but we don't actually do it.
So I would encourage you so when you feel that discomfort try to recognize it. Try to see it as this is muscle building time and go out and do it.
 Question Of The Day
So the question today is I'm curious what was the last thing you did that scared you? Leave it down in the comments below I'm really curious to find out.
I also want to give a quick shout out to Priest Willis. Priest thank you so much for picking up a copy of my book. Your One Word. I really appreciate the support and hope you enjoyed my book. So thank you guys so much for watching.
I believe in you. I hope you continue to believe in yourself and whatever your one word is. Much love and I'll see you again tomorrow morning for another shot of espresso.
---
 BONUS
Sylvester Stallone
If I had to rewind the clock 10 years I would've insisted by people that are close to me, please push me into very unsafe projects. At least every other one. I think it's professionally responsible to not continue to remake the same role over and over again. What's tonight? Turkey TV dinner, turkey TV dinner.
Richard Branson
Interviewer: so it looks like you always go out of your comfort zone right? Coming onto an island that was completely deserted, no fresh water you didn't even have the money to buy it and now you're sleeping on a tent on the beach trying to figure out how to get fresh water here. You do that often. You did it with the airline? 
I was just somebody that experienced the bad experience of traveling on airlines. I was actually trying to get to the BVI, the British Virgin Islands one day from Puerto Rico and the same lovely lady was waiting for me and I'd been away for three weeks and American Airlines bumped the flight and so I went to the back of the airport I hired a plane. I had a black board.
I wrote Virgin Airlines one way $29 to BVI. Went around all the people who had been bumped and I filled my first plane. And that got me thinking that airlines do bump people they don't care about you or me particularly in the air so then rang up Boeing and said do you have any second N747's-
Interviewer: No kidding I mean it was literally that you just sat in the airport and said I'm starting an airline right now because I'm frustrated. 
Exactly. And I think most of the best entrepreneurial ideas come out of frustration I think. If you're frustrated about something, the best way of sorting it out is get out and do it. And you've got yourself a business.
Matthew McConaughey
Starting with Lincoln Lawyer was a time when I said I wanted to recalibrate my relationship with my career. I remember saying that. I remember thinking my career, I'm enjoying it. I love what it's given me. I like goin' to work. I like the things I've been doin'.
But everything I started reading I felt like oh, it's another version of something I've done or I feel like I could do it next week and I remember going well wait a minute before you get mad at thinking you could do something next week, that's a valid feeling. Don't just say no to something 'cause you can feel like you can naturally do it but then I said okay fair I'll shake with you on that McConaughey but… Let me find something that I don't know how what to do with that next week or the week after.
Anytime something that I really like but I'm goin oh I'm not sure. That scares me that shakes my floor and I was fortunate enough to that schedule F. Check I got in the Angels in the Outfield. Didn't know that my rent was paid. I was fortunate enough that all my kids were going to eat. I was just shepherding my first son into the world. So I had that to take care of my time.
I said it's a great time to go in the shadows and be a father and sit back and see if something turns you on from the inside or if something finds you if you're the target. We're okay rent's paid. Kids are going to eat. We can take some time off.
I in know way was thinking about oh I'm done but I didn't know how long the dry spell was going to go so I said no to some of the things that were similar to what I had been doing before and it took awhile I had to sit down with my agent and say hey I'm really going to do this and I need your help with my commitment to this because after eight months if the same thing comes in with a big 10 million dollar paycheck it starts to read better and funnier.
I promise you. I mean the same words. All the sudden I think this thing's great. I think I can find an angle. No I can make it a different experience for me. So I said I'm going to need your help bunkering down there and saying no to some things and so I'm going to need you to be a gate keeper one to keep from getting to me, two let's be real clear I'm lookin' for some different things to do. He holed up he handled that.
My wife we said we don't know how long it's going to be dry then after they quit sending those, then it did get dry. Then nothing came for about year. There's nothing. I didn't have any sleepless nights or oh my gosh. I was like no I'll find something. I'll write. I was writing a lot. I was turning myself on creatively and as I said I had my first son to shepherd into the world. And then the funny thing happened.
The beautiful thing happened that I somehow I was the target, drew the arrow and I think my opinion is I became a new good idea by removing myself. I became William Frincken calls, Steven Soderberg calls for the first time. Somehow in that two years I became fresh new idea that I don't think I was two, three years prior. How that works I'm not sure because I didn't send a memo out.
---
You might also like
---
More from Entspresso
---
Today's message is be confident. Good morning believe nation, it's Evan. My one word is believe and I believe that …