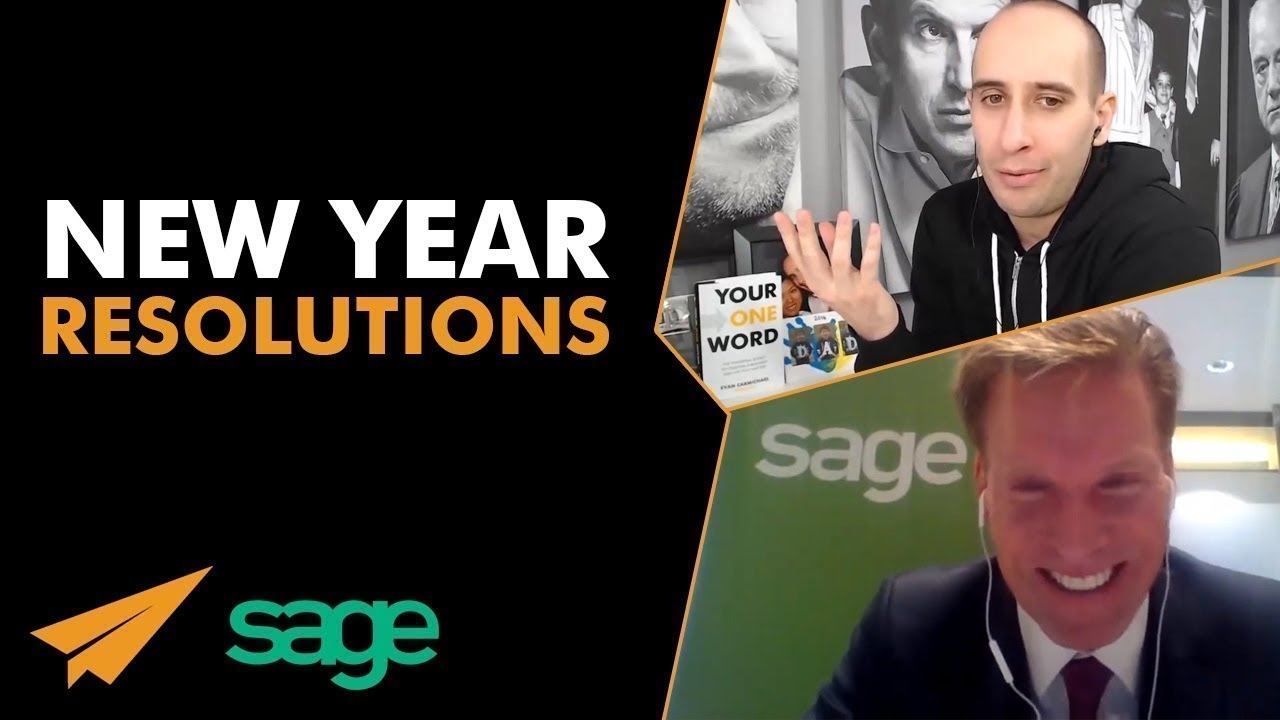 Evan: Next up is Mihovail talking about New Years' Resolutions. So, that's timely here. He's said he's trying to change his approach this year to focus on not making a list of resolutions, but making a list of mistakes and explanations to look at why he didn't follow through on making those plans and fixing the mistakes from last year. What are our thoughts and how do you go about making resolutions, or even do you for the new year?
Stephen Kelly: For the New Year, I'm going to try one thing, Evan, because I'm so conscious. I bust my own chops, I'll be honest. I demand a lot from myself. I never think when I look at myself I've done well enough, and that's kind of deep lingering in my psyche. I think, and this is advice I'd give to everybody, when you look at yourselves, we've got great people today joined us for the blab, I think I'm going to try in the New Year to say, not for me but for other people, just look for the good things they did, and it's almost back to sports.
If you're competing against kind of, I don't know, say, Usain Bolt, for the 100 Meters, do you beat yourself up all the time on that 1/100th of a second where you don't come out the blocks? Or do you celebrate the things that you do well in the last 50 meters where you accelerate away from everybody else?
"I think we should, as leaders, focus way more on the things we do well, and make them even better, and if we do that, I think we'll find we make less mistakes, and also, any sort of improvements we need, you can call them whatever you want really. We've all got weaknesses." – Stephen Kelly
But, if you accentuate the positives, and if you've got people working for you in your businesses, if you just give them a bit of praise about what efforts they've put in to achieving something that was connected to your big passion, and dream, and idea, then, wow. You'll make them rise 40,000ft, and fly out of your home office, and they'll be able to rule the world.
And I think so often when I look, and I say this for myself in terms of one learning for me, it's so easy to say, "Oh you did this. Okay, "but I want to tell you about these three things "that you didn't do so good." And the voice in your head, because a lot of overcoming the fear is smashing down the walls, and smashing those voices that tell you you can't do stuff because you know you can.
You know you can, and if you keep on listening to the voices around you or in your head, they'll just grind you down, and you kind of just lose the will to live.
So, I do think, actually, both for yourself, it's really good to celebrate the positive, to savor the moment, but most of all, if you're a company of two, three, five people, wouldn't it be powerful when you've won a big order to take everybody out for dinner, and just celebrate that and enjoy it, and say "Your contribution was this, "and if we hadn't won that."
It maybe be a pitch or it maybe the product they invented, or whatever. It's so powerful to galvanize the people together against your passion for your dream. So, one thing I do is in terms of the New Years Resolution, yeah, okay, spend maybe 20% of your time when you do that on the one mistake, but actually spend 80% of the time on the things you did really, really well, and then you become a super trained athlete to do them over better, and, you know, focus on the positive.
Evan: To Steven's point, I would encourage you to not just wait 'til the New Years' Resolution to come around to start doing it. If Steven inspired you with that story about celebrating the win, then today is the resolution. Like, do it right now. So many people wait until the New Year to start something, and then they fall off track a couple weeks in.
I would love for you guys listening and watching, for entrepreneurs, to when you get an idea just go out and try it. Even if you don't know all the details, right? So, I want to celebrate a win. Okay, great. Is it going to be a restaurant? Is it going to be with a gift certificate? You start planning all the things out, the perfectionists in us, planning all the things out. You make it some big thing, and then because it's so big we never do it.
Because it has to be the perfect thing, and we never do anything. And I think just starting something small, it could be a phone call, it could be taking somebody out, it could be just buying them a Starbucks, whatever, just try something.
See how it feels, and adjust. And I would love for you guys to get in the habit of constantly doing the self evaluation and checking yourself, and not waiting until New Years' or your birthday, or some other arbitrary day.
Like, just start doing it. You get inspired by something you hear today, take action! That would make both Steven and myself insanely happy. That's the goal, right?
"Don't wait another, you know, couple weeks. Do something today." Evan Carmichael
Stephen Kelly: Yeah, I think, Evan, as well, that's such a great point. And, you know, another great quote, "Never leave til tomorrow what can be done today." And, I think, you know, why wait til the New Year? This is a great holiday season, and for you guys who've got customers out there, and if you got people working for you, colleagues that work for you and follow your dream, what a golden time to say a really heartfelt thank you in the holiday season.
It's sort of a time to pause, reflect. They're going to go home with their families, or friends, and it's a really a pretty cool time to pick up the phone to customers, send them a SMS or a direct message, just saying "Thank you so much "for your custom over this year. "I'm really excited about working with you again in 2017."
So, this is a great time, not just the new year, but the end of the year, just to celebrate what you've achieved this year, recognize a few other people, especially your customers, and the people who've built that, which is the people you employ.
Just say thank you very much. It's a good time, and I think everybody wants to feel valued, and the more you do that, again, it's kind of weird, there's this flywheel of positivity because if you say that to your colleagues and you say that to your customer they're feeling the love your big idea, and they'll give you great feedback.
---
You might also like
---
More from Evan Carmichael
---
What's up, Believe Nation? Greetings from London, England. It's Evan. My one word is believe and I believe in people, …
Today's message is be confident. Good morning believe nation, it's Evan. My one word is believe and I believe that …