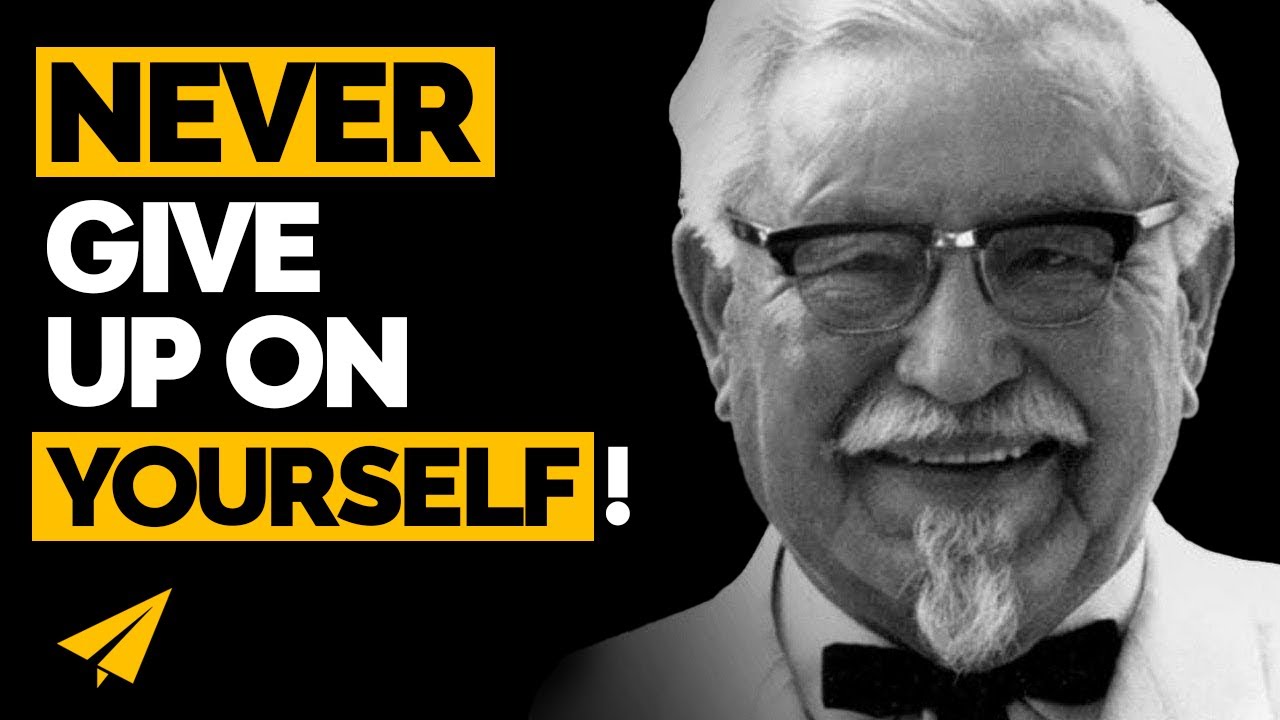 Good morning Believe Nation!
My name is Evan Carmichael. My one word is believe and I believe that entrepreneurs will solve all the major problems of the world.
Today's message is don't quit. Over to you, Colonel Sanders.
Colonel Sanders
I was working for a living, I've raised a restaurant for about 25 years. Trying to serve the best food that I had served to the public. That's where I developed my chicken recipe, that I wanted to have the best chicken in my restaurant than any competitor has.
So I was on the highway where they go to Florida, the Smoky Mountains, and as they went down to there, I wanted to get them as they come back, and you'd find out, surprising how long they'd forgot all about the price of the food before they forgot the quality, come back again for that good food.
And I was recently with Duncan Hines, his Adventures in Good Eating, and that gave me a very select clientele too. I had a moral obligation to give people something good, something worthwhile. And I loved it. Then they come along, surveyed this interstate system, went seven miles back of me, left me sitting high and dry.
I was 66 years old. I couldn't afford to quit. Course when they were talking about it, for three of four years before, looked like it was going to be a reality, I begun to put out a guinea pig franchise because I was thinking what can I do next? They going to wipe out this restaurant. And I thought, well I tried to franchise the chicken, so I gained four or five of these guinea pig franchises.
I proved to myself that I had a project that would take with the public, profitable to the restaurant man, and also it was a go, just Merriam Rider getting behind it and getting it put over for good. So when they did survey the system, I was left sitting high and dry so that wiped me out.
Interviewer: Isn't that something? Here's a case where disaster really was a blessing. Something that could have destroyed you, God turned it around really. I think sometimes people think that instead of laying down and dying when disaster comes, you can use it as stepping stones into something greater.
Into stepping stones for something else. There's no question about that. So my question was what could I save out of that wreck? You want to be wrecked? And the chicken was taken, proven it had taken with the public. And all I had to do was stay with it and get it goin. I think the moral to my life is, don't quit at 65. Maybe your boat hasn't come in yet.
Evan Carmichael
So I loved the story of Colonel Sanders, he's one of my favorite stories and examples to give of an older entrepreneur. This guy didn't really start franchising his business, KFC, until he was in his 60s and didn't really become an icon or someone super well-known until he was in his 70s. How many people quit too soon on their business?
I can't tell you how many people come up to me and say Evan, I'm 25 years old, is it too late to get started? What are you talking about? And really just comes down to just your belief system. Here was a guy who was 62 years old when he was franchising KFC, where a lot of people would be saying I'm getting ready to retire, I'm getting ready to slow down, I'm getting ready to wind things up, just ease into the rest of my life, and here's a guy who said, no, I'm going to crush it.
I'm just getting started. I want to build an empire. And this really comes down to whether you believe it can happen or it can't happen, you're right. If you believe at 62 years old that you're too old to get started on something new, then you're right. And you won't take action. But if you believe that age is just a number and 62 means you've got lots of experience and you're ready to go crush some new project, then you're right as well.
"You should not quit when it's your dream. When this is something that you really, really, really want to do, then you can't quit on it." – Evan Carmichael
And so you have to be really careful to pay attention to the story that you're telling yourself because a lot of times, we're holding ourselves back with these excuses of we're too old, we're too young, we've come from the wrong country, we don't have the right education, you don't have the right parents, on and on and on, and as long as you believe that reinforcing story, then it's going to continue to perpetuate. Now, in terms of don't quitting, there's a lot of advice saying, don't quit, don't quit don't quit, don't quit.
You should not quit when it's your dream. When this is something that you really, really, really want to do, then you can't quit on it. But if it's something that you've lost the passion for, you don't feel energized by it anymore, it feels like work to show up, then that's when you quit. And so when people ask me, should I quit this thing or not? Is it still your dream? Are you still passionate about it? Are you still excited about it?
'Cause if you are, then you enjoy the process. And yes you want to get the results, and yes you want to win, and yes you want to make the money, and yes you want to have that impact, but you still enjoy the process. I like making YouTube videos. This is fun for me. It's enjoyable for me. I'm growing through it, and even if I wasn't on the path to hitting a million subscribers, I would still be doing it because I love doing it.
And if I was on the path to hitting a million subscribers and I stopped liking it, then I would leave, I would sell it, I would go do something else because you cannot do great things when you don't love what you do. So as long as it's still your passion, as long as it's still your dream, you have to keep going or you're going to live the rest of your life in regret. But if you've lost that passion, then get out, immediately, and go do something else that does bring you excitement, joy, energy, and fulfillment.
Question of the day
So the question today is, I'm curious, what is the story that you have historically told yourself as to why you can't be successful, like I'm too old, what is the story that you have consistently told yourself in the past?
We're going to shed it now. It's gone after today. What has that story been? Leave it in the comments below, super curious to find out.
I also want to give a quick shout out to John Milleker Jr., John thank you so much for picking up a copy of my book, Your One Word. It really, really, really means a lot to me, and I hope you're enjoying the read.
Thank you guys again for watching. I believe in you. I hope you continue to believe in yourself and whatever your one word is, much love and I'll see you again tomorrow morning for another shot of Entspresso.
---
BONUS
Don't Quit
Zig Ziglar
See unfortunately a lot of people stand in front of the stove of life, and they say now stove, you give me some meat, then I'll put some wood in you. That ain't the way it works. You got to put something in before you can get anything out. So many times the employee goes to the employer and say, give me a raise, then I'll start coming to work on time.
Or so many times they will come to me and say, make me the boss. Now I know I haven't been here very long, don't really deserve to be the boss, but I just function better when I am in charge of things. You reward me now, and then I'll promise ya, I'll learn what this business is all about later on. Reward me now, and I'll produce later.
It doesn't work that way. Can't you just see a youngster in school saying, teacher, if I take a failing grade home, my parents are going to skin me alive. Pass me on this quarter and next time, I'll study more than anybody else. Reward me now, I'll produce later. It doesn't work that way.
Can't you just see an old farmer standing out in the fields in October and saying, Lord I know I didn't plant a thing this year, but if you give me a big crop this year, I'll plant more than anybody next year. It ain't that way, folks. You got to put something in before you can expect to get anything out.
Well, he's just a pumpin' away, you know, that's hard. It's all good. So I mean, the question is, just how much pumpin' are you going to do before I drink a water? And finally old Bernard said, you know Jimmy, I don't believe there's any water down there. Jimmy said, yeah it is Bernard.
You know in south Alabama, the wells are deep. We're glad they're deep because the deeper the well, the cooler, the cleaner, the sweeter, the purer, the better tasting the water. And isn't that true in life? Isn't it true that if you can become an MD by six weeks in summer school, that the rewards would be almost minimal or nothing?
And how many patients would you have? Isn't it true that if you become a sales expert in three days of a training school, that the rate of pay would go down rather radically? Isn't it true that anything worth doing is worth doing poorly, until you can learn to do it well? We'll never know how many kids have missed a college scholarship because they didn't study an average of 10 more minutes a day?
We will never know how we come so close to promotion, but we grew discouraged and quit too soon. We'll never know how much more success we would have had had we just had a little more pumping in there, and pump and pump and pump and pump. Well finally, old Bernard just got disgusted, threw up his hands and said, Jimmy, there's just no water down there. Jimmy said, no don't stop Bernard, don't stop.
If you stop, the water's going to go all the way back down, and then you're going to have to start all over. The reality is folks, and I'm totally convinced of this, this is the story of America, this is your story. This is the story of success. This is the story of life.
I believe with all of my heart that if you will pump long enough, and hard enough, and enthusiastically enough, that eventually the reward is, you're going to follow the effort, and then once that water starts to flow, all you got to do is just keep a little easy, steady pressure on it, and you're going to get more water than you can possibly use.
The basic problem is this, so many times people get involved in something, and they'll say, well I'll give it a try and if it works out, that'll be good. And if it doesn't work out, hey I ain't going to kill a second, you know what I mean, feller? Well, I got to tell you something folks. You going to pump forever like that before anything happens.
When you get into something, grab that sucker and get with it. And then once the water starts to flow, then ladies and gentlemen, that's what Strategies for Success is all about.
Brain Tracy
Now, here's an important point, nothing works the first time. When you try something new it probably won't work. When you try something new several times, it probably won't work. And the turning point in my life came when I would hear good ideas, and I was so eager to be successful in selling.
I would run out and try the ideas, and they wouldn't work. I'd try a way of getting an appointment, or answering objection, or closing a sale, it wouldn't work. And my natural response,  and I think, just be disappointed, and then I realized nothing works, at least the first few times. So I decided I would try a new idea, five or ten times before I passed judgment on it.
I would not just try it once and quit like most people do, and that changed my whole life. It was a turning point in my life because I realized from then on, if you've got a good idea, and you've got a good goal, and you want to double your income and improve the quality of your life, and you have to try new things in order to get new results, it's not going to work the first time.
So you say well that didn't work, try something else and try something else, and try something else. Now if you try, only two things can happen. What are they?  Succeed or fail. If you succeed, you do more of it, if you fail, you learn from it, get smarter, and try it again. So you cannot lose by taking action. You can only lose by not taking action.
Ben Horowitz
Interviewer: But why did you still believe in the company? I have to think that at any point in Silicon Valley history, there's a lot of people that at that point, they're just like, this isn't going to work, market's changed. This isn't a viable concept anymore.
Well, you know,  I don't know how much belief I had, but I knew that I had kind of gotten everybody into the boat with me, so it wasn't so much that I didn't want to quit, I wanted to quit every day I was in that job. I felt like throwing up when I woke up in the morning.
Interviewer: So you know what it's like having a baby now?
Yeah, exactly. Like I felt like I was pregnant.  But you know, I'd hired every employee, and they all trusted me. I'd raised all the money. I talked to every investor into putting their money in. I had given stock to my friends and relatives, and they were all excited about the prospects for the company.
When it went public, a lot of my friends from high school bought the stock 'cause I was running the company. And so I just felt like I could die, but I couldn't quit. And one of the horrible things about being founder, CEO is it's the one job you really can't quit. Or if you do quit, you're a punk.  So I didn't want to be a punk, so I just kept, I just kept peddling. But it was rough, running Loudcloud, and it didn't stop there, right? That was Loudcloud.
Interviewer: Yeah.
Loudcloud, by the time Loudcloud was two and a half years old, I had sold the Loudcloud part of the business, and I had to change it into another business, so the next thing that happened was Loud Cloud was going to go bankrupt, so I raised $160 million in the IPO. But we burnt through that, and we couldn't stop the burn because the customers kept going out of business.
And so we were headed towards bankruptcy, so then I had to, I sold  the services part of the business, and all the cash poured into EDS, and then I hit the layoff, probably another 1/3 of the employees, and then I kept the remaining 80 employees, and we became a software company, a publicly traded software company with no customers and no revenue.
Interviewer: That was when you became Opsware?
That's when we became Opsware, yeah. So that was hard.  But it was good, you know. That kind of stuff, it makes you strong.  Eventually, five years later, we sold to Hewlett-Packard for $1.6 billion.
Interviewer: Not a bad exit.
Which was like, I'm still shocked by that whole thing. I still wake up in the middle of the night going, are we going to run out of money?
---
You might also like
---
More from Ben Horowitz
---
We're continuing the top five book series where we basically look at five books that are trending on Amazon in …
Watch Ben Horowitz's Top 10 Rules For Success video. Famous Entrepreneur Quotes Ben Horowitz's Quotes "I think people skills tend to be …