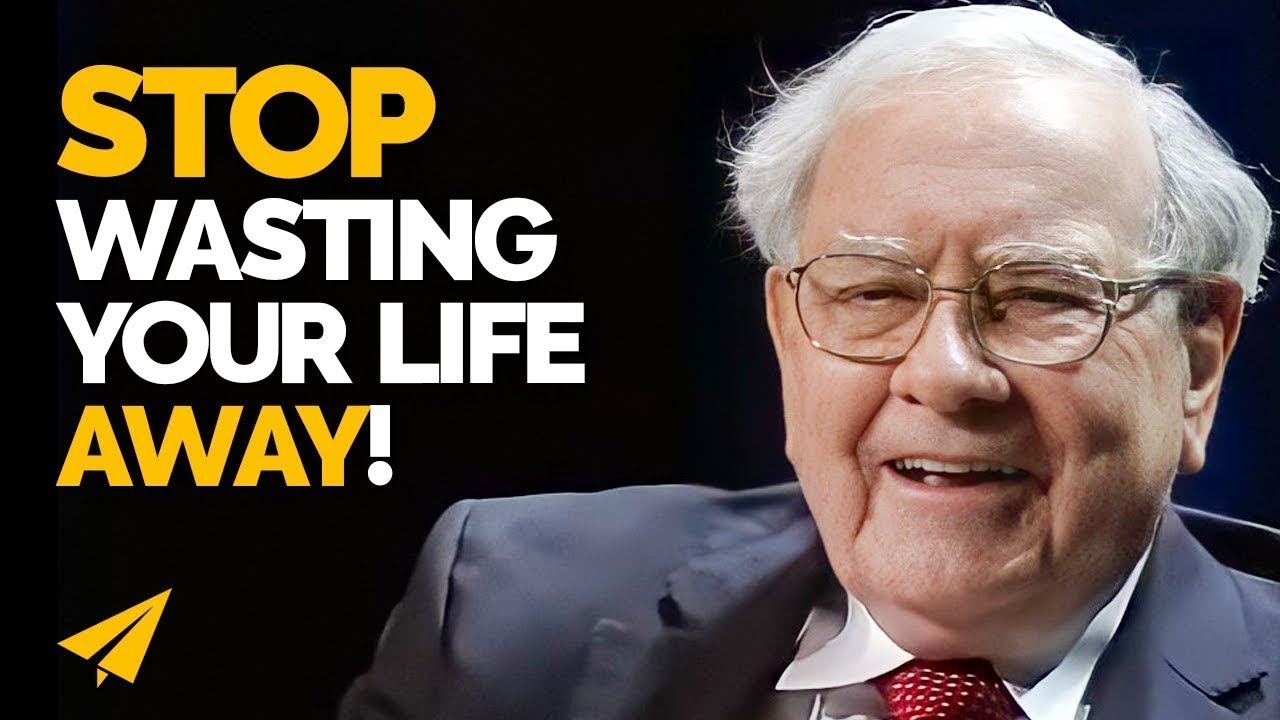 Good morning Believe Nation, my name is Evan Carmichael. My one word is believe and I believe that entrepreneurs will solve all of the worlds major problems. So to help you on your journey, today's message is don't sleep walk through life. Over to you, Warren Buffett.
Don't Sleepwalk Through Life – Warren Buffett
I advise students, as much as possible, look for the job that you would take if you didn't need a job, I mean don't sleep walk through life. Don't say it's all going to be great. I'll do this and I'll do that. I'm just marking time until I get to be older. I've told people that's like saving up sex for your old age.  It is not a good idea.
Interviewer: What are you urging them to do?
I'll explain just what I'm talking about.  You really want to be doing what you love doing. And you can't necessarily find it on your first job. But don't give up before you find it.
Evan Carmichael
One of the best questions that you could ask yourself, period, is if I had all of the money in the world, what would I do? Ask yourself, if you had all of the money in the world, what would you do? Because when you answer that question, it tells you what you should actually be doing right now.
Most people have no idea.Most people don't know what they would be doing. And as a result, people sleep walk through life. They're just trying to their next mortgage payment or their rent payment, or just kind of scraping by. Constantly in survival mode, sleep walking. Instead of actually building something amazing.
I had a recent meeting with somebody who is on my team part time and I was asking her, okay, I asked that question. If you had all of the money in the world, what would you do? And she was talking about going traveling and bringing her parents to Canada and buying a house and all of these things.
I said okay great, that's done, that's taken care of. You traveled, you saw all of the places you want to see. You brought your parents over, you bought a house. You brought your whole family over, great, all that's done. And you still have money, what are you going to do? I don't know, and that's the problem.
That's the work that you should be doing. That's the work that if you start doing, it's going to be able to give you the money to afford all of these things that you want to do in your life. But as long as your working for somebody else. Not chasing your dreams, not sure of what you want to do. Not having a plan and just sleep walking.
Then those financial things that you have in mind are never going to come true, you're always going to be in survival mode and so it's a good question to ask yourself at least once a quarter. If you had all of the money in the world, what would you do with it? Because our first instinct is all of the money things, all of the things that we feel that we're missing.
Like the vacation, like the car, like the house, like the bills, all of that stuff. But you still have money left over, what would you be doing with your life? And until you get a really solid answer then you're never really going to have a great plan for where you're going, in your life and in your business. If I had all of the money in the world, I'd be helping entrepreneurs.
I'd be doing what I'm doing. I would still be making YouTube videos. I designed my life in such a way that I haven't had to make a decision based totally off of money for a very, very long time. I don't take on a great deal that I don't want to work with. I don't make YouTube videos only trying to make money.
Right, I don't do anything in my life, in my business just trying to take a cash trap. And I think it's important. I think it's important that when you deep down understand that this is the work that you would be doing regardless of if you've got pay check for it or not.
If you look at every single successful entrepreneur and what drives them, what motivates them, it's never money, money is important but it's never the number one and so I would strongly encourage you to ask yourself, at least once a quarter, if you had all of the money in the world, what would you be doing in your day to day life?
And then go out and find a way to start doing that right now, it doesn't have to be some big pipe dream, it doesn't have to be only when you win the lottery or when you sell your business, right now. Find a small way to get started right now. Because it's possible and that's how you stop sleep walking through life.
Question Of The Day
So the question of the day today is, I want you to answer that question right now. If you had all of the money in the world, what would you be doing with it? Leave it down in the comments below.I'm really curious to find out.
I also want to give a quick shout out to Antonio Centeno from Real Men Real Style, Antoni0 thank you so much for picking up a copy of my book, Your One Word and posting it to your Twitter account. I really appreciate the support man and I'm so glad that you're enjoying the read. So thank you guys so much for watching.
I believe in you, I hope you continue to believe in yourself and whatever your one word is, much love. And I'll see you again tomorrow morning for a nother shot of Entspresso.
---
BONUS
Don't Sleepwalk Through Life
Mark Cuban
The type of person you are kind of points to the things that you're good at. Are you 12, you're not going to know. Are you 16, you're not going to know. If you're 18, maybe if you have a special talent, right. You know, you can throw a baseball a 100 miles an hour. You can sing and your voice is incredible, you know.
You're a concert pianist, you're a chess grand master. If you have a specific skill set or talent that just immediately propels you to the top, yeah, you want to follow that. But I remember having a list, I still have it. When I graduated from college, I was getting ready to graduate and all of the different industries that I thought I might want to partake in.
When you find something you're good at, go for it. I was never really in to technology when I was a kid but then as I got a job that used it, I found out I was good at it and once I found out I was good at it, then it became a lot more fun. You know when you're good at something, it's almost always fun.
And once it was fun and I combined that with my business skills then I saw, okay I know how to make money with this stuff because I know how to sell. Now I know tech, that gives me something I love to do and so when I tell people the key is find something you love to do and be great at it.
Kevin O'Leary
If you're passionate and you're successful, you'll wake up one day rich. You won't really be going for the cash, it will just happen to you. Everybody I talk to that's had success, doesn't remember the day they became a millionaire. No idea, not important to them. They remember winning, they remember building a business and being successful. Again, the pursuit of freedom manifests itself in passion. That's really what it's about.
Mellody Hobson
I do not make any decisions based on money, none. It's the worst way to make a decision, which I know is so hard to say, I mean I didn't grow up with any money. And I know so many of us, our families have a lot at stake. They put a lot into us, made a lot of sacrifices for us. And you say you don't have the luxury of doing that, but I actually think you do.
You will be more successful if you make decisions based upn what is going to feed your soul, make you feel value, valued, validated, have you waking up in the morning and racing to work, whatever it might be.
And I can tell you, after a short amount of time, money will not be enough. At the end of the day, a bigger pay check is another suit or more real estate, more square footage. That's what it comes down to. You end up with another room and a fuller closet and after a while, that's not going to do it.
---
You might also like
---
More from Entspresso
---
Today's message is be confident. Good morning believe nation, it's Evan. My one word is believe and I believe that …